UPDATE - 4/28@7:37PM: Here's a Billboard article about the album's charting:
... Rush's Moving Pictures album, first released in 1981, makes a splash across a number of Billboard charts (dated April 30) thanks to the set's 40th-anniversary reissue. The album re-enters Top Album Sales at No. 2 and hits No. 1 on the Top Rock Albums, Top Hard Rock Albums and Catalog Albums charts for the first time. It also re-enters the Billboard 200 at No. 11 - the band's highest rank in nearly a decade. ... Moving Pictures sold 18,000 copies in the U.S. in the week ending April 21, according to Luminate, formerly MRC Data - an increase of 7,847% compared to its sales in the previous week. It marks the band's best sales week in over six years, since R40 Live sold 24,000 copies in its debut week, when it arrived at No. 14 on Top Album Sales (Dec. 12, 2015-dated chart). Of the 18,000 copies sold of Moving Pictures, physical sales comprise 16,500 (9,500 on vinyl and 7,000 on CD) and digital sales comprise 1,500. ...
----- snip -----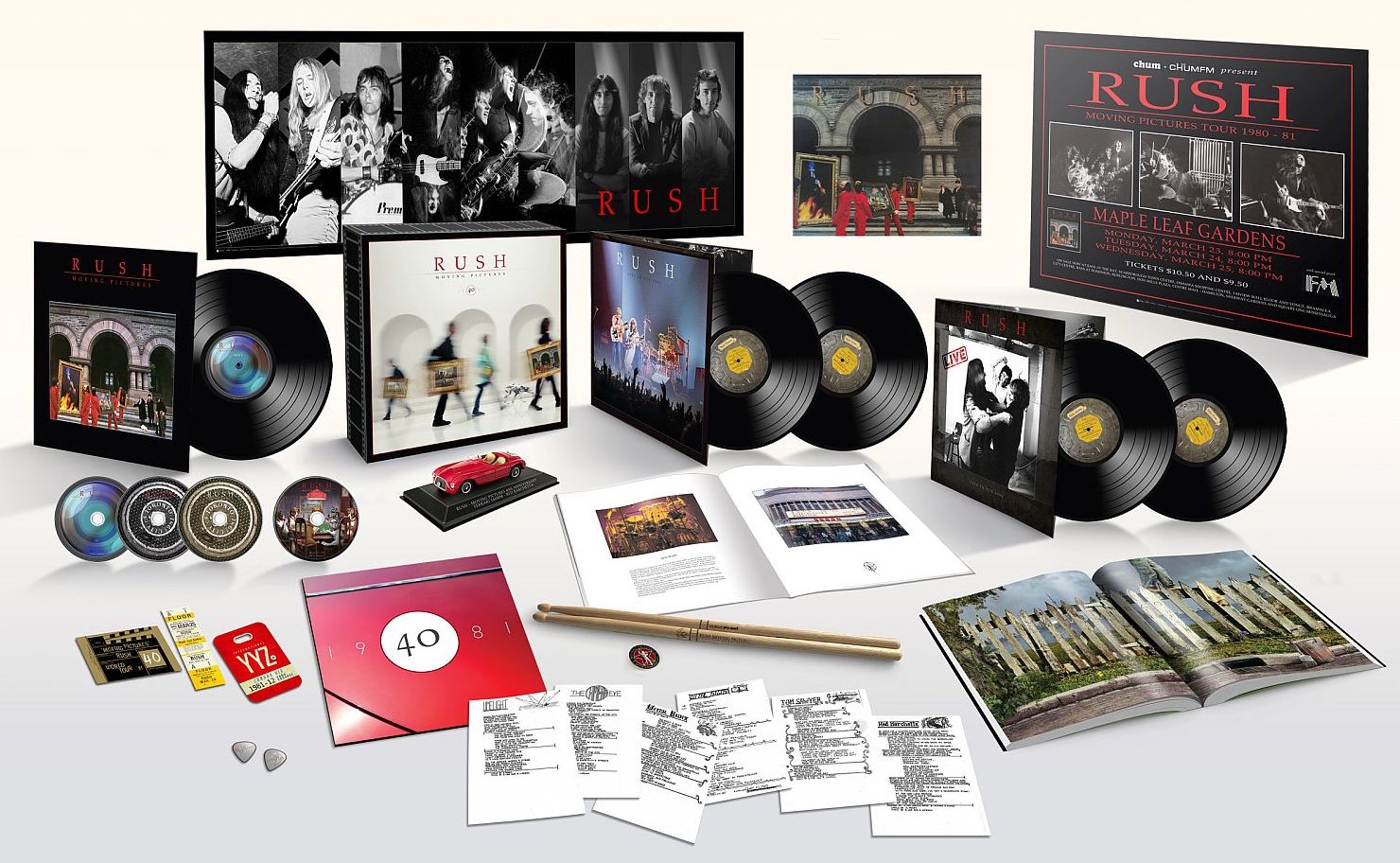 Rush's long-anticipated Moving Pictures 40th anniversary box set officially released 2 weeks ago, and it's currently available for purchase as a 3-CD set, a Deluxe vinyl edition, and a Super Deluxe Edition. Sales from the 40th anniversary edition have propelled the album back onto the Billboard charts, including a #11 position on The Billboard 200, #18 on The Artist 100, and #1 on the Top Rock Albums chart:
... Elsewhere on the Artist 100, Rush re-enters at No. 18, thanks to a new 40th anniversary reissue of the group's 1981 LP Moving Pictures. The album, which includes such Rush classics as "Tom Sawyer" and "Limelight," soars onto Top Rock Albums at No. 1 and re-enters the Billboard 200 at No. 11 with 20,000 units (up 4,002%), including 9,000 in vinyl sales. The set hit No. 3 on the Billboard 200 in March 1981. ...
A similar thing happened 10 years ago when the band released a 30th anniversary edition of the album, although back then it only propelled it to #137. You can get all the details regarding the box set via the press release at Rush.com and order your copy today via Amazon (Super Deluxe, Deluxe vinyl edition, 3-CD edition) and other retailers.
Related Posts:
[Rush Moving Pictures 40th anniversary cover feature in latest issue of Prog magazine]
[Rush's Moving Pictures 40th anniversary box set releases tomorrow]
[Listen to streaming live version of Rush's Tom Sawyer from Live in YYZ 1981 on the Moving Pictures 40th anniversary box set]
[Rush to premiere new video with Hugh Syme narrating the creation of the iconic album artwork on Moving Pictures tomorrow at 12PM]
[Listen to streaming live version of Rush's Limelight from Live in YYZ 1981 on the Moving Pictures 40th anniversary box set]
[Rush to premiere new animated video for YYZ from upcoming Moving Pictures box set tomorrow at 12PM]
[Listen to streaming live version of Rush's Vital Signs from Live in YYZ 1981 on the Moving Pictures 40th anniversary box set]
[Rush Moving Pictures 40th anniversary box set coming April 15th]
[Rush Moving Pictures 40th anniversary box set release update]