UPDATE - 2/26@11:48AM: The Moving Pictures 40th anniversary box set is now also available for pre-order via Amazon and other retailers (Super Deluxe Edition, Standard 3CD Edition, Vinyl 5LP Edition).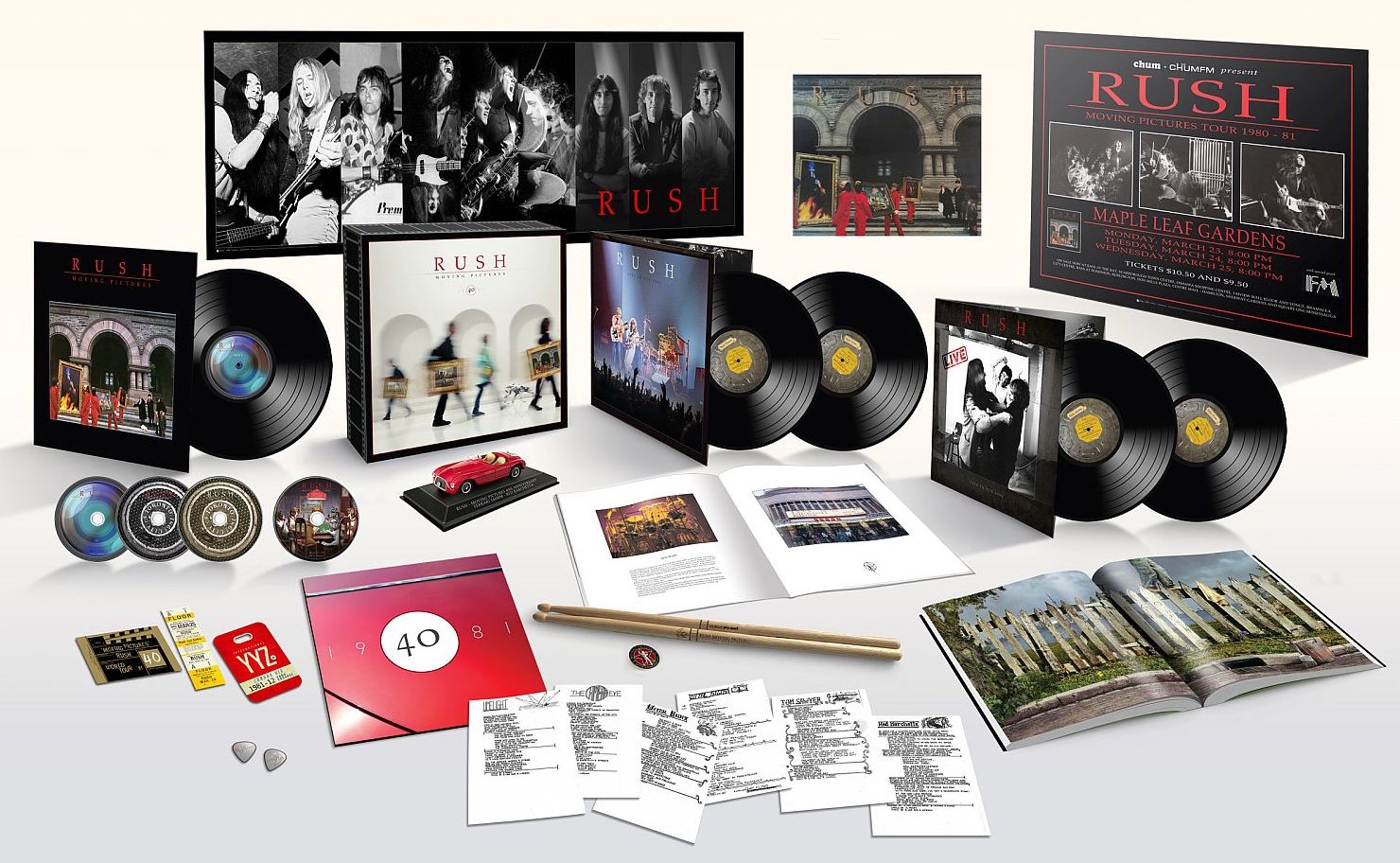 Rush's long-anticipated Moving Pictures 40th anniversary box set is slated for release on April 15th and a number of purchase options/combinations will be available, including a Super Deluxe Edition which will contain three CDs, one Blu-ray Audio disc, and five high-quality 180-gram black vinyl LPs. The CDs include the Abbey Road Mastering Studios 2015 remastered edition of the album, along with two discs of previously unreleased and newly restored bonus live content titled Live In YYZ 1981. These 2 discs are newly mixed from the original analog live multi-tracks by Rush's original producer, Terry Brown, and feature the band's complete, unreleased Toronto concert from Maple Leaf Gardens in Toronto on March 25, 1981. The Blu-ray Audio disc includes the core album newly mixed from the original multi-tracks by producer/engineer Richard Chycki in Dolby Atmos (a Rush catalog first), Dolby TrueHD 5.1, and DTS-HD Master Audio 5.1 surround sound, alongside the previously available PCM Stereo mix. Also included on the Blu-ray are four bonus videos: a brand-new video for YYZ plus three remastered vintage promo videos for Tom Sawyer, Limelight and Vital Signs. Additionally, all of the vinyl in the Super Deluxe Edition has been cut via half-speed Direct to Metal Mastering (DMM) (another Rush catalog first) on five 180-gram audiophile LPs. The Super Deluxe Edition is housed in a premium lift-top box and also contains several exclusive items, including a 44-page hardcover book with unreleased photos and new artwork by original album designer Hugh Syme, a Red Barchetta model car mounted on a black perch with an MP40 nameplate, two Neil Peart signature MP40 branded drumsticks, two metal-embossed guitar picks, a replica of the Moving Pictures 1981 official tour program, an MP40 logo enamel pin, a 3D lenticular Moving Pictures in motion lithograph, an 18×24-inch Toronto 1981 concert poster, a replica concert ticket from the 1981 Maple Leaf Gardens show, a 12×36-inch Rush Through The Years 1973-1981 poster, a YYZ luggage tag, and an All Access World Tour '81 insert. Earlier today, Rush released the official streaming audio for Vital Signs from the Live in YYZ 1981 bonus disc. You can listen to the track below or on YouTube here. There's also a Super Deluxe Edition unboxing video which you can watch on YouTube. You can get all the details via the press release at Rush.com and pre-order your copy today at the Rush Backstage Club.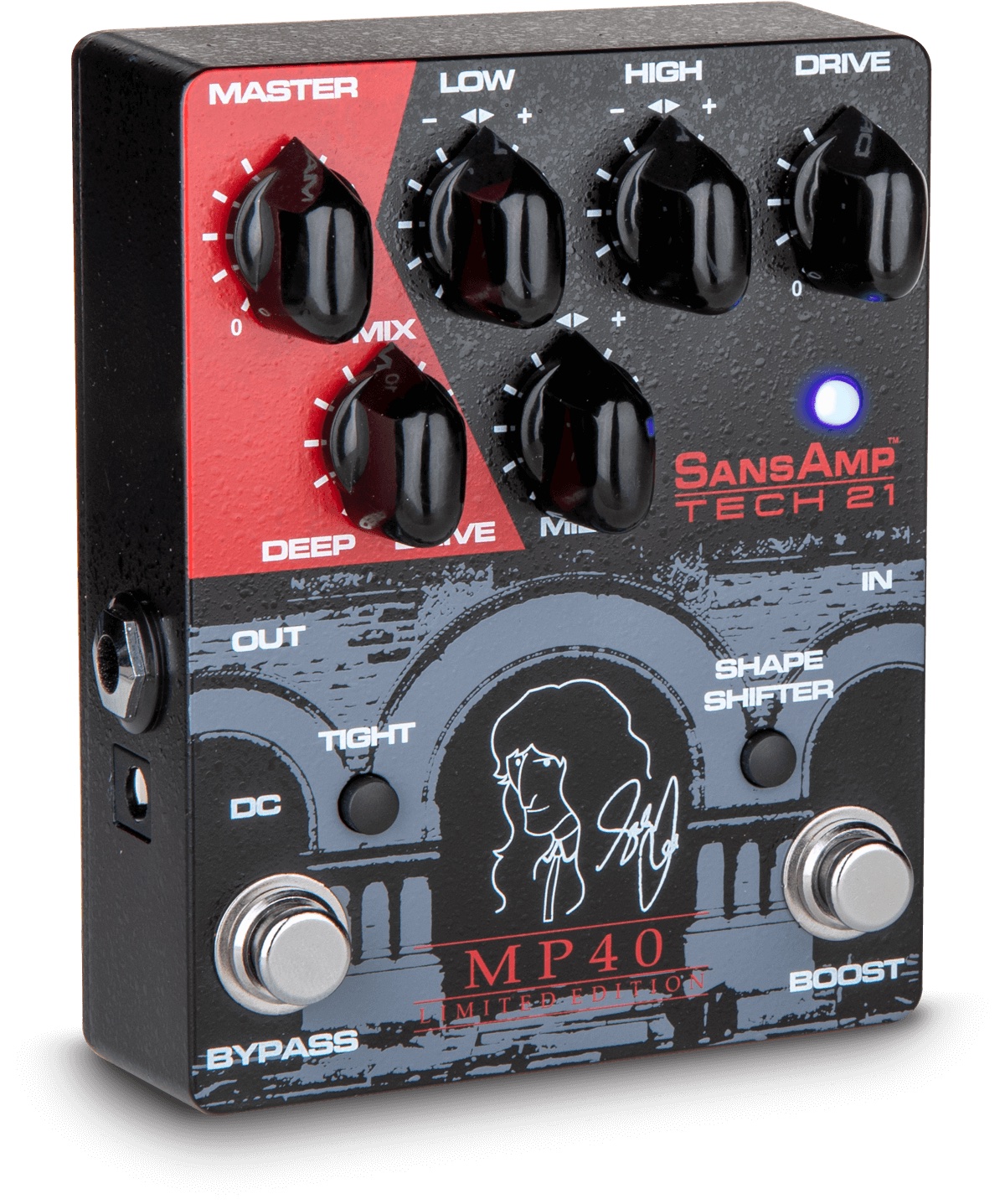 Also as part of the Moving Pictures 40th anniversary celebration, Geddy Lee has once again teamed up with Tech 21 to release a new product to their line of Geddy Lee signature SansAmps with their Geddy Lee MP40 Signature SansAmp. The new SansAmp is based on the original Geddy Lee YYZ Signature SansAmp pedal, but includes custom Moving Pictures-inspired artwork, along with an all-new shape-shifter button and footswitchable boost. From the Tech 21 product page:
... The all-analog MP40 SansAmp builds upon the original YYZ pedal with a brand new selectable Boost stomp switch that provides a 12dB presence boost for increased top-end distortion. Additionally, engaging the Shape-shifter button gives you 6dB of Schmegilka on top, which, according to Geddy, "is an indefinable thing of awesomeness!" ...
The product was first announced back in December, and is now in production with an expected release next month as Geddy Lee described in a recent Instagram post:
Tech 21 first introduced their GED-2112 Geddy Lee Signature SansAmp at the 2017 NAMM show as described in this post. Then at the 2019 NAMM show, they unveiled their pedal format version of the GED-2112 - the SansAmp YYZ - on which the new MP40 SansAmp is based. Last year they added a desktop version of the GED-2112 called the DI-2112.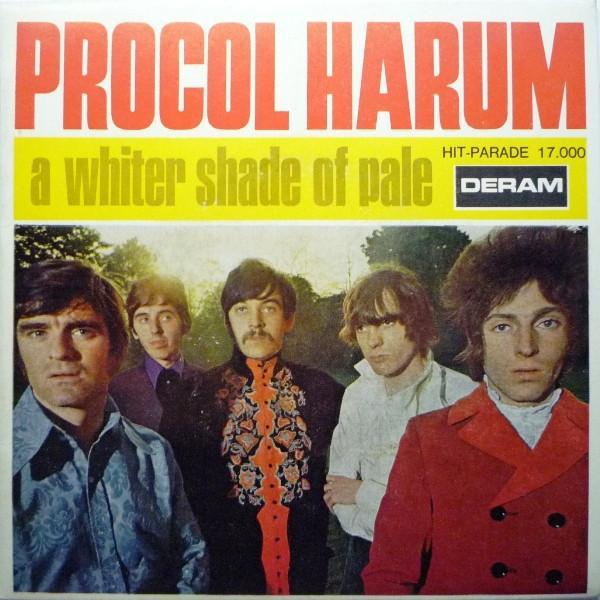 The news broke earlier this week that Procol Harum singer-songwriter Gary Brooker had passed away at the age of 76 this past Saturday. After learning the news, Geddy Lee paid tribute to Brooker via this Instagram post:
R.I.P. Gary Brooker... Singer, songwriter, keyboardist, and mainstay of Procol Harum, one of the truly iconic bands of all time. One that rode the top of the pop charts, yet was respected by musicians of every stripe. They were in no small way an influence on my generation and most definitely an influence on Rush. In our early days we played a couple of their songs in high schools and bars around Ontario. Their song Kaleidoscope was one of our very favourites.

Rest In Peace Gary, and thank you.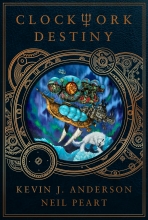 The release date for Kevin J. Anderson and Neil Peart's Clockwork Destiny - the 3rd and final novel in the Clockwork Angels trilogy - has been delayed from April to June due to supply chain issues according to this tweet from Anderson. The first 2 novels in the Trilogy - Clockwork Angels and Clockwork Lives - were released in 2012 and 2015 respectively. Clockwork Destiny is now slated for release on June 14th, and is available for pre-order via Amazon.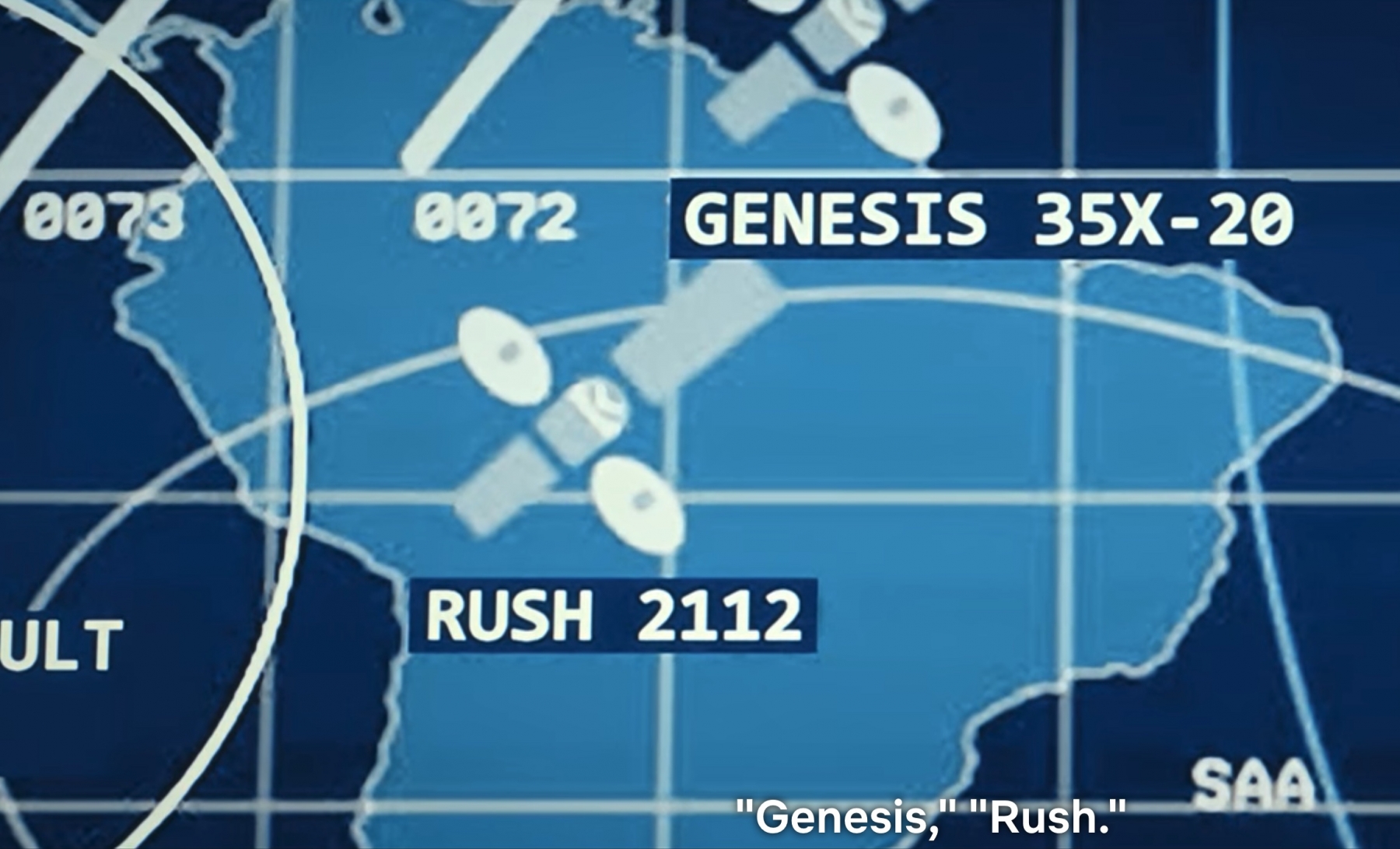 The Season 2 finale (Season 2, Episode 7 - Hacks) of the Netflix space comedy Space Force contains a Rush reference. Towards the beginning of the episode (around the 2:20 mark), Dr. Adrian Mallory (John Malkovich) and Dr. Chan Kaifang (Jimmy O. Yang) are checking on the status of their satellites along with Erin Yaird (Diana Silvers) and Xyler, and the 2 satellites they are examining are named Genesis 35X-20 and RUSH 2112 as seen in this screenshot. Erin notices this and remarks, "Are all your satellites named after '70s rock bands?" To which Dr. Mallory replies, "I never made that connection", and Dr. Chan says "me neither". The episode also includes satellites named Blue Oyster Cult, REO Speedwagon, Deep Purple and Supertramp. You can check out the episode on Netflix here (subscription required).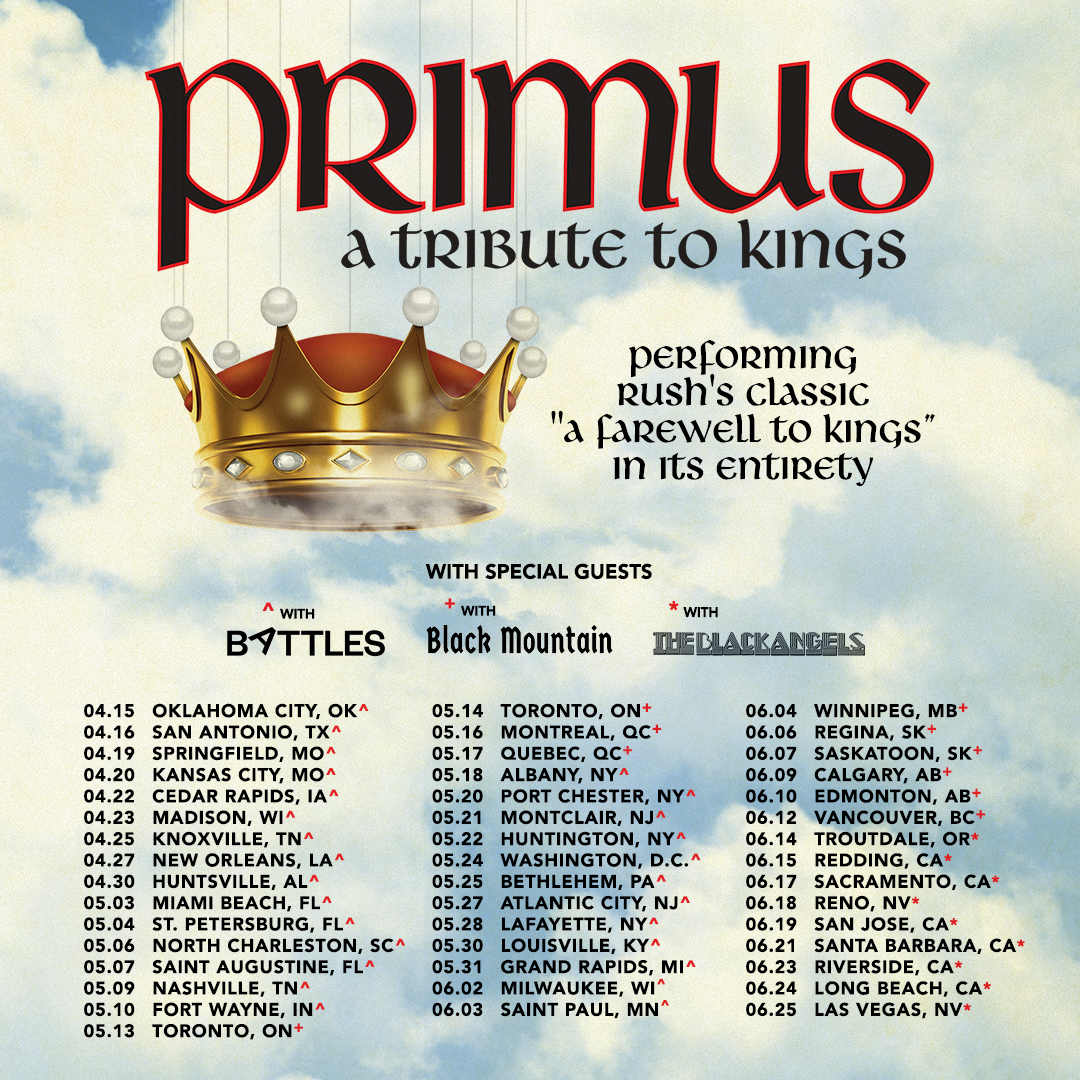 The 2021 leg of Primus' A Tribute to Kings Rush tribute tour finished off in Phoenix back in October, and - despite a few cancellations along the way due to COVID-19 - the tour was a huge success. The tour saw the band paying tribute to their musical heroes Rush by covering the A Farewell to Kings album in full as seen in these fan-shot videos (part 1, part 2), mixed in with a couple sets of Primus classics. Back in December, the band announced an extensive, 46-date, coast-to-coast 2022 extension of the tour, including several Canadian dates, which will kick off in Oklahoma City on April 15th, and conclude in Las Vegas on June 25th. For all the details and to purchase tickets visit primusville.com. Primus frontman Les Claypool was recently interviewed for Ultimate Classic Rock to talk about the tour, his Rush fandom and relationship with the band, and much more. UCR posted the first part of the interview last week, which focused on the tour itself, how he became a Rush fan and the difficulty of playing/rehearsing Rush songs. The second part of the interview was posted earlier this week, and Claypool talks about some of the more memorable non-Rush live shows he saw growing up, his thoughts on Rush's A Farewell to Kings album, and whether Primus was ever a victim of any Rush pranks while touring with them back in the '90s:
... my son's working on the Primus documentary right now. So he's been going through hundreds and hundreds of videotapes. There was one the other day that I was watching. It was our last show with Rush on the last tour [we did with the band]. I can't even remember what song we were playing, I think it was "Here Come the Bastards." This guy comes onstage and does a trumpet solo. It was Alex! I didn't even recognize him. He had a baseball cap on, and he put a big piece of black electrical tape on his lip to have a big mustache. He's just doing a trumpet solo the whole time, and he can't play trumpet, but he was going for it. It was pretty good. ...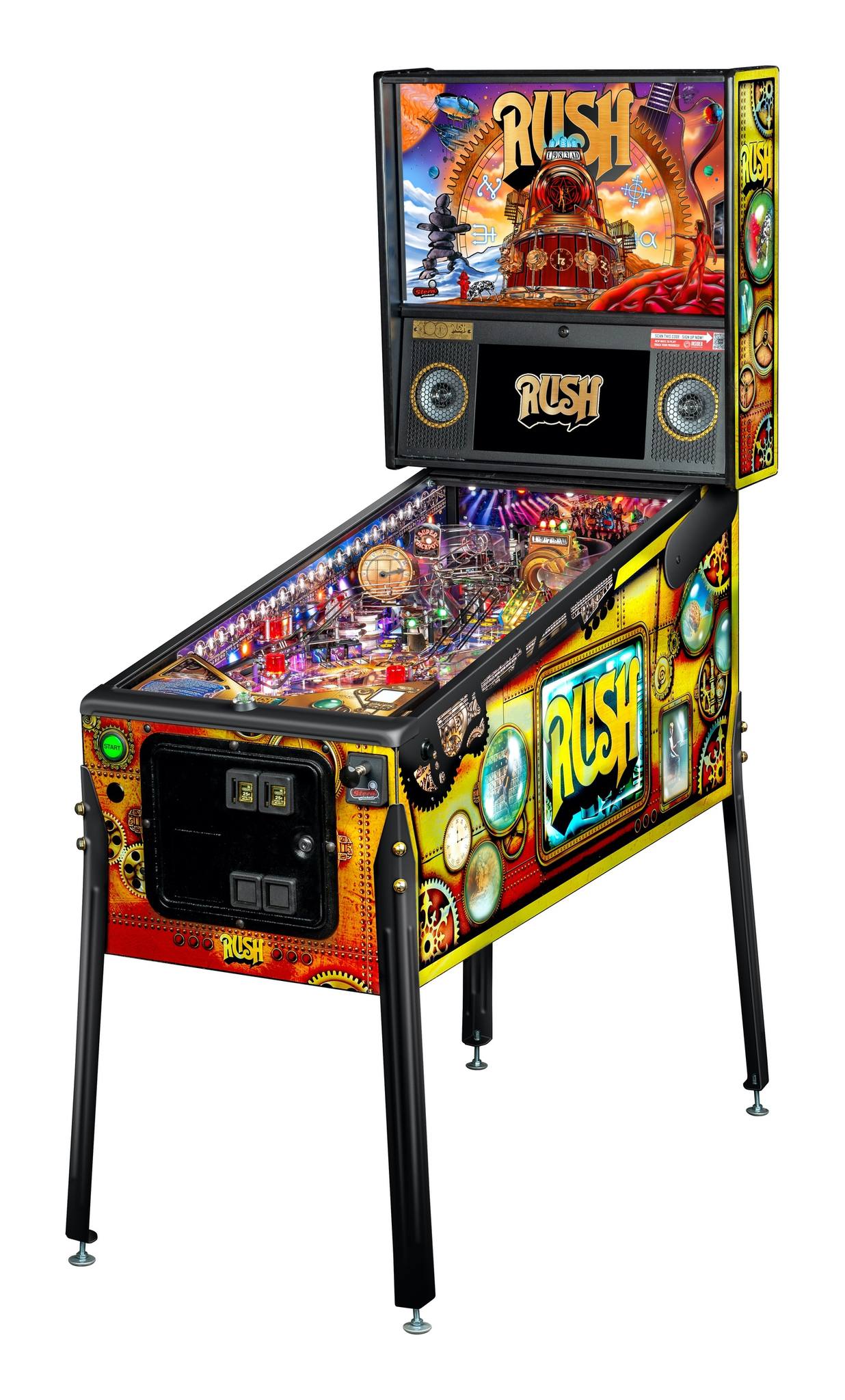 Last month, Rush and Stern Pinball released a line of Rush pinball machines as detailed in this official announcement from the band and this video trailer giving a first look at the pinball machines. The machines are available in Pro, Premium, and Premium Limited Edition models, and include Rush music, concert footage and custom speech from Alex Lifeson and Geddy Lee. Stern Pinball's website also features dozens of photo's of the machines, videos of the specific model features, and a hilarious 4-minute, behind-the-scenes video of Alex Lifeson, Geddy Lee, and Ed Robertson of the Barenaked Ladies in the studio recording voice-overs. Robertson is an avid pinball machine collector and directed Ged and Al's voice-overs in the studio. Robertson was recently interviewed for the Canadian Press to talk about his love of pinball machines, and how he became involved with developing the Rush machines:
... Even before he was a teenager, Roberston was a self-professed "Rush nerd" and the band's 1981 concert at Maple Leaf Gardens in Toronto was his first live show. Knowing the ins and outs of their career gave him a unique perspective between the stage and the arcade. He enlisted Metallica pinball creator John Borg to help take players on a journey through decades of the band's career - all set to nearly two hours of music and concert footage. Together, Robertson, Lee and Lifeson sifted through Rush's extensive music catalogue to pick 16 songs that play on the backbox, the vertical display at the head of the machine. Some of the highlights include "Tom Sawyer," "Subdivisions" and "The Spirit of Radio." The trio also recorded hundreds of lines of dialogue that play throughout the game. In a tribute to Neil Peart, who died in 2020, Robertson fed his voice through various filters to mimic the late drummer's interplanetary narrator on the band's epic 20-minute song "2112" who proclaims: "Attention all planets of the Solar Federation. We have assumed control." "To be one of the voices in the game with Geddy and Alex's blessing was really fun," Robertson added.
The Rush pinball machines and accessories are available to order now through authorized Stern Pinball distributors and dealers around the world, and are already available to play at a number of locations across the country as seen at pinballmap.com (just search "Rush").
In the latest episode of the Something for Nothing podcast, Steve and Gerry continue their deep dive into Rush's Rush in Rio live album, and bring in the video's director and producer Daniel Catullo to the discussion. You can listen to the episode below or via your favorite podcast service:
The Order of Canada is the highest civilian honor that can be presented by the Canadian Government. 25 years ago tomorrow, on February 26, 1997, Geddy Lee, Alex Lifeson and Neil Peart were given this prestigious honor at Rideau Hall in Ottawa (the official residence of the Governor General of Canada). It marked the first time that the award was given to a group rather than an individual. Here is a transcription of what was said about the band when they were presented with the award. You can watch the video of this presentation below or on YouTube here.
Members of the progressive rock trio Rush. These veterans of the stage have raised over a million dollars for charities such as food banks and The United Way. Their efforts have enhanced an awareness of the plight faced by society's less fortunate, inspiring and awakening the social consciousness of an entire generation. Musicians far and wide have been influenced by the band's accomplishments - a testament to their contribution to popular music.
That's all for this week. Have a great weekend everybody!!!