UPDATE - 2/24@10:38AM: FYI: This interview was originally published in Classic Rock 173, in July 2012 as seen in this post (thanks RushFanForever).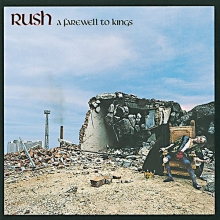 Back in 2012, Alex Lifeson was interviewed for Classic Rock magazine to talk about what he was up to 45 years ago in 1977; the year punk rock took off and changed the musical landscape, and when Rush recorded and released their classic A Farewell to Kings album:
It was a great year. For the first time, we made an album in the UK - A Farewell To Kings. That was exciting for us. All our favourite bands came from the UK - Led Zeppelin, The Who, Cream. ... Back then we were doing about 250 shows a year, plus making records. But we had youth on our side. We had the stamina. ...
Here's what Alex remembers most about recording A Farewell to Kings at Rockfield studio in Wales:
The sheep. We were working all day and night, and as we went to bed around noon the sheep were out in the fields, chatting away and keeping us all awake.
And here are Alex's thoughts on the punk explosion:
... I sensed that [punk rock] was important on a cultural and musical level. And although it wasn't really aligned with what we were doing, I thought it was a good thing. It's important to shake things up. ... stylistically I could see where they were coming from. They were a younger generation, and everybody wants to have their own thing. ... There was a change in the wind, with punk coming into its own. And it was a pivotal year for us. 2112 had bought us freedom, and with A Farewell To Kings we were moving forward in the way we wanted to. I remember it as a great time.
You can read the entire interview online at this location.