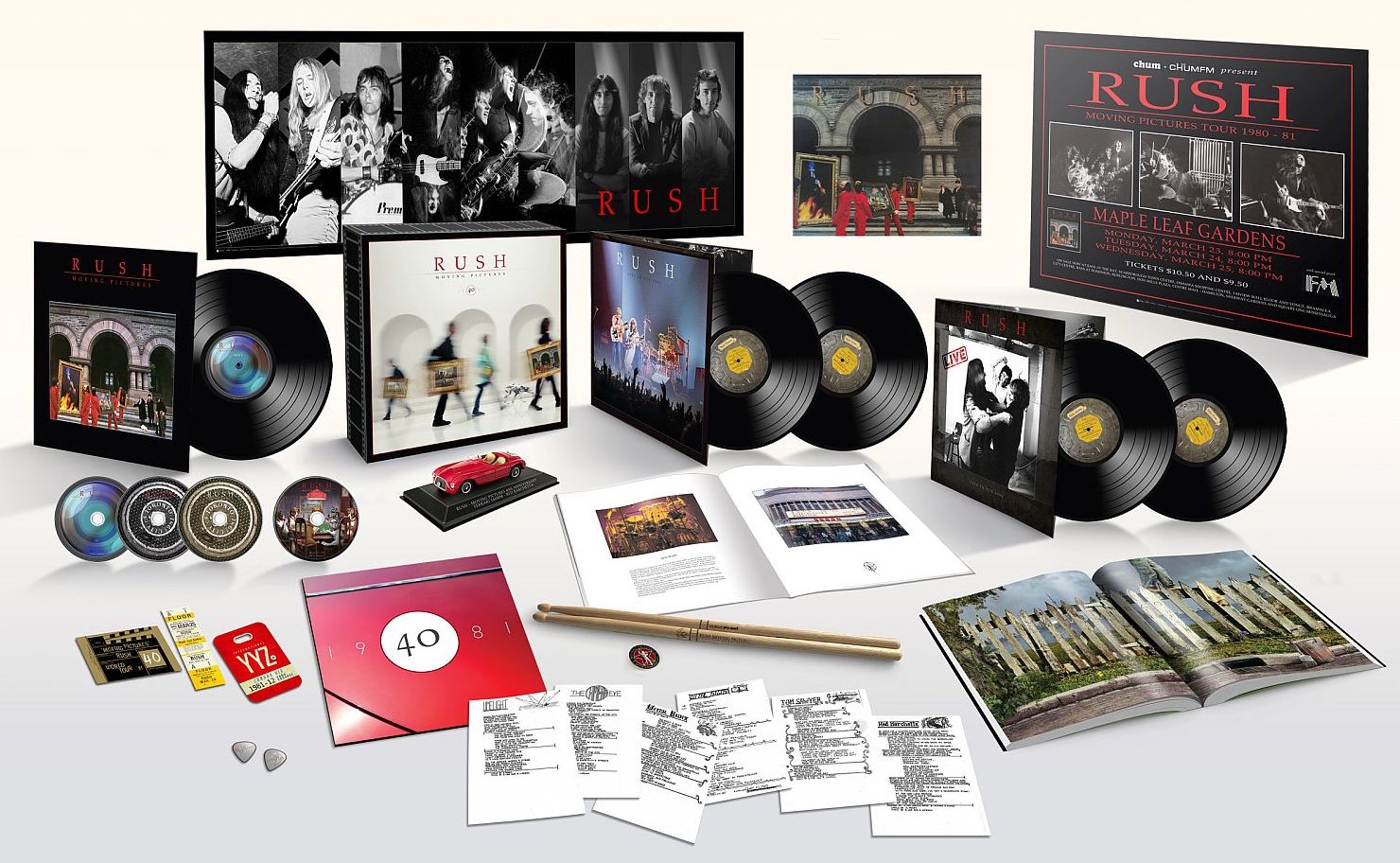 Earlier today Rush announced the release of their long-anticipated Moving Pictures 40th anniversary box set, nearly a year after the actual 40th anniversary of the album, which will celebrate its 41st anniversary tomorrow. The set will release on April 15th and a number of purchase options/combinations will be available, including a Super Deluxe Edition as detailed here:
The Super Deluxe Edition includes three CDs, one Blu-ray Audio disc, and five high-quality 180-gram black vinyl LPs. The set encompasses the Abbey Road Mastering Studios 2015 remastered edition of the album for the first time on CD, along with two discs of previously unreleased and newly restored bonus live content newly mixed from the original analog live multi-tracks by Rush's original producer, Terry Brown, featuring the band's complete, unreleased Toronto concert from Maple Leaf Gardens in Toronto, Ontario, on March 25, 1981 (designated here as "Live In YYZ 1981"). The fourth bonus disc is a Blu-ray Audio disc with the core album newly mixed from the original multi-tracks in Dolby Atmos (a Rush catalog first!), Dolby TrueHD 5.1, and DTS-HD Master Audio 5.1 surround sound as done by noted producer/engineer Richard Chycki, alongside the previously available PCM Stereo mix. Also included on the Blu-ray are four bonus videos: a brand-new video for "YYZ" plus three remastered vintage promo videos for "Tom Sawyer," "Limelight," and "Vital Signs." Additionally, all of the vinyl in the Super Deluxe Edition has been cut via half-speed Direct to Metal Mastering (DMM) (another Rush catalog first!) on five 180-gram audiophile LPs.

The Super Deluxe Edition of Moving Pictures-40th Anniversary will also include several exclusive items, including a 44-page hardcover book with unreleased photos and new artwork by original album designer Hugh Syme, along with new illustrations for each song; extensive liner notes by Kim Thayil (guitarist, Soundgarden), Les Claypool (bassist/vocalist, Primus), Taylor Hawkins (drummer, Foo Fighters), Bill Kelliher (guitarist, Mastodon), and Neil Sanderson (drummer, Three Days Grace); a Red Barchetta model car mounted on a black perch with an MP40 nameplate; two Neil Peart signature MP40 branded drumsticks; two metal-embossed guitar picks, one each with Geddy Lee and Alex Lifeson's respective signatures engraved on them; a replica of the Moving Pictures 1981 official tour program; an MP40 logo enamel pin; a 3D lenticular "Moving Pictures in motion" lithograph; an 18×24-inch Toronto 1981 concert poster; a replica concert ticket from the 1981 Maple Leaf Gardens show; a 12×36-inch Rush Through The Years 1973-1981 poster; a YYZ luggage tag; and a All Access World Tour '81 insert. All contents are housed in a premium lift-top box, which features movingly reimagined cover artwork by Hugh Syme. ...
There's also a Super Deluxe Edition unboxing video which you can watch below or on YouTube. You can get all the details via the press release at Rush.com and pre-order your copy today at the Rush Backstage Club.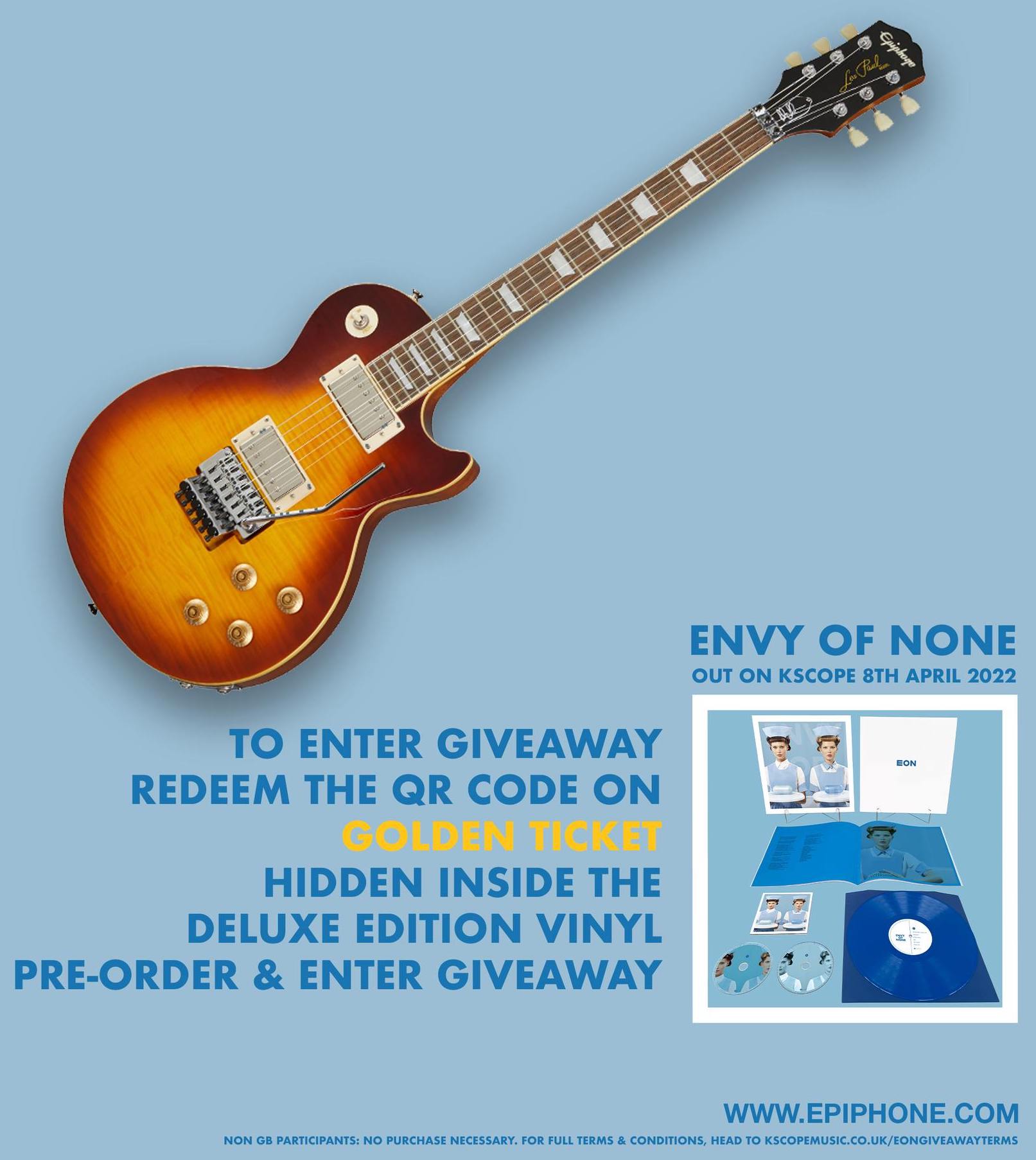 Alex Lifeson's Envy of None project released its first single last month via their newly-launched website at envyofnone.com. The song is titled Liar and you can listen to it via all the major streaming platforms here, or watch the official lyric video on YouTube. Envy of None consists of Lifeson, Andy Curran, guitarist Alfio Annibalini and vocalist Maiah Wynne. Fans got a taste of their music this past summer when Alex Lifeson released two instrumental tracks that the project had recorded via his official website at AlexLifeson.com - Kabul Blues and Spy House - both of which are available for listening online here. They ended up recording nearly a dozen songs and have spent the last several months promoting the project and preparing the tracks for release. The band's self-titled 11-track debut album will arrive on April 8th from KScope Music on black, white and blue vinyl (the latter is exclusive to North America) and also on CD. A limited-edition deluxe version of the release will feature a five-track bonus CD and a 28-page booklet with exclusive content. Earlier this week Envy of None and Epiphone announced a contest where they will be giving away an Alex Lifeson Signature Les Paul Axcess Standard electric guitar. To enter the contest, fans need to scan the QR code hidden inside the Deluxe Edition of the forthcoming album. You can get the full details regarding the contest on the KScope website here, and check out all the available purchase options, including the Deluxe Edition, here. You can also follow the Project via their website, on Facebook, Twitter and Instagram.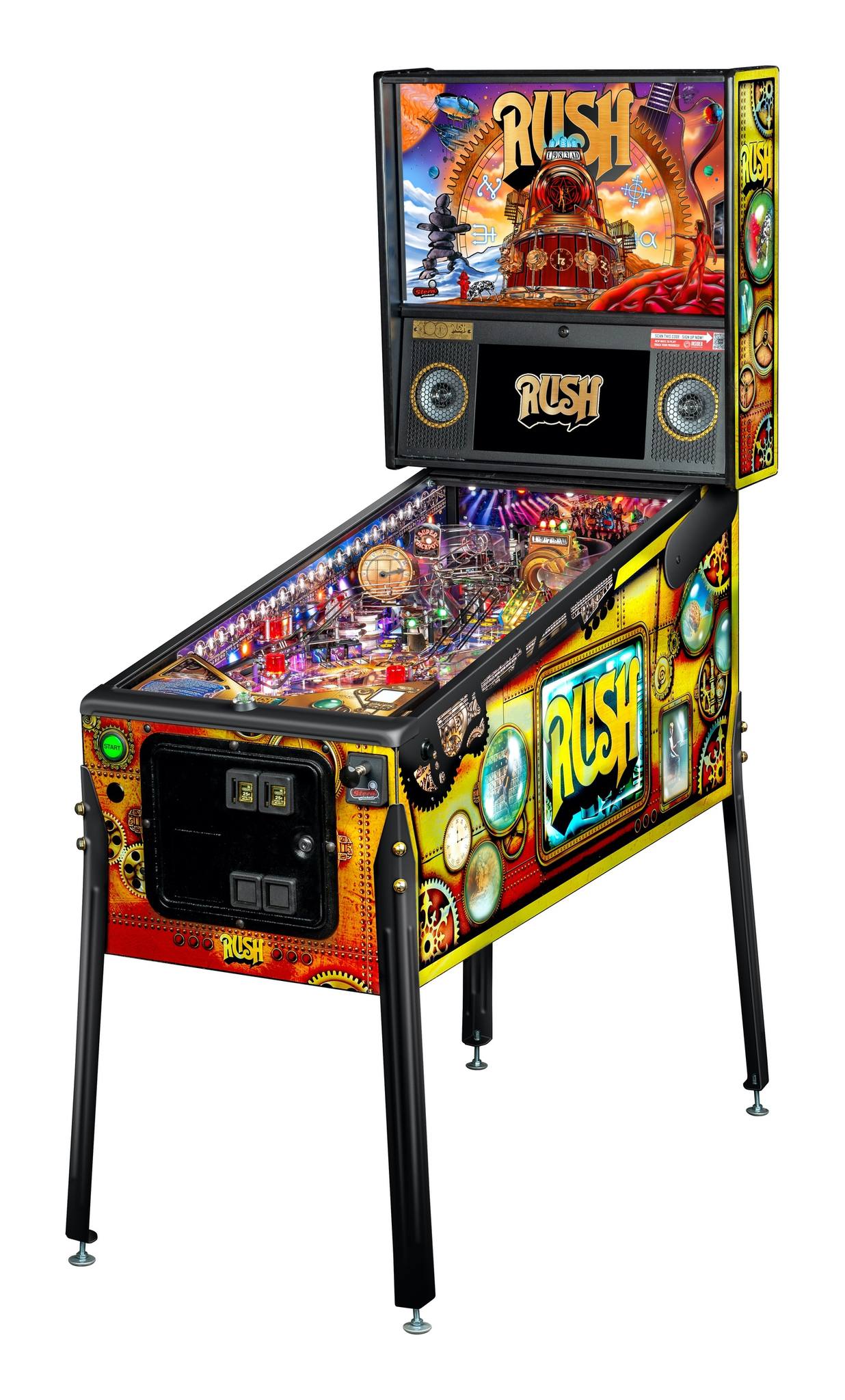 Last month, Rush and Stern Pinball released a line of Rush pinball machines as detailed in this official announcement from the band and this video trailer giving a first look at the pinball machines. The machines are available in Pro, Premium, and Premium Limited Edition models, and include Rush music, concert footage and custom speech from Alex Lifeson and Geddy Lee. Stern Pinball's website also features dozens of photo's of the machines, videos of the specific model features, and a hilarious 4-minute, behind-the-scenes video of Alex Lifeson, Geddy Lee, and Ed Robertson of the Barenaked Ladies in the studio recording voice-overs. Robertson is an avid pinball machine collector and directed Ged and Al's voice-overs in the studio. He was interviewed earlier this week for UltimateClassicRock.com to discuss his involvement and said the following:
... "I wanted the game to appeal to the hardcore Rush nerd as well as the hardcore pinball nerd," ... "It needed to be fast, fun, challenging. And then the software and the coding need to do justice to the intensity of the band. The machine has to embrace the complexity and intensity and authenticity - and the humor - that's all part of Rush." ... Robertson was initially approached by Rush's Geddy Lee, a friend who'd inducted BNL into the Canadian Music Hall of Fame in 2018. "He said, 'Hey, we're being approached by people to do a pinball machine, and we don't really know anything about them. Can you tell us what we should be looking for?'" Robertson recalls. His detailed response to Lee and guitarist Alex Lifeson led to the duo's insistence to Stern that Robertson be on board. "So I was kind of involved from before the beginning of the machine, really, and I've been involved every step of the way," Robertson says. "I was able to choose the game designer [John Borg] and the software coders [Tim Sexton and Raymond Davidson], and I've really kind of been the go-to guy between Stern and the band, explaining pinball stuff to the band and explaining rock 'n' roll stuff to the Stern team." Robertson notes, however, that Borg, who's done Metallica and The Walking Dead machines, among others, for Stern, is "an old school rock 'n' roller and a huge Rush fan, on top of that," while the younger coders were turned into Rush fans during the process. ...
The folks at Shack News spoke with the developers at Stern Pinball this past week for an interview where they do a deep dive into the Rush pinball machines. You can check out that interview online here. The Rush pinball machines and accessories are available to order now through authorized Stern Pinball distributors and dealers around the world, and are already available to play at a number of locations across the country as seen at pinballmap.com (just search "Rush").
Back in June we learned that Loucin Guitars founder and master guitar maker Garren Dakessian had been entrusted with the task of restoring Alex Lifeson's first electric guitar - a Japanese Canora guitar that his parents gave him as a Christmas gift in 1967 at the age of 14. From an Alex Lifeson Instagram post:
Garren is tasked with bringing my Canora back to life after a half century of neglect. @geddyimages and I both painted our Canoras in day-glo green and orange a million years ago and now it's time to restore it to that gorgeous fifty-nine dollar finish! Corduroy pants and a paisley shirt-stylin' big time! ...
Garren has been keeping everyone informed on his progress with the restoration, and earlier this week posted a photo to Facebook of the guitar after it was painted with its first coat of Tornado Red paint. For all the latest updates, be sure to follow Loucin Guitars on Facebook and Twitter.
In the latest episode of the Something for Nothing podcast, hosts Steve and Gerry are joined by Curtis Lanclos of the RetroZest podcast to discuss their favorite examples of Rush in pop culture. You can listen to the show below or via your favorite podcast service:
Jazz pianist Brad Mehldau will pay tribute to his prog rock heroes with the release of his new album Jacob's Ladder, due out in March. The music is inspired by the prog rock Mehldau loved as a young adolescent, which was his gateway to the fusion that eventually led to his discovery of jazz. The album's first single is titled maybe as his skies are wide, which builds off an interpretation of one portion of Rush's Tom Sawyer. The album also includes a cover version of the Rush classic, along with covers of songs by Gentle Giant and Emerson, Lake and Palmer. From the press release:
... "The musical conduit on the record is prog," Mehldau explains. "Prog - progressive rock - was the music of my childhood, before I discovered jazz. It matched the fantasy and science fiction books I read from C.S. Lewis, Madeleine L'Engle and others at that time, aged ten through twelve. It was my gateway to the fusion of Miles Davis, Weather Report, Mahavishnu Orchestra and other groups, which in turn was the gateway to more jazz. Jazz shared with prog a broader expressive scope and larger-scale ambitions than the rock music I had known already. ... I tried to avoid a direct tribute approach to all the songs, and opted in some cases for excerpts, or reworking of themes." ...
You can watch the official video for maybe as his skies are wide on YouTube here, and see the album's complete tracklist at bradmehldau.com. The album will be available on CD and vinyl on March 18th, and can be pre-ordered here.
Jack White of the White Stripes was recently interviewed for Talkin' Rock With Meltdown to talk about the Rock and Roll Hall of Fame, his upcoming album/tour, and baseball. White is a huge baseball fan - particularly of his hometown Detroit Tigers - and has bonded with Rush's Geddy Lee (also a huge baseball fan) over their shared passion (thanks RushFanForever):
... "We write to each other sometimes about baseball," said White. "He has an incredible collection, too, of baseball memorabilia and stuff like that. And just what a nice guy! Such an incredibly nice guy." ...
WhatCulture.com posted their list of the 10 best progressive rock albums of all time this past week and 2 Rush albums made the cut, with Hemispheres at #4 and Moving Pictures taking the top spot (thanks RushFanForever):
Sometimes less really is more. After spending the '70s knocking out grand scale, 10 minute plus epics, Rush downsized with the 1981 release of 'Moving Pictures'. The result was their biggest commercial success yet and the release of their most famous single, 'Tom Sawyer'. The group's signature high concept lyricism and Neil Peart's incomparable drumming prowess are on full display throughout, even with the more water tight approach to track length. The album's a fast-paced showcase of Rush's various abilities as a band. Sweeping tracks like 'Red Barchetta' highlight the group's lyrical longing for liberty. 'XYZ' is a neat, well-paced instrumental well-tailored for those longing for the more eccentric compositions of earlier releases. Then there's the aforementioned 'Tom Sawyer', one of the coolest rock tracks of the '80s. Formed from a poem by Canadian lyricist Pye Dubois, the adventurous single makes good use of the decade's obsession with synthesisers and holds one of guitarist Alex Lifeson's finest solos. By allowing their sound to become a little more straightforward and accessible, Rush reached new commercial heights whilst keeping their progressive identity in tact. Their next release, 'Signals', did not balance the old and new styles of the group to quite the same effect. Due to a heavy reliance on synthesisers throughout, the LP was criticised for straying too far from the guitar-laden sound the group was better known for. More than anything, it proved just what a perfect cocktail of sounds and ideas 'Moving Pictures' really was.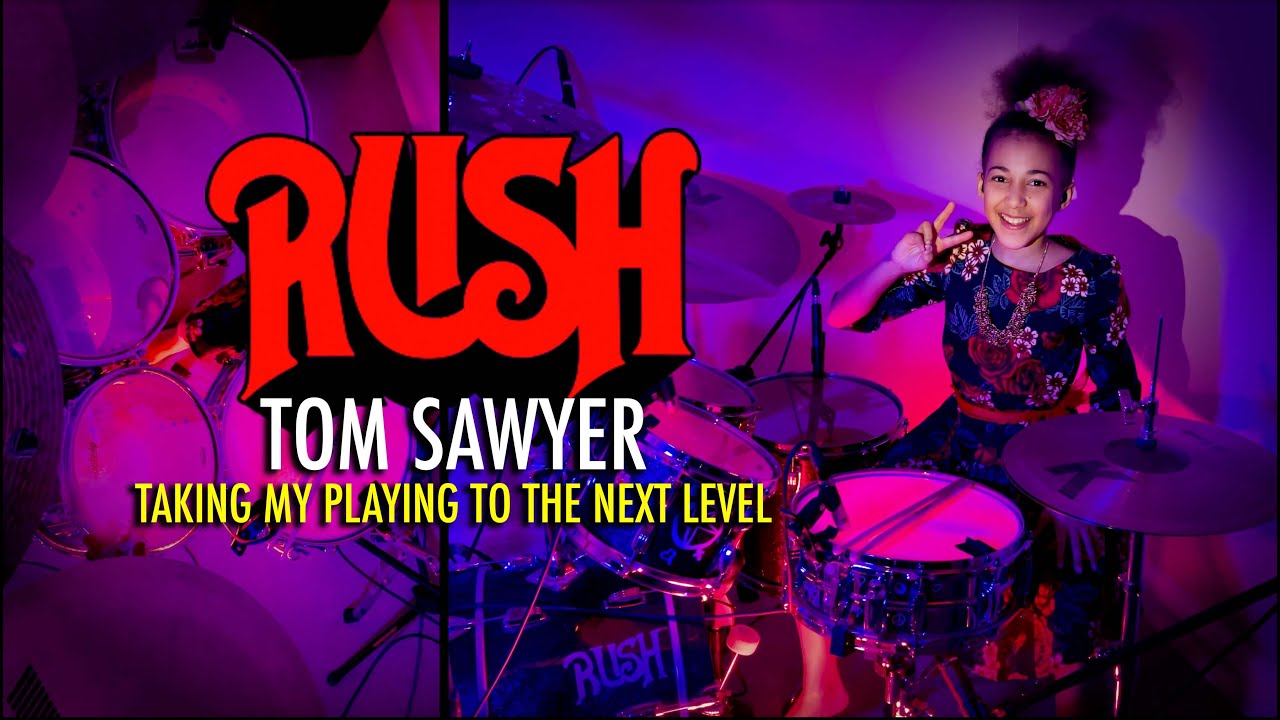 11-year-old drumming sensation and social media celebrity Nandi Bushell recently posted her cover of Rush's Tom Sawyer to YouTube with the following caption:
This one is for you Professor Peart. I wanted to try a @rush song that would really challenge me. I watched an interview were the Professor said Tom Sawyer 'remains so difficult to play'. So I thought I would give it a try. It's actually really fun to play. I really hope I have done the song justice, Professor Pearts' playing is incredible. I hope I got the strength and smoothness balance right. I have a new found love for RUSH now too! ...
Bushell became a viral sensation back in 2020 thanks to a virtual, lockdown drum battle that unfolded between her and Foo Fighters frontman Dave Grohl. You can check out all of her videos on her YouTube channel here. The video caught the attention of Rush themselves earlier this week, who retweeted her video with the following quote from Alex:
Oh @Nandi_Bushell, you brought a tear to my eye with this tribute! Tom Sawyer is a difficult song to play drums to and you made it so much fun. Neil would have loved your performance and wonderful smile, as both Geddy and I do! - Alex
That's all for this week. Have a great weekend!!