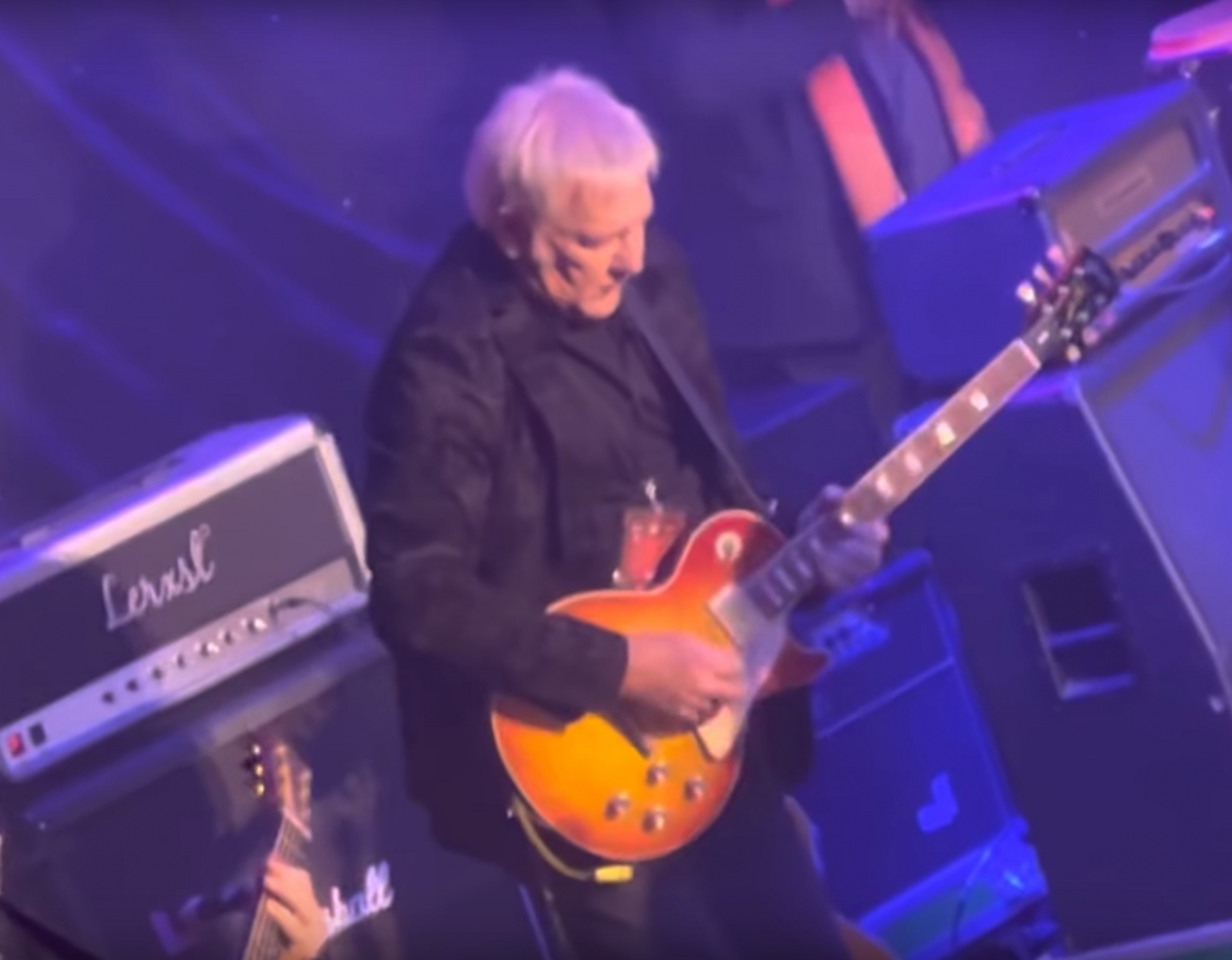 The 17th annual Andy Kim Christmas show in support of CAMH Gifts Of Light took place this past Wednesday evening at the newly-renovated Massey Hall in Toronto, and Rush's Alex Lifeson was one of the many Canadian artists to participate. As we learned earlier this week, Canadian prog-rock duo Crown Lands also performed at the event along with Billy Talent, The Sheepdogs, Ron Sexsmith, Jully Black, Tyler Shaw, Sloan, William Prince, Mary Margaret O'Hara, Jake Clemons, Men Without Hats, Pursuit of Happiness, Theo Tams, Beverly Mahood, Georgia Harmer and Choir, Choir, Choir. The highlight of the night was an all-star, Led Zeppelin medley jam that involved Lifeson, Crown Lands and several others. They performed the Battle of Evermore and the latter half of Stairway to Heaven which featured Lifeson on the legendary solo. You can watch the performance below or on YouTube at this location. Here's a photo of several of the performers (including Alex) backstage after the show:
Pretty special night when you can have 4 generations of Canadian Rock all hanging out backstage @masseyhall after playing together, talking music and shooting the shit. Alex of @rushtheband + Chris of @Sloanmusic + Kevin of @CrownLandsMusic pic.twitter.com/DIXhvIbjGu

- The Sheepdogs (@TheSheepdogs) December 9, 2021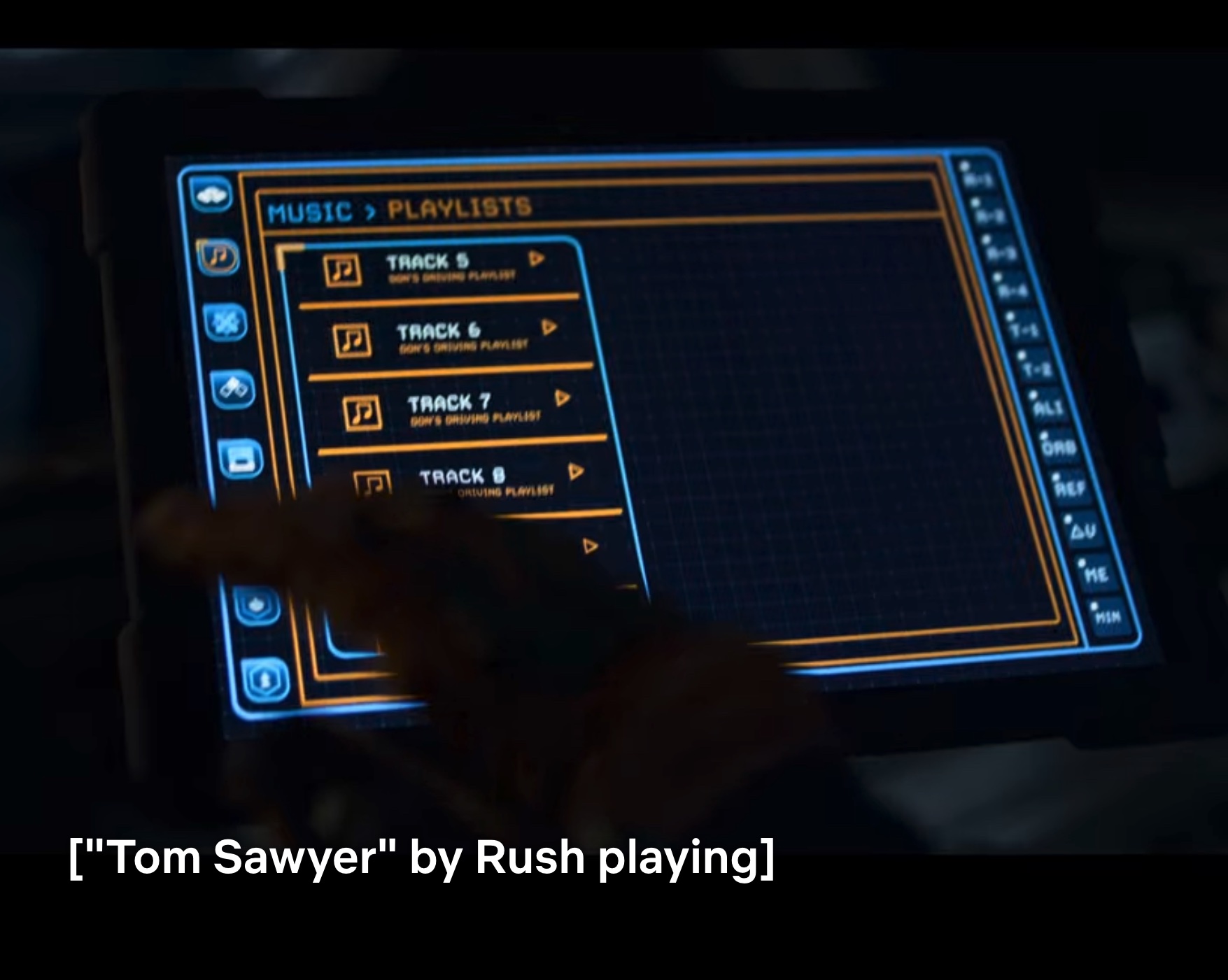 The third and final season of the Netflix reboot of the classic sci-fi TV show Lost in Space dropped last week, and Rush's Tom Sawyer is played during one scene in episode 6 (Final Transmission). At about the 19:30 mark Will Robinson is driving a vehicle and being chased by an evil robot. He then pulls up a playlist on the sound system that says Don's Driving Playlist (Don refers to the character Don West) and queues up Rush's Tom Sawyer as he says to himself, "come and get me". The song then plays in the background for about 20 seconds. The show is available to watch on Netflix at this location (subscription required).
On the latest episode of the Something for Nothing podcast, hosts Steve and Gerry continue their deep dive into Geddy Lee's one and only solo album - 2000's My Favorite Headache. You can listen to part 2 of thier discussion below or via your favorite podcast service:
In the latest episode of the 2 Guys Talking Rush podcast, hosts John and Dan continue their chat with Chris Stankee - global director of artist relations for Sabian cymbals and a very close friend of the late Neil Peart. You can listen to part 2 of the interview below or via your favorite podcast service:
During a recent appearance on the Talk Toomey podcast, original Pantera singer Terry Glaze looked back on the five years he spent in the group between 1981 and 1986, and mentions a Rush connection:
... I had a little band with Tommy Bradford, one of my best friends - he played bass. Our drummer was from middle school, we were in 10th grade, and Vince was the best drummer at our school. Our football team was awful, but our prep rallies were off the hook because the four guys playing snare drums, it was a show, it was incredible. So, because of the jazz band, I think Tommy said to Vince, 'Hey, you want to jam?' Me and Tommy and Vince, I think we learned like Rush's [1976 classic] '2112' live or something like that, we jammed in my garage, we played instrumental, the whole record. And we were like, 'Man, this was amazing!' ...
MusicRadar.com posted their list of the best prog guitarists in the world right now according to their readers, and Rush's Alex Lifeson made the cut at #5:
Despite the sad reasons behind the decision, we're pleased to see Alex Lifeson enjoying the freedom from Rush's mega tour cycle.The guitarist has spent much of 2021 indulging experiments and new collaborations. Whether it's releasing instrumentals, collaborating with Tom Morello and Kirk Hammett or his Envy Of None side project with Andy Curran, Lifeson is keeping busy.
Lifeson was also included in their list of the 10 best new signature guitars of 2021 with his Epiphone Alex Lifeson Les Paul Axcess Standard:
Alex Lifeson's signature Les Paul Axcess is arguably the most versatile take on the classic solidbody singlecut. It has a Graph Tech Ghost double-locking vibrato, putting pitch squeals and divebombs on the menu. It has a generous heel carve, allowing you an all-access pass to the 17th fret and beyond. There's a coil-tap for single-coil spank if you need it. Heck, it's even got a Piezo. It can do it all. It could probably open a can of beans but it didn't occur to us to try that when it was in for review. The signature neck profile feels like a SlimTaper D and strikes a nice balance, not too thick, not too thin, and the ergonomics of the Lifeson model gives the Les Paul a high-performance vibe. And, not that we're shallow, but it wears these modern appointments well, with its Viceroy Brown finish a classy hue for a classy player.

MusicRadar verdict: This is the most tonally versatile Les Paul around and the fact it's now part of the Epiphone catalogue at a more accessible price is great news for players who want to expand their tonal horizons.
WhatCulture.com posted their list of the 10 Greatest Concept Albums In Rock Music History this past week and Rush's 2112 was included at #9:
It feels like a missed opportunity that Rush didn't go the conceptual route all that often. Since they love nothing more than to make long expansive songs with detailed stories, the idea of an album centered around one theme would have been a home run right out of the gate. When they did decide to go for broke though, we were left dumbfounded by something like 2112. After having all of their recent albums selling either respectable numbers or next to nothing, the band were up against the wall to make something with more chart appeal. So of course they went ahead and made this album complete with a 20 minute song about space federations. And what's even crazier is how everyone got on board with this absolutely bonkers concept. Ripped straight out of science fiction, the bulk of 2112 runs as a tale of one man's discovery of music, in a dystopian society where all free forms of expression have been banned. Though some elements like the vision he gets might seem a bit corny these days, the nerdy set of rock fans found a bit of a kindred spirit in this kind of music. Since the entire story revolves around a man wanting to express himself against a system that wants him to conform at every turn, never in rock history has art ever paralleled reality this accurately.
Here's Wednesday night's performance of Led Zeppelin's Battle of Evermore/Stairway to Heaven at the Andy Kim Christmas show, featuring Alex Lifeson on guitar:
That's all for this week. Have a great weekend!!