UPDATE - 12/9@6:19PM: Alex posted these same 2 photos to his official Instagram page as well, using the caption:
So fun to play together. Thatís what itís all about, a bunch of players jamming together because we can! See you Wednesday night on that awesome Massey Hall stage. Bring it!!
----- snip -----
UPDATE - 12/8@10:07AM: The Lifeson/Crown Lands performance was also confirmed by Exclaim!, who also mention that they'll be doing A Stairway to Heaven.
UPDATE - 12/8@9:23AM: According to this video from Toronto guitarist David Barrett (around the 10:25 mark), the reason that Alex was hanging out with Crown Lands was to rehearse for tonight's Andy Kim Christmas show. The trio apparently will be performing Led Zeppelin's How Many More Times. Thanks to RushFanForever for the heads up.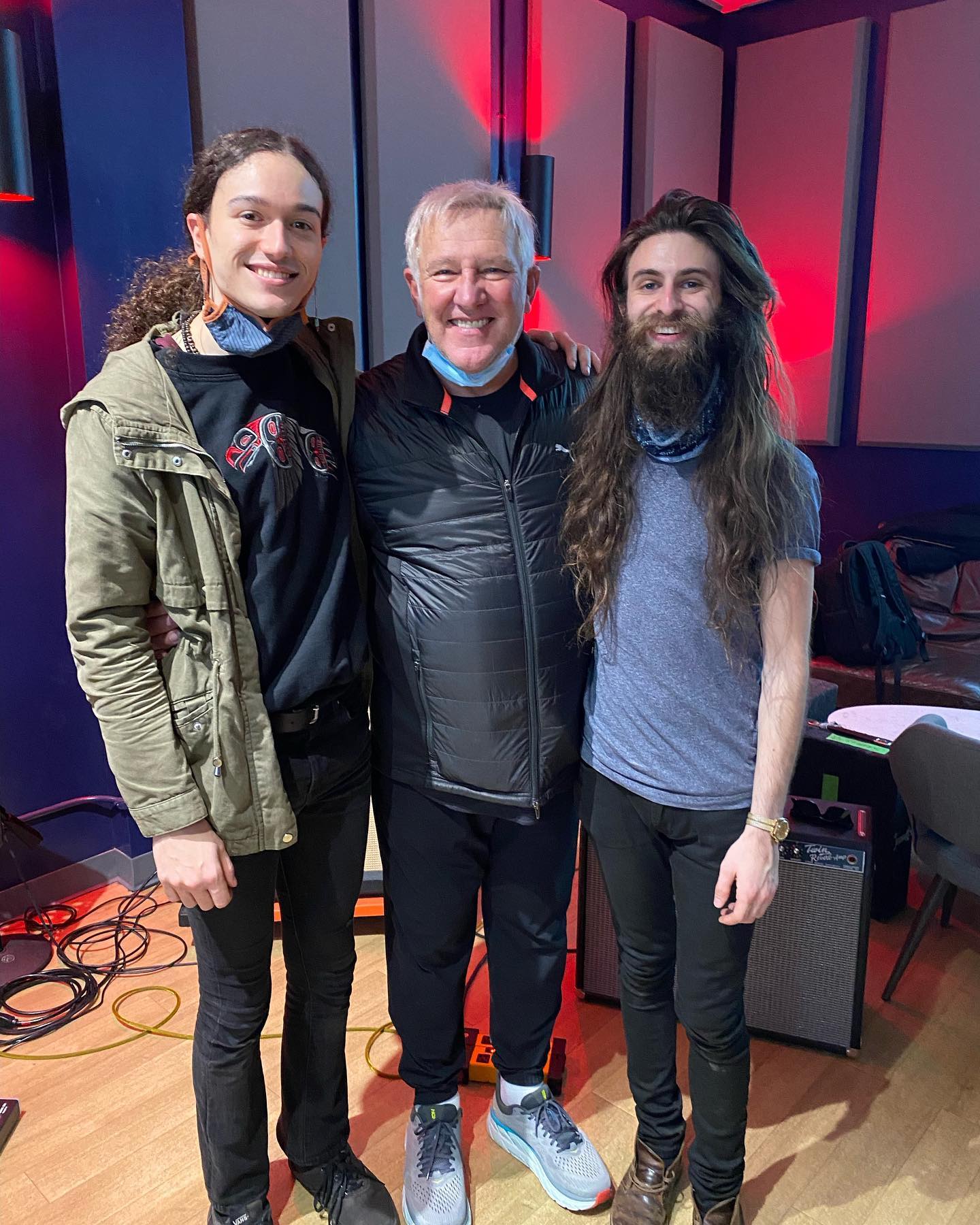 Toronto-based progressive blues-rock duo Crown Lands consists of drummer/singer Cody Bowles and guitarist Kevin Comeau, who bonded over their shared obsession with Rush six years ago and formed Crown Lands shortly after. The duo released their blues-rock, riff-laden, self-titled debut album last year, and were named Breakthrough Group of the Year at this year's JUNO Awards, with the album winning Rock Album of the Year. The pair make no secret regarding their obsession with Rush - the Crowns Lands album includes a 10-part song with sections referencing Rush's work titled Context: Fearless Pt. 1. They made a demo of the song with former Rush producer Terry Brown, and later worked on the track with Nick Raskulinecz, co-producer of Rush's last 2 albums, and David Bottrill (who remixed Rush's Vapor Trails album). The pair were recently interviewed for Guitar.com to talk about their new EP White Buffalo (released in September) and were asked whether they thought they could ever get Geddy or Alex to play on a Crown Lands record:
KC: "We met Geddy a few years ago when we toured with Primus. Les was doing The Claypool Lennon Delirium gig in Toronto and Geddy came onstage to play Tomorrow Never Knows by The Beatles with them. So afterwards we went backstage and hung out. Geddy was really sweet, but he was more interested in talking about wine with Les, which is totally understandable [laughs]. He just came to see his buddy and we're there like, 'We're not worthy!'"

"But who knows? I don't even know what they think of Crown Lands. They could see this and think 'who the fuck are these kids?'"

CB: "But we're all inspired by somebody, so just own it! People take inspiration from everyone [moves camera to show Rush posters in their room]."

KC: "We haven't met Alex yet, but I'd love it if we could jam with them. They're in their own worlds and they deserve to enjoy their lives. They've been nothing but music for 40 years."
It seems that their wish came true, as demonstrated in a recent Facebook post to the official Crown Lands page here. The post shows the duo hanging out with Alex Lifeson in the studio with their double-neck guitars, with the caption, Some real magic happened today. So does this mean that Lifeson will appear on a future Crown Lands recording? More news as we learn it.