UPDATE - 12/8@10:07AM: The Lifeson/Crown Lands performance was also confirmed by Exclaim!, who also mention that they'll be doing A Stairway to Heaven.
UPDATE - 12/8@9:25AM: According to this video from Toronto guitarist David Barrett (around the 10:25 mark), Alex Lifeson will be performing Led Zeppelin's How Many More Times along with Canadian prog-rock duo Crowns Lands as described in this post. Thanks to RushFanForever for the heads up.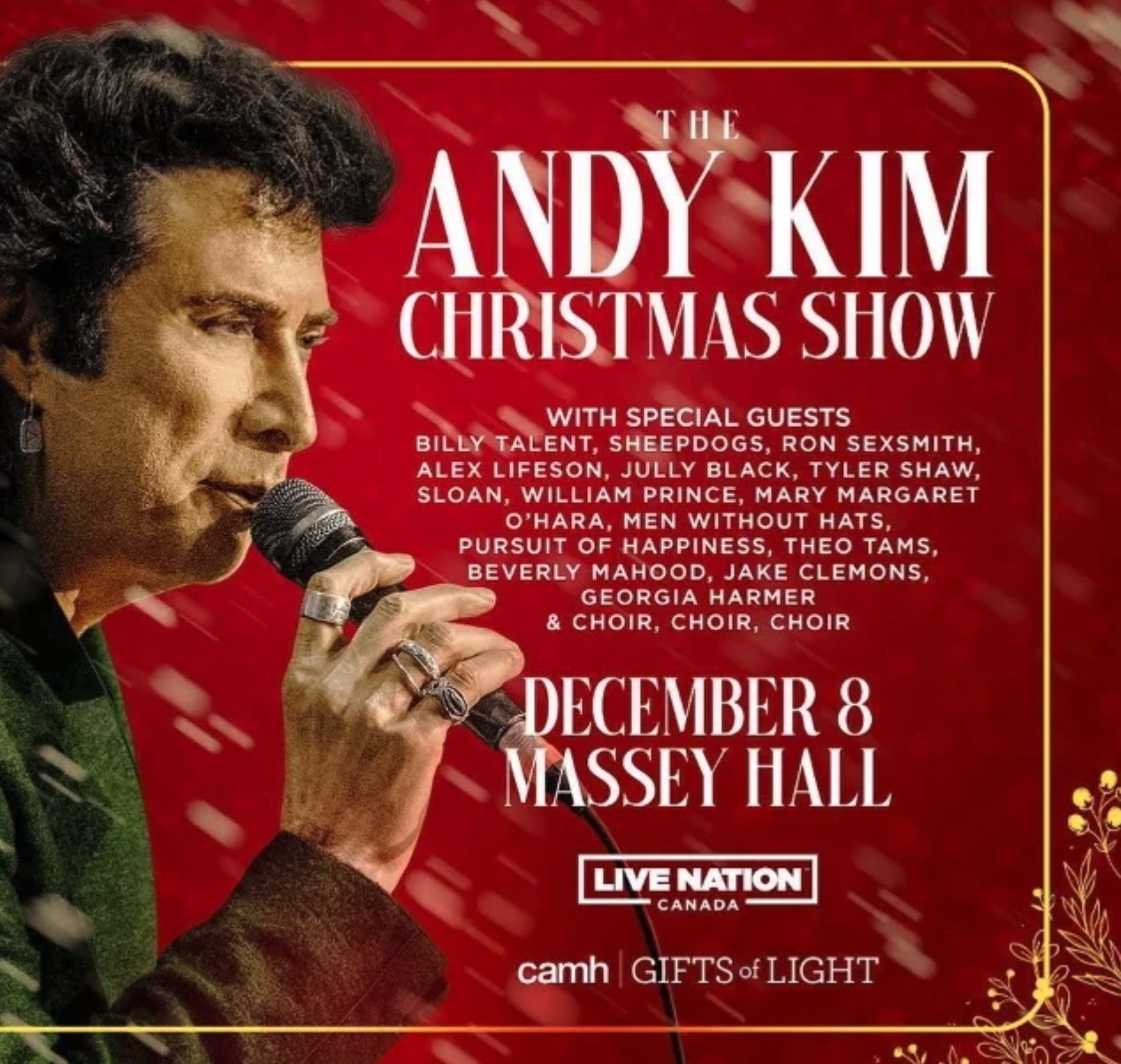 The 17th annual Andy Kim Christmas show in support of CAMH Gifts Of Light will take place on December 8th at the newly-renovated Massey Hall in Toronto, and Rush's Alex Lifeson will be one of the many artists to participate. Other artists slated to perform include Billy Talent, The Sheepdogs, Ron Sexsmith, Jully Black, Tyler Shaw, Sloan, William Prince, Mary Margaret O'Hara, Jake Clemons, Men Without Hats, Pursuit of Happiness, Theo Tams, Beverly Mahood, Georgia Harmer and Choir, Choir, Choir. From the press release:
... "It's an honour for us to host a true Canadian music legend in Andy Kim and the institution known as The Andy Kim Christmas at Massey Hall. We've always admired Andy's selfless commitment to helping others, rallying his extensive circle of talented friends to put on one of the year's best nights of music, all while raising funds for CAMH Gifts of Light. It's an inspiring demonstration of music's power to bring people together and better our community. We can't wait for December," said Jesse Kumagai, President and CEO, Massey Hall.

"I have long wanted to do the Christmas show at Toronto's historic Massey Hall and with the support of Live Nation Canada, I am excited to be one of the first to perform after their revitalization and bring The Andy Kim Christmas back in front of a live audience. It has been many, many long months and hopefully we can once again raise an incredible amount of money for CAMH Gifts Of Light," said Andy Kim.

During this one-of-a-kind charity event, patrons will be treated to a classic variety entertainment show. Featuring holiday performances by some of the country's most sought-after singer / songwriters and performers. ... Join us for a magical evening jam-packed with Canadian talent and Christmas music.

Last year, the concert brought people together from coast to coast on television, raising over $200,000 to bring its cumulative money raised to over $1.8 million.
You can get more information and purchase tickets at this location. Thanks to John at Cygnus-X1.net for the heads up.