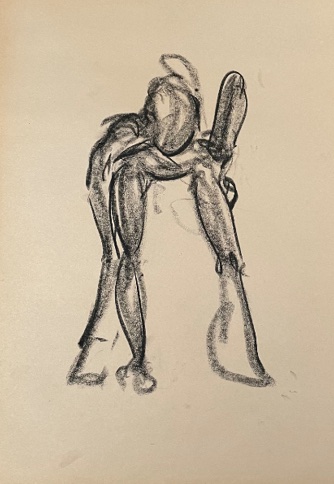 The Kidney Foundation of Canada's annual A Brush of Hope charity auction fundraiser kicked off earlier this week and Alex Lifeson is once again one of the many Canadian celebrities participating by donating their original paintings. Alex's contribution this year is an original charcoal sketch of a live model that an 18-year-old Lifeson created back in 1971 while attending an art class. The piece is charcoal on art paper, measures 18"x24" and is hand signed and dated on the front by Alex Lifeson. You can check out all the details and place your bid online at this location. Alex has participated in the auction nearly every year since 2006, including last year with his painting Forked which ended up selling for over $7K CAD! The Brush of Hope online charity auction will run through Wednesday, November 10th at Noon. For all the latest news and information be sure to follow A Brush of Hope on Facebook. You can also purchase Limited Edition signed prints of some of Lifeson's paintings from previous years, including last year's Forked print here.
This past week's episode of the Something for Nothing podcast focused on Rush origin stories, where hosts Steve and Gerry chat with several of their regular listeners to learn about when they first heard Rush and how they became a fan. You can listen to the show below or via your favorite podcast service:
In the latest episode of the 2 Guys Talking Rush podcast, hosts John and Dan continue their chat with Rush video director David Davidian, who won Video Director of the Year at the Parnelli Awards in Las Vegas in 2013 for his work on Rush's Clockwork Angels Tour video. You can listen to part 2 of the interview below or via your favorite podcast service:
Ultimate Classic Rock's Matt Wardlaw recently sat down with all 3 members of Triumph for a new interview where the trio talk about the band's history and their new documentary Triumph: Rock & Roll Machine. Drummer/vocalist Gil Moore addressed how Triumph was often confused with Rush:
... You've got Rush, one of the greatest bands of all time, and they've got intense fans. They were constantly touring in America. We'd be showing up and they would have been blowing through town two months earlier or two months later. Walking through airports, you'd get the fans that weren't really with it that weren't that tight with either band. We were both a little bit faceless, in a way. They'd get the bands confused [because of that]. It just got to the point where somebody said to Mike Levine, "Are you [Rush front man] Geddy [Lee]?" He'd just go, "Yeah, I'm Geddy. I'm just having a bad day." [Laughs.] We would just play with it, because we loved the guys in Rush and [their music] like everybody else does. It was just a coincidence that we were both from Toronto, both a three-piece. Rik's got a high voice; Geddy's got a high voice. But you know, the music's not similar really, I don't think. ...
The December issue of Classic Rock magazine (issue #295) includes a story on Rush's Hemispheres album by Don Lawson. The article includes previously-published quotes from Geddy Lee where he discusses the band's 1978 classic, which just celebrated its 43rd anniversary last month. You can check out a 21-page sampler of the magazine which includes the first 2 pages of the Hemispheres article here. Speaking of Hemispheres, uDiscoverMusic.com also posted an article this past week celebrating the album's anniversary titled Hemispheres: Wrap Your Brain Around Rush's Cerebral Prog Classic. Thanks to RushFanForever for the heads up.
That's all for this week. Have a great weekend everyone!!