UPDATE - 10/31@11:35AM: The winning bid on Alex's painting was $7373 CAD (thanks RushFanForever).
UPDATE - 10/22@11:06AM: Alex explains the name of the painting in this Facebook post from Rush:
"A small point of interest, "Forked" was created entirely by using a fork, not brushes." - Alex Lifeson
----- snip -----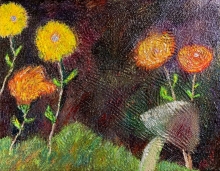 The Kidney Foundation of Canada's annual A Brush of Hope charity auction fundraiser kicked off earlier today and Alex Lifeson is once again one of the many Canadian celebrities participating by donating their original paintings. Alex's contribution this year is a 11"x14" acrylic painting titled Forked, which is now available for bidding on the eBay.ca website at this location (thanks RushFanForever). Alex has participated in the auction nearly every year since 2006, including last year with his painting Minus 20 which ended up selling for over $13K CAD! The Brush of Hope online charity auction will run through Saturday, October 31st at Noon. For all the latest news and information be sure to follow A Brush of Hope on Facebook. You can also purchase Limited Edition signed prints of some of Lifeson's paintings from previous years, including last year's Minus 20 print here.