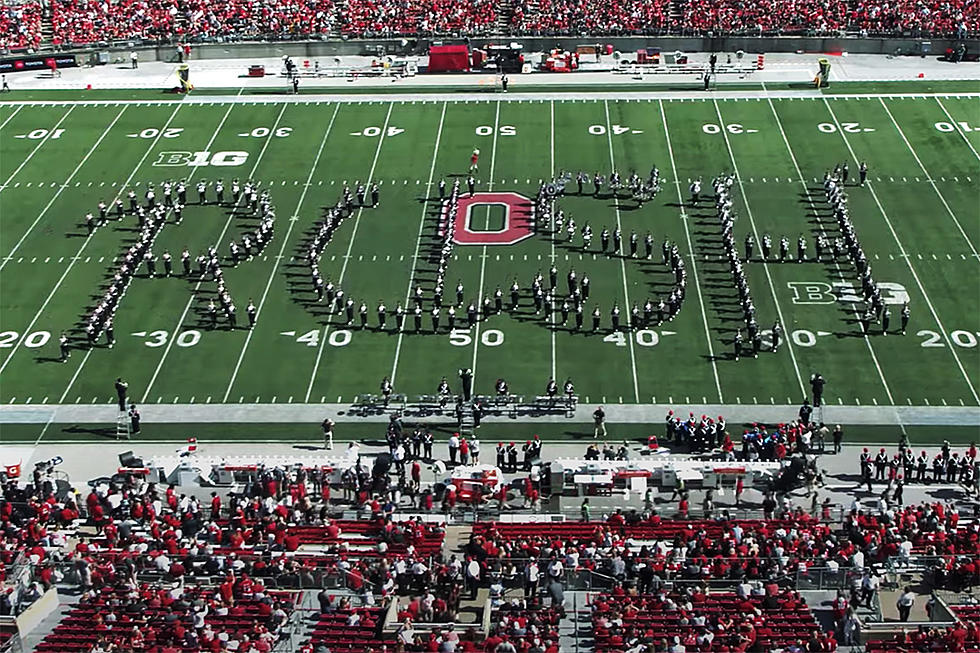 The Ohio State University Marching Band put on an amazing performance featuring the music of Rush for their halftime show during last Saturday's game versus the Maryland Terrapins in Columbus, which the Buckeyes won 66-17. The Band is one of the most celebrated collegiate marching band programs in the country and had been teasing the Rush tribute all last week by dropping hints via social media. They performed 2112 (brief intro), The Spirit of Radio, Limelight, Closer to the Heart, YYZ, and Tom Sawyer, including amazing choreography where they created visuals for each song, morphing from one shape to the other as they marched. The Band posted the performance online and it immediately went viral, garnering loads of attention across the internet. Rush themselves chimed in via Twitter saying, "We're speechless". Ohio State News reported the following regarding additional percussion added for the tribute:
... To help recreate Peart's sonic impact, the percussion section was expanded by 20 toms and 20 extra cymbals mounted on four racks. They were at the front of the formation and played by the band's five percussion alternates for this week. ...
You can watch the entire performance below or on YouTube at this location.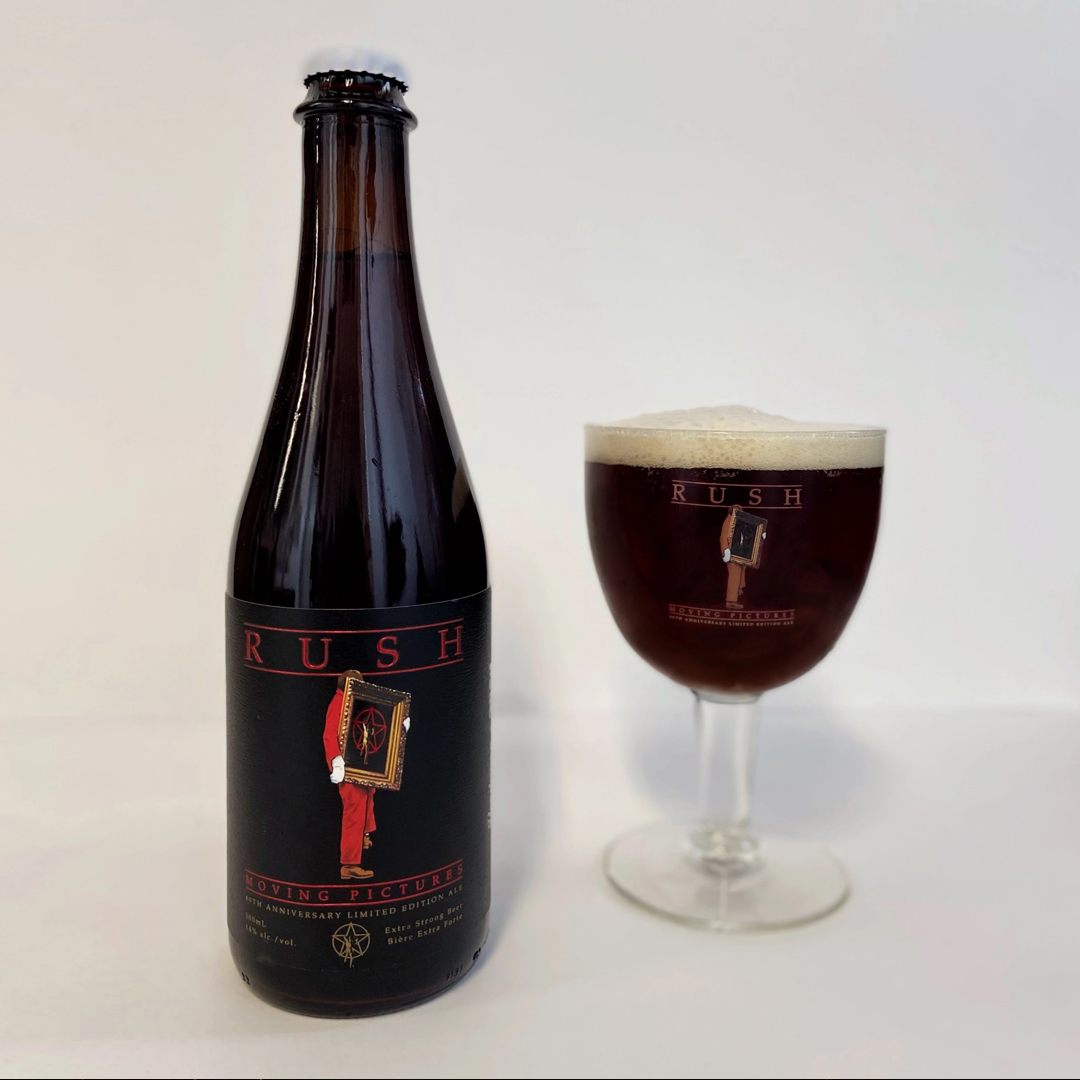 Back in August Rush teamed up with Henderson Brewing Company to release their first Rush-branded beer - Rush Canadian Golden Ale - and have followed that up with yet another beer collaboration with the Toronto-based brewery. From Rush.com:
In honour of the 40th anniversary of Rushs eighth studio album, Moving Pictures, Henderson Brewing and Rush have teamed up once again. This time, for a very special limited edition ale. A Belgian Dark, strong ale with Riesling Must, this ale pours a gorgeous deep, ruby colour with a fine, tan head. The taste is complex, with notes of dark fruit pudding, toffee, dates, cherries, honey, bread crusts and a slight booziness. Perfect for aging, this 14% limited edition ale makes a great holiday gift.
You can order Moving Pictures Ale from Henderson Brewing or check your local LCBO for availability. They also have an update regarding availability of their Rush beers outside Canada:
For our American friends, please know weve been working hard to make Rush x Henderson Canadian Golden Ale available in the USA and are happy to let you know it is coming in the spring! Weve also held back some of this wonderful Moving Pictures Ale for the spring for you. And sidenote, were happy to see our US/Canada land border is opening up after 18 months.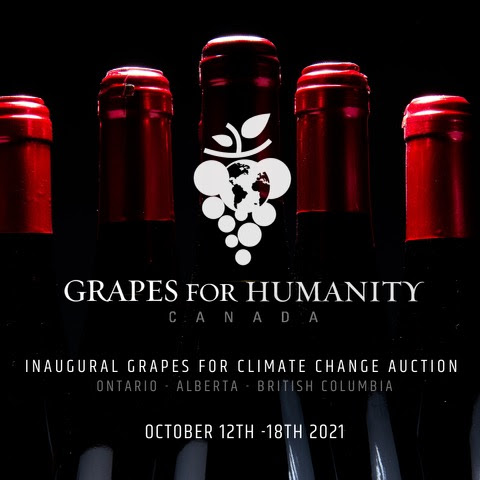 Grapes for Humanity is an organization that helps to raise funds to benefit humanitarian causes around the world with the assistance of the international wine community, and Geddy Lee is a member of the board of directors. The charity is hosting a Grapes for Climate Change online fundraiser auction, and have kicked off three Canadian provincial wine auctions in Ontario, Alberta and BC, to raise funds to aid in the battle against the threat of climate change. The proceeds will benefit Nature Conservancy Canada, and Tree Canada, along with global communities in need. These inaugural auctions are handled by Irongate Auctions, and the Vancouver Club in BC. The auctions began this past Tuesday and will run through this coming Monday, October 18th at 9PM. The items up for auction include guitars and other items signed by Geddy Lee and Alex Lifeson, as described by Geddy (via the Rush newsletter):
"Last year, my BFF Alex and myself donated numerous signed items to benefit the struggling hospitality industry and you came through with flying colours to help all manner of restaurants and their workers get through the pandemic. Today we are asking for your support once again. Wines from my personal collection, Luxe Editions of the BBBoB, An Alex Lifeson Signature Epiphone Guitar and one of my Signature Fender Jazz Bass models. All signed and in effort to raise money for Grapes for Humanity, this time in aid of the dire Climate Change Crisis we are facing, as well as the variety of programmes around the globe, that GFH Canada has been supporting through the years." - Geddy Lee
The Rush-related items are part of the Toronto-based auction and are as follows by LOT number:
* #56 - Autographed Alex Lifeson Epiphone Signature model Guitar - signed by Alex Lifeson and Geddy Lee

* Lot #57 - Autographed Fender Jazz Bass - Geddy Lee signature model - signed by Geddy Lee

* Lots # 58, 59 and 64 - each lot contains 4 bottles of 2005 Hospices De Beaune Burgundy made specifically for Geddy Lee by Lucien Le Moine and each bottle signed by Geddy Lee ( Mazis-Chambertin, Volnay Santenots, and Beaune des Avaux)

* Lot #'s- 60,61, 62, 63, 65, 66, 67, 68, 69, and 70 are all either bottles or Magnums of wine which came directly from Geddy Lee's personal collection and each are signed by Geddy Lee - they include fine Burgundy, Barolo, Felton Road Pinot Noir, and Brunello from various top producers.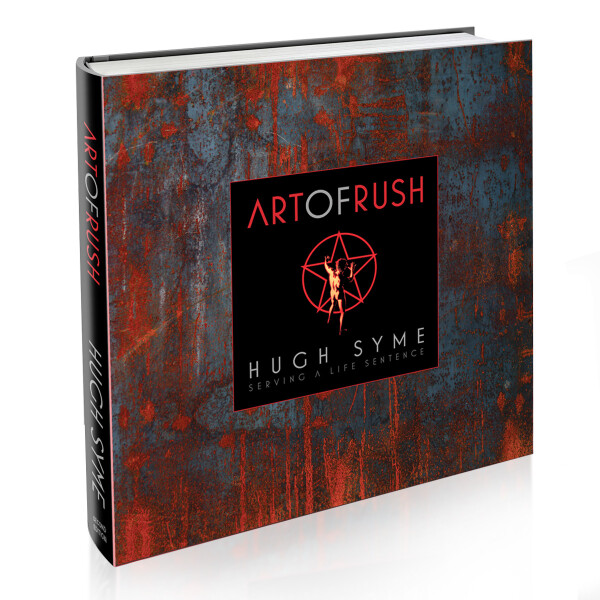 A newly expanded and updated second edition of Hugh Syme's The Art of Rush: Serving a Life Sentence was officially released earlier this week (the original edition was released back in 2015), and is currently available to purchase via Amazon and other retailers. This updated edition includes a newly designed cover along with an additional 24-page section featuring Rush artwork that has been released since 2015, including the 40th anniversary box set releases from recent years, and the upcoming Moving Pictures 40th anniversary box set (not officially announced yet, but expected out early next year). From the product description:
... Containing original illustrations, paintings, photography, and the incredible stories behind each album that Hugh Syme has designed with the band since 1975. The book's narration was written by music journalist Stephen Humphries and includes in-depth interviews with each Rush band member and the artist. The Art of Rush also contains entertaining anecdotes and commentary from a wide array of notable musicians, actors, athletes, writers, radio personalities, and Rush insiders about their favourite Rush album covers, which clearly reveals how vital and impactful the visual representation of their music has been through the years. One of the hallmarks of Rush releases is the considerable care and consideration that goes into each one-including the conceptual artwork. Readers may be surprised to discover just how much effort went into each concept and the execution for every album cover! ...
The expanded Art of Rush edition can be purchased via Amazon at this location. Classic Rock magazine posted an article discussing the book earlier this week, pointing out 31 interesting facts that they learned about Rush's album art. Syme was also interviewed for Billboard magazine to talk about the book, and his special relationship with the late Neil Peart:
... Syme misses the "big brain and big words, and big heart" of his "collaborator, my partner in crime." But he takes to heart the adage that friend Bob King - who served as the model for the starman figure and the bowler-hatted man on Hemispheres, as well as a moving man on 1981's Moving Pictures - emailed to him after Peart's death: "Don't be sad he's gone. Be happy he happened."
Syme was also the guest on this past week's episode of the Something for Nothing podcast, where he talks at length about the book and his long career working with Rush. You can listen to the interview below or via your favorite podcast service:
Artovision is a Wisconsin-based company that creates 3-dimensional collectable artwork inspired by popular culture, video games, food and Americana. Back in April they released a set of officially-licensed pieces in celebration of the 40th anniversary of Rush's Moving Pictures album, and are following those up with a pair of pieces in celebration of the 30th anniversary of Roll the Bones (the album was released on September 3, 1991). The first is a shadowbox art piece depicting the Roll the Bones album cover and measuring 14"x14"x2.5" as described here:
This collectible shadowbox art piece measures 14" x 14" x 2 1/2" and comes ready to hang with an official Rush Certificate of Authenticity (COA). Each piece is printed on 1/8" thick optical-grade acrylic with vibrant UV cured inks and set in a high quality finished MDF wood frame, our shadowbox art pieces are handcrafted in Eau Claire, Wisconsin.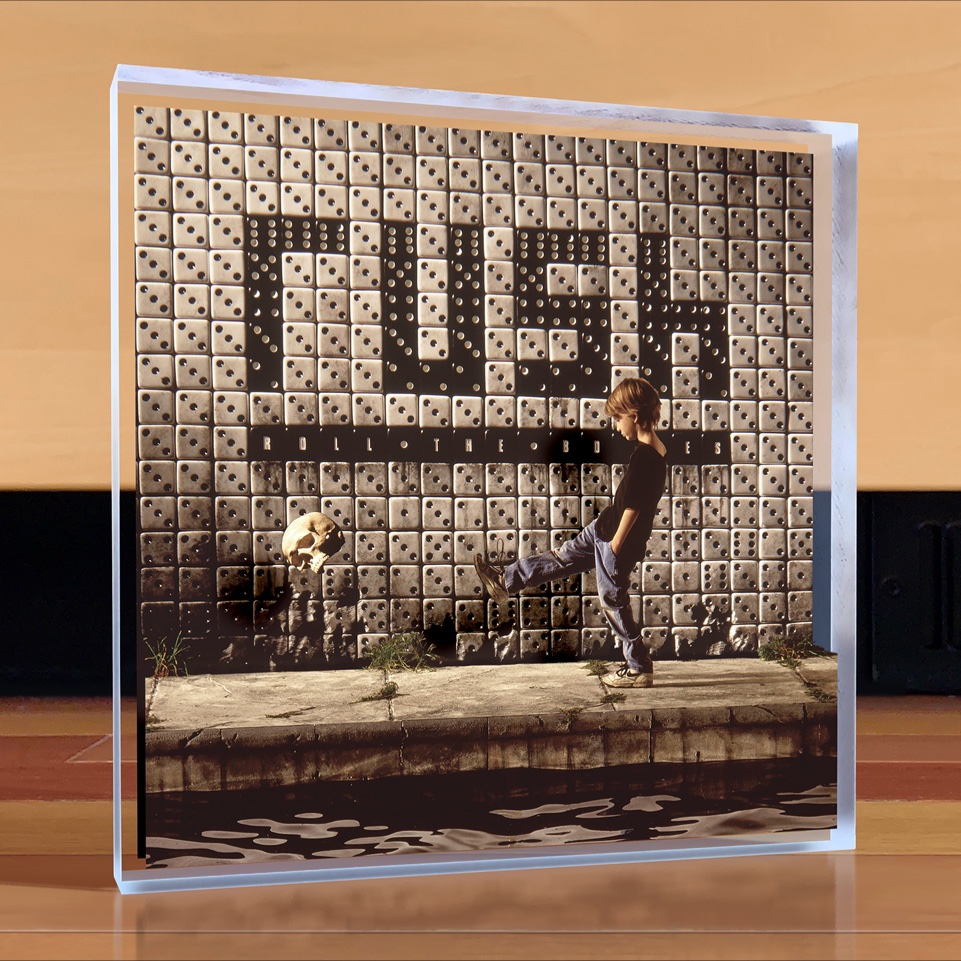 You can purchase the Roll the Bones shadowbox piece for $149 at this location. The second piece is a desktop art piece printed on 3/4" thick optical-grade acrylic with vibrant UV cured inks and measureing 4.5"x6". You can purchase the desktop piece for $49 at this location. For more information on Artovision, and to see their complete line of officially-licensed Rush pieces, visit their website at artovision3d.com. You can also follow them on Facebook, Twitter and Instagram, and watch a YouTube video demonstrating the 3-D effect of their Shadowbox art here.
Yardbarker posted their list of 25 underrated deep cuts from legendary bands this past week and one of the tracks they selected was Rush's Digital Man (thanks Art M):
Like most every other band on this list, it's not easy deciding on one deep cut that's worthy of mention. It might be doubly tough when talking Rush. To some, Signals is a forgotten album in the Rush catalog. Perhaps so, but what should not be lost is this song that once again highlights the talent of late legendary drummer Neil Peart. There's also a certain groove element to the piece through Geddy Lee's bass while Alex Lifeson delivers some strong axe work of his own.
Sound & Vision recently posted an article where they evaluate Apple Music's new Spatial Audio format by comparing the Spatial Audio version of a track to the Atmos or 5.1-surround equivalent on Blu-ray disc. One of the tracks they used was Rush's Limelight (thanks RushFanForever):
... In Spatial Audio, the slight echo on Geddy Lee's vocalizing of the phrase "gilded cage" gives the lyrical intent added significance, while Neil Peart's full-kit, right-to-left drum run immediately before the second chorus simply soars. The drama that unfolds during Alex Lifeson's guitar solo-his self-professed favorite solo-is even more nuanced on a higher soundstage plane as his sustained note readings give way to finger-furious riffage toward the denouement. As the track ends, the resonance of Peart's final cymbal hits sustain just as they should in the rears. The 2011 DTS-HD Master Audio 5.1 and PCM Surround 5.1 mix options of "Limelight" on Blu-ray (courtesy of Richard Chycki) each have their own merits, including the subtle cross-channel swirls of Lee's brief, recurrent synth stabs throughout the track. In PCM Stereo on that very same Blu-ray, however, Lee's lead vocals come across much thinner. If "Limelight" is any indication, then we should be in for even more sonic treats once other Moving Pictures tracks like "YYZ," "The Camera Eye," and "Vital Signs" all get their own respective Atmos due.
A new, 240-page coffee table book on Toronto's iconic Massey Hall titled That Night at Massey Hall is currently available for pre-order and slated to release later this month. Rush played many shows at the venerable venue and recorded their All the World's a Stage live album there. From the website:
In original words and stunning photography, That Night At Massey Hall captures famous, favourite and unique "Nights" at The Grand Old Lady of Shuter Street as told by the artists, audience members and employees who were there on those special evenings. The classic stands of The Hip, Rush and Dylan, historic appearances by Marley, Sinead and Iggy, as well as the ticket scalper, obstructed view and usher tales that are less often told. This hard cover collector's piece is packed with more than 300 stories across a century of history, illustrated in full colour. Foreword by Rob Bowman, Grammy Award-Winning Musicologist.
Rush gets a mention in this article celebrating the 45th anniversary of Music Express magazine (thanks RushFanForever):
... Almost as the magazine came out independent labels like Anthem, Attic and Aquarius were springing up, and out west, it was Mushroom and Casino Records," Keith explains. "Radio realized that they couldn't play just Anne Murray or Gordon Lightfoot so they had to find new sources of music. All of the major labels that had established themselves in Canada also realized that they would have to commit to developing a domestic roster. So suddenly you had record labels wanting to hype new releases by Rush. April Wine and Max Webster, as well as fledgling indie labels trying to promote their rosters. They were all fodder for interviews and most of the newspapers really didn't have music people covering the scene very well. ...
Callum Reid shares his experience of being a Rush fan in an article for Metal-Temple.com titled Finding My Way (a Rush fan writes ...).
Triumph bass player Mike Levine was recently interviewed for the Rock History Music podcast and talks about about why he thinks Triumph was often compared to their fellow Canadian band Rush. You can watch the interview via YouTube here (thanks RushFanForever).
Loud Coffee Press posted an article earlier this week on Rush's 2112 and Why the World Needs Art:
I was having a shitty day. I woke up feeling down with the blahs, and looking down the barrel of a work day loaded with screen-based conference calls. My first instinct isn't to crawl back under the covers, it's to crawl under the bed. I'm old enough to realize that the real monsters aren't hiding under my bed ... During my lunch hour, I pulled up YouTube looking for something fun to watch that would clear out the work doldrums, as a palette cleanser before the next wave of meetings. While digging around the internet depths, I stumbled on a reaction video for Rush's epic song, 2112. I clicked on it and spent the next 20 minutes watching KiraWasAReactor discover the mighty 2112 for the first time. Why would I spend time watching a video someone listening to a song that I've heard a bazillion times? Because it's a joy to watch another person react to something that I love dearly! The pure joy on her face brought a huge smile to my face, and instantly washed away my depression. ...
That's all for this week. Have a great weekend everybody!!