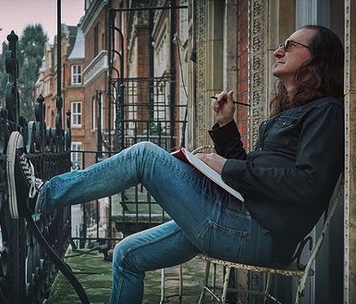 Earlier this week Geddy Lee announced via his Instagram that he will be following up 2018's Big Book of Bass with an as-yet-untitled memoir due to release via Harper Collins in the Fall of 2022. From Geddy's Instagram:
... My friend and collaborator on the Big Beautiful Book of Bass, Daniel Richler, saw how I was struggling in the aftermath of Neil's passing, and tried coaxing me out of my blues with some funny tales from his youth, daring me to share my own in return. So I did-reluctantly at first, but then remembering, oh yeah, I like wrestling with words. It's a less physical version of arguing with musical notes, without a Ricky doubleneck breaking my back! And soon my baby-step stories were becoming grownup chapters. Being the nuclear obsessive that I am, I'd write and re-write them, reassessing perspectives in the narrative not just by scouring my memory banks but my diaries and piles of photo albums too. I was piecing together a mystery of a different kind.

I'd then send these improved and even illustrated stories to Daniel, who'd clean up some of the grammar and remove a lot of the swearing (I love to fucking swear), and presto! In a voice that sounded, well, just like me, a presentable, epic-length account of my life on and off the stage was taking shape: my childhood, my family, the story of my parents' survival, my travels and all sorts of nonsense I've spent too much time obsessing over. And Daniel said, "I think you're writing a book. An actual memoir, in fact." To which I replied, "Hmm... I guess I am."

I'm rounding third on this as-of-yet untitled memoir, which will be published by HarperCollins, edited by Noah Eaker, and is scheduled for release in Fall 2022.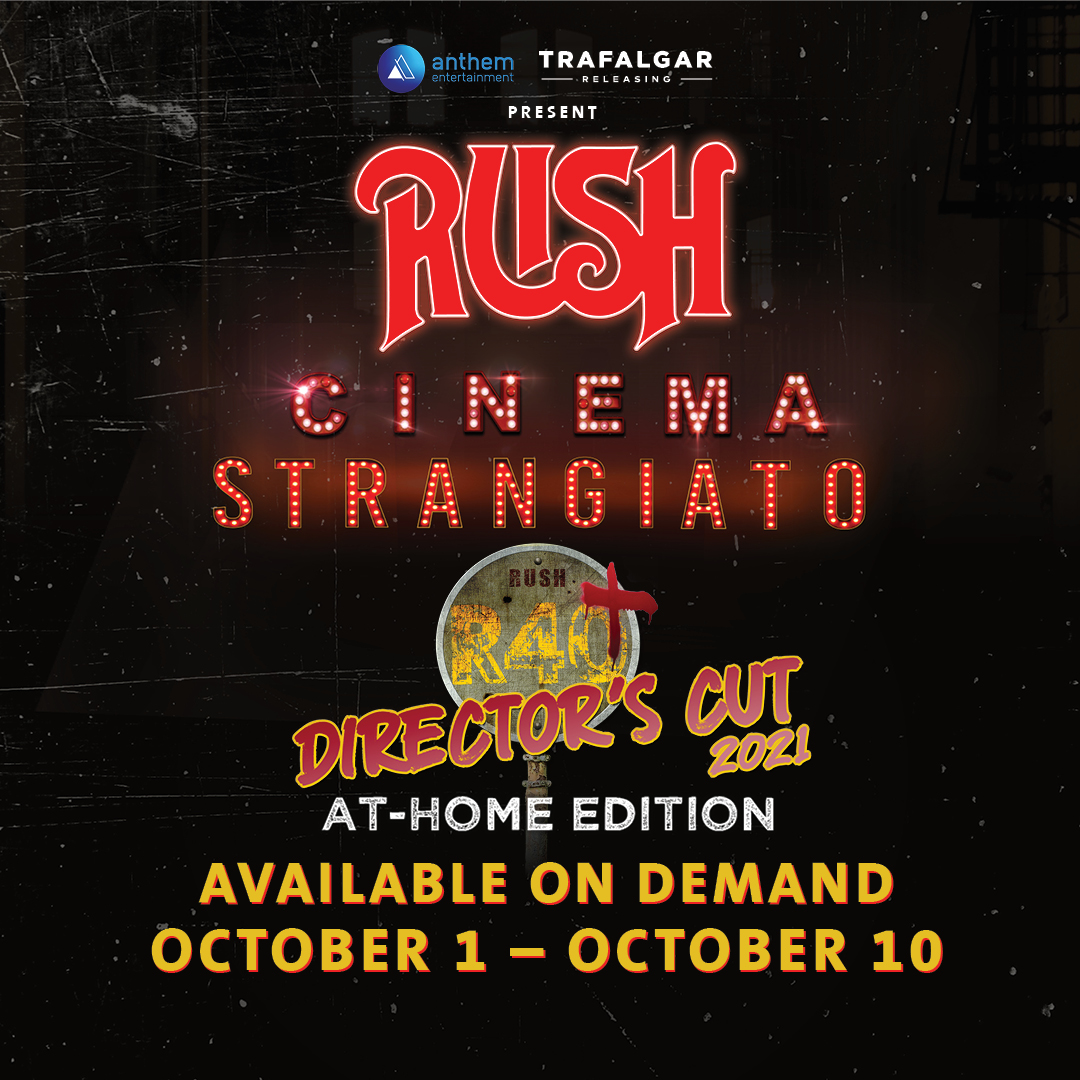 Rush's Cinema Strangiato Director's Cut was shown in theaters worldwide earlier this month on September 9th. For fans who missed that showing, Rush announced earlier this week that the film will be available on-demand at home worldwide for a limited time from October 1-10. From Rush.com:
Following a successful global cinema release, Trafalgar Releasing and Anthem Entertainment are proud to announce that starting on October 1 at 9 p.m. ET through Sunday, October 10 at 11:59 p.m. ET, RUSH fans worldwide can view Rush: Cinema Strangiato - Director's Cut at home, on demand.

Visit www.cinemastrangiato.com for more information and to purchase access for $15.

On Friday, October 1 at 9 p.m. ET, RUSHCON will host a live virtual "Interactive Watch Party" for fans to connect and discuss the film when it premieres online. Those who purchase a watch party ticket will maintain access to the content for the entire duration of the VOD window, but only those who log in during the live October 1 event will be able to participate in the chat. ...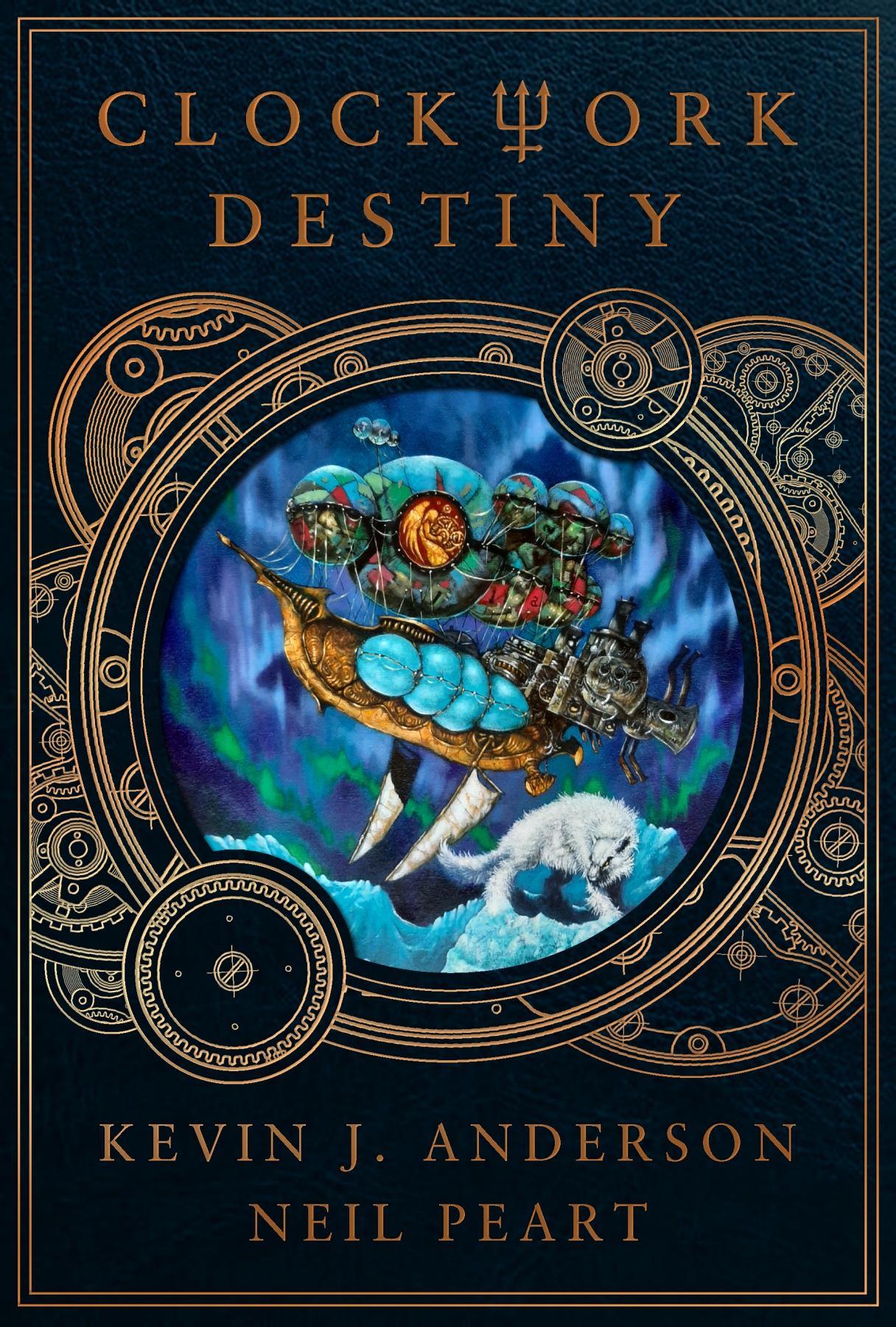 Over the past year, author Kevin J. Anderson has been busily working on Clockwork Destiny - the 3rd and final novel in he and the late Neil Peart's Clockwork Angels trilogy. The first 2 novels in the Trilogy - Clockwork Angels and Clockwork Lives - were released in 2012 and 2015 respectively. Clockwork Destiny is slated for release in April of 2022, and is now available for pre-order via Amazon. Publisher ECW Press revealed the impressive cover art by Steve Otis last week, along with these comments from author Kevin J. Anderson:
"Neil and I plotted one more great adventure with Owen Hardy in his last years. And the Steve Otis cover painting perfectly evokes the color and mystery of the Watchmaker's amazing world. I think Clockwork Destiny is my best work-can't let the Professor down."
You can view the full cover art here. From the publisher's description:
The final volume in the New York Times-bestselling, award-winning steampunk trilogy by Kevin J. Anderson and legendary Rush drummer Neil Peart

In Clockwork Angels and Clockwork Lives, readers met the optimistic young hero Owen Hardy, as well as the more reluctant adventurer Marinda Peake, in an amazing world of airships and alchemy, fantastic carnivals and lost cities. Now Owen Hardy, retired and content in his quiet, perfect life with the beautiful Francesca, is pulled into one last adventure with his eager grandson Alain. This final mission for the Watchmaker will take them up to the frozen lands of Ultima Thule and the ends of the Earth. Marinda Peake must undertake a mission of her own, not only to compile the true life story of the mysterious Watchmaker, but also to stop a deadly new group of anarchists.

The Clockwork trilogy is based on the story and lyrics from the last album of musical titans Rush, with Anderson and Peart expanding the world, stories, and characters. The two developed the final novel in the trilogy in the last years of Peart's life, and more than a year after his passing, Anderson returned to that unfinished project, with the full support of Peart's wife, bringing Owen and Marinda's stories to a satisfying and stirring conclusion. ...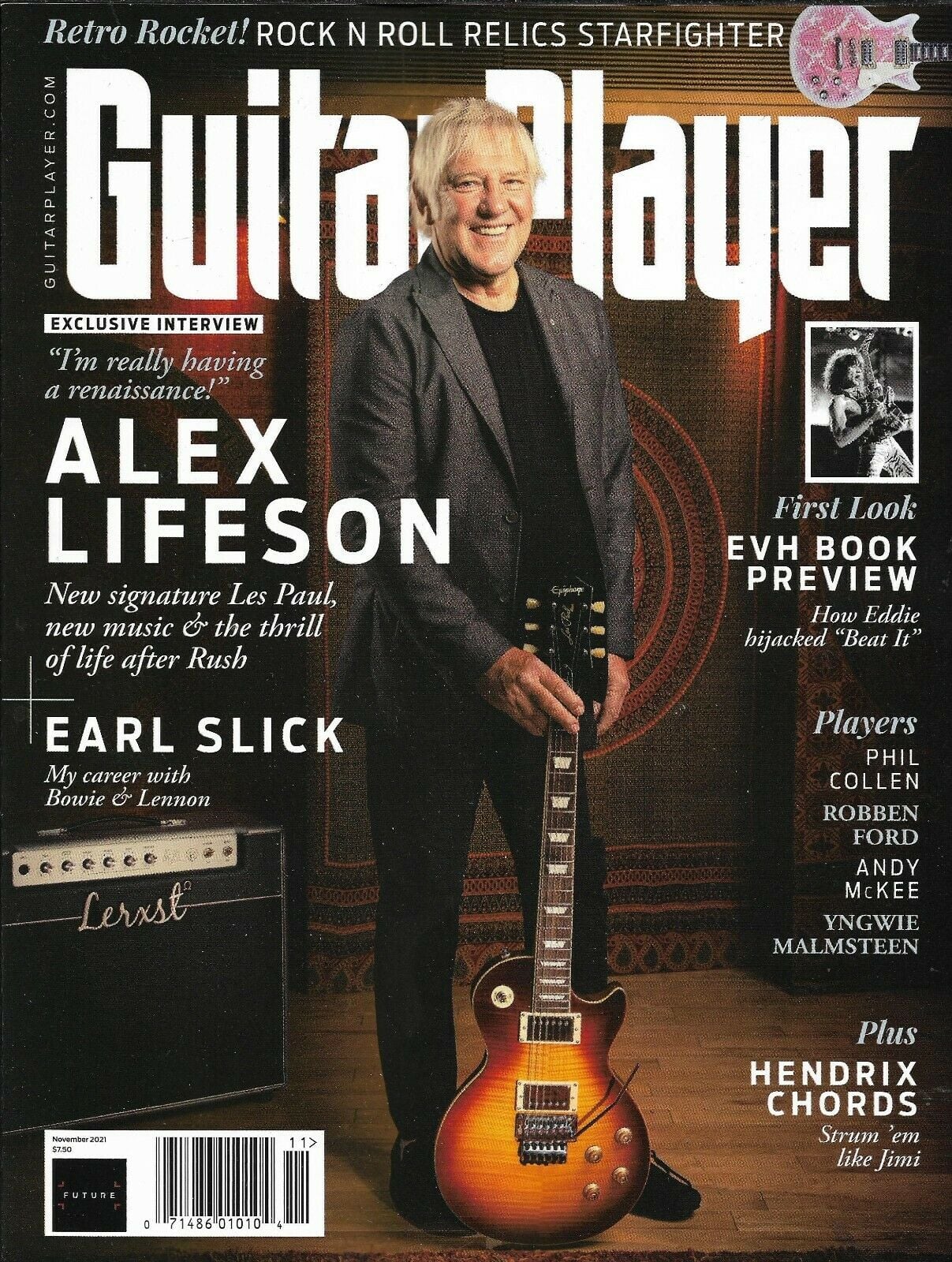 Rush's Alex Lifeson is featured on the cover of the November, 2021 issue of Guitar Player magazine. The cover features a photo of Alex with his new Epiphone Les Paul Standard Axcess with a tagline of Alex Lifeson - New signature Les Paul, new music & the thrill of life after Rush, alongside this quote from the interview: "I'm really having a renaissance." Joe Bosso conducted the interview and wrote the corresponding article, titled New World Man. The magazine also includes a review of Lifeson's new signature guitar written by Jimmy Leslie. John at Cygnus-X1.net has transcribed the interview and review, and made them available online for reading here. The interview covers most of the subjects that Alex has already covered in recent interviews, including his Envy of None project, new signature guitar, foray into social media, and more.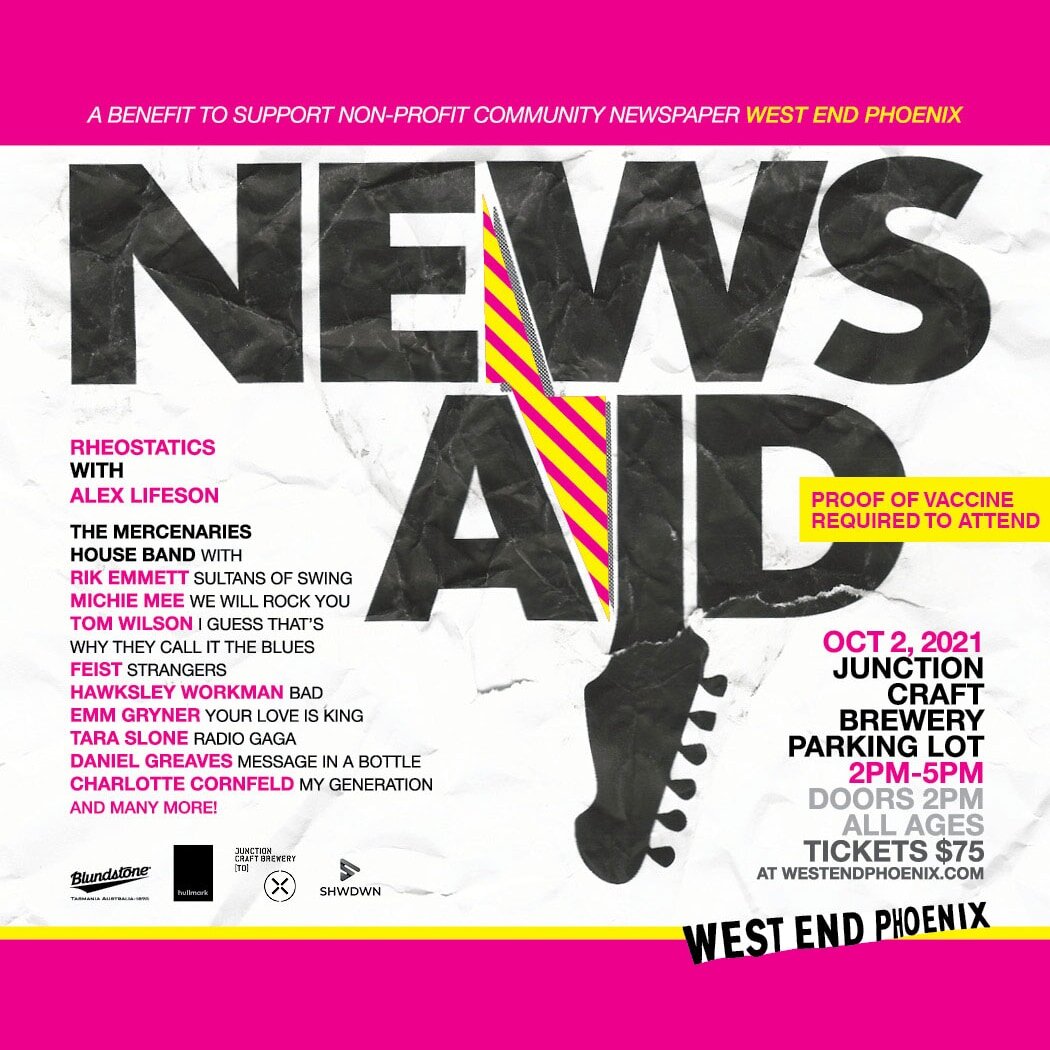 Speaking of Alex, Dave Bidini's West End Phoenix monthly community newspaper for Toronto's West End will be hosting a News Aid fundraiser next Saturday, October 2nd from 2-5PM at the Junction Craft Brewery parking lot. Rush's Alex Lifeson will be one of the participants at the SOLD OUT event, and will be performing with Bidini's band The Rheostatics. Also slated to perform are Rik Emmett, Michie Mee, Tom Wilson, Feist, Hawksley Workman, Emm Gryner, Tara Slone, Daniel Greaves, Charlotte Cornfeld and many more. The West End Phoenix launched back in 2017, and Lifeson has been a past contributor to the newspaper with a "storytelling comic" titled The Meaning of Lifeson which was illustrated by artist Casey McGlynn. He's also attended and performed at past fundraising events for the newspaper.
Rush's Geddy Lee was honored with a solo Lifetime Achievement Award for his career-spanning philanthropic contributions at the Artists for Peace and Justice (APJ) gala in Toronto back on Saturday, September 11th. This year's Gala raised $500,000 to further education in Haiti, which had just gone through another devastating, deadly earthquake and is still dealing with the aftermath of the assassination of its former President, Jovenel Moïse. Radio personality George Stroumboulopoulos emceed the event, which also included live performances by Haitian artist Paul Beaubrun,and Kayla Diamond of Slaight Music, a virtual one by Rick Springfield, and video messages from Ben Stiller, Susan Sarandon, and Madeleine Stowe, among others. Samaritan Magazine has posted the full transcript of Geddy's acceptance speech and made it available online here. ET Canada caught up with Geddy on the red carpet to get his reaction to receiving the Award, which you can watch online here. Geddy attended the Gala with his wife Nancy and daughter Kyla, and posted a few photos to his Instagram along with some comments about philanthropy and a thank you for Artists for Peace and Justice. Artists for Peace and Justice also posted some photos from the event to their Facebook page.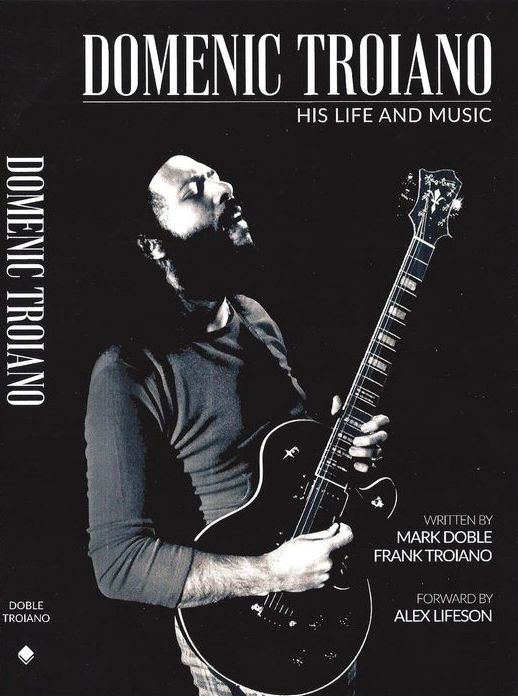 A new book from author Mark Doble on Canadian guitar legend Domenic Troiano released last month via FriesenPress, and includes a foreword from Rush's Alex Lifeson (thanks Chris K).
The latest episode of the Something for Nothing podcast features the 4th and final part of their in-depth discussion of Rush's swan song - 2012's Clockwork Angels. This week they close things out by tackling the tracks Headlong Flight, BU2B2, Wish Them Well, and The Garden. You can listen to the show below or via your favorite podcast service:
This past week's episode of the 2 Guys Talking Rush podcast features part 1 of a discussion with YYNOT and Steve Brown of RUSHfest Scotland. You can listen to the episode below or via your favorite podcast service:
Classic Rock magazine is running an online poll to determine the Greatest Solo Album Ever and both Geddy Lee's My Favorite Headache and Alex Lifeson's Victor are in the running. So go vote for Ged and Al (thanks RushFanForever)!
DailyHive.com posted an article on celebrities that are fans of the Toronto Blue Jays this past week, and Rush's Geddy Lee is featured:
Few celebrities have a connection with their sports teams like Geddy Lee does with the Toronto Blue Jays. Blue Jays fans have come to see Geddy as a staple at their games over the past several decades, almost always sitting right behind home plate. A fan since the team's inception in 1977, it's not even really a surprise to see Lee at the ballpark anymore, as his iconic circular glasses and long hair usually make him really easy to spot.
Kevin Comeau and Cody Bowles of Canadian prog-rock duo Crown Lands were recently interviewed by Classic Rock magazine to talk about their new EP White Buffalo. The pair are huge Rush fans and bring up their prog idols several times during the interview (thanks RushFanForever):
... Bowles has a sweetness that obscures multiple steely sides. The prog fan who grew up listening to their father play drums to the whole of Rush's 2112. ... Bowles and Kevin Comeau, a punk-loving Jewish bassist who fell hard for Rush as a teenager and never looked back, formed Crown Lands in 2016, playing noisy blues rock, and rapidly became rock's rising stars to watch. ... We draw a lot from Genesis and Yes and Rush, and we were kind of afraid to embrace that on our first record." ... White Buffalo was recorded with Rush producer David Bottrill. Following Rush drummer Neil Peart's death they also worked with another Rush collaborator, Nick Rasculinecz, with Bowles playing Peart's old kit on the single Context: Fearless Pt. 1. ... Growing up in Willowdale, Toronto, Bowles was obsessed with the books of JRR Tolkien and writer of the Dune series Frank Herbert, as well as the sprawling narratives of Rush epics like 2112, The Fountain Of Lamneth and Cygnus X-1, Book II: Hemispheres. Outside of Crown Lands, Bowles has a science-fantasy novel in the works, with its own language. "I'm just a big nerd," they reason, with a laugh. ...
Rolling Stone magazine posted an article earlier today on The Grunge Ripple Effect in 10 Nineties Rock Songs, and one of the featured songs is Rush's Stick it Out:
In embracing a darker, more stripped-down sound on 1993's Counterparts, Rush weren't so much aping prevailing trends as getting back to basics, specifically the snarling power-trio sound they'd favored on early classics like 2112, before they'd taken a synth-poppy turn in the Eighties. "When Alex [Lifeson] and I started writing this record, we kind of looked at these mountains of synthesizers that were being brought into the writing room, and we kinda had this reaction; it was almost like an allergic reaction: 'I think it's time maybe we stepped back from this stuff,' " Geddy Lee said at the time. Director Samuel Bayer matched the burly, driving riffs of lead single "Stick It Out" with a video that checked all the alt-rock boxes: moody red-and-blue lighting, spooky strobe effects, and inexplicable scenes of a tied-up man struggling to free himself from a chair. Dated-on-arrival visuals aside, the song didn't come off as a shameless plea for legitimacy, simply because Rush had mined similar musical territory years earlier - and could still pull it off convincingly as of '93.
Original Styx vocalist Dennis DeYoung was recently interviewed for Rock History Music and was asked about what he thought of current Styx vocalist Lawrence Gowan. In answering the question, he brings up how subjective people's tastes in vocalists are, and mentions Rush's Geddy Lee. You can listen to that portion of the interview via YouTube at about the 2:45 mark (thanks RushFanForever).
UltimateClassicRock.com's Ryan Reed posted his list of All 31 Rush Videos Ranked Worst to Best this past week and the video for Mystic Rhythms came in at #1:
Devo's Gerald Casale directed this eye-popping piece, which unfolds with a sort of dream logic. None of the images are grounded in reality, but it's hard not to embed meaning into all of them. There's so much to savor: Peart playing on a rotating drum platform, a bug twitching in tree branches, a skeleton filled with human dolls, Lee singing in front of scrolling green screen foliage, Lifeson and Lee gazing into a glowing orb. You almost never see "Mystic Rhythms" on "best music video" lists, which could be the biggest mystery of all.
That's it for this week. Have a great weekend everyone!!