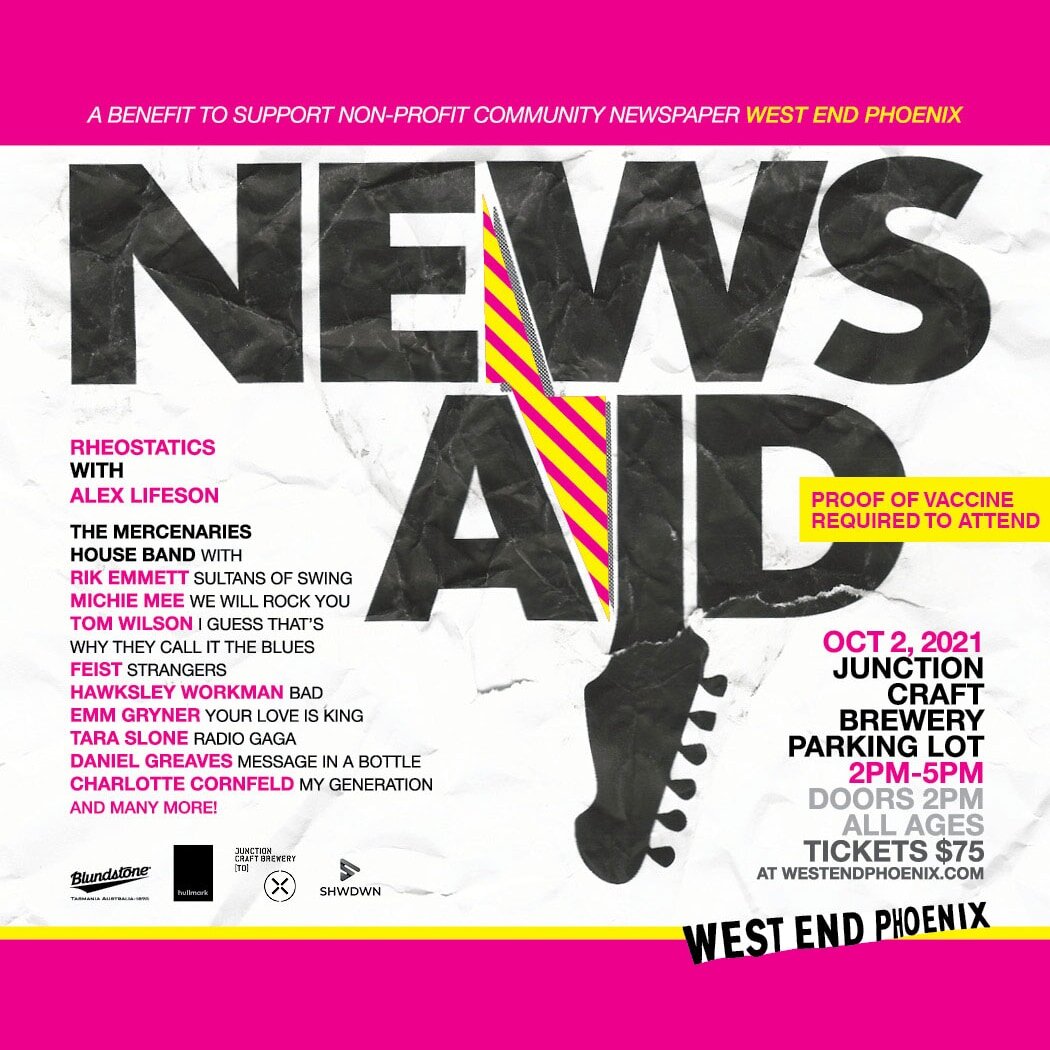 Dave Bidini's West End Phoenix monthly community newspaper for Toronto's West End will be hosting a News Aid fundraiser on Saturday, October 2nd from 2-5PM at the Junction Craft Brewery parking lot. Rush's Alex Lifeson will be one of the participants, and will be performing with Bidini's band The Rheostatics. Also slated to perform are Rik Emmett, Michie Mee, Tom Wilson, Feist, Hawksley Workman, Emm Gryner, Tara Slone, Daniel Greaves, Charlotte Cornfeld and many more. The West End Phoenix launched back in 2017, and Lifeson has been a past contributor to the newspaper with a "storytelling comic" titled The Meaning of Lifeson which was illustrated by artist Casey McGlynn. He's also attended and performed at past fundraising events for the newspaper. For details and tickets, visit the event page at westendphoenix.com.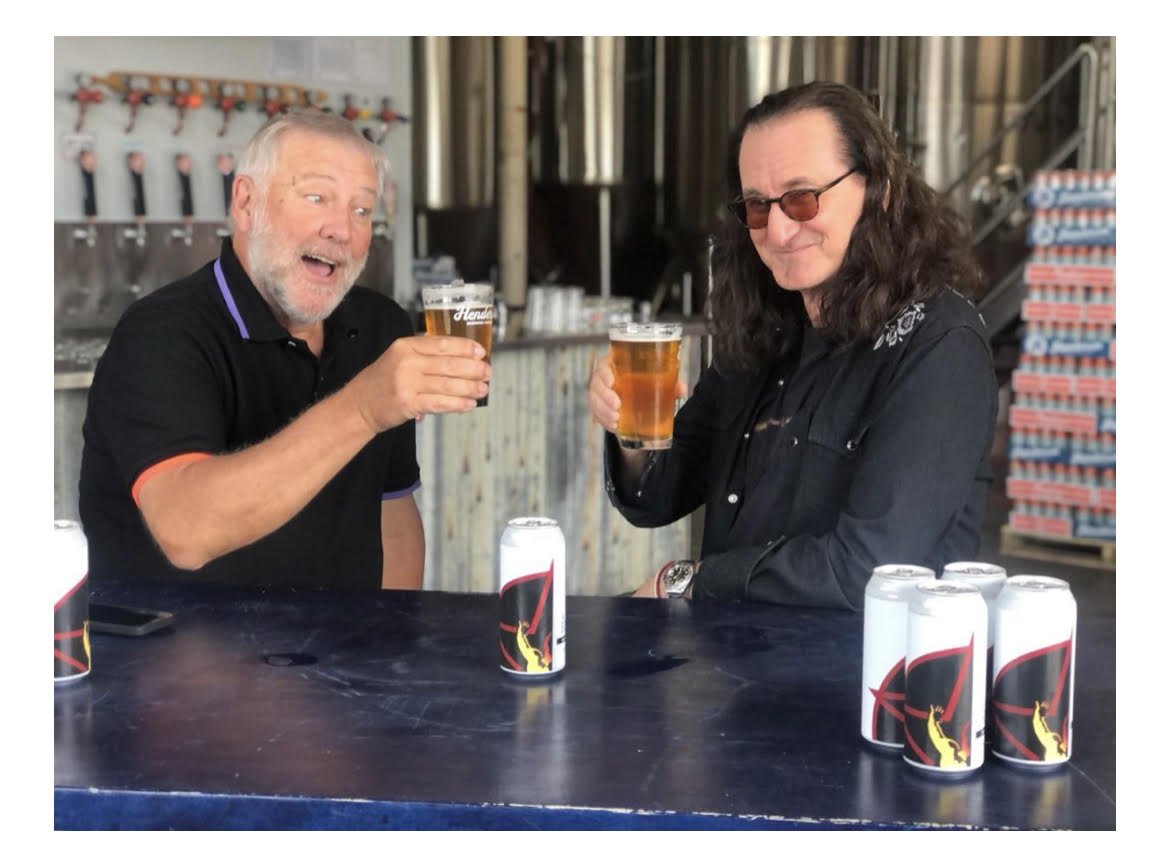 Rush in partnership with Toronto's Henderson Brewing Company released the world's first Rush-branded beer this past Monday. Rush Canadian Golden Ale comes in a beautiful golden can featuring the Rush Starman logo as seen here, and is now available in stores across Ontario, with planned distribution across Canada coming at a future date. You can access a list of Ontario stores selling the beer via the Liquor Control Board of Ontario's website here. Canadians can also order the beer online via the Brewery's Shopify store. Although they cannot ship alcohol across the border, they do have some water-filled cans for sale that they can ship. They also have other Rush products, like tumblers, coasters, t-shirts and more. You can check out their entire Rush product line here.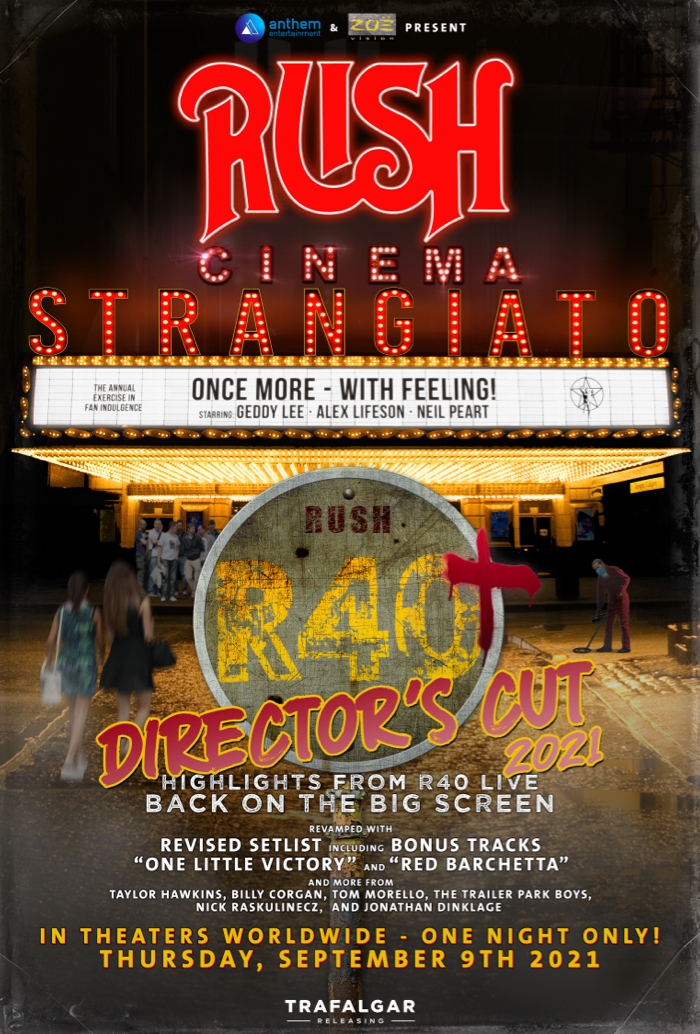 Rush's Cinema Strangiato theatrical film experience first hit theaters 2 years ago, premiering on August 21, 2019. The film brought Rush fans together for a special look into Rush's R40 Live tour, with new backstage footage, special guests, and performances. A new Director's Cut of the film will be coming to theaters worldwide this coming Thursday, September 9th in celebration of the 40th anniversary of Moving Pictures. You can view the film's trailer here along with live video excerpts of Red Barchetta and Cygnus X-1/The Story So Far. For all the details and to purchase tickets, visit CinemaStrangiato.com.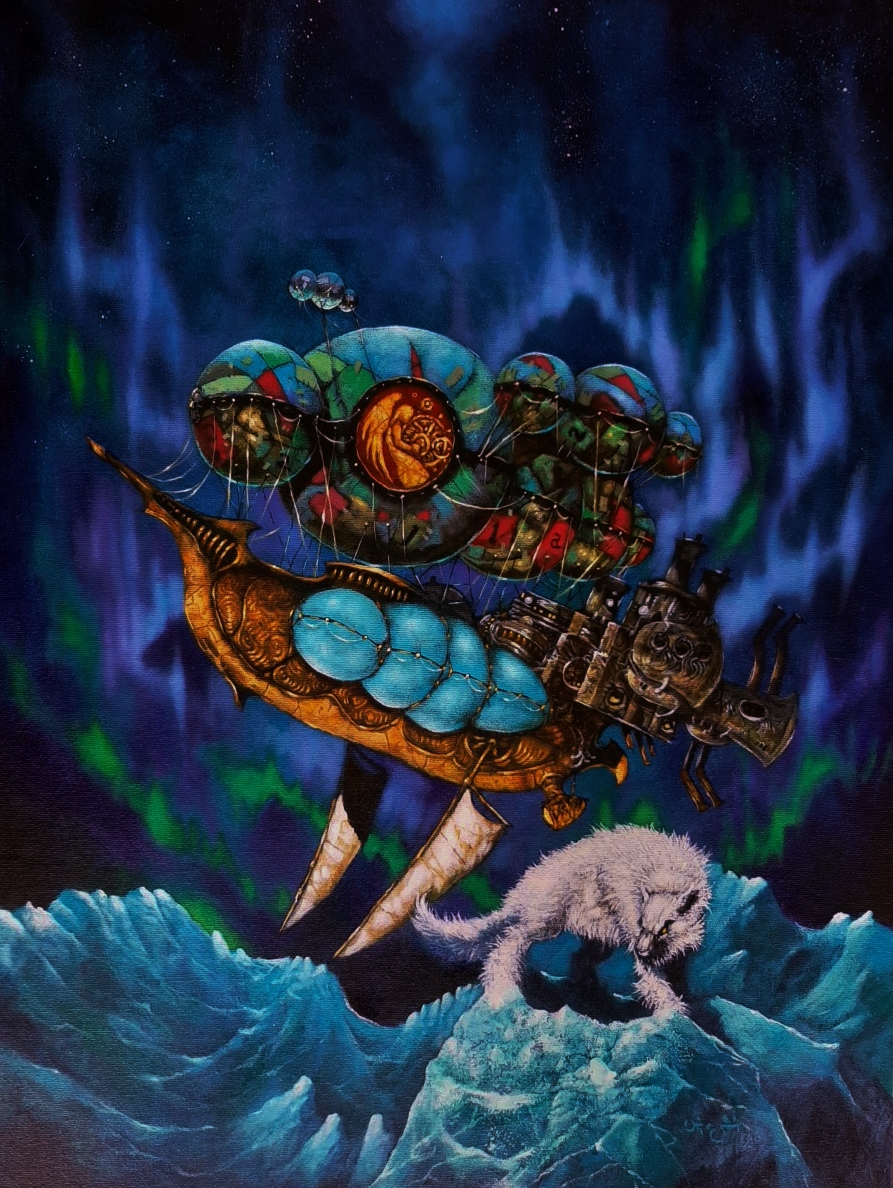 Over the past year, author Kevin J. Anderson has been busily working on Clockwork Destiny - the 3rd novel in the Clockwork Angels trilogy. Earlier this week, he gave fans a sneak peek of the cover art via social media, and revealed that the book would be released next April via ECW Press. From Twitter:
Unveiling the amazing cover art for CLOCKWORK DESTINY by Kevin J. Anderson and Neil Peart, painting by Steve Otis. We'll reveal the final cover and preorder links in a couple of weeks. Next April from @ecwpress
Anderson began working on the novel in the spring, as he detailed in this Facebook post back in January:
Some good news after last week's sad Rush anniversary: I just signed the contract with @ecwpress for CLOCKWORK DESTINY, the third novel in the Clockwork Angels trilogy, based on an idea Neil had while working on The Percussor's Tale. He and I brainstormed the story but he knew I'd have to write it without him. This is being done with the full approval of his wife. I'll start writing this spring.
Anderson and Peart co-wrote the first 2 novels in the Trilogy - Clockwork Angels and Clockwork Lives - in 2012 and 2015 respectively. The books are based on the story and lyrical concepts created by Neil Peart for Rush's 2012 Clockwork Angels album.
The latest episode of the Something for Nothing podcast features an in-depth discussion of Rush's swan song - 2012's Clockwork Angels. You can listen to the show below or via your favorite podcast service:
This past week's episode of the 2 Guys Talking Rush podcast continues last week's interview with pioneer video director Tony Van Den Ende, who directed the video for Rush's Lock and Key off of 1987's Hold Your Fire. You can listen to part 2 of the interview below or via your favorite podcast service:
Barenaked Ladies frontman Ed Robertson was recently interviewed for AXS TV to talk about the band's new album Detour de Force among other subjects. As the band has mentioned in many previous interviews, Rush's Geddy Lee indirectly contributed to the new album by letting BNL borrow his Taurus bass pedals as Robertson describes beginning at around the 6:25 mark in the interview (thanks RushFanForever).
Metal Injection posted their list of Ten Heavy RUSH Songs For Metalheads To Dive Into The Prog Masters this past week. Topping the list is What You're Doing off the debut album:
"What You're Doing" proves Rush was heavy before Neil Peart. Taken from their debut, self-titled record, John Rutsey balanced out the lineup with a thunderous drum sound. He left shortly after its release because of health problems. You've heard "Working Man" a billion times, but the intensity of this overlooked gem can't be denied. It has a wicked Black Sabbath aura, mostly because of Lifeson's meaty riff. It's ripe for cranking and pissing off neighbors while giving your neck muscles a vigorous workout.
Former Rush sound engineer Paul Northfield was recently interviewed for full in bloom and talks about working with Rush and Terry Brown on Moving Pictures and Permanent Waves. You can listen to part 1 of the interview online here (thanks RushFanForever).
Columbus radio station Q-FM 96 is auctioning off a rare Rush tuxedo jacket in order to raise funds for the OSUCCC James and Solove Research Institute. From the stations's website (thanks Kris B):
Place your top bid on an ultrarare Qfm96 powder blue Rush tuxedo jacket. A small number of these jackets were given away to Qfm96 staff and ticket winners for the February 1, 1979 Rush concert at St. John Arena during the band's "Hemispheres Tour." Proceeds from the auction will be donated to The OSUCCC James and Solove Research Institute in memory of the jacket's original owner Bill Bradley. Bidding ends September 30th ...
After the release of their debut album No Need in 2000, Wilkes-Barre band Strangers With Candy won first-place in MTV's Ultimate Cover Band Contest, landing them a six-album record deal with Universal/Republic Records. They then changed their name to Lifer and recruited Rush's Alex Lifeson to produce their 2001 eponymous album. The band broke up soon after, with guitarist Aaron Fink and bassist Mark Klepaski forming the highly successful band Breaking Benjamin, and other members going on to other various projects. Back in 2018 Lifer got back together for a reunion show, and were inspired to reform the band. They are currently working on a 5-song EP of new songs, and were recently interviewed for the Bringin' it Backwards podcast to discuss the band's career and future plans. They talk about working with Alex Lifeson at around the 28:53 mark, which you can listen to here (thanks RushFanForever).
Today is the 30th anniversary of the release of Rush's 14th studio album - 1991's Roll the Bones. Happy anniversary!! Here's the music video for the album's title track:
That's all for this weekend. Have a safe and happy Labor Day weekend everyone!