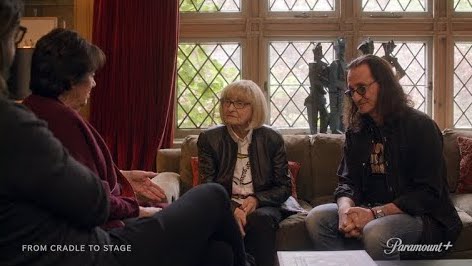 Geddy Lee and his mother Mary Weinrib were featured in yesterday's season finale of From Cradle to Stage - the Paramount Plus docu-series from Dave and Virginia Grohl based on Virginia's 2017 book of the same name. The episode is now generally available for watching (for subscribers) wherever Paramount Plus is available. One of the more noteworthy scenes involved a conversation that Dave, Virginia and his daughter Violet were having around the dinner table about 15 minutes into the show. Dave is discussing his conversation with Geddy and his Mom, and her incredible Holocaust survival story, and says the following:
... It was funny for me to sit with Geddy and his Mom because ... he changed my life. Rush really changed my life. I loved music. I loved singing in the car to AM radio. But I never *listened* to the drums until I heard Rush. As we were sitting with Geddy and his Mom, I was thinking ... if it weren't for her I might not be a drummer ...
Paramount Plus released an extended clip from the episode earlier this week where Geddy Lee talks about growing up as a child of Holocaust survivors. You can watch the clip below or on YouTube and stream the episode via Paramount Plus. From Cradle to Stage: Stories from the Mothers Who Rocked and Raised Rock Stars contains a chapter on Geddy Lee's mother Mary Weinrib, where Mary talks about what influenced Geddy to choose a musical career, and the prevalence of music in their family home. If you haven't read From Cradle to Stage yet, you can order your copy at this location.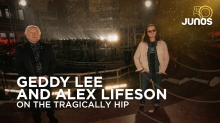 The 50th JUNO Awards took place this past weekend, and one of the ceremony's highlights was 15-time JUNO Award-winning band and Canadian Music Hall of Fame inductees The Tragically Hip performing with singer-songwriter Feist, and also receiving the Humanitarian Award from Rush's Geddy Lee and Alex Lifeson. You can watch their introduction speech and bio video along with The Hip's acceptance speech below or on YouTube here and here, along with The Hip's performance with Feist here. Here's The Hip's Gord Sinclair giving a nod to Rush in his speech:
We owe a great deal to Alex and Geddy, and Neil. Back in 1991 we were invited to support Rush at Maple Leaf Gardens for their annual charity concert. It was a turning point for us. Playing with the greatest Canadian band in that legendary venue to benefit local charities inspired us to imagine our own philanthropic possibilities. ...
It was The Hip's first performance without their iconic front-man Gord Downie, who passed away back in 2017. The Humanitarian Award recognizes outstanding Canadian artists or industry leaders whose humanitarian contributions have positively enhanced the social fabric of Canada and beyond. The Hip posted this Twitter photo of the band with Geddy and Alex at Massey Hall earlier this week:
We, with Gord's brother Patrick, were humbled to receive this year's Humanitarian Award at @TheJUNOAwards, presented to us by Geddy Lee & Alex Lifeson of @rushtheband

In case you missed it, you can watch last night's performance with @FeistMusic here: https://t.co/w1mNKeiPNU pic.twitter.com/ddoPaf4RKR

- The Tragically Hip (@thehipofficial) June 7, 2021
Earlier in the weekend at the JUNOs virtual Opening Night Awards, Longtime Anthem/SRO (Rush's original record company/management) Vice President Pegi Cecconi finally received her Walt Grealis Special Achievement Award. In her multiple roles as part of Rush's management company and record label over the past 50 years, Cecconi played a pivotal role in the band's development and success. The award ceremony included a biographical video and short acceptance speech with interview segments from Rush's Alex Lifeson and Geddy Lee, Rush manager Ray Danniels and many others. You can watch the video at this location, and read Pegi's full, un-edited acceptance speech at The Canadian Music Scene website.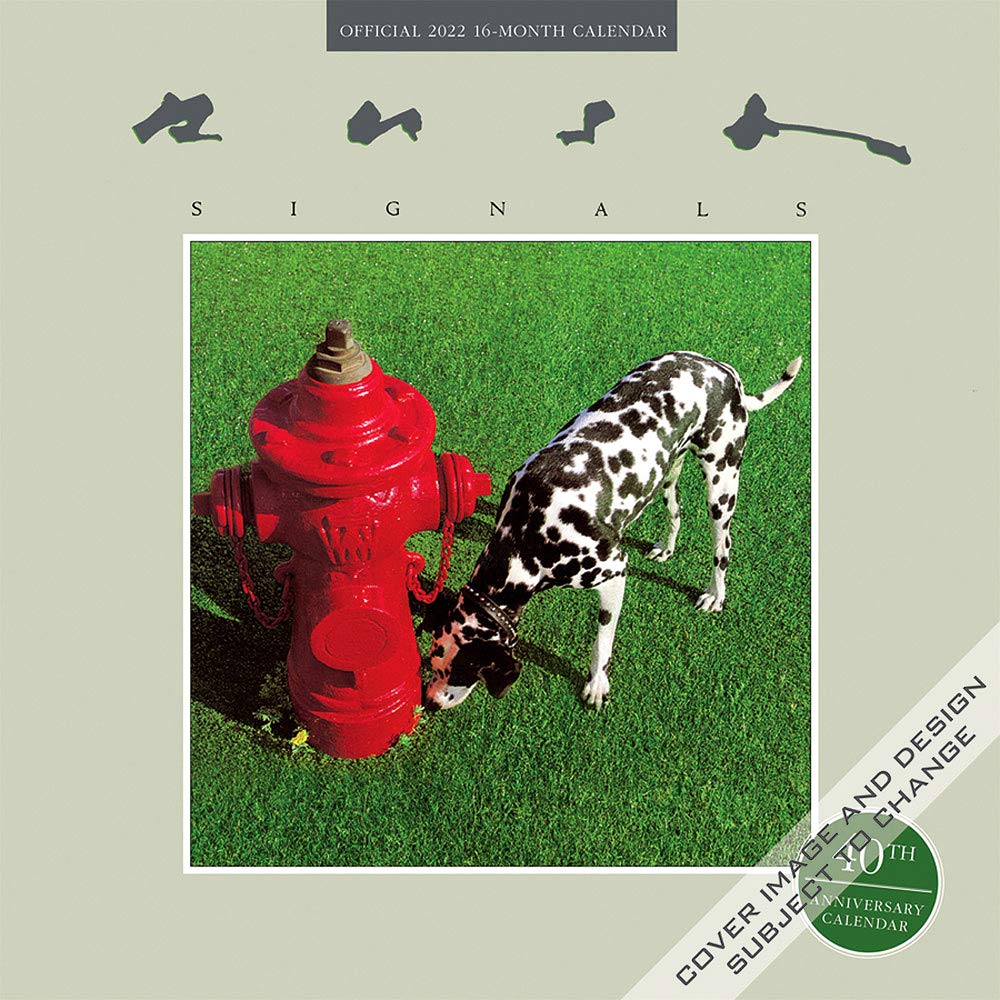 Later this summer BrownTrout Publishers will be releasing their official 2022 Rush wall calendar celebrating the upcoming 40th anniversary of the September, 1982 release of Rush's Signals album. From the Amazon description:
... 2022 marks the 40th anniversary of Rush's landmark album, Signals. This official 16-month calendar features images highlighting the Signals album and tour cycle, with the complete 1982 tour dates, some never before seen photos, and other notable events from that year!
The calendar will officially release on July 1st and can be pre-ordered via Amazon and other online retailers.
This past week's episode of the 2 Guys Taking Rush podcast features part 2 of the Women of Rush, where hosts John and Dan talk to a wonderfully diverse group of professional women who happen to also be huge Rush fans. You can listen to the show below or via your favorite podcast service:
The latest episode of the Something for Nothing podcast features the first part of a planned 4-episode-spanning discussion of Rush's classic 1985 Power Windows album. You can listen to the discussion below or via your favorite podcast service:
Kevin Hampton wrote a piece for the Albany Democrat-Herald this past week describing his own personal Rush fandom titled My musical journey with Rush which is available to read online here.
Classic Rock magazine recently chatted with guitarist Paul Gilbert and asked him about the 10 albums that changed his life, one of which was Rush's Hemispheres (thanks RushFanForever):
"By the time Hemispheres came out I was able to play through that sort of stuff, and it was fun. I'd sit down with my pedalboard - my flanger, delay, wah-wah - and play the music, and play the pedals. Alex [Lifeson] had that great, swirly chorus sound on stuff - a nice clean sound for the arpeggios then heavier on songs like Circumstances [he rips into the main riff (flawlessly) and sings (slightly less so)]. "Geddy's killin', singing five octaves higher than anybody else. Neal [Peart] was the opposite of Alex Van Halen - he always had a very tight hi-hat, but the drummer in my band as a 14 year-old would play Van Halen songs like Neal. We'd tell him, 'Man, play Rush like Rush but don't bring that to the Van Halen stuff!' This was the beginning of my exposure to prog. It was like a memorisation game - can you memorise all these parts and keep up as it goes along? ...
That's all for this week. Have a great weekend everyone!!