UPDATE - 6/15@10:04AM: The episode is now generally available for watching (for subscribers) wherever Paramount Plus is available. One of the more noteworthy scenes involved a conversation that Dave, Virginia and his daughter Violet were having around the dinner table about 15 minutes into the show. Dave is discussing his conversation with Geddy and his Mom, and her incredible Holocaust survival story, and says the following:
... It was funny for me to sit with Geddy and his Mom because ... he changed my life. Rush really changed my life. I loved music. I loved singing in the car to AM radio. But I never *listened* to the drums until I heard Rush. As we were sitting with Geddy and his Mom, I was thinking ... if it weren't for her I might not be a drummer ...
There's also this review of the show from TVOvermind.com.
----- snip -----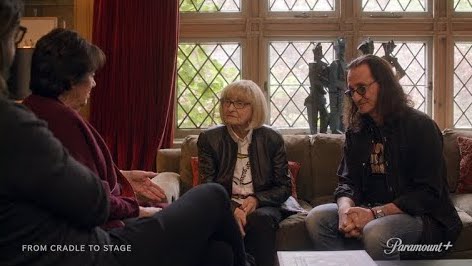 Geddy Lee and his mother Mary Weinrib will be featured in tomorrow's season finale of From Cradle to Stage - the Paramount Plus docu-series from Dave and Virginia Grohl based on Virginia's 2017 book of the same name. Paramount Plus released an extended clip from the episode earlier today where Geddy Lee talks about growing up as a child of Holocaust survivors. You can watch the clip below or on YouTube and stream the episode via Paramount Plus starting tomorrow at 3AM EST. From Cradle to Stage: Stories from the Mothers Who Rocked and Raised Rock Stars contains a chapter on Geddy Lee's mother Mary Weinrib, where Mary talks about what influenced Geddy to choose a musical career, and the prevalence of music in their family home. If you haven't read From Cradle to Stage yet, you can order your copy at this location.