UPDATE - 6/7@10:10PM: The Hip posted this Twitter photo of the band with Geddy and Alex at Massey Hall earlier today:
We, with Gordís brother Patrick, were humbled to receive this yearís Humanitarian Award at @TheJUNOAwards, presented to us by Geddy Lee & Alex Lifeson of @rushtheband

In case you missed it, you can watch last nightís performance with @FeistMusic here: https://t.co/w1mNKeiPNU pic.twitter.com/ddoPaf4RKR

— The Tragically Hip (@thehipofficial) June 7, 2021
----- snip -----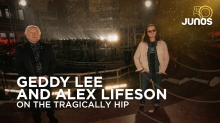 The 50th JUNO Awards took place earlier this evening, and one of the ceremony's highlights was 15-time JUNO Award-winning band and Canadian Music Hall of Fame inductees The Tragically Hip performing with singer-songwriter Feist, and also receiving the Humanitarian Award from Rush's Geddy Lee and Alex Lifeson. You can watch their introduction speech and bio video along with The Hip's acceptance speech below or on YouTube here and here (thanks RushFanForever). The Hip's performance with Feist is also available to watch here. Here's The Hip's Gord Sinclair giving a nod to Rush in his speech:
We owe a great deal to Alex and Geddy, and Neil. Back in 1991 we were invited to support Rush at Maple Leaf Gardens for their annual charity concert. It was a turning point for us. Playing with the greatest Canadian band in that legendary venue to benefit local charities inspired us to imagine our own philanthropic possibilities. ...
The Hip were without their iconic front-man Gord Downie, who passed away back in 2017. The Humanitarian Award recognizes outstanding Canadian artists or industry leaders whose humanitarian contributions have positively enhanced the social fabric of Canada and beyond. Earlier in the weekend at the JUNOs virtual Opening Night Awards, Longtime Anthem/SRO (Rush's original record company/management) Vice President Pegi Cecconi finally received her Walt Grealis Special Achievement Award. In her multiple roles as part of Rush's management company and record label over the past 50 years, Cecconi played a pivotal role in the band's development and success. The award ceremony included a biographical video and short acceptance speech with interview segments from Rush's Alex Lifeson and Geddy Lee, Rush manager Ray Danniels and many others. You can watch the video at this location, and read Pegi's full, un-edited acceptance speech at The Canadian Music Scene website.