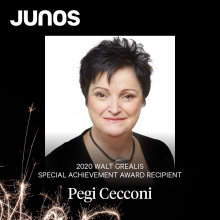 Longtime Anthem/SRO (Rush's original record company/management) Vice President Pegi Cecconi finally received her Walt Grealis Special Achievement Award at last night's virtual Opening Night Awards as part of the 50th JUNO Awards. In her multiple roles as part of Rush's management company and record label over the past 50 years, Cecconi played a pivotal role in the band's development and success. The award ceremony included a biographical video and short acceptance speech with interview segments from Rush's Alex Lifeson and Geddy Lee, Rush manager Ray Danniels and many others. You can watch the video below or at this location (thanks Paul at The Canadian Music Scene). You can read Pegi's full, un-edited acceptance speech at The Canadian Music Scene website. From her bio on the Juno Awards website:
A master in her field, Cecconi is a savvy and determined business woman who has nearly 50 years of experience in the music industry with diverse roles ranging from booking, legal and all aspects of artist management including publishing, recording, record production and merchandising. Having served as Vice President of SRO Management Inc. and independent record label Anthem Entertainment Group for much of her career, Cecconi has played a pivotal role in the development and success of numerous artists, including Canadian Music Hall of Fame inductees Rush and Steven Page (Barenaked Ladies), songwriter Ian Thomas, Gowan, Matthew Good, Molly Johnson, and The Tea Party. Currently, Cecconi serves as a consultant for Anthem Entertainment. ...
The TV broadcast of the main JUNO Awards ceremony will take place tomorrow evening where 15-time JUNO Award-winning band and Canadian Music Hall of Fame inductees The Tragically Hip will perform with singer-songwriter Feist. The Hip will be without their iconic front-man Gord Downie, who passed away back in 2017. The Hip will also be receiving the 2021 Humanitarian Award from Canadian Music Hall of Fame inductees Geddy Lee and Alex Lifeson of Rush. The Humanitarian Award recognizes outstanding Canadian artists or industry leaders whose humanitarian contributions have positively enhanced the social fabric of Canada and beyond. The Hip's performance from Toronto will be broadcast on Sunday, June 6th at 8PM EST on CBC TV, CBC Gem, CBC Radio One, CBC Music and streaming globally on CBCmusic.ca/junos.