UPDATE - 6/4@9:26AM: Paramount Plus released a new trailer for the Geddy Lee episode of From Cradle to Stage featuring several preview clips of Geddy and his mom which you can watch online here.
----- snip -----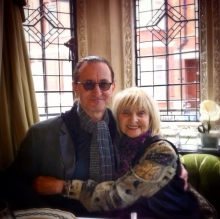 Geddy Lee took to Instagram yesterday to wish his mother Mary Weinrib a Happy Mother's Day:
Happy Mother's Day to my beautiful mom, Mary! Pushing 96 and still rockin' out! And she just got vaccinated too! May she be around for many more!
The pair will be featured in an upcoming episode of From Cradle to Stage - the new Paramount Plus docu-series from Dave and Virginia Grohl, based on Virginia's 2017 book of the same name. Geddy and his mom will be featured in the final episode of the show's first season on June 10th. You can get a few glimpses of the pair in the show's 2-minute trailer here. From Cradle to Stage: Stories from the Mothers Who Rocked and Raised Rock Stars contains a chapter on Geddy Lee's mother Mary Weinrib, where Mary talks about what influenced Geddy to choose a musical career, and the prevalence of music in their family home. If you haven't read From Cradle to Stage yet, you can order your copy at this location.