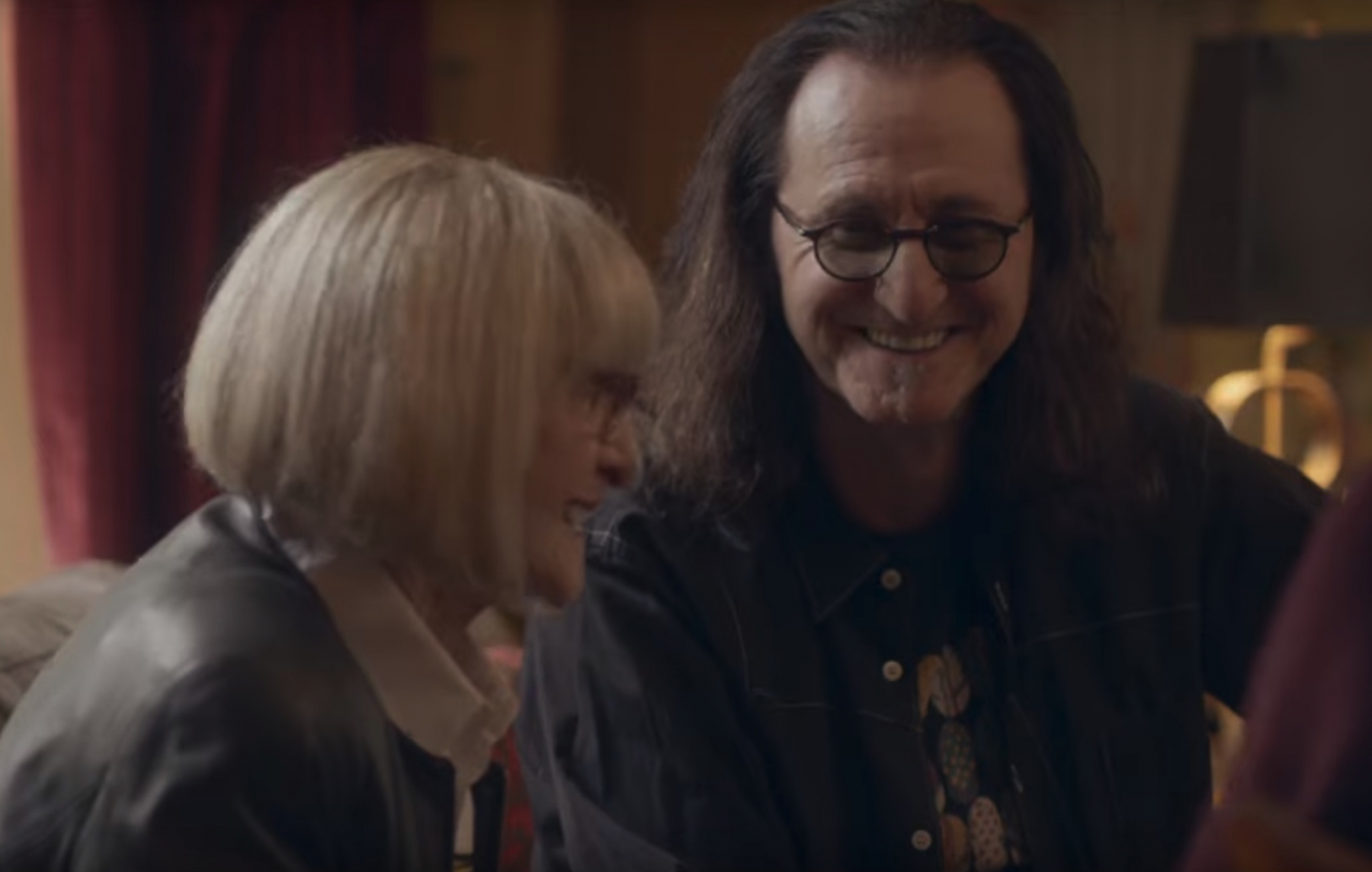 The new Paramount Plus (formerly CBS All Access) docu-series From Cradle to Stage, based on Foo Fighters frontman Dave Grohl's mother Virginia's 2017 book, premiered yesterday with an episode featuring Imagine Dragons frontman Dan Reynolds and his mother Christine. The show is co-hosted by Dave and Virginia Grohl, and subsequent episodes will feature Pharrell and Dr. Carolyn Williams on May 13; Miranda and Bev Lambert on May 20; Brandi and Teresa Carlile on May 27; Tom and Mary Morello on June 3; and - most importantly to Rush fans - Geddy Lee and Mary Weinrib on June 10. You can get a few glimpses of Geddy and his mom in the show's 2-minute trailer here. From Cradle to Stage: Stories from the Mothers Who Rocked and Raised Rock Stars contains a chapter on Geddy Lee's mother Mary Weinrib, where Mary talks about what influenced Geddy to choose a musical career, and the prevalence of music in their family home. If you haven't read From Cradle to Stage yet, you can order your copy at this location. Speaking of Dave Grohl, during a recent interview for Apple Music Essentials, Grohl and the rest of the Foos share the stories behind some of the band's biggest hits (thanks Thomas P). During the interview, Dave reveals an interesting bit of trivia regarding how producer Nick Raskulinecz (who went on to produce Rush's last 2 studio albums) ended up working on the Foos landmark One by One album (transcript via UG):
Taylor: ... "It was just a time for the band, and then Dave came to my house, we did a couple of demos, we did one that was 'Times Like These,' and we were like, 'Well, that's a great song.' And then we said we will have a week at Dave's house in Virginia. Dave accidentally called the wrong Nick! Nick Raskulinecz showed up."

Dave: "I meant to call Nick Oliveri, who was the bass player of Queens of the Stone Age, and my friend Nick Raskulinecz answered. I knew him from Sound City, the great engineer, he had worked at that studio for years."

Interviewer: Sure, sure, but what are you doing, are you thinking, 'I'm gonna style this out rather than admit I'm looking for a different Nick?' Did you just say, 'I've called the wrong Nick, do you want to come to make a record with us?' Was that your way out?

Dave: "Exactly, yes. This is how people work."

Interviewer: Are you serious? You called the wrong Nick and he ended up producing an entire record?

Dave: "Yeah... Now he produces Rush!"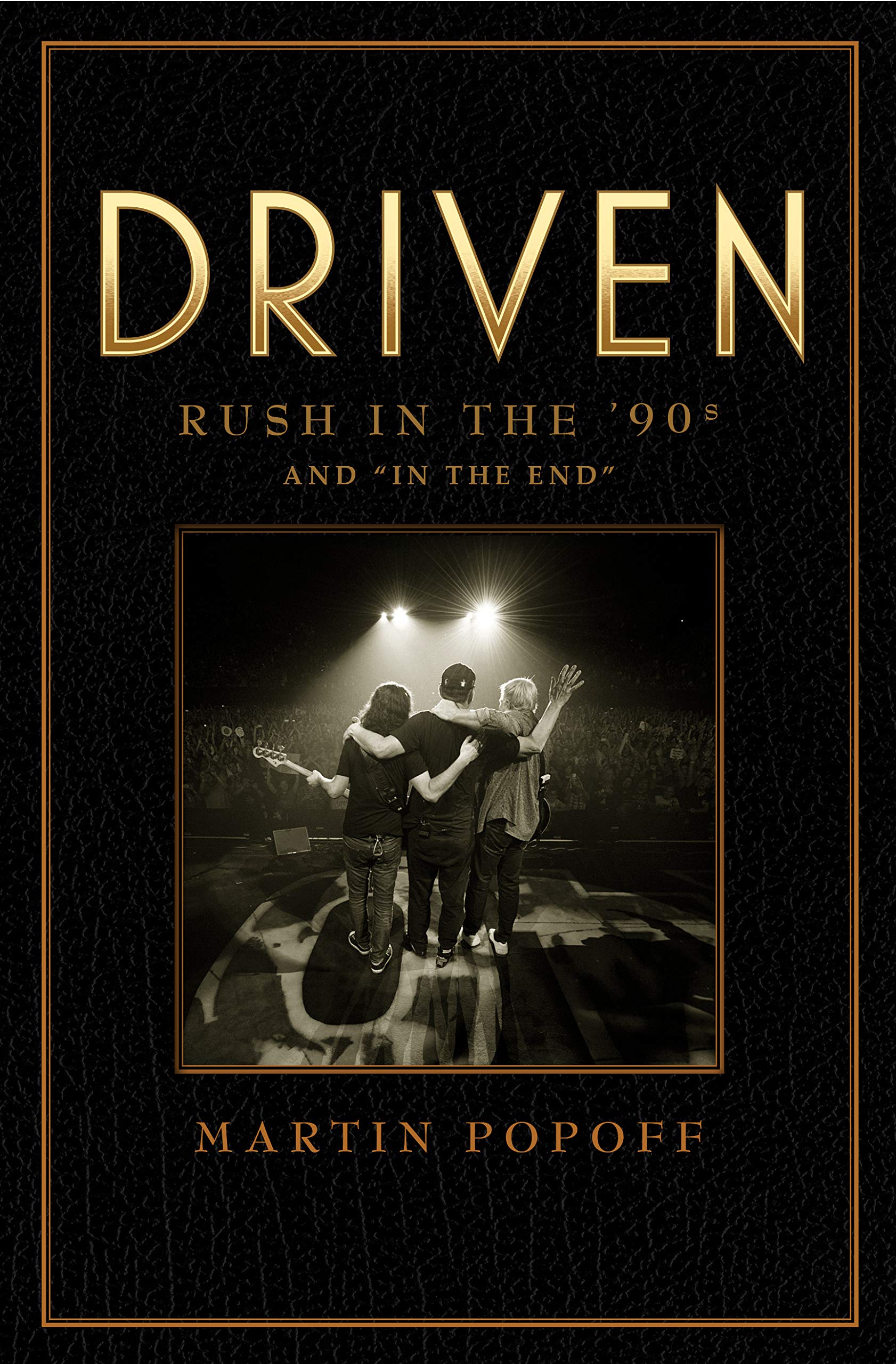 Music writer Martin Popoff's Driven: Rush in the '90s and 'In the End' - the third and final book in his 3-part Rush Across the Decades series - officially released last week and can now be ordered via Amazon and other online retailers. The author is also accepting orders for signed editions of the book via this link. The first book in the series was Anthem: Rush in the '70s, which released last May, and the second book was Limelight: Rush in the '80s, which officially released back in October. The imitation leather bound book comes in at 424 pages. From the book's description:
In this conclusion to his trilogy of authoritative books on Canada's most beloved and successful rock band, Martin Popoff takes us through three decades of "life at the top" for Rush's Geddy Lee, Alex Lifeson, and Neil Peart. Though this era begins with the brisk-selling Roll the Bones and sees throngs of fans sell out international tours, there is also unimaginable tragedy, with Peart losing his daughter and his wife within the space of ten months and, two decades later, succumbing to cancer himself. In between, however, there is a gorgeous and heartbreaking album of reflection and bereavement, as well as a triumphant trip to Brazil, a Rock and Roll Hall of Fame induction, and ― some say surprisingly ― the band's first full-blown concept album to close an immense career marked by integrity and idealism.
This past week's episode of the Something for Nothing podcast features an interview with violinist Jonathan Dinklage. Dinklage played with Rush as part of the Clockwork Angels String Ensemble and also sat in on Losing It for select dates on the R40 Live tour. He's also a lifelong Rush fan and talks about how he landed his dream gig, what it was like to meet his musical heroes, and what it felt like to play that iconic solo in Losing it for the first time. You can listen to the interview below or via your favorite podcast service:
The latest episode of the 2 Guys Talking Rush podcast features part 2 of an interview with Bill Heck, Sean Jones, and Thomas Slawnik of Wisconsin-based Rush tribute band The Rush Tribute Project. You can listen to the interview below or via your favorite podcast service:
Back in early 2020 Cheap Trick guitarist Rick Nielsen purchased Geddy Lee's 1959 Les Paul Standard after Geddy had put it up for auction. Nielsen was recently interviewed for Guitar Player magazine to talk about his extensive guitar collection and also tell the story behind the purchase of the 1959 Les Paul. From the interview (thanks RushFanForever):
... back in January 2020, I actually won Geddy Lee's former 1959 Les Paul Standard at a Mecum auction in Florida. I'd known about the guitar for a long time and I was semi-chasing it, because the 1959 Les Paul that my Rick Nielsen "Collector's Choice" Gibson Custom Historic model was based on was also a guitar I got in Canada, around 1980. I sort of forgot all about this particular guitar until it resurfaced with Geddy. The auction was January 10, and right as the gavel went up, the same day and same hour - the same minute basically - was when Neil Peart died. I didn't want to seem like a ghoul, so I didn't tell anyone immediately that I had the guitar. Eventually word got out, and the guitar dealer Drew Berlin offered me twice what I paid for it. And when Steven Tyler saw that I had the guitar, he offered me even more money for it. [Did you take Steven's offer?] Nope! ...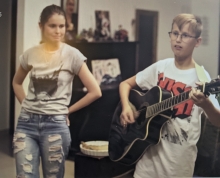 Reader Chris K let me know about a Rush t-shirt sighting in the recent Billie Mintz documentary Portrayal, which is currently screening at the Hot Docs film festival. When the subject of the film arrives in Israel to meet his family, some kids playing a little acoustic music jam are shown, and one of them is wearing a Rush explosion logo t-shirt as seen here.
The June 2021 issue of Guitarist magazine includes a one-page article on Alex Lifeson's Open Chords where Richard Barrett explores Lifeson's pioneering approach to achieve wider, fuller sounds (thanks RushFanForever).
Guitar.com's Michael Leonard wrote a posthumous review of Rush's landmark Moving Pictures album this past week, which you can check out here. The album was also profiled in this article from BestClassicBands.com which takes a look at the top selling albums of 1981.
Ultimate-Guitar.com posted their list of the 7 Rock Bands Who Called It Quits at the Right Time this past week and Rush was included:
Rush is another example of a band knowing their limits and deciding to leave while they still can deliver an amazing performance every night with no compromises. After celebrating their 40th anniversary with a large-scale tour "R40", the band left a possibility of one-off shows and small tours opened, but the last concert of the tour in Inglewood, California at The Forum (where incidentally Slayer would play their final concert four years later) turned out to be Rush's final performance together as a band. Rush always wanted to give the fans only the best and continuing on while battling multiple health issues would have meant the quality of the shows would go down. There's probably no other band that gave such flawless performances up until the very end of a 40-year-plus career.
MusicRadar.com ran a poll to determine the greatest pre-1980 bassist this past week and Geddy Lee ended up taking the top spot (thanks RushFanForever):
The man that no-one calls Gary Weinrib any more makes the top of your list - and quite rightly so. As singer, bassist and keyboard player with the sadly no-longer-active trio Rush, Geddy embedded himself into our world across four decades of recorded and live music. His phenomenal grooves and fills, often delivered in synch with the much-missed drummer Neil Peart, are second to none. Let us hope we witness his return to the "lighted stage" sooner rather than later.
Rush fan Brian Beyer contributed a piece to the First Person column in yesterday's Globe and Mail titled Rush's music taught me that I could grow, that I could change (thanks Paul D).
Dave Babbitt wrote a piece for the Wallaceburg Courier Press last week on how Great drummers have great physical stamina, and Neil Peart is mentioned:
... My friends who love Rock music would never forgive me if I failed to mention the genius of the late Neil Peart, drummer for Rush. A master technician with incredible skills, Neil was the one who actually came up with the idea, and produced the two-album tribute to Buddy Rich titled "Burning for Buddy". Neil invited a bevy of the greatest drummers from a variety of bands to choose a Buddy Rich chart and record it. Great drummers respect great drummers regardless of the genre they play in. ...
Here's the latest trailer for From Cradle to Stage featuring Geddy Lee and his mom:
That's it for this week. I hope all the Rush fan moms have a happy Mother's Day this Sunday. Have a great weekend!!