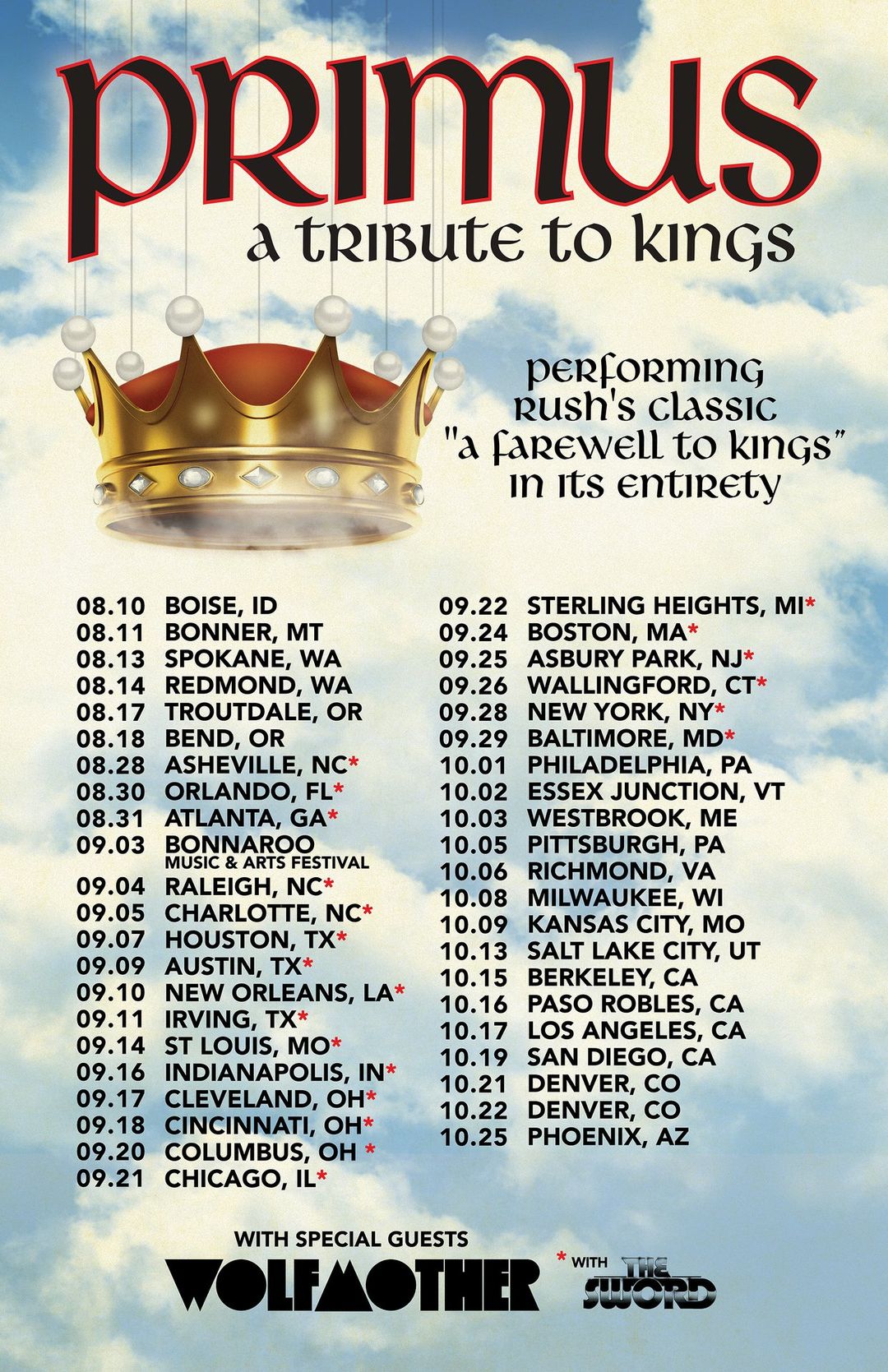 Last year Primus was forced to postpone their planned 2020 A Tribute to Kings Rush tribute tour to the summer of 2021 due to COVID-19 restrictions, and earlier this week they confirmed that the tour will indeed go forward but with rescheduled dates beginning in August. The tour will honor the band's musical heroes Rush where they'll cover the A Farewell to Kings album in full every night, before playing a full set of Primus classics. From the official Primus website:
Finally, the clouds are parting, the planets are aligning, the dough is rising...whatever metaphor floats your preverbal boat, PRIMUS is going on tour again. We were poised and ready for a massive, bent-rock extravaganza when the gremlins of covid came and yanked the rug out from under us all. I personally have been climbing the walls like a shit-house rat and, after my first season off in 30 some odd years, I'm very anxious and excited to stand in front of the microphone with my four string piece of furniture and belt out some girthy ditties to sweaty throngs of punters. - Les Claypool

As government restrictions and current health & safety protocols continue to be monitored, we have slightly shifted the "A Tribute To Kings" tour to begin this August and run through October. Check out the list of newly rescheduled dates.

Special guests Wolfmother will be still be joining for the entire tour and The Sword will open select dates. All original tickets will be honored.

For those not able to attend the newly rescheduled dates, a refund window is now available for the next 30 days from the original point of purchase.

The following 2021 dates have been cancelled:
July 13, 2021 - Toronto, ON
July 5, 2021 - Lafayette, NY
JulY 23, 2021 - Minneapolis, MN

Refunds will be issued from point of purchase.
For all the details and to purchase tickets, visit primusville.com.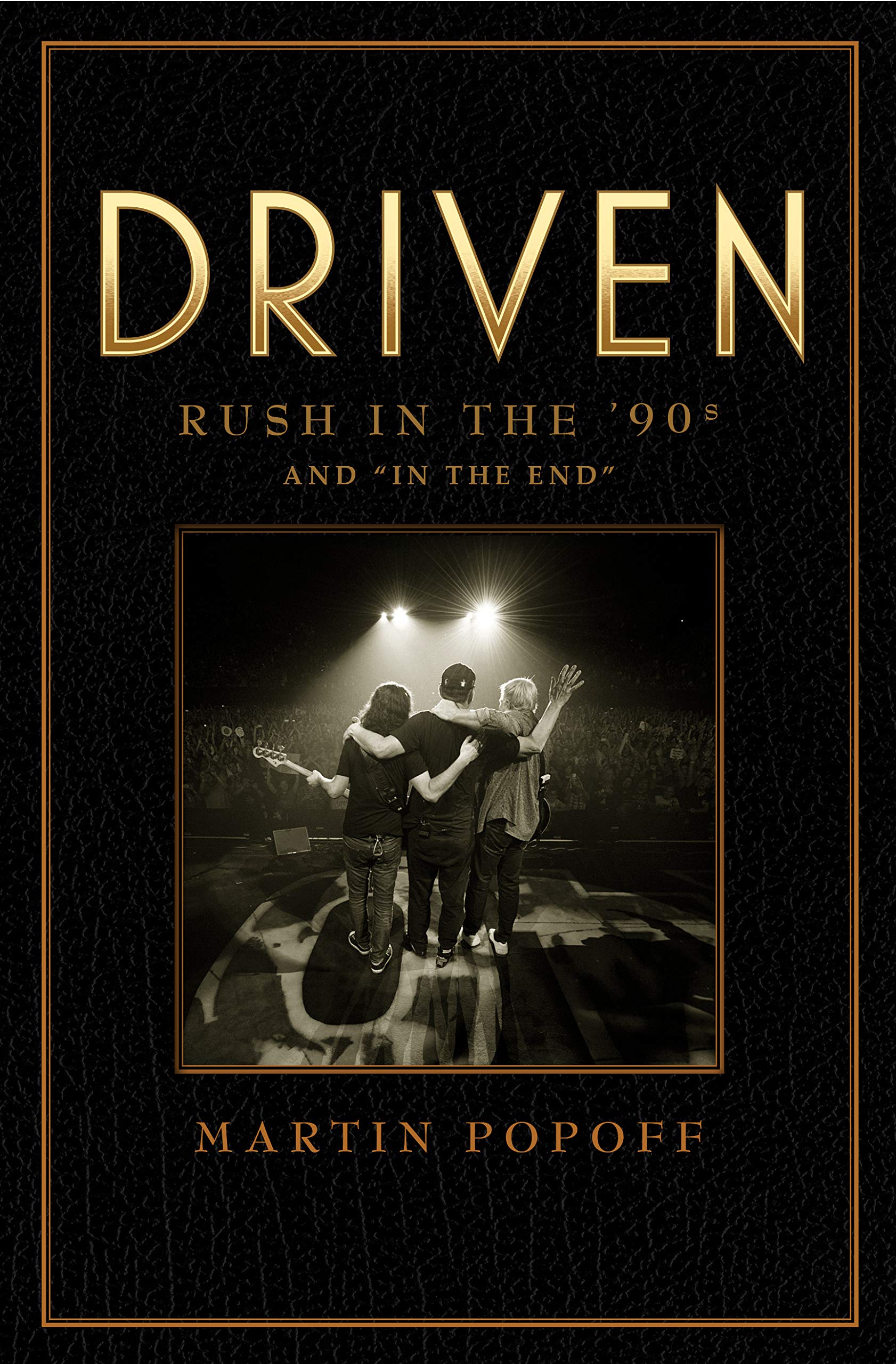 Music writer Martin Popoff's Driven: Rush in the '90s and 'In the End' - the third and final book in his 3-part Rush Across the Decades series - officially released this past Tuesday and can now be ordered via Amazon and other online retailers. The author is also accepting orders for signed editions of the book via this link. The first book in the series was Anthem: Rush in the '70s, which released last May, and the second book was Limelight: Rush in the '80s, which officially released back in October. The imitation leather bound book comes in at 424 pages. From the book's description:
In this conclusion to his trilogy of authoritative books on Canada's most beloved and successful rock band, Martin Popoff takes us through three decades of "life at the top" for Rush's Geddy Lee, Alex Lifeson, and Neil Peart. Though this era begins with the brisk-selling Roll the Bones and sees throngs of fans sell out international tours, there is also unimaginable tragedy, with Peart losing his daughter and his wife within the space of ten months and, two decades later, succumbing to cancer himself. In between, however, there is a gorgeous and heartbreaking album of reflection and bereavement, as well as a triumphant trip to Brazil, a Rock and Roll Hall of Fame induction, and ― some say surprisingly ― the band's first full-blown concept album to close an immense career marked by integrity and idealism.
Popoff was the guest on the most recent episode of the Something for Nothing podcast to discuss the book and the period of Rush it covers. You can listen to the interview below or via your favorite podcast service.
This past week's edition of the 2 Guys Talking Rush podcast features the first part of an interview with Bill Heck, Sean Jones, and Thomas Slawnik of Wisconsin-based Rush tribute band The Rush Tribute Project. You can listen to the interview below or at this location:
Ultimate-Guitar.com posted their list of the Top 8 Amazing Rock and Metal Songs Inspired by Science Fiction and Fantasy Works this past week, and Rush's 2112 made the cut:
Being the glorious nerds that he was, Rush's Neal Peart often drew inspiration from fantasy works by authors like Tolkien and Ayn Rand, and "2112" is probably the most famous example of such cross-pollination. With a running time of over 20 minutes, "2112" is one of the most ambitious prog-rock songs that the '70s have given us, and having been featured in most Rush setlists at least in part, it is also one of the fondest memories Rush fans have from their progressive golden era. The song, like the rest of the album, features heavy influences from Ayn Rand's dystopian SF novella "Anthem" - so much so that Neil Peart gave written credit to Rand on the album's covers.
Reader Mark W noticed an interesting bit of Rush-related trivia from the recent 2019 R.E.M. biography Begin the Begin involving Michael Stipe's first performance at a high school battle of the bands as outlined in this Pitchfork article:
In one common legend, R.E.M. frontman Michael Stipe was inspired to sing after hearing Patti Smith's 1975 album Horses. Lurie can't quite confirm or deny that, but he does find something just as crucial to Stipe's future as a vocalist: a 1977 battle of the bands at his high school in St. Louis. Stipe's classmate Craig Franklin asked him to enter and says Stipe replied, "I don't sing." But Franklin eventually convinced Stipe to join his group-called simply the Band-on covers of the Rolling Stones' "Gimme Shelter" and Rush's "Working Man," likely his first-ever public performance.
MusicRadar.com posted the results of their online poll to determine the greatest drummers of all time this past week, and - to no one's surprise - Neil Peart came in on top (thanks RushFanForever). To go along with the results, they also posted an article on Five reasons Neil Peart is the greatest drummer of all time.
Here's some video of Primus covering a portion of Rush's Cygnus X1 on their 2019 tour:
That's all for this week. Have a wonderful weekend everybody!!