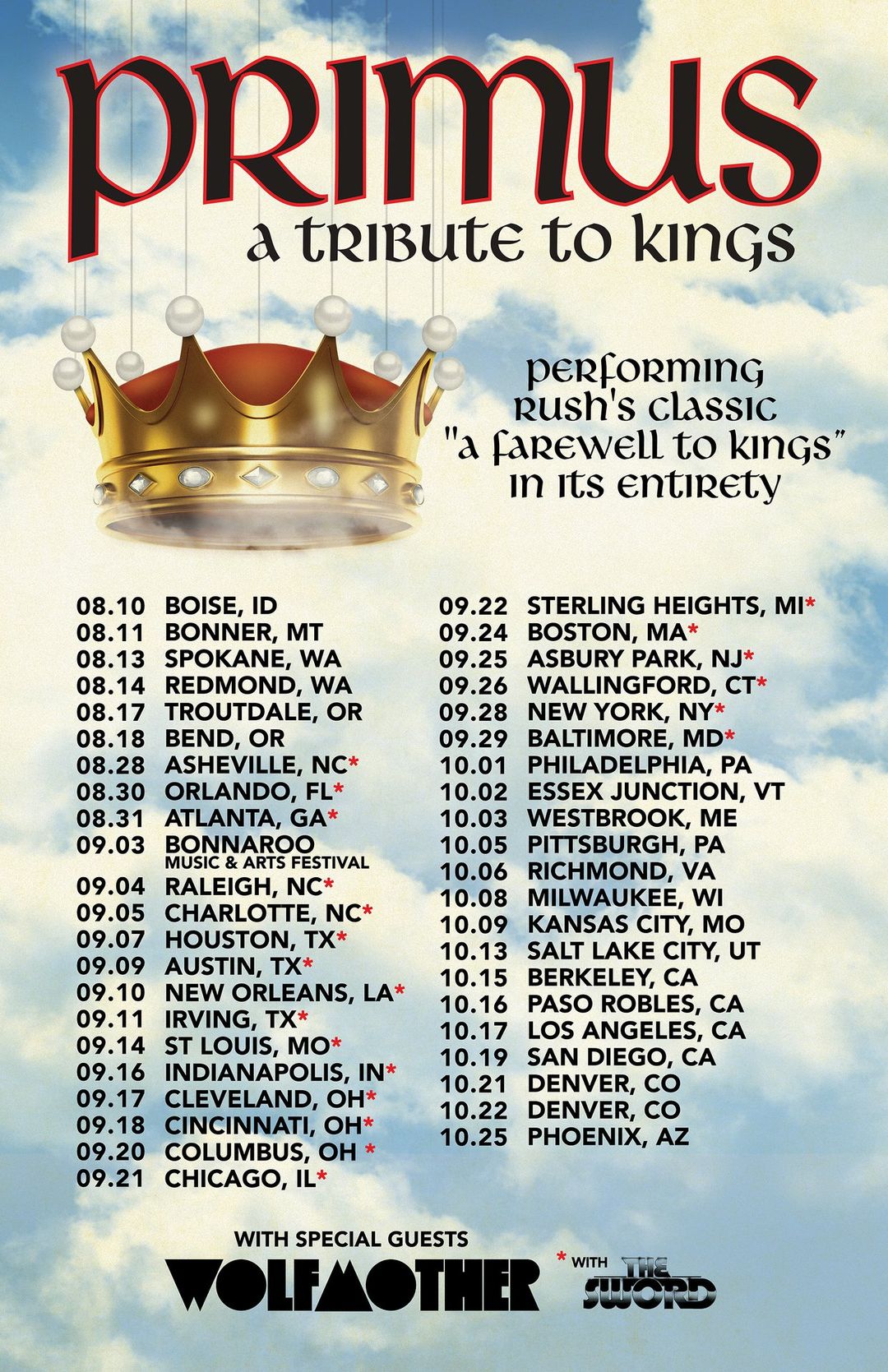 Last year Primus was forced to postpone their planned 2020 A Tribute to Kings Rush tribute tour to the summer of 2021 due to COVID-19 restrictions, and earlier today they confirmed that the tour will indeed go forward but with rescheduled dates beginning in August. The tour will honor the band's musical heroes Rush where they'll cover the A Farewell to Kings album in full every night, before playing a full set of Primus classics. From the official Primus website (thanks RushFanForever):
Finally, the clouds are parting, the planets are aligning, the dough is rising...whatever metaphor floats your preverbal boat, PRIMUS is going on tour again. We were poised and ready for a massive, bent-rock extravaganza when the gremlins of covid came and yanked the rug out from under us all. I personally have been climbing the walls like a shit-house rat and, after my first season off in 30 some odd years, I'm very anxious and excited to stand in front of the microphone with my four string piece of furniture and belt out some girthy ditties to sweaty throngs of punters. - Les Claypool

As government restrictions and current health & safety protocols continue to be monitored, we have slightly shifted the "A Tribute To Kings" tour to begin this August and run through October. Check out the list of newly rescheduled dates.

Special guests Wolfmother will be still be joining for the entire tour and The Sword will open select dates. All original tickets will be honored.

For those not able to attend the newly rescheduled dates, a refund window is now available for the next 30 days from the original point of purchase.

The following 2021 dates have been cancelled:
July 13, 2021 - Toronto, ON
July 5, 2021 - Lafayette, NY
JulY 23, 2021 - Minneapolis, MN

Refunds will be issued from point of purchase.
For all the details and to purchase tickets, visit primusville.com.