The Fore Batten Foundation is a charity with the goal of raising awareness and funding for increased research into Juvenile Batten Disease - an ultra-rare, fatal, inherited disorder that primarily affects the nervous system. The Foundation was founded 4 years ago by Scottsdale-based golf course architect David Kahn and his wife after learning that their twin daughters both suffered from the disease. The Foundation sponsors a silent auction each year with most donations coming from the greater golfing community, and this year's auction includes a day of golf with Rush's Alex Lifeson as described in this Golf Digest article:
... Those golf course packages, donated by clubs, club members and influential organizers from around the county, are a major reason for the auction's broad support. Available for bidding this year are golf rounds at a wide array of Golf Digest America's 100 Greatest and Second 100 Courses, such as Friars Head, Oakmont, Ballyneal, Oakland Hills, Inverness Club, Quail Hollow, Maidstone, Pikewood National, Olympic Club, Castle Pines, The Quarry at La Quinta and dozens of others, including Monterey Peninsula Country Club, where Kahn and Jackson completed a renovation of the historic Dunes course in 2015. Also up for bid are unique lots like vacation getaways in Vail and Napa Valley, and day experiences with athletes and celebrities such as Jason Kidd, Rocco Mediate, former Vice President Dan Quayle and Rush guitarist Alex Lifeson. ...
The auction kicks off next week and will run through the end of the month. You can preview the items up for bidding here, including the day of golf with Alex Lifeson. For all the details visit forebatten.org.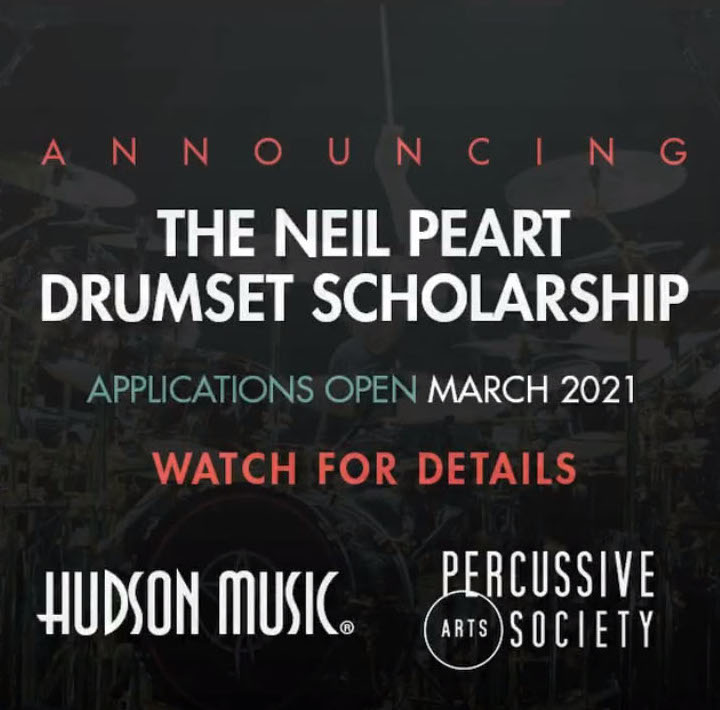 Back in November, Hudson Music announced via their Facebook page that they are sponsoring a Neil Peart Drumset Scholarship in partnership with the Percussive Arts Society (PAS.org). The scholarship will annually award 4 drummers the opportunity for online drumset lessons from well-known artists/educators, and last week PAS began accepting applications for the scholarship with details posted to their YouTube channel:
Up to FOUR $500 scholarships will be awarded to provide individuals the opportunity to take a few lessons with a drummer of their choice either via online or in person. Eligibility: The scholarship is open to all active Percussive Arts Society Members. Application Materials: All applicants must submit a video of no more than 5 minutes and a statement of why this award would be important to their development. If you have any questions, please reach out to us by emailing percarts@pas.org. DEADLINE TO APPLY IS APRIL 30, 2021.
Hudson Music produces instructional how-to videos and lesson books for drums, bass and guitar, including Neil Peart's Anatomy of a Drum Solo and Taking Center Stage instructional videos. Be sure to follow Hudson Music on Facebook and subscribe to their YouTube channel for updates.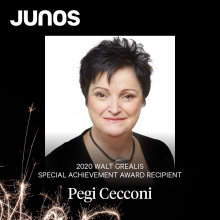 Prior to the Pandemic last year, the Canadian Academy of Recording Arts & Sciences (CARAS) had planned on presenting the 2020 Walt Grealis Special Achievement Award to longtime Anthem/SRO Vice President Pegi Cecconi at the 2020 JUNO Gala Dinner & Awards. However, the event was canceled and the presentation put on hold. Earlier this week CARAS announced the nominees for this year's JUNO Awards and revealed that Cecconi would finally be presented with the Award at this year's ceremony. The 50th JUNO Awards will be broadcast this coming Tuesday, May 16th on CBC, and will stream globally on CBCmusic.ca, with some special awards - including Cecconi's - being presented two nights earlier at the opening night awards.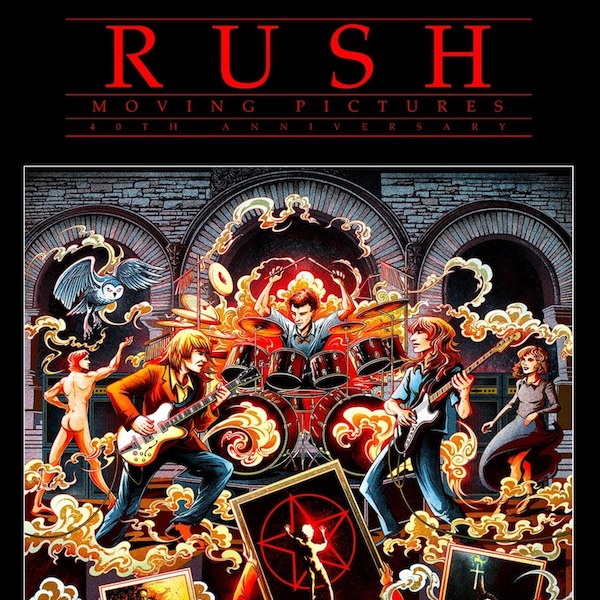 Iconic By Collectionzz is commemorating the 40th anniversary of Rush's Moving Pictures album with a set of three officially-licensed, limited-edition poster screenprints by Toronto artist Miles Tsang. The 18"x24" screenprints come in a main edition, 5-color screenprint for $75 (212 available); a Limelight Variant, 6-color, glow-in-the-dark screenprint for $150 (81 available); and an 18.5"x24.5" Country Place Edition, Wood Veneer Panel in Hand Welded Metal Frame (includes all hardware) for $400 (40 available) . Each hand-numbered screenprint has a holographic authenticity sticker on the back. The prints were made available for purchase earlier this week, but are now unfortunately SOLD OUT except for the Country Place Edition.
Rush's Moving Pictures is one of the many albums featured in the new book ...And Justice For Art - Volume 3: Stories About Hard Rock & Heavy Metal Album Covers. The book is limited to 700 copies with worldwide shipping/delivery available, and can be purchased at this location. For more information visit the website at andjusticeforart.com or follow them on Facebook.
Speaking of the Moving Pictures album cover, Planet Rock posted an article this past week where they featured the real locations of 20 rock and metal album covers, including Rush's 1981 masterpiece:
Created by long-time Rush collaborator Hugh Syme, the artwork to Rush's 1981 magnum opus 'Moving Pictures' is a very literal translation of the album title. A triple entendre, it features workers moving pictures, then the paintings themselves depict emotional - or moving - scenes, and finally the back sleeve has a film crew making a motion picture of proceedings. The sleeve was photographed outside the Ontario Legislative Building at Queen's Park, Toronto.
Speaking of Hugh Syme, next Friday, March 19th the Fishers Arts Council in Noblesville, IN will be presenting a virtual reception with the Rush album artist as part of an exhibit now on display through March on the 2nd Level of The Art Gallery at City Hall. The event will feature a live interview with Syme via Facebook and a chance for virtual attendees to send in questions through the comments. You can register for the event online at fishersartscouncil.org. From local newspaper The Times:
... Hugh's work has been on display since January with rotating exhibits at the Art Gallery at City Hall. The current exhibit, "Music and Cover Art," features 13 prints. On March 8, the exhibit will change to "Music Art of RUSH" with 25 prints on display through March.
The Art Gallery at City Hall is located at One Municipal Drive in Fishers, open daily Monday-Friday from 8:30 am to 4:30 pm excluding holidays. ...
Ultimate-Guitar.com posted an article this past week featuring 6 Great Albums Ruined by Bad Production and Mixing, one of which was Rush's 2002 Vapor Trails album:
The late '90s started one of the most painful trends in mixing and mastering that ruined a lot of great records for a lot of people - the loudness war. During that time, recording engineers just cranked everything to the max in order to achieve the maximum volume losing all the dynamics and clarity in the process. Rush's "Vapor Trails" unfortunately fell victim to it in 2002. The potential of this dark and raw album, the first one without keyboards in many years, was severely diminished by the mastering and mixing that many deemed unlistenable. Even Alex Lifeson himself was not satisfied with the result: "It was a contest, and it was mastered too high, and it crackles, and it spits, and it just crushes everything. All the dynamics get lost, especially anything that had an acoustic guitar in it."
Far Out magazine posted a story this past week where they list off the 10 best songs inspired by science-fiction, including Rush's 2112:
The title track from Rush's 1976 breakthrough 2112 album, and a track that was a staple of their live performance until the end, is another voyage into science-fiction and one which had spectacular results. The track ranks among the finest Rush compositions around. While the song's structure is a joyous mix of all three of the band's expert players, with Geddy Lee on bass and Alex Lifeson on guitar, it is in Peart's drumming that we see the real power of the track. The song is drenched in archetypal sci-fi sounds, which work as a perfect invitation into Rush's world. Speaking on the dystopian sci-fi novel that inspired the track, Peart commented: "It's difficult always to trace those lines because so many things tend to coalesce, and in fact, it ended up being quite similar to a book called Anthem by the writer Ayn Rand. But I didn't realise that while I was working on it, and then eventually as the story came together, the parallels became obvious to me and I thought, 'Oh gee, I don't want to be a plagiarist here.' So I did give credit to her writings in the liner notes."
Ultimate-Guitar.com posted their list of the Top 10 Rock Legends Who Never Won a Grammy yesterday and Rush made the cut:
Rush is one of those rare bands where nobody really wants or has to say any bad things about either its band members or their music. And regardless how immensely-loved the iconic Canadian prog-rock band was - and still is, even after the sad passing of Neal Peart, and Alex Lifeson and Geddy Lee calling it quits afterward - the band's tremendous opus never actually won a competitive Grammy, despite being in the running more than several times. Rush has been nominated for Grammys a whopping seven times from 1982 to 2011 - six for the Rock Instrumental Category and with the 2010 documentary "Rush: Beyond the Lighted Stage" by rock connoisseur and anthropologist extraordinaire Sam Dunn being nominated for the Best Music Film category.
The popular Rock N' Roll True Stories YouTube channel posted a video story this past week about Alex Lifeson's 2003 New Year's Eve arrest as seen here.
The latest edition of the Something for Nothing podcast features a discussion with drummer Steve Holmes, founder of HouseOfDrumming.com, about drumming and Neil Peart in particular. You can listen in below or via your favorite podcast service.
This past week's edition of the 2 Guys Talking Rush podcast features the second part of their interview with Rush sound engineer Richard Chycki. You can listen to the show below or at this location:
Steven Wilson and Tim Bowness' popular The Album Years podcast has returned for a second series (thanks RushFanForever). The podcast features the pair discussing the important album releases from a specific year, and in the premiere episode they include a discussion of Rush's Moving Pictures.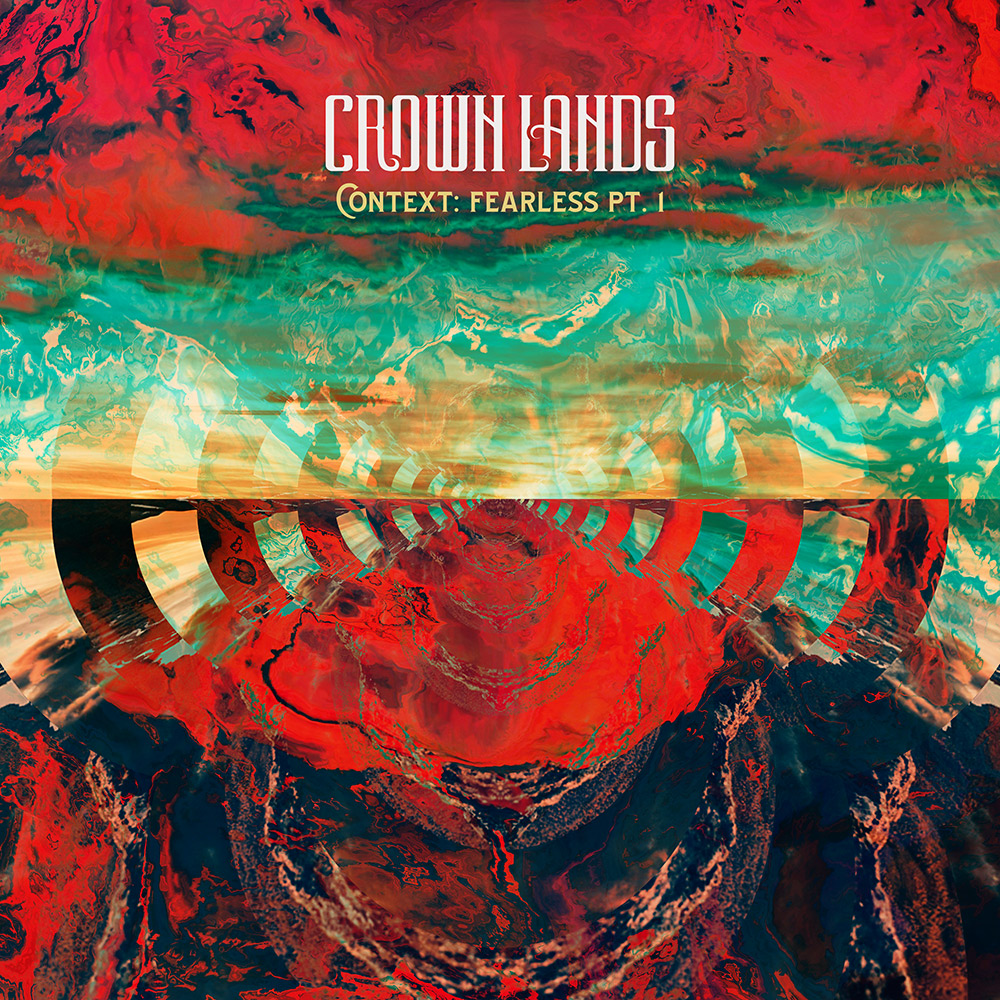 Toronto-based progressive blues-rock duo Crown Lands consists of drummer/singer Cody Bowles and guitarist Kevin Comeau, who bonded over their shared obsession with Rush six years ago and formed Crown Lands shortly after. The duo released their blues-rock, riff-laden, self-titled debut album last year, and are currently working on new material with a more prog-oriented feel. RollingStone.com debuted two new tracks from the band yesterday and both draw direct inspiration from their fellow Canadian rockers Rush. From Rolling Stone:
... One of the two new songs, the multi-part, three-years-in-the-making suite "Context: Fearless Pt. 1," may well be one of the most overt Rush tributes ever attempted, with a direct musical nod to "Red Barchetta" and modal riffing straight out of the Alex Lifeson handbook. To fully capture the vibe, Crown Lands sought out some special help, recording an early demo of the song with Terry Brown, who produced all of Rush's early classics, from Fly by Night to Signals. "They are well-educated on Rush," says Brown. "And there is definitely a likeness in some ways, but in more ways, they're nothing like Rush. The register that Cody likes to sing in is very reminiscent of Geddy [Lee] in his younger days. And certainly, some of the guitar riffs and the bass playing from Kevin, who also loves the old synths. But when you put them all together, it adds up to Crown Lands, and I think, something unique and special."

From there, they pursued another Rush connection, booking time to record with Nick Raskulinecz, who produced Rush's final two studio albums, and has also worked the Foo Fighters, among others. As it happened, they met up with Raskulinecz in January of last year, driving through a snowstorm to Nashville, just after the world learned of the death of Rush drummer Neil Peart. "When they showed up, I was pretty wrecked about that," says Raskulinecz. "We tipped our hats to Neil, we listened to some Rush, had some shots of whiskey in Neil's honor, and we moved forward and recorded."

Bowles played parts of a drum kit that Peart had given to Raskulinecz, which duplicated the one Peart played on 2007's Snakes and Arrows album. The producer was already a fan of Crown Lands. "A lot of people are influenced by Rush but don't sound like Rush," he says. "These two just kind of sound like that." The band also recorded another new song with Raskulinecz, "Right Way Back," that pays lyrical tribute to Peart. ...
Both tracks are currently available for streaming on multiple platforms. You can also listen to them below or on YouTube.
Today is Alex Lifeson and his wife Charlene's 46th wedding anniversary - they were married on this date back in 1975. That's it for this week. Have a great weekend and don't forget to set you clocks ahead!