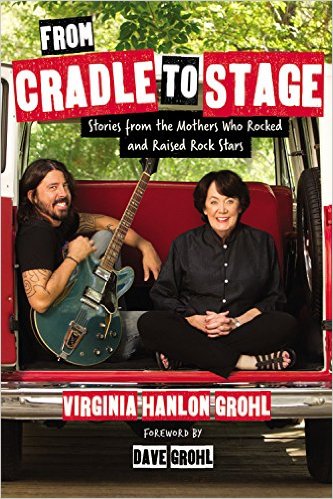 Foo Fighters frontman Dave Grohl's mother Virginia Hanlon Grohl released her book From Cradle to Stage: Stories from the Mothers Who Rocked and Raised Rock Stars back in 2017. The book contains a chapter on Geddy Lee's mother Mary Weinrib, where Mary talks about what influenced Geddy to choose a musical career, and the prevalence of music in their family home. At a recent launch event for the newly-minted Paramount+ (formerly CBS All Access), MTV Entertainment Group President Chris McCarthy announced that the network would be premiering a new, non-scripted docu-series based on the book and co-hosted by Dave and Virginia Grohl. From Deadline:
... The six-part series, directed by Dave Grohl, will tell stories of the special relationship between successful musicians and their moms. Each episode features a famous performer and his or her mother as well as Dave and Virginia. It comes from Live Nation Productions and Endeavor Content. ...
Although nothing's been confirmed yet, it seems quite likely that Mary Weinrib and Geddy could be featured in one of the episodes. In a 2017 interview with Rolling Stone, Virginia Grohl spoke about her background as a rock mom and how she got the idea to write the book:
... [Grohl] was always surprised how rarely she ran into other moms out on the road. So she decided to track some down, and ended up interviewing 18 mothers of famous musicians for her book ... "They all said, 'Oh, there's nothing interesting about me except for my son or daughter.' And then it turned out that wasn't true at all." In Texas, Virginia met Miranda Lambert's mom, Bev, who used 
to be a private investigator (including on the Paula Jones case
 against Bill Clinton). In Toronto, she talked to Geddy Lee's mom, Mary Weinrib, a Holocaust survivor who raised a family alone after her husband died. "Mike D's mom, Hester Diamond, is a very high-powered woman in the art world," Virginia says. "When Mike wanted to be a Beastie kind of boy, she was totally accepting." ...
If you haven't read From Cradle to Stage yet, you can order your copy at this location. On a related note, reader Jennifer M discovered recently that Geddy's mother gave an oral history interview to the US Holocaust Memorial Museum back in 2006 that was put online in late 2019. You can listen to her 3-part interview online here.
The Vancouver Symphony Orchestra (VSO) hosted a Virtual Gala Concert back on February 18th in support of the VSO and the VSO School of Music. Rush's Geddy Lee, Itzhak Perlman, k.d. lang and many others took part in the event via pre-recorded video segments. The Show Must Go On: Stories of Resilience was streamed via TheConcertHall.ca and ended up raising over $500,000 (thanks RushFanForever).
This past week's edition of the 2 Guys Talking Rush podcast featured an interview with Rush sound engineer Richard Chycki. You can listen to the show below or at this location:
The most recent episode of the Something for Nothing podcast featured Overkill drummer Ron Lipnicki, who happens to be a childhood friend of hosts Steve and Gerry - the trio even attended their first Rush show together. Ron talks about that fateful show, the indelible imprint Neil Peart made on him, and they list off their top five favorite Neil studio performances. You can listen in to the show below or at this location:
Dream Theater guitarist John Petrucci was recently interviewed for Metal Injection to discuss the long-awaited reunion of Liquid Tension Experiment - the instrumental prog-metal super-group consisting of Petrucci, Tony Levin, Mike Portnoy, and Jordan Rudess. Petrucci had the following to say about the influence of Alex Lifeson and Rush:
... Well, I'm not just saying this because you're in Canada, but Alex Lifeson. Rush is my favorite band of all time. I definitely modeled my sound off of him and my approach, orchestration and playing for sure. And he's a huge, seminal player, and the music of Rush ... It might be different depending on where you lived in the US, but where I grew up in suburban Long Island, in New York, Rush was just as big as any other rock band. I mean, I feel like they wrote "Subdivision's" about my high school. They always played New York, every tour. They always came to the Nassau Coliseum or the Garden or whatever. They were always on the radio, like on the New York Rock Station. So to me I just grew up with it. It wasn't like, who's this weird band I never heard of from Canada? I don't think I realized they were from Canada. They just were always right there just as much as whoever it was, Def Leppard or Ozzy or Maiden. Rush was always a big deal in New York. ...
Petrucci also invokes Rush when talking about working on the upcoming new Dream Theater album:
... We're working on a new Dream Theater record right now. It's like we have just as much fun and excitement with every record that we do. Thankfully we have fans that look forward to new music just as eagerly as we did. It reminds me of the way that I felt when I was growing up and listening to Rush, mostly like in the 80s during all those those classic albums, from Permanent Waves and Moving Pictures and Signals and Power Windows and all that stuff. I looked forward to every album when it came out, every new album, every new material. I couldn't get enough. So I love that we have that that similar type of mindset in our fan base. It's really encouraging. We just love doing it. ...
Current YES bassist Billy Sherwood was recently interviewed for the Rock History Music YouTube channel and spoke a bit about when Geddy Lee sat in on bass for Roundabout during the band's 2017 induction into the Rock and Roll Hall of Fame (thanks RushFanForever). Billy explains why Geddy played on the song rather than him:
... all I know is that Geddy was super cool and he's a hero of mine. So when I was in the green room and he looked at me and said, "why aren't you doing this?" I said, "YES politics", so you can take it from there ...
Photographer Rob Shanahan recently spent an afternoon with John Good, Vice President of DW Drums, and posted a video of the pair chatting about Neil Peart in front of Neil's R40 drum kit, which is on display at the DW Drums factory. You can watch the 4-minute interview on YouTube here (thanks Eric at Power Windows).
YardBarker.com's Jeff Mezydlo posted his Ultimate Rush Playlist earlier today where he lists off his 20 best Rush tracks. You can check out his playlist here.
The Tapes Archive YouTube channel posted a video this past week where they took a 1990 article written about Neil Peart and Rush, and turned it into a mini documentary. The interview/article was written by Marc Allan and Peart was promoting Rush's Presto album at the time. You can watch the video below or on YouTube.
That's all for this week. Have a great weekend!