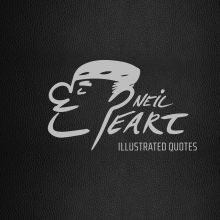 Earlier this week was the official release date of FANTOONS' new officially-licensed Rush book, Neil Peart: The Illustrated Quotes. The 108-page, hardcover book was authorized by Peart himself before his passing, and is currently available to order via Amazon at this location. From the book's description:
The first-and only-official collection of illustrated quotes from Rush drummer and lyricist, Neil Peart, Neil Peart: The Illustrated Quotes pairs elegant illustrations with some of Neil's greatest remarks to bring the poignant words of one of the world's greatest drummers to life. ... Pairing striking black-and-white illustrations from the acclaimed artists at Fantoons with some of the drummer's greatest quotes, Neil Peart: The Illustrated Quotes keeps the beautiful words and musings of Neil Peart alive. Neil Peart: The Illustrated Quotes is the first and only Neil Peart quotes collection authorized by Neil himself. Not only does the book provide Rush fans-both old and new-the opportunity to dive into Neil's inspiring messages whenever they need a pick-me-up, it also serves as a love letter to Peart and his beautifully-crafted words that have inspired and influenced millions around the world.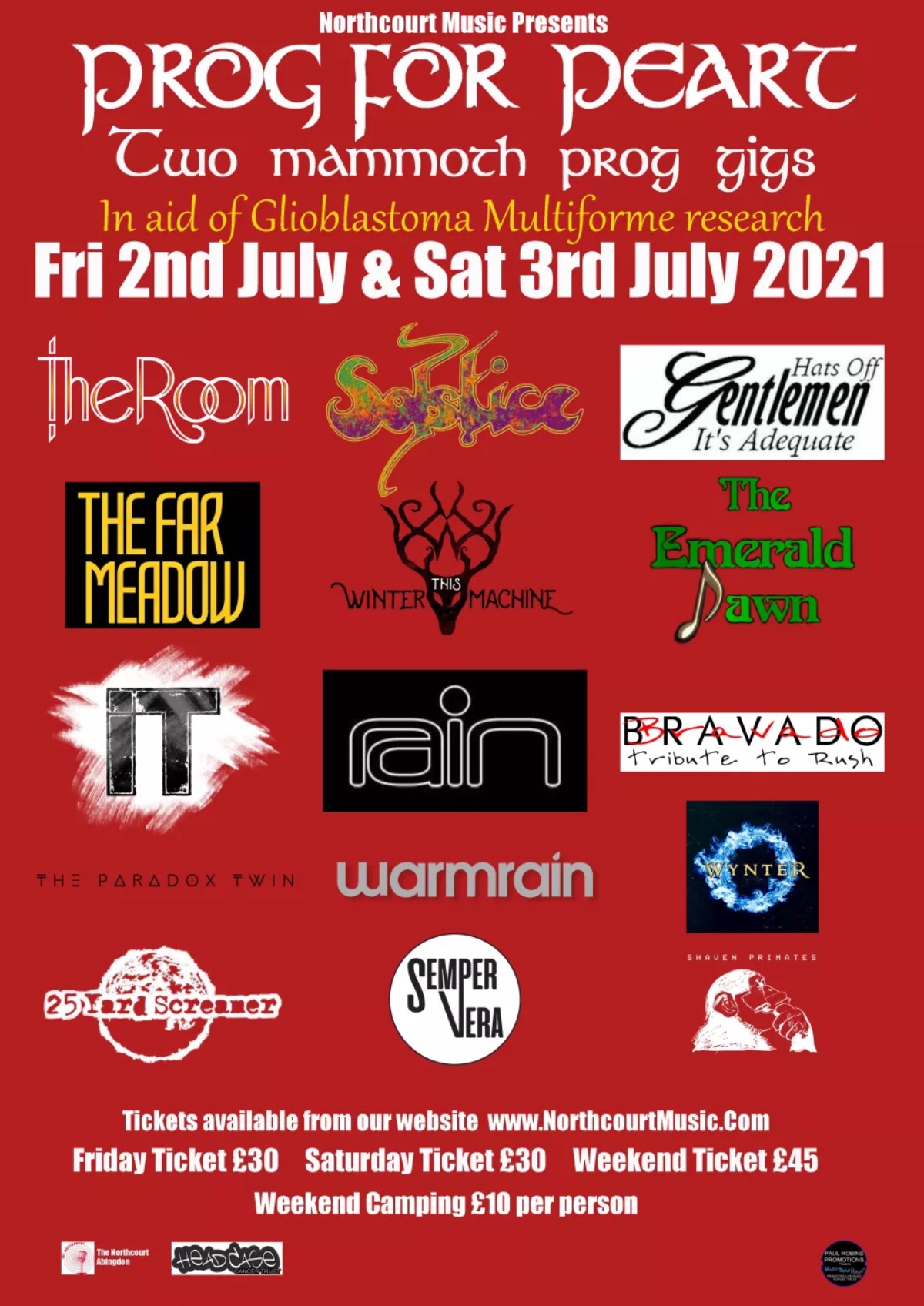 Over a dozen progressive rock bands will hit the stage this coming summer in Oxfordshire, England to raise money for Glioblastoma research and pay tribute to the late Neil Peart who died from the deadly disease early last year. Prog for Peart will take place at The Northcourt, a 200 capacity venue in Abingdon, Oxfordshire the weekend of July 2-3. From loudersound.com:
Solstice, The Far Meadow, 25 Yard Screamer, This Winter Machine, Rain, warmrain, The Paradox Twin, IT and Hats Off Gentlemen, It's Adequate are among the bands on the bill for a Neil Peart tribute concert, Prog For Peart, which will raise money to combat Glioblastoma Multiforme; the killer disease that claimed the life of the Rush drummer. Prog For Peart is two concerts each featuring eight prog bands held on two days to be held at The Northcourt, a 200 capacity venue in Abingdon, Oxfordshire on Friday 2nd July and Saturday 3rd July starting at midday on both days and running through until midnight. "I've been a Rush fan since the late 70s and 2112," explains organiser Mark Cunningham. "I decided, I can't let this pass without doing something and I had already booked the Bravado lads, who are a terrific three-piece Rush tribute band, for that July so they were my first port of call and asked them how they'd feel about turning it into a charity event. ...
Tickets can be purchased at this location.
Speaking of Neil Peart tributes, this past week Sick Drummer Magazine released a series of videos titled A Minute on Neil Peart where various rock drummers pay tribute to the late drumming icon. The list of drummers includes members of Destruction, King Diamond, Body Count and more. You can watch the videos on the Sick Drummer Youtube channel here or embedded in this BraveWords.com post (thanks RushFanForever).
This past week udiscovermusic.com posted lists of the 30 greatest prog rock singers, as well as the 50 best bassists of all time and Rush's Geddy Lee was included in both (thanks RushFanForever). He came in as the #19 best prog rock singer:
During his higher-pitched days, Geddy Lee's voice was an obstacle for prog fans getting into Rush, but like everything in Rush, Lee's vocals just kept getting better over the years. Look no further than his nuanced performance on "The Pass" (from the underrated Presto), on which Lee not only makes a resonant point (it's an anti-suicide song) but sings harmonies with himself.
And Geddy was #15 on the best bassist list:
Any mid-to-late Rush track evinces how Geddy Lee could do fiendish complexity while still rocking hard enough to drive a power trio (watch him talk to uDiscover Music about his time with the band. Instrumental tracks like "YYZ" and "La Villa Strangiato" tend to have Lee's greatest licks, but don't forget that he was usually doing all this while playing keyboard parts with his feet.
DRUM! Magazine posted an article this past week for their Drumming Remix series titled How to Play Tom Sawyer, Smooth Criminal & More in 10 Different Styles where they profile a few different cover versions of the Rush classic:
How many drummers out there have jammed along (or tried) to "Tom Sawyer" by Rush? Okay, you can put your hands down now. Many of us are familiar with Neil Peart's one-handed sixteenth-note prog-funk groove from the original over the lyrics: "Today's Tom Sawyer ... he gets by on you." Both Dave King of The Bad Plus and Matt Zebroski of Alex Skolnick Trio get creative behind jazz chord reharmonizations. They both loosen up the funk and rely less on patterns and more on improvising the bass drum part. Kitty of Mindless Self Indulgence speeds it up and shows how to turn "Tom Sawyer" into a surprisingly pleasurable electro-metal experience.
YardBarker.com posted their list of the 20 best instrumental songs of all time this past week and both Rush's La Villa Strangiato and YYZ made the cut (thanks RushFanForever):
La Villa Strangiato: Die-hard Rush fans believe this is the progressive rock band's masterpiece -- instrumental or otherwise. Off the Hemispheres album, this is Rush's first instrumental effort. It checks in at just over 9 1/2 minutes long and truly highlights each member of the legendary three-piece band.The concept was composed by guitarist Alex Lifeson, and is widely regarded as one of the group's most influential pieces of music.

YYZ: Off the commercially successful Moving Pictures, this is the first of several Rush instrumental songs that was nominated for a Grammy Award. While it's a complete band effort, the song truly highlights to the talent of bassist Geddy Lee and especially late, legendary drummer Neil Peart -- both of whom co-wrote the piece. In terms of Peart's performance, it's one that influenced many a youngster to pick the sticks and sit down beyond a drum kit.
WhatCulture.com posted their list of 10 Hard Rock Songs That Are Impossible To Understand this past week and Rush's The Necromancer came in at #6:
After adding Neil Peart to the group, Rush had really started to hone in on their own sound. Compared to the other bluesy rock acts they were aping in the early days, Fly By Night saw them getting a lot weirder with different time signatures, forming the foundation for what prog rock would become later down the line. Once they got that out of their system though, it was time to get super weird. On the surface, most of Caress of Steel is weird as hell from the beginning, but the Necromancer occupies a completely different sonic space. Though thousands of great rock songs have been written about the works of J.R.R. Tolkien, this song is an absolute lost cause when trying to decipher. As the story goes, this song takes place in Middle Earth with the guys in the band being transported into the shire and getting threatened by Sauron in the process. That's not jumping off the deep end though, with By Tor (a character from a completely different Rush song) showing up to fend off the musicians as they make their way out of danger and live peacefully in the countryside. Despite the best of intentions when writing a story, this conceptual piece of rock art is the stuff of legends only if you're super-into Lord of the Rings fan fiction.
BraveWords.com posted an article on Effects Used by Famous Metal and Rock Bass Players this past week and included Rush's Geddy Lee in the discussion:
The bassist, keyboard player and frontman of the legendary Canadian power trio Rush is famous not only for his falsetto voice but also his ability to get in the pocket of any groove virtuoso Rush drummer Neil Peart laid down while also providing support for guitarist Alex Lifeson's spacious rhythms and soaring leads. Lee and Lifeson have always been on the cutting edge of the effects department, and it is Geddy's use of chorus, delay and echo effects that allow his bass to cut through the mix so clearly. In this recent live performance of the legendary Rush instrumental YYZ the power trio brings down the house with incredible skill and musicianship, while in their classic video for Distant Early Warning we see the broad sweep of Geddy Lee's talents (and hear plenty of lush chorus in both the bass and guitar tone).
This past Tuesday, January 19th was the 2nd anniversary of the Rock and Roll Hall of Fame's Rush Fan Day. The event included an exhibit of Geddy Lee's basses, a book signing with Lee where he signed copies of his Big Beautiful Book of Bass, a rebroadcast of Rush's 2013 Hall of Fame Induction, and a Hall of Fame Series interview with Lee hosted by bandmate Alex Lifeson as seen in this video:
That's all for this week. Have a great weekend everyone!!