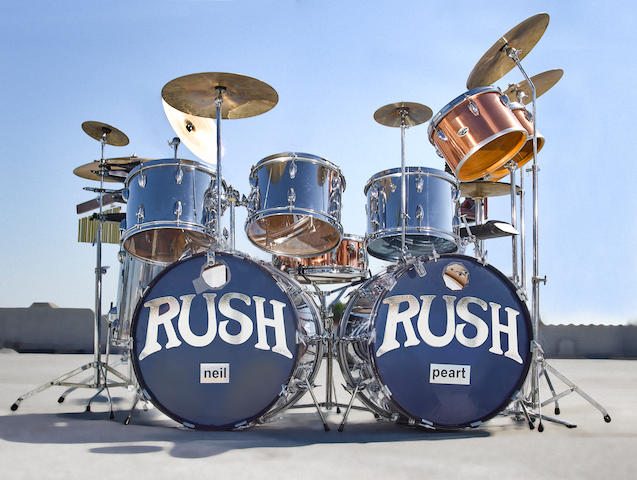 Neil Peart's original Slingerland drum kit, which he used from Fly By Night through 2112, recently went up for auction via Bonhams auction. The auction ended yesterday and the kit ended up selling for OVER $500K - much higher than the expected $100-160K. The kit was originally purchased by Neil Peart in the summer of 1974 from Long & McQuade in Toronto, just after he joined Rush. It was then placed in storage in 1977 and was one of three drum kits donated by Neil Peart for Modern Drummer Magazine's Neil Peart Drumset Giveaway in 1987. The set ended up being awarded to New York drummer Mark Feldman who held onto it until auctioning it off on eBay to Dean Bobisud in 2009. Bobisud refurbished the kit (affectionately dubbed Chromey) and spent the next several years displaying the kit and raising money for charity with the help and support of other Rush fans (here's a 2011 interview with Bobisud where he discusses the kit and using it for charity). It has most recently been displayed at the Rhythm Discovery Center in Indianapolis. Last month Bobisud posted the following message to the Chromey Facebook group:
"To all the Rush fans and fans of 'Chromey,' I would like to express my sincere gratitude to all of you, for your enthusiasm for the kit, and for your curiosity about the upcoming sale of it. I had to make a very difficult and heartbreaking decision to sell Chromey for a myriad of personal reasons. For 12 years I've enjoyed bringing the kit to various appearances and at the Rhythm Discovery Center. Over the years I realized how much I enjoyed sharing Chromey with the fans far more than owning it, and I'm always going to miss that heartwarming experience of seeing the fans excitement and how much the opportunity meant to them. Remember, it's Mr. Neil Peart we need to thank for putting this drum kit's history in place and blessing us with the opportunity to share it with others. From myself and all who have been on the "Chromey Crew," thank you all for so many years of joy celebrating Rush, Neil Peart, and this amazing drum kit."
Over the past few months, Ultimate Classic Rock has been posting excerpts from an interview they conducted with longtime Rush art director Hugh Syme where he discusses the history and background of Rush's album cover art. So far they've covered Counterparts, A Farewell to Kings, Caress of Steel, Hemispheres, Exit ... Stage Left, Power Windows, Signals, 2112, Presto, and Moving Pictures. This past week they tackled Rush's 1984 album Grace Under Pressure, with Syme explaining how drinking brandy helped inspire the album's iconic cover art:
... Eating dinner and drinking brandy at the Toronto home of drummer-lyricist Neil Peart in October 1983, Syme fired off a simple visual concept that built on his aesthetic of "continuing minimalism." ... "When I heard about [the title], I said, 'Why don't we have 'grace' as a relaxing cream tone under the 'pressure' of the more ominous grey?'" he continued. "It was literally just split in half - a little like No Line on the Horizon became for U2. It was going to be hugely graphic. We both thought, 'That's it!'" But as they "drank more and more glasses of [Peart's] obscenely rare Armagnac after dinner," Syme began sketching more "figurative" ideas. "We could have someone looking into a more elemental kind of sky - the pressure of weather and the grace of water," the artist suggested, describing his concept for the stormy, slightly sci-fi-looking image. "It was all starting to sound right to Neil, and he said, 'That sounds great too.' It ended up being something I wanted to paint - and almost had to paint to pull off." ...
Back in October, Thin Lizzy released a rarities-filled career-spanning box set entitled Rock Legends. The 6CD/1DVD package includes 74 previously-unreleased recordings along with replicas of the bands tour programs bound into a hard-backed book, the very sought-after Phil Lynott Poetry books, 4 prints by legendary Lizzy cover artist Jim Fitzpatrick and a book containing quotes by all the members of the band about their experiences playing with Phil Lynott and Thin Lizzy. The book also features comments from famous fans such as Slash, Lemmy, Joe Elliot, James Hetfield, Ian Gillan, Henry Rollins, Billy Corgan, Bobby Gillespie, Craig Finn, John McEnroe, Pat Cash, and Rush's Geddy Lee (thanks RushFanForever):
I have so many fond memories of Rush touring in America with Lizzy in 1976. That was so much fun. We got very friendly in particular with Brian Robertson and Scott Gorham. "Robbo" and I became close pals. He was such a sweet guy, young, and excited to be on his first American tour. It also helped that we all imbibed back then, which cemented the bond between us. I'm very proud of the fact that he challenged us to a drinking contest, and we beat him. It was one night when he traveled with us. He was suffering the next day. We weren't! Phil kept to himself a lot of the time, but did give me copies of his poetry books, which I still have. I remember that he complimented me on the way I sang "The Twilight Zone" because it was in a slightly lower register than the way I usually sang. He came up to me and said "That's the way I like to hear you!" (Geddy Lee)
John Lennon was shot and killed 40 years ago this past Tuesday, and Ultimate Classic Rock posted a story in remembrance of that fateful day where they highlight how different rock legends reacted to the news at the time, including Rush:
... Rush were recording Moving Pictures at a studio north of Montreal, Geddy Lee told Salon in 2000. "I remember constantly going back and forth, from working to the TV, to try to get some news," he said. "If I remember the environment, looking around the room, my memory just shows me a lot of pale faces staring at the tube." ...
On a related note, Toronto DJ Mark Dailey passed away 10 years ago this past week on December 6, 2010, and BlogTO.com posted an article in remembrance of the oft-called Voice of Toronto. The article discusses an urban legend involving Dailey and Rush's Subdivisions:
... A lingering urban legend regarding Dailey involves the band Rush, and their signature 1982 Synth-rock classic Subdivisions. Listen closely to the song, and it sure sounds a lot like Dailey saying "Subdivisions" twice per chorus. The band has adamantly denied it over the years and the official story is that it is the late Neil Peart speaking it (lip-synched by Alex Lifeson in the video). A Rush fan blog went so far as to pull apart the audio to prove it was "the Voice", although Dailey claimed he never recorded anything with Rush. A more likely explanation is that it was sampled from a CityPulse recording. It seems this mystery will never be solved. ...
CBR.com posted their list of 10 Innocent Songs Ruined by Horror Movies this past week, and Rush's Tom Sawyer's appearance in Rob Zombie's 2007 remake of the horror classic Halloween made the cut:
VH1 named "Tom Sawyer" the 19th greatest hard rock song of all time, but Rush's 1981 hit found a new home in Rob Zombie's reimagining of Halloween. "Tom Sawyer" plays in the background as Michael Myers attacks the trucker Big Joe Grizzly in an epic rest stop bathroom encounter, making this song more violent than likely intended.
Korn drummer Ray Luzier recently sat down for a chat at Rock Falcon Studios in Nashville with Rush producer Nick Raskulinecz to talk about his work with Rush and Neil Peart in particular. You can listen/watch the chat online here (thanks RushFanForever).
Last week, satirical glam-rock band Steel Panther posted a new song and video called - appropriately - F**k 2020. The song's lyrics cite all the many reasons that 2020 can "s**k my d**k", including the passing of Neil Peart:
Stupid f**king dude out in Wuhan ate a f**king bat
Didn't wash his hands and gave the plague to the rest of the planet
If you didn't have time to fry the damn thing
Nuke it in the microwave

F**k 2020
2020 can s**k my d**k

Kobe Bryant, Frankie Banali, Kenny Rogers too
Little Richard, Sean Connery, Neil Peart and Kurt F**king Douglas
And if that shit wasn't bad enough, Eddie Van Halen too.

F**k 2020
2020 can s**k my d**k ...
Indeed.
Prog magazine is running an online poll to determine the best prog-rock Christmas song (thanks RushFanForever), and Alex Lifeson's rendition of Little Drummer Boy from the guitar-themed 1997 compilation album Merry Axemas is in the running. So go vote for Alex!
That's all for this week. Have a great weekend!