UPDATE - 12/10@6:11PM: The kit ended up selling for OVER $500K!!
UPDATE - 11/24@9:20AM: The following message from the kit's current owner (Dean) was posted to the Chromey Facebook group:
"To all the Rush fans and fans of 'Chromey,' I would like to express my sincere gratitude to all of you, for your enthusiasm for the kit, and for your curiosity about the upcoming sale of it. I had to make a very difficult and heartbreaking decision to sell Chromey for a myriad of personal reasons. For 12 years I've enjoyed bringing the kit to various appearances and at the Rhythm Discovery Center. Over the years I realized how much I enjoyed sharing Chromey with the fans far more than owning it, and I'm always going to miss that heartwarming experience of seeing the fans excitement and how much the opportunity meant to them. Remember, it's Mr. Neil Peart we need to thank for putting this drum kit's history in place and blessing us with the opportunity to share it with others. From myself and all who have been on the "Chromey Crew," thank you all for so many years of joy celebrating Rush, Neil Peart, and this amazing drum kit."
----- snip -----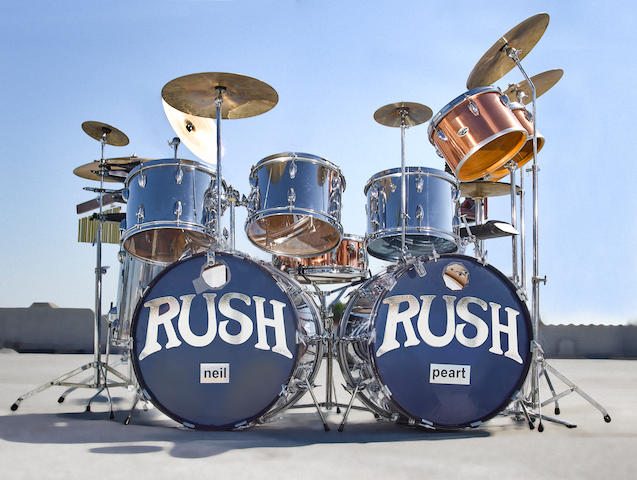 Neil Peart's original Slingerland drum kit, which he used from Fly By Night through 2112, is going up for auction once again. Bonhams auctions is handling the sale of the kit with an expected selling price between $100-160K. You can get all the details via the Bonhams site at this location. The kit was originally purchased by Neil Peart in the summer of 1974 from Long & McQuade in Toronto, just after he joined Rush. It was then placed in storage in 1977 and was one of three drum kits donated by Neil Peart for Modern Drummer Magazine's Neil Peart Drumset Giveaway in 1987. The set ended up being awarded to New York drummer Mark Feldman who held onto it until auctioning it off on eBay to Dean Bobisud in 2009. Bobisud refurbished the kit (affectionately dubbed Chromey) and spent the next several years displaying the kit and raising money for charity with the help and support of other Rush fans (here's a 2011 interview with Bobisud where he discusses the kit and using it for charity). It has most recently been displayed at the Rhythm Discovery Center in Indianapolis.