UPDATE - 11/8@10:12AM: Here are some details on the Neil Peart tribute portion of the Rock Hall induction ceremony's In Memoriam segment from EW.com:
No, Rush's Neil Peart and Cream's Ginger Baker never participated in an epic drum-off in real life. But during the show's In Memoriam portion, the Rock Hall tries to imagine what it might have looked like, with a fun 60-second solo back-and-forth between the late rockers. —AS
----- snip -----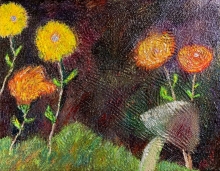 The Kidney Foundation of Canada's annual A Brush of Hope charity auction fundraiser ended last week and Alex Lifeson was one of the many Canadian celebrities who participated by donating their original paintings. Alex's contribution this year was an 11"x14" acrylic painting titled Forked, which ended up selling for $7,373 CAD. Alex explains the name of the painting in this Facebook post from Rush:
"A small point of interest, "Forked" was created entirely by using a fork, not brushes." - Alex Lifeson
Alex has participated in the auction nearly every year since 2006, including last year with his painting Minus 20 which ended up selling for over $13K CAD! For all the latest news and information be sure to follow A Brush of Hope on Facebook. You can also purchase Limited Edition signed prints of some of Lifeson's paintings from previous years, including last year's Minus 20 print here.
The Rock and Roll Hall of Fame's 2020 Induction Ceremony will take place (virtually) tomorrow evening, airing at 7PM EST on HBO and HBO Max. The ceremony will include an In Memoriam segment with a special tribute to Eddie Van Halen, and which will also be mentioning Neil Peart and other artists who we've lost in the last year as mentioned in the press release:
... the Rock and Roll Hall of Fame has managed to put together a small tribute to Eddie Van Halen as part of its 2020 Induction Ceremony Special. ... For the sake of spoilers, we won't describe the details of the tribute here, other than to say it does feature multiple guitar gods paying homage to the Van Halen guitarist who passed away on Oct. 6 after a lengthy battle with cancer. He was 65. The Eddie Van Halen tribute is part of the Rock Hall special's in memoriam section, which also honors other rock and roll legends who have died over the past year and a half. That list includes Little Richard, Neil Peart, Ric Ocasek, Ginger Baker and several others. ...
Speaking of Neil Peart tributes, Rhythm magazine's first post-COVID issue (Issue #197) comes out later this month and will include a special tribute to the late Rush drummer. The magazine revealed the issue's cover earlier this week via Twitter, with the tagline reading as follows:
Neil Peart. How Rush's prog pioneer inspired a generation. With special tributes from Danny Carey, Mike Portnoy, Tim "Herb" Alexander, Craig Blundell, Peter Erskine and many more ...
New Issue of Rhythm! Pre-order your copy here: https://t.co/uT9O49uFeD (ready to ship November 20)

Featuring incredible Neil Peart tributes, @MikePortnoy Ian Thomas, @drummerwhitey Danny Carey @smileydrums @RichardKass @DameEvelyn @craigblundell + more!#neilpeart @rushisaband pic.twitter.com/PDo6D3LB2B

- Rhythm Magazine (@RhythmMagazine) November 1, 2020
The issue will also include details from Neil's former drum tech Lorne Wheaton about Neil's kit setup, and an article on how to play Rush's The Spirit of Radio and Tom Sawyer. For more details and subscription information, visit rhythmdrumnetwork.com.
Last week MusicRadar.com posted their list of the 15 best rock drummers of all time as voted by readers, and - not surprisingly - Neil Peart topped the list (thanks RushFanForever_:
2020 started tragically for drum fans, as we lost the man who inspired entire generations to pick up sticks and wear-out their rewind buttons trying to figure out exactly how to play his parts, bar-by-bar. Neil Peart was an innovator in every area of his approach to the drums. He had the technical prowess to bring the ideas in his head to life with precision, the imagination to push things forward - the very definition of 'progressive', and when the music required, he could create groove to rival any breakbeat. Then there were the kits, in all their glory. Watching Neil traverse a 360-degree setup incorporating enough drums to build multiple traditional kits, groundbreaking electronics, and tuned percussion is a sight to behold, and one that many drummers would pay their entrance fee alone to witness. Peart's unique direction is what made millions of drummers fall in love with his playing, when someone offers complete originality in every facet of their take on an instrument, it also makes them inimitable. Neil may have gone far too soon, but with his drumming (and lyrics), he left us with the greatest of gifts: which will continue to inspire and influence for decades to come.
They also posted their list of the 30 greatest synth players of all time as voted by readers and Rush's Geddy Lee was included at #28 (thanks RushFanForever):
The undisputed master of musical multi-tasking, Rush's frontman has earned accolades for each of his chosen disciplines. His distinctive voice gives him the ability to be heard over the onstage din created by his band, and his talent as a bass player is highly regarded by the toughest audience of all - other bass players. As a keyboardist he has the chops to convince even the most cantankerous of critics. Over the years he's created some of the most memorable synth sounds and solos in all of rock. Who can deny the squelchy resonance that kicks off Tom Sawyer or the throbbing Oberheim that ushers in Subdivisions? His synth parts are usually clever, often complex, and always catchy. Obviously he can't do it all onstage, though, right? Wrong. Astonishingly, he juggles his considerable keyboard rig, bass guitar, and vocal duties without missing a beat. What a legend!
Business Insider posted their list of the 20 best guitar solos of all time and Alex Lifeson's La Villa Strangiato solo made the cut at #16:
In my opinion, Alex Lifeson is one of the most criminally underrated guitarists in progressive and classic rock, largely because he was overshadowed on recordings by Neil Peart's virtuosic drumming and Geddy Lee's imaginative bass playing. But on "La Villa Strangiato" Lifeson showcased his abilities with two insanely crisp solos. The first is a Spanish classical guitar solo that starts out slow to ease us in before gradually building to an impressive winding flamenco riff. The second solo is the vehicle that lets the band build up to the song's climactic breakdown. It starts out ambient and grooves along until Lifeson is screeching through slides and landing mind-bending licks. What stands out here is Lifeson's use of silence; it makes the delivery of each new phrase that much more impactful.
Detroit Lions fan site PrideOfDetroit.com named Rush's One Little Victory the Detroit Lions Week 7 Song of the Game this past week as described in this post:
... "One Little Victory" is a very underrated Rush song, and the Vapor Trails Remixed album edition does a nice job of eliminating all of the nonsensical background noise and turns this song into a masterpiece. The song kicks off with an epic drum intro from the late Neil Peart, which is then joined by a guitar riff that lasts a full minute before the vocals kick in.

A shot of satisfaction
In a willingness to risk defeat

No matter who's coaching the team, the Cardiac Cats know how to get the blood pumping and when we're the ones handing out the bad beats, there is no greater feeling on Earth. We've been through a lot as Lions fans, and while this season could still turn to shit in an instant, it just feels good to to relive moments like these.

Celebrate the moment
As it turns into one more
Another chance at victory
Another chance to score

As we celebrate our victory and enjoy the fact that the season isn't quite over yet, the Lions still have a job to do. They sit at 3-3, just outside a current playoff spot. It's now or never. The Colts are up next. Slow it down, and take things one game at a time.

Just one little victory
Guitarist Steve Lukather of Toto published his autobiography The Gospel According to Luke last year and was recently interviewed by Anil Prasad for Innerviews.org to discuss the book, life in the COVID-19 pandemic and some of his current projects (thanks RushFanForever). At one point Prasad asks about a particular incident described in the book which involved a show where Toto opened for Rush back in 1979:
... That was a true story. We were young and like 20-years old. We were one-minute over during our set and they yanked the plug on us, man. People were digging us a little too much, I think. At the time, people still thought we were a rock band. "Hold the Line" from 1978 was our first hit record. I still think we're a rock band, even though we've put out a lot of ballads. Anyway, backstage, things got really uncomfortable. Our crew and Rush's crew were having a fist fight. We just laughed at it. David Paich walked into catering where it was going down and he's like "Okay, I guess I'm not supposed to be here." [laughs] Rush was a great band. God bless them, man. ...
Back in 2009, the CBC produced a pair of documentaries on Canadian Music titled This Beat Goes On ('70s era) and Rise Up ('80s era), both of which included some interview segments with Rush's Geddy Lee. Reader RushFanForever noted that the More Music YouTube channel had uploaded portions of both documentaries this past summer. In one video titled Canadian Rock Bands of the 60s, 70s and 80s, Rush is discussed and Geddy Lee featured from about the 15:08 to 18:21 mark. Geddy also discusses The Tragically Hip towards the end of the video. In another video titled Canadian Alternative & New Wave of the 70s & 80s, Geddy discusses the band Rough Trade at around the 13:38 mark.
That's it for this week. Have a great weekend everyone!!