Geddy Lee along with bandmate Alex Lifeson participated in Grapes for Humanity's Save Hospitality online fine wine auction this past week by donating signed guitars, wine and other items to the fundraiser, which will go towards helping out hospitality workers whose jobs have been affected by COVID-19. The auction ended this past Wednesday October 7th, and the items donated by Geddy and Alex brought in nearly $150K for the charity! Grapes for Humanity is an organization that helps to raise funds to benefit humanitarian causes around the world with the assistance of the international wine community, and Geddy Lee is a member of the board of directors. Geddy Lee recently spoke with John Ivison of the National Post for a new interview to help promote the event and spoke a bit about the charity, Rush's legacy and his future plans:
... "Time goes by way to fast. A lot has happened in my life and I've been incredibly fortunate. But one can't keep looking back. You still have to get on with your life and do new things as my friend MJo (Canadian artist and singer writer Mendelson Joe) used to say, 'It's time to make new mistakes'." ... "It's interesting, I recently re-released my album (his 2000 solo album My Favourite Headache) on vinyl and that forced me to listen to it again. I'm very proud of it - it's a very intricate record, a deep record, and a lot of love and passion went into it. It did get me thinking that one day I'd like to take that on the road, so you never know. But I have no firm plans to do anything right now. It's not a time when one can plan much, so only time will tell if that comes to fruition," he said. ... "I go downstairs and play to keep my fingers juiced but that's about as far as I'm going right now with it."...
He was also asked about whether there was any old Rush material in the vaults and the possibility those could see the light of day at some point:
... "There's actually not much in the vaults. We were a band that used what we wrote and if we didn't like what we were writing, we stopped writing it. So there are really no unreleased Rush songs that were worth a damn. Recording our songs was so difficult and ambitious that we didn't do extra stuff and pick the best." ...
You can read the entire interview online at this location. The Save Hospitality auction featured over 300 lots of exceptional wines and winery tours along with the signed guitars. The first guitar was a Geddy Lee Fender Signature Jazz Bass which can be seen in this listing, and the second guitar was an Alex Lifeson Gibson Les Paul Gold Top which can be seen in this listing. Both items were estimated to bring in between $15K and $18K CAD, but actually sold for $40K and $30K respectively! They also auctioned off a dinner for 8 guests hosted by Geddy Lee and Alex Lifeson which was expected to pull in $26K, but actually brought in nearly 3 times that amount! Proceeds from the auction will directly benefit Ontario Hospitality front-line workers through the Toronto Restaurant Workers Relief Fund; the Bartender's Benevolent Fund; and independent Ontario restaurants through savehospitality.ca. Thanks to reader dream & vapour for the auction results.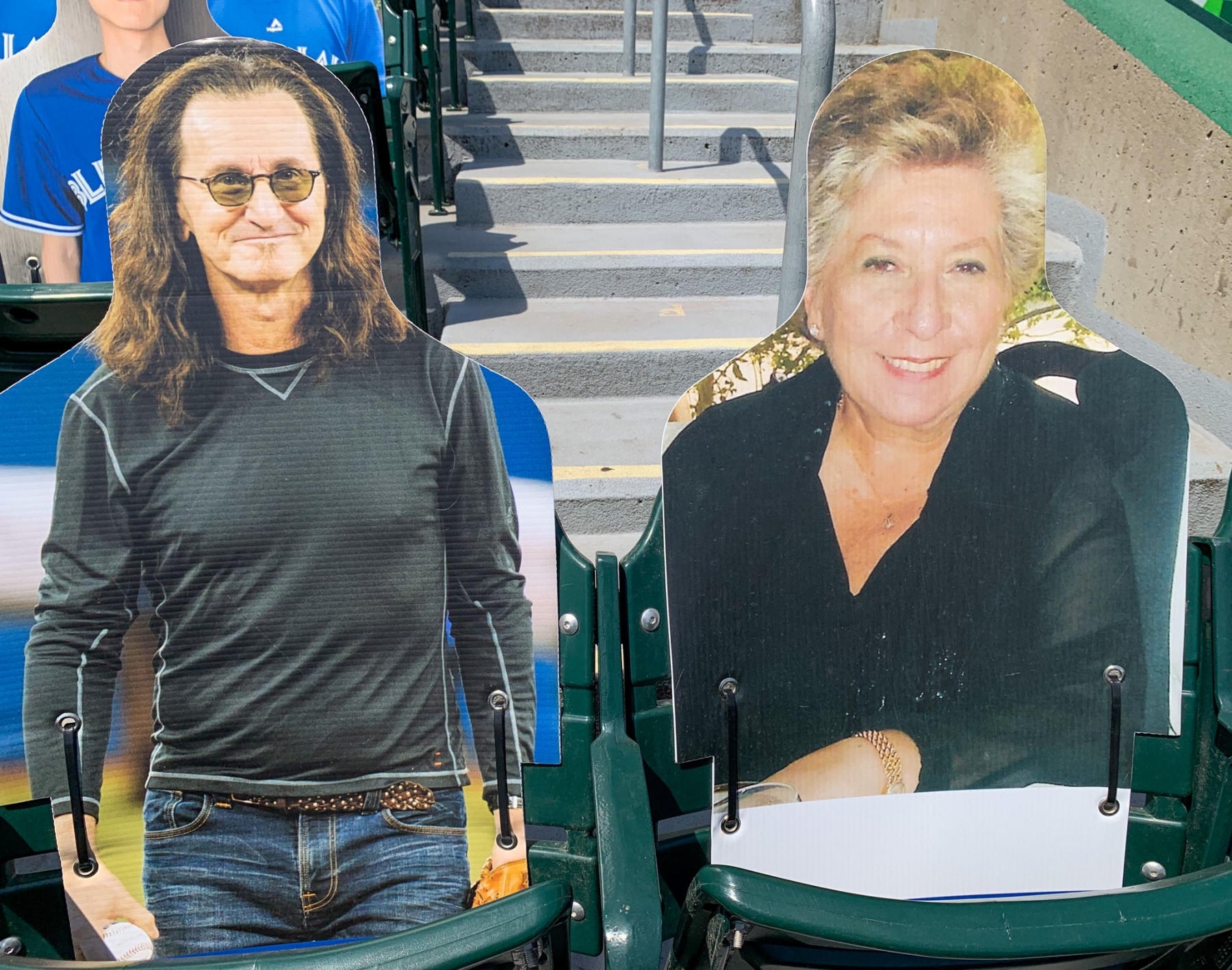 Due to COVID-19 restrictions this past summer during the MLB season, the Toronto Blue Jays were denied permission to host games at the Rogers Centre by Canadian public health officials concerned about cross-border coronavirus spread. Instead they found a temporary home at Buffalo's Sahlen Field, the regular home of Jays Triple-A affiliate the Buffalo Bisons. To make the place feel a little more homey, the Jays offered fans the opportunity to purchase cutouts of themselves to place in the stands. They also filled out some spots with celebrity cutouts, including Rush's Geddy Lee, who is a regular staple at Jays games in his season seats behind home plate. Macleans magazine posted an article today recalling another time that cardboard cutouts were placed in the stands at a stadium in Buffalo - during the filming of the 1984 baseball classic The Natural. The magazine spoke with Geddy Lee about that film and his baseball fandom for the article:
... When The Natural was in theatres, Lee was in the middle of an American tour. He recalls sitting in the second row of a Wichita Aeros minor-league game on June 14, 1984. Rush was in town for a show the next day, and a fireballer named Brad "the Animal" Lesley dedicated a strikeout to Lee-"This one's for the Necromancer," the pitcher barked from the mound, referencing one of the band's prog-rock epics. Lesley whiffed the batter and won the game. Rush moved on to Kansas City for its next show, and after the season, the Aeros left the Midwest for new digs: in 1985, they became the Buffalo Bisons, the Blue Jays' farm club that now plays at Sahlen Field. "Baseball loves its myths," observes Lee, whose likeness witnessed his hometown Jays clinch an unexpected playoff spot on a chilly September night. They had managed to topple the fearsome Yankees, Ferrante's favourite team. The collector only chuckled when he heard cardboard was once again in vogue in Buffalo. "I thought of The Natural immediately," he says. "What's old is new again." ...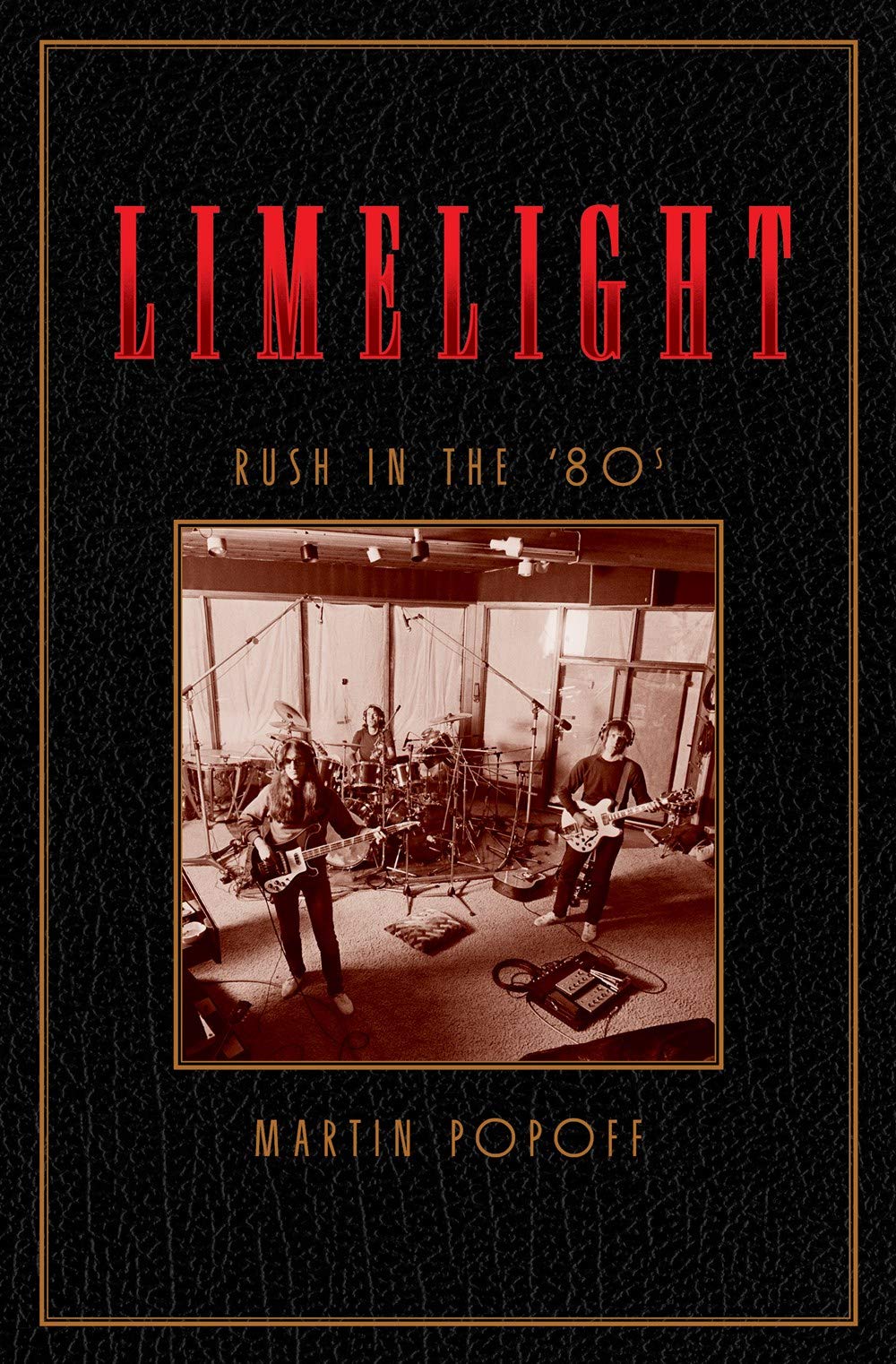 Music writer Martin Popoff released his new book Anthem: Rush in the '70s back in May, which is the first of a 3-part Rush Across the Decades series. The second book in the series - Limelight: Rush in the '80s - is slated to officially release this coming Tuesday, October 13th and can now be pre-ordered here. The author already has several copies of the book and is accepting orders for signed editions via this link. The imitation-leather bound book comes in at 375 pages and includes two full-color photo inserts, with 16 pages of the band on tour and in the studio. From the book's description:
In the follow-up to Anthem: Rush in the '70s, Martin Popoff brings together canon analysis, cultural context, and extensive firsthand interviews to celebrate Geddy Lee, Alex Lifeson, and Neil Peart at the peak of their persuasive power. Rush was one of the most celebrated hard rock acts of the '80s, and the second book of Popoff's staggeringly comprehensive three-part series takes readers from Permanent Waves to Presto, while bringing new insight to Moving Pictures, their crowning glory. Limelight: Rush in the '80s is a celebration of fame, of the pushback against that fame, of fortunes made ― and spent ...

In the latter half of the decade, as Rush adopts keyboard technology and gets pert and poppy, there's an uproar amongst diehards, but the band finds a whole new crop of listeners. Limelight charts a dizzying period in the band's career, built of explosive excitement but also exhaustion, a state that would lead, as the '90s dawned, to the band questioning everything they previously believed, and each member eying the oncoming decade with trepidation and suspicion.
Megadeth guitarist David Ellefson recently spoke with IndiePower.com about drummer Dirk Verbeuren's contributions to the band's upcoming follow-up to 2016's Dystopia album, and mentions Rush (thanks RushFanForever):
... I'm a RUSH fan, and as a bass player, Geddy [Lee] certainly being one of the greats, but the bass-and-drum relationship in RUSH is really of no equal - they're the top of the heap. And there were moments when Dirk and I were playing - although it doesn't sound like RUSH; it sounds like MEGADETH - I felt like we were hitting that same pinnacle. And I can't say that I've probably felt that before in MEGADETH. So that is a real testament, I think, to what Dirk is bringing to the band and to this new record - a skill set. ...
Dream Theater's John Petrucci recently spoke with Revolver about the band's upcoming live album Distant Memories, and listed off his top 5 live albums, which includes Rush's Exit ... Stage Left:
This one might be obvious. [Laughs] I guess it was their second live album, but for me, it's all like the stuff from, you know, Permanent Waves and Moving Pictures and that whole period that I was really, really into. It's right in that pocket of that '80, '81, '82 era. Plus, Rush is my favorite band of all time, and they were the first concert I ever went to when I was 12 years old. Just a big, big, album for me, for so many reasons.
YardBarker.com posted their list of 25 underrated band members who deserve more love this past week, and Rush's Alex Lifeson was included:
It's hard not to get noticed or praised within a three-piece band. And, one of the biggest in the world for that matter. But, between Geddy Lee's presence and the legendary drum work and songwriting of the late Neil Peart. Lifeson is not necessarily the first member of Rush who comes to mind. Yet, Lifeson is an exceptional guitar player and composer within the Rush universe.
Triumph frontman/guitarist Rik Emmett was interviewed for the Rock History Music YouTube channel this past summer, and they've been releasing the interview in small chunks over the past couple of months. Part 5 was released this past week, and features Rik talking about his friendship with Alex Lifeson for the first few minutes. You can listen to that portion of the interview online here (thanks RushFanForever). Part 2 of the interview was released back in August, and in that segment Rik spoke a good bit about Rush's influence on Triumph and how much they owe to their fellow Canadian three-piece.
Keeping on the subject of podcasts, this past week's episode of the Two Guys Talking Rush podcast included a discussion about Rush's Clockwork Angels album plus an interview with Clockwork Angels author and longtime friend of Neil Peart, Kevin J. Anderson. The past several episodes of the Something for Nothing podcast had some notable guests including the creator of the first Rush Zine Derek Bacharach, Rush memorabilia collector Ray Wawrzyniak, 105.5 FM WDHA program director Terrie Carr and members of popular Rush tribute band YYNOT.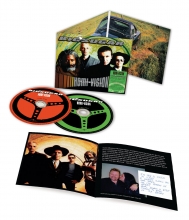 Canadian rockers Big Sugar are celebrating the upcoming 25th anniversary of their 1996 Hemi-Vision album with a deluxe reissue which released in the US this past week. It is available digitally, on CD and as a 2xLP set pressed to 180-gram bright green and orange vinyl. The deluxe edition includes six previously unreleased bonus tracks, rare photos and memorabilia from the band's archives, and extensive liner notes by Gordie Johnson with a foreword from Rush's Alex Lifeson. You can read a transcript of Lifeson's foreword along with a portion of the liner notes referencing Rush in this post. Lifeson and Johnson have been friends since the '90s, and Lifeson has made a few guest appearances with the band in concert, including this performance of Led Zeppelin's Good Times Bad Times from a Big Sugar show at the Danforth Music Hall in Toronto 3 years ago:
2020 took yet another rock legend from us this past week. Iconic Van Halen founder and guitarist Eddie Van Halen passed away this past Tuesday at the age of 65 after a long battle with cancer. Although Rush and Van Halen never toured together, Rush's manager Ray Danniels also managed Van Halen, taking over after the death of longtime manager Ed Leffler in 1993. Rest in peace Eddie - you will be missed. That's all for this week. Have a good weekend everyone.