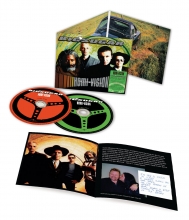 Canadian rockers Big Sugar are celebrating the upcoming 25th anniversary of their 1996 Hemi-Vision album with a deluxe reissue which released in the US this past week. It is available digitally, on CD and as a 2xLP set pressed to 180-gram bright green and orange vinyl. The deluxe edition includes six previously unreleased bonus tracks, rare photos and memorabilia from the band's archives, and extensive liner notes by Gordie Johnson with a foreword from Rush's Alex Lifeson. Reader RushFanForever transcribed Lifeson's foreword, which reads as follows:
Funny how our paths cross in the most innocuous ways and have an impact further down the trail. It was nearly a quarter century ago that Gordie and I were chatting at The Orbit Room about music and gear. I was on an extended break and offered my 1976 Gibson EDS 1275 to Gordie to see where it could take him. Needless to say, the double neck has become an integral part of his and Big Sugar's sound since Hemi-Vision and with the re-release of the album on vinyl, we get to relive songs like Diggin' A Hole, If I Had My Way and Rolling Pin among others in their crunchy, analogue glory. The guitar I lent him now resides in the Heritage Canada Museum in Ottawa but presented Gordie with a limited edition replica last year and know for certain he will coax many great tones from her as he did with her mother. -Alex Lifeson
Rush also gets mentioned in the liner notes:
... Back to Toronto... We had already begun recordings for what would become "Hemi-Vision" at Presence Recording Studio (where we had created "Five Hundred Pounds" and "Dear M.F."). An errand run to borrow a compressor and a chance encounter with Alex Lifeson of Rush at Reaction Sound Studio (they were recording "Test For Echo") resulted in an event that changed the course of our musical journey. Alex gave us a tour and showed us his guitars. When I saw his white Gibson 1275 double neck I couldn't help but mention that I had seen him use it in 1978 at Cobo Arena on the "Hemispheres" tour (hemi... something... hmmm?). Then, as if in a tale from Norse mythology, he handed me the guitar and said "See if it brings you good luck." My hero had given me the sword with which to slay dragons! We just stared at it on a guitar stand for the rest of the week until I mustered the courage to use it. It would define the sound of the record. ...