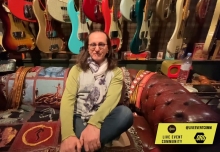 Live Event Community is a resource and voice for Canadian live event workers who have lost their livelihood due to COVID-19 shutting down events worldwide. This past Tuesday evening the organization sponsored a #LightUpLive event where they asked technicians, suppliers and venues across the country to light the night red - raising awareness for an industry that is still dark as a direct result of COVID-19. Rush's Geddy Lee has lent his voice to the effort and posted a video message to social media on Tuesday, urging everyone to share in his support:
Hi. I'm Geddy Lee. For over 45 years I toured the world with with my bandmates in Rush - Alex and Neil. And I can tell you that not a single one of our shows would have been able to happen or look and sound as they did without the help of our crew, designers, drivers and all the folks behind the scenes. As COVID-19 continues to plague the world and keep us all at a distance, I'm worried about the people who make all musical events happen. From the backstage technicians, to the ticket takers, to the concession staff. Everything stopped in February of this year, and we still have no idea when that will restart. We need the government to support these companies and individuals to survive, and help prepare them for the day when the show will be back on the road. So please visit LightUpLive.ca and show your support for our event family, and all those who have been affected by this economic tsunami. Thank You.
Former Rush lighting director Howard Ungerleider posted this letter in support of the event as well, and Neil Peart's former drum tech Lorne Wheaton also posted a video. You can watch Geddy's video below or on YouTube at this location.
Geddy Lee along with bandmate Alex Lifeson are also helping out hospitality workers whose jobs have been affected by COVID-19. Both have donated signed guitars to an upcoming Save Hospitality online fine wine auction sponsored by Grapes for Humanity - an organization that helps to raise funds to benefit humanitarian causes around the world with the assistance of the international wine community (Geddy Lee is a member of the board of directors). The auction will be run via Waddington's Auctioneers & Appraiser from this coming Monday, September 28th through Wednesday October 7th, and will feature over 300 lots of exceptional wines and winery tours along with the signed guitars. The first guitar is a Geddy Lee Fender Signature Jazz Bass which can be seen in this listing:
A Fender Signature Jazz Bass Guitar, signed by both Alex Lifeson and Geddy Lee, along with a bottle of 2005 Lucien Le Moine Hospices de Beaune Mazis-Chambertin Cuvée Madeleine Collognon, 2005 Lucien Le Moine Hospices de Beaune Volnay Santenot Cuvée de Massol and 2005 Lucien Le Moine Hospices de Beaune Beaune Cuvée Clos Des Avaux.
The second guitar is an Alex Lifeson Gibson Les Paul Gold Top which can be seen in this listing:
A Gibson Les Paul Gold Top 1950's Re-issue, signed by Alex Lifeson and Geddy Lee, with a bottle of 2005 Lucien Le Moine Hospices de Beaune Mazis- Chambertin Cuvée Madeleine Collognon, 2005 Lucien Le Moine Hospices de Beaune Volnay Santenot Cuvée de Massol and 2005 Lucien Le Moine Hospices de Beaune Beaune Cuvée Clos Des Avaux.
Both items are estimated to bring in between $15,000 and $18,000 CAD. Proceeds from the auction will directly benefit Ontario Hospitality front-line workers through the Toronto Restaurant Workers Relief Fund; the Bartender's Benevolent Fund; and independent Ontario restaurants through savehospitality.ca.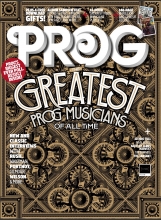 The latest edition of PROG magazine (issue 113) includes a cover feature on the Greatest Prog Musicians of All Time. The feature reveals the results of their extensive poll where they asked readers to vote for their favorite progressive rock musicians. The top 200 artists were included in the final list (see 101-200 here), with write-ups for the top 100. All three members of Rush made the top 10 including Alex Lifeson at #9, Geddy Lee at #4 and Neil Peart in the number one spot. The issue includes one-page write-ups for Alex and Geddy, and a 6-page profile of Neil Peart.
Back in 2003, Rolling Stone magazine first published their list of the 500 Greatest Albums of All Time, and - not surprisingly - no Rush albums were included. The magazine made a slight update to their list in 2012, adding 38 albums not present in the original, 16 of them released after 2003... but none of them from Rush. Earlier this week the magazine posted a completely revamped list with many significant updates, and this time one Rush album did finally make the cut; Moving Pictures was included at #379:
On Seventies albums like 2112 and Hemispheres, Rush mastered the high-prog epic. Moving Pictures was the record where they proved they could say as much in four minutes as they previously had in 20. Songs like "Tom Sawyer," "Limelight," and the Police-like "Vital Signs" showcased the trio's superhuman chops in a radio-ready framework, while more adventurous tracks like the Morse code-inspired instrumental "YYZ" and the synth-heavy suite "The Camera Eye" found them tastefully streamlining their wildest ideas. Said Geddy Lee, "We learned it's not so easy to write something simple."
The album will be celebrating its 40th anniversary next year, and it's expected that Rush will be releasing a 40th anniversary commemorative box set in celebration, as they've done with several other albums in the past few years, including last year's Permanent Waves 40th anniversary box set.
Canadian rockers Big Sugar are celebrating the upcoming 25th anniversary of their 1996 Hemi-Vision album with a deluxe reissue which just released today in Canada via Universal Music Canada (it releases next week in the US). It is available digitally, on CD and as a 2xLP set pressed to 180-gram bright green and orange vinyl. The deluxe edition includes six previously unreleased bonus tracks, rare photos and memorabilia from the band's archives, and extensive liner notes by Gordie Johnson with a foreword from Rush's Alex Lifeson.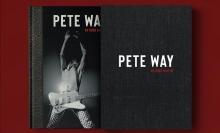 British rock photographer Ross Halfin is releasing a 240-page book celebrating the career of UFO bassist Pete Way, who passed away at age 69 last month. The book is titled Pete Way by Ross Halfin, and will release this coming December via Rufus Publications. The book includes a multitude of both classic and unreleased images of Pete Way taken by Ross Halfin, along with a series of exclusive new interviews with Pete Way's former UFO band mates, and other rock legends such as Ozzy Osbourne, Kirk Hammett, Rush's Geddy Lee and many others. The book is now available for pre-order at this location (thanks Lynne K).
This past Wednesday was National Tree Day in Canada, and CBC Radio's Ottawa Morning hosted a contest in celebration where listeners shared their favorite regional tree. Geddy Lee read one of the winning entries on air this morning as described in this tweet (only available to listen in Canada):
Geddy Lee reads a winning entry to CBC @OttawaMorning cool contest for National Tree Day and included Rush song "The Trees" - listen here:https://t.co/IlldJwucgo #thetrees

- Rush (@rushtheband) September 25, 2020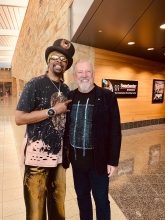 Funk legend William "Bootsy" Collins announced last week that he will be releasing his new album The Power of the One digitally and on CD on October 23rd and on vinyl in December. The album will feature a number of guest musicians, as described in this Rolling Stone article, and it's possible that Alex Lifeson might be one of them. Back in July of 2019, Bootsy posted a photo to his official Facebook page of himself with Alex Lifeson at Sweetwater Studios in Fort Wayne, IN with the following caption:
Happy Funkin' Funked Up Taco Tuesday Funkateers! Just left Sweetwater Studios along with Uché & Alex Lifeson. Now what the funk do they have in common? U will hear about it soon!
Bootsy hasn't released a complete list of all the guest appearances on the album yet, but will likely do that in the lead-up to the album's release next month. So stay tuned!
Long-running Toronto music club the Orbit Room, which was co-founded by Alex Lifeson and Tim Notter back in 1994, permanently closed due to COVID-19 back in July (Alex actually gave up his interest in the club last year). The venue was a must-see stop for any Rush fan visiting Toronto, and played host to several RushCon parties and gatherings over the years. Alex himself would often show up and sit in with the band as seen in this post covering the venue's 16th anniversary party back in 2010. Reader RushFanForever dug up this podcast interview from shortly after the club closed, where Tim Notter and Lou Pomanti (of the Orbit Room's house band, The Dexters) share their memories of the club.
Music Radar posted a list of 4 Alex Lifeson guitar chords from classic Rush songs this past week, which you can check out in this article.
That's it for this week. Enjoy the first weekend of Fall, and have a great Friday everyone!