UPDATE - 9/14@10:20AM: Geddy posted a couple of smiling Neil photos from his collection to Instagram on Saturday for Neil's birthday:
----- snip -----
Today is an especially tough day for Rush fans - it's our first September 12th without Neil Peart. Neil was taken from us earlier this year on January 7th after a long battle with glioblastoma. Today would have been his 68th birthday. Fans across the globe are planning a multitude of tributes in remembrance of the legendary drummer, including Modern Drummer magazine, whose 20th annual Modern Drummer Festival will include an all-star tribute to Peart. Several prominent drummers such as Taylor Hawkins, Stewart Copeland, Chad Smith, Mike Portnoy and many more will be participating. The virtual, livestreamed, pay-per-view event is being produced by LiveXLive and will air this evening at 8PM EST. Tickets for the event are now on sale with packages starting at $12.99. Proceeds from the ticket sales will go to benefit Brain Tumor Research at Cedars-Sinai Medical Center. You can get all the details and purchase tickets via the LiveXLive website.
Also in tribute to Neil on his birthday, RUSHfest Scotland is sponsoring the release of an album of Rush songs dedicated to Neil Peart titled TRIBUTES - SONGS FOR NEIL VOL.1, played by Rush tribute bands and musicians from around the world. The album officially released today, with all profits being split equally between two charities - Glioblastoma Foundation Neil Peart Research Award in the USA and Cancer Support Scotland (registered charity SC012867). The project has released a video of Scottish Rush tribute band Moving Pictures playing their own haunting arrangement of the Rush classic Afterimage, which you can view below or on YouTube. You can get all the details and order your copy of TRIBUTES - SONGS FOR NEIL VOL.1 via the crowdfunding page at this location.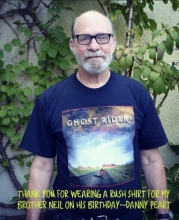 Musician Brandon Dyke has made a request on behalf of Neil Peart's brother Danny Peart (Brandon and Danny have been collaborating on various music and poetry projects) via this YouTube video asking fans to wear a Rush t-shirt in tribute to Neil tomorrow:
On behalf of Danny Peart, (Neil's brother) I want to let you know that he would like all of Neil's fans, friends, and family to celebrate Neil's birthday on September 12, 2020 by wearing a Rush Shirt to honor Neil. (And a great band!) If you feel like sharing your picture with your Rush shirt on social media, Feel free to use any hashtag like this: #happybirthdayneil #happybirthdayneilpeart #happybirthdaybubba #bubbarulez etc. ( Pratt, The Professor, Elwood, etc ) ...
One of Neil Peart's favorite mantras was, "What is the most excellent thing I can do today?" I can think of no more fitting way to celebrate Neil Peart's legacy than for everyone to take this advice and go do something excellent today in honor of The Professor on his birthday.