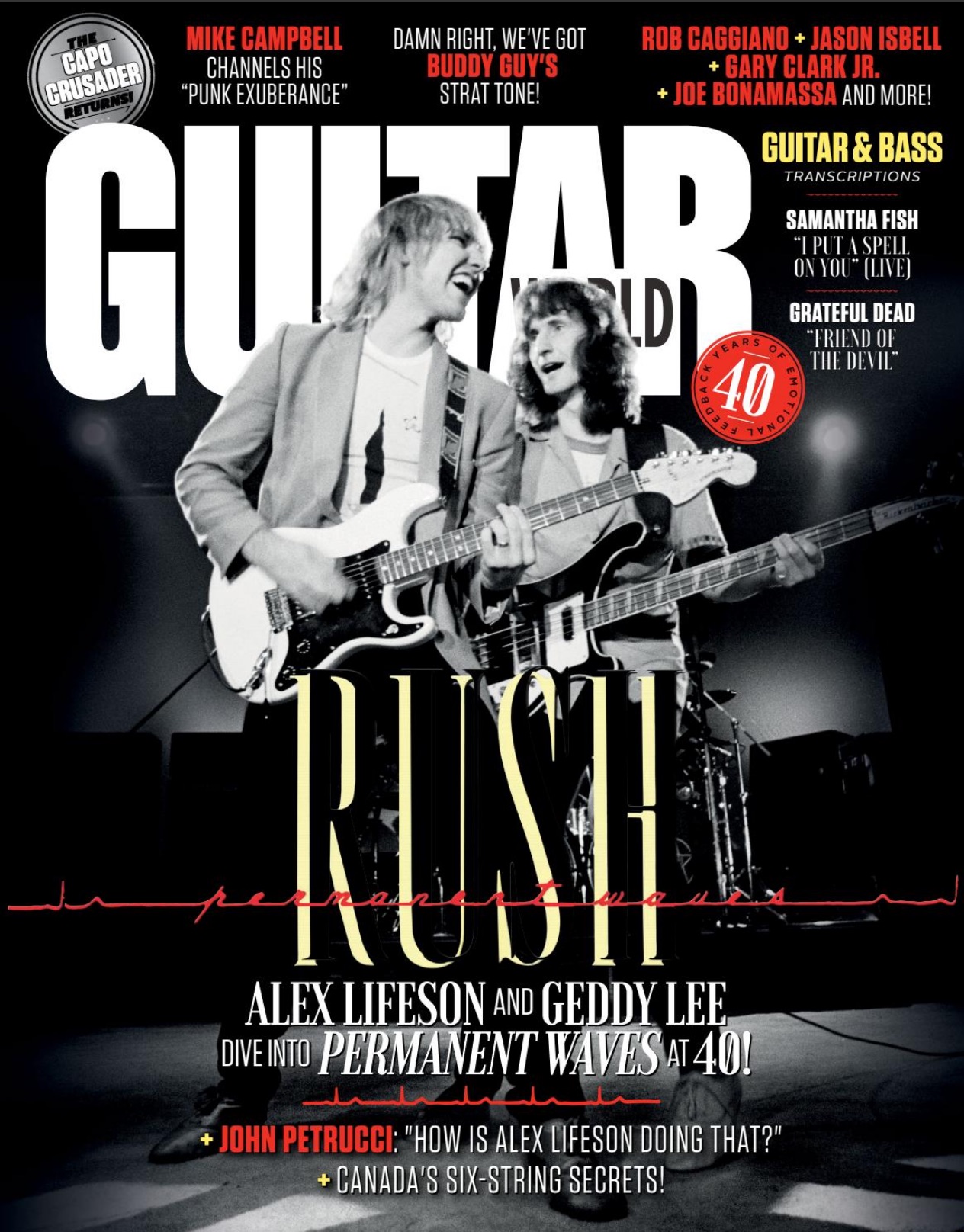 The upcoming October, 2020 edition (issue #530) of Guitar World magazine includes a cover feature celebrating the 40th anniversary of Rush's Permanent Waves album written by Philip Wilding. Unfortunately the piece is just recycled material from the Permanent Waves Classic Rock magazine cover feature from earlier this year (both publications are owned by the same parent company - Future Plc). However, the issue also includes a new interview with Dream Theater guitarist and mega Rush fan John Petrucci where he talks about Rush and the Permanent Waves album in particular.
... I got into the storytelling aspect [of Rush's music], which was very driven by Neil Peart's lyrics. It was like being lost in a video game, the way these three musicians created this whimsical world. So for me, Permanent Waves was like the Oreo cream of my three favorite Rush albums - Hemispheres, Permanent Waves and Moving Pictures. Those albums were the trifecta. That stuff just tripped me out beyond belief. So Permanent Waves was like the center; it was like this bridge from what they were to what they were becoming, although it had aspects of both. And I ingested all of it. All I wanted to do was be able to play every one of those songs. ... but I didn't feel that [Permanent Waves was too commercial], nor did my friends. We just took it as a whole - "This is the band and how they're evolving." And the stuff was perfectly cool musically; it had substance. When I got into Rush, I didn't know their history. I didn't know "The Spirit of Radio" was more commercial than, say. A Farewell to Kings or Caress of Steel. It was all just Rush music. I just took the music in and it hit me. I think most of my friends felt the same way, Maybe there were older brothers who were like purists, and they'd be like "What are they doing now...?" But not me. ...
You can check out a 21-page sampler of the magazine which includes the first 2 pages of the cover feature as seen here.
The parade of awesome guests on the Something for Nothing Rush Fancast podcast continued this past week with RushCon Creative Director (and also one of the stars of the Time Stand Still Rush documentary) Jillian Maryonovich, and the episode is now available for listening online. Jillian spoke with hosts Steve and Gerry about how she became a Rush fan, the history (and future) of RushCon, Rush and politics, and much more. Jillian reveals that RushCon plans to return to hosting a live convention in Toronto next summer assuming COVID is under control by then. You can listen to the episode in the player below or at this location:
The Canadian music industry non-profit foundation FACTOR has announced that longtime SRO/Anthem alum Meghan Symsyk will be taking over as President and CEO at the end of this year, replacing the retiring Duncan McKie (thanks RushFanForever). Symsyk worked in artist management at SRO/Anthem from 2008-2016, handling all brand marketing and media for Rush. Although it's unclear whether she still has any official role with the band, she is currently listed as the PR contact on Rush.com, and is apparently still involved with the band's social media presence. She also accompanied Geddy Lee on his Big Beautiful Book of Bass signing tour in 2018-19.
Triumph frontman/guitarist Rik Emmett was recently interviewed for WRIF's Meltdown, and spent some time reflecting on the passing of Neil Peart and his personal relationship with the members of Rush:
... "I met Neil only on a couple of occasions. Neil was not the kind of man who liked to go to industry functions; he didn't do meet-and-greets; he didn't hang around after gigs. He was a very private kind of a guy, and I respected that - I admired that in him. Kinship-wise, Alex [Lifeson] and I were always well suited to each other, I think. When TRIUMPH was just a bar band playing The Gasworks on Yonge Street in Toronto, Alex came down to the gig and had a couple of beers and introduced himself to me. We've done guitar workshops together. And, of course, he played on one of my records. I did a record for Mascot/Provogue a few years back - 2016, I think - and Alex played on a couple of tracks. He's a gentleman [and] he's a tremendous artist. If he had decided he wanted to be a painter, he would have been a great painter. If he'd have been a poet, he would have been a great poet. But he was a guy that picked up an electric guitar and eventually was in this band. And RUSH, we were always riding on their coattails. They were always a bigger thing than us, breaking other markets and playing all over the world. We owed a lot to them. ... I don't really know Geddy [Lee] that well at all; I think I've only said hello to him once. He and I, we share something. He had a son that ended up playing baseball on a fairly high level, and my son also ended up playing NCAA Division I in the States on a scholarship. And I see Geddy at the ballgames - he's got great seats, so the centerfield camera shows him sitting in the second row. So we get to see Geddy, if you're in Canada, practically every night when they allow people into the stadiums. But I don't know him that well. Alex is kind of the guy who was my bud." ...
Rolling Stone posted their list of 10 Great Eighties Pop Songs by Seventies Prog Artists this past week, and Rush's The Spirit of Radio made the cut:
Rush took prog to its limits on Seventies albums like 2112 and Hemispheres, so in 1980 they reinvented themselves with this song lamenting the horrid state of mainstream radio. Oddly enough, radio embraced it and brought the band a whole new pop audience.
Actor/comedian Brian Posehn was a recent guest on the Talk is Jericho podcast and spoke a bit about his experience meeting his hero Geddy Lee after the band's final show at the LA Forum back in 2015. You can watch/listen to the interview snippet where he talks about Geddy here (thanks RushFanForever).
Skip Daly and Eric Hansen's 2019 book Rush: Wandering the Face of the Earth won a Silver Medal in the Performing Arts category in the 2020 Independent Publisher Book Awards. The winners were announced during virtual watch parties back in May, and you can check out the full list here (thanks RushFanForever). Congrats guys!
Cloud Atlas author David Mitchell was recently interviewed for Hot Press to talk about his new book Utopia Avenue, and he brings up Rush at one point, trying to convince the interviewer to give the band a listen:
... Especially after watching that Netflix documentary about the band, there's a really strong argument to say that Rush, who might have been bracketed in with Supertramp or ELO or Dire Straits as a sort of geek's band - never having a girlfriend - are one of the top ten bands. ... Just listen to Moving Pictures, it is perfection. There's nothing to add really, just in terms of reappraisal. ... listen to the drumming, there's only three of them, but they sound like seven people. It's that sweet spot, the lyrics are close enough to poetry to really transcend the vast majority of rock lyrics, but it's not so close to poetry that it gets pompous and pretentious. It's the production and the quality of the songwriting. The guitarist plays rhythm and lead at the same time, and Lee does this vocal thing that trios tend to have to do, especially when the vocalist is also the bassist - Jack Bruce and Cream as well - they have to sing an octave over the bass otherwise they keep tripping over each other's toes, and Lee does this throughout. It's a Mercury-level vocal performance, the whole album, I would argue. Anyway, I shall leave that with you. ...
Coed.com posted their list of the Top 10 Classic Rock Bands Everyone Should Listen To this past week and Rush was included at #9:
Recommended Album: Moving Pictures (1980)
Rush is a rock trio from Canada that formed in 1968. Their progressive rock style didn't appeal to everyone but they maintained a loyal fanbase throughout the years. Now they're recognized by critics as a staple of classic rock. They're known for making concept albums that tell a story through the music.
Austin-based sludge metal band The Sword have just released the 3rd video in their Conquest of Quarantine! sessions. In this latest installment the band tackles a sludge-filled cover of Rush's Working Man. From Louder (thanks RushFanForever):
... bassist Bryan Richie explains: "In the early 2000s we were given a CD by one of guitarist Kyle Shutt's record store buddies with, 'Slush' scrawled across it - and little did we know what a wild ride awaited us. "This dude had taken his favourite Rush songs and dropped the pitch control on his record player as low as it would go - taking these classic Rush tracks and turning them into a C-standard sludge fest with the most air drumable drums! "Does it doom? Heck, yes it does. Enjoy our cover of the classic Rush track Working Man with a Slush'y spin." ...
The Sword will be opening for Primus on their A Tribute to Kings tour, which was rescheduled to the summer of 2021 due to COVID. That tour will see Primus perform Rush's A Farewell to Kings album in full every night.
That's all for this week. Have a great weekend!!