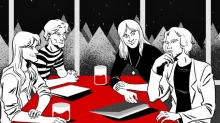 Rush's new box set celebrating the 40th anniversary of the band's Permanent Waves album released late last month and is now available to purchase as a 2 CD or 3 LP set, or as a Super Deluxe Edition containing both the CDs and LPs along with some bonus goodies. It's also currently available on all the major streaming platforms. A couple of weeks ago, the band released a FANTOONS-created, animated music video for The Spirit of Radio that pays tribute to radio and radio DJs, and also includes a dedication to Neil Peart at the end. The video has became a viral sensation over the past few weeks, generating over 500K views on YouTube so far. Earlier this week the band released yet another animated video, where longtime Rush art director Hugh Syme discusses the album's iconic artwork over some FANTOONS-produced animations for about 3 minutes. You can check out that video below or on YouTube at this location. UNCUT posted a 3.5/5 review of the box set this past week which you can check out online here, and the set made Spin magazine's list of the The 10 Best Reissues of 2020 (So Far), coming in at #8. The Permanent Waves 40th anniversary box set is now available in stores and online retailers, including via Amazon here: Super Deluxe Edition, 2CD and 3LP.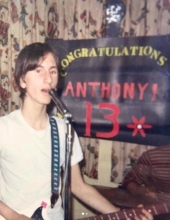 If you are active on social media, then at some point in the past year or so you have probably seen this photo of a teenage Geddy Lee playing bass at a birthday party and/or bar mitzvah. It shows a young Geddy with short hair and a white t-shirt playing bass and singing into a microphone, with a sign reading Congratulations Anthony! 13* in the background. Geddy Lee himself recently came across the photo and posted some comments about it to his Instagram:
Once in a while, a photo I havent seen in ages, or ever...pops up on social media, like a ghost from my past. I find myself slack-jawed, mouth gaping at some of them in wonder..."Is that me?.. where on earth, did this come from?" Well, this is one such photo. I was 14 or 15, playing in a garage band, at what is obviously one of my very first gigs ever... I do recall that we played some songs by Sam and Dave, and The Grassroots! ...and if you look closely, you can barely see a sliver of a white Hagstrom bass in my hands! One of my very first instruments... When putting my bass book together I searched high and low, to no avail, for a photo of this bass ... so I'm super pleased to share this moment of my long forgotten past.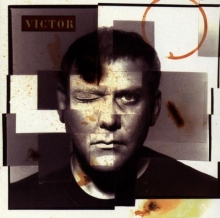 Multi-instrumentalist Marco Minnemann has collaborated with Alex Lifeson on several projects over the past few years, and was recently asked about their relationship in an Ultimate-Guitar.com interview, revealing some very interesting news regarding a possible 25th anniversary release of Lifeson's 1996 solo album Victor:
... With Alex, I've been working already for years, and Alex and I have released stuff together; he's on my albums. I know about him, he had the thought about retiring a little bit a few years ago. "But he still likes to play guitar and I hope he continues. We've been in touch just recently actually, just a few days ago literally, because he's re-releasing an album called 'Victor' he did 20 [24 actually] years ago; that's going to be re-released as a 20th-anniversary edition, and one of the songs we did is on it as a bonus track. So, I'm very pleased about that ...
Minnemann went on to talk about Lifeson contemplating retirement:
... I hope he's still playing but I'd understand if he doesn't want to - he told me that after 41 years in the business, the thought of retiring is a potential enemy, that's what he pretty much said. "And I don't blame him; if you have such a legacy behind you... And I think I told him, I said, 'Look, with your legacy, you don't have to worry about anything.' He doesn't have to force anything. "But, obviously, he's a fantastic musician - and actually, when you asked the question before, about one of the favorite moments, that would have been him as well. "Everything he brings to the table guitar-wise is always very different and very musical. He is a very inspiring person to work with. And yeah, and I have nothing but nice things to say about him. He's great. He's a fantastic person and a fantastic musician." ...
Earlier this week, UG released more of the interview, asking Minnemann if there was a particular musician that he'd like to work with:
... "Whooh, man, there are many of those musicians out there where I always kind of think 'Man, this is cool.' Obviously, I enjoy working with Alex Lifeson, so I would love to work with Geddy Lee, you know what I mean. "So, that would be... [Laughs] If I could work with both of them together, that would be pretty weird! [Laughs]" ...
Earlier this month the St. Catharines city council unanimously voted to officially name the pavilion at Port Dalhousie's Lakeside Park the Neil Peart Pavilion to honor the late Neil Peart, who grew up in the city and worked at the park's former midway. A YouTube video showing Karena Walter from The Standard interviewing St. Catharines Mayor Walter Sendzik about the pavilion naming was posted online earlier this week; the video also includes the city council meeting (via Zoom) where the unanimous vote took place. You can check out the video online here. On a related note, a home video of Lakeside Park in its heyday back in 1965 was also posted online this past week, and can be viewed here (thanks Paul D).
Neil Peart's family is sponsoring a charity auction via Bidding Owl beginning next Wednesday, July 1st in support of the RVH Foundation. Here are all the details via the Bidding Owl website:
Peart Family Memorial Fund Auction

A bidding auction with amazing items donated by so many generous friends, family, & fans!

Members of Neil's Family (his parents, Betty & Glen, and sister, Nancy and her family) have all had to use the services at Royal Victoria Hospital in Barrie, Ontario and are active supporters of the RVH Foundation. With offers of so many amazing items, they decided that setting up a silent auction in support of the foundation is the perfect way to honour Neil's memory. We are so thankful to all of the amazing people who are donating items. We can keep this auction going as long as items keep coming in.

We will set up deadlines for each item so that we will always have something live to bid on. You are also welcome to donate what you can if you just want to send a donation. No amount is too small! The RVH Foundation will issue receipts for any donations over $20.

Thank you to everyone for your donations, both in items and in bidding! Enjoy and I wish everyone luck to get the items they love and to support this amazing cause!
The items up for auction include a copy of the Modern Drummer Neil Peart tribute issue signed by Neil's parents, a copy of the Permanent Waves box set including a handwritten note from Neil's parents, and many more unique items.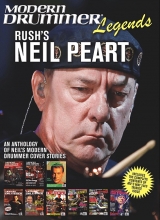 Speaking of the Modern Drummer Neil Peart tribute issue, Modern Drummer magazine will be releasing an anthology containing all nine of Neil Peart's Modern Drummer cover features, including the complete contents of the May, 2020 tribute issue. The anthology is titled Modern Drummer Legends Vol. 1 - Neil Peart and is slated for release later this year on September 15. It is currently available for pre-order via the Modern Drummer website for $19.95 at this location.
Speaking of Neil, author and good friend of Neil, Kevin J. Anderson, recently revealed that Neil's struggle with brain cancer was the secret inspiration for a short story Anderson wrote for a 2017 sci-fi anthology as he describes in this Facebook post (thanks RushFanForever):
A story for Neil, a free audio drama. After fighting brain cancer for more than three years, Neil Peart passed away in January 2020. It was a long and private battle, and the secret was very hard for many of us, unable to tell anyone or express our heartbreak and growing concern. We would smile politely and make up some vague answer whenever someone would ask about Neil. When I was invited by the XPRIZE foundation to contribute a story to their Seat 14C anthology in 2017-stories about a plane that jumped forward 20 years in time, and how the passengers reacted-I found a suitable outlet for some of my turbulent emotions, framing my story around a woman's struggle with her own brain cancer. Alas, no one could know the real inspiration for the story, not the anthology editor, not XPRIZE, not my readers. But I knew, and writing it was cathartic for me, although hard to bear. "Terminal" was published in Seat 14C and then later in 2018 reprinted in a volume of my own Selected Stories, where I even wrote an introduction to the piece ... though I still couldn't reveal the real basis behind the story. Now, with the release of this audio version, I can finally let readers know what was going through my mind when I wrote it. I hope that gives an added depth as you listen. ...
You can listen to Terminal for free on YouTube at this location.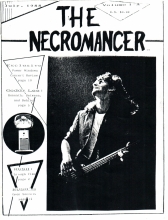 John at Cygnus-X1.net has been transcribing the entire collection of the late '80s Rush fanzine The Necromancer and has made the first 4 issues available for viewing online here. The remaining 5 issues will be posted in the coming weeks. From the description:
... Eric Merola of Winston-Salem, North Carolina, launched his own Rush fanzine titled 'The Necromancer' back in July of 1988. The fanzine was filled with articles on Rush, information on live recordings, album reviews, interviews, and more. ... 'The Necromancer' launched its first four issues across four consecutive months - from July through October of 1988. It then published its next five issues on a bi-monthly basis, ending with its final ninth issue on July/August 1989. ...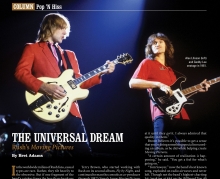 The May, 2020 issue of Vintage Guitar magazine includes a profile of Rush's Moving Pictures album in the Pop 'N Hiss column titled The Universal Dream. The article includes new interview segments from producer Terry Brown, and you can read the entire, 2-page article online here (thanks RushFanForever).
Cleveland.com posted their list of 30 great live albums to get your concert fix this summer this past week, and Rush's R40 Live made the cut:
Geddy Lee's voice may sound a little worn, but this comprehensive document of the group's 40th anniversary, and final, tour covers all the bases a fan would want and illustrates the Canadian trio's estimable creative arc.
That's it for this week. Have a great weekend everyone!