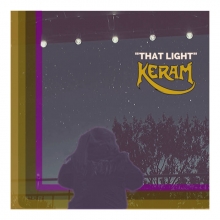 Canadian-born actor and musician Keram Malicki-Sanchez has just released a new single titled That Light which features Alex Lifeson on guitar. From Keram's website at keramsongs.com:
Keram's latest rock single "That Light" is the result of a two year IndieGoGo backed project to release new tracks recorded at a studio in Los Angeles, with some of his best musical friends, including Alex Lifeson (RUSH), Carmine Rojas (David Bowie), Ryan Brown (Zappa Plays Zappa), Marc Thomas (Madras), Pete Devlin (Blue Dog Pict) and singer Jessica Marshall-Gardiner and Angie Brown. Tracked by Jason Achilles Mezilis, mixed by Michael Costantini, and mastered by Andy Vandette (Porcupine Tree, Dream Theater), the song is about being strong in times of tribulation and finding strength in love, to defy lies. ...
The song is now available for streaming on all the usual channels, and you can listen to it below or on YouTube. Malicki-Sanchez became friends with Lifeson about a decade ago while working on the film Irvine Welsh's Ecstasy, where Lifeson played the role of Dr. Figg. Lifeson appeared on and executive-produced Keram's crowdsourced album Come to Life, which was released back in 2011.