UPDATE - 5/5@7:20PM: They are also selling a Rush Flatten the Curve t-shirt as part of this fundraiser. The shirt depicts the Rush explosion logo on the front with the hashtag #flattenthecurve2020 written on the back. You can order yours online here.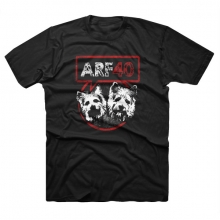 In his appearance on the Stronger Together, Tous Ensemble TV special a couple of weeks ago, you may have noticed that Geddy was wearing his ARF40 t-shirt, which depicts his 2 dogs Lucy and Stanley as seen here. Geddy also wore this shirt extensively throughout the R40 Tour, and now you can own one of your very own. The Rush Backstage Club is now selling the t-shirts, with 100% of the proceeds going to support the Covid-19 Solidarity Response Fund. From the product listing:
After the R40 tour, we have had a ton of requests for this tee, which Geddy wore quite frequently on stage. Geddy's dogs, Lucy and Stanley, were nervous about the perils of fame, and thus wouldn't allow Geddy to sell the shirt. Until now! Lucy and Stanley had a meeting with Geddy and they all agreed that the world is in rough shape right now, and the sales of this shirt could help those in need during this tough time. Rush is giving 100% of net proceeds from the sale of this tee to the Covid-19 Solidarity Response Fund for the World Health Organization.(covid19responsefund.org). Printed on a 100% cotton, unisex tee with prints on the front and back. Please note that purchases are not tax deductible as a charitable contribution by the purchaser. This shirt will ship in approximately 3 weeks.
You can purchase your ARF40 t-shirt here.