UPDATE - 5/1@2:03PM: Primus' A Tribute to Kings tour that I mentioned below has officially been postponed.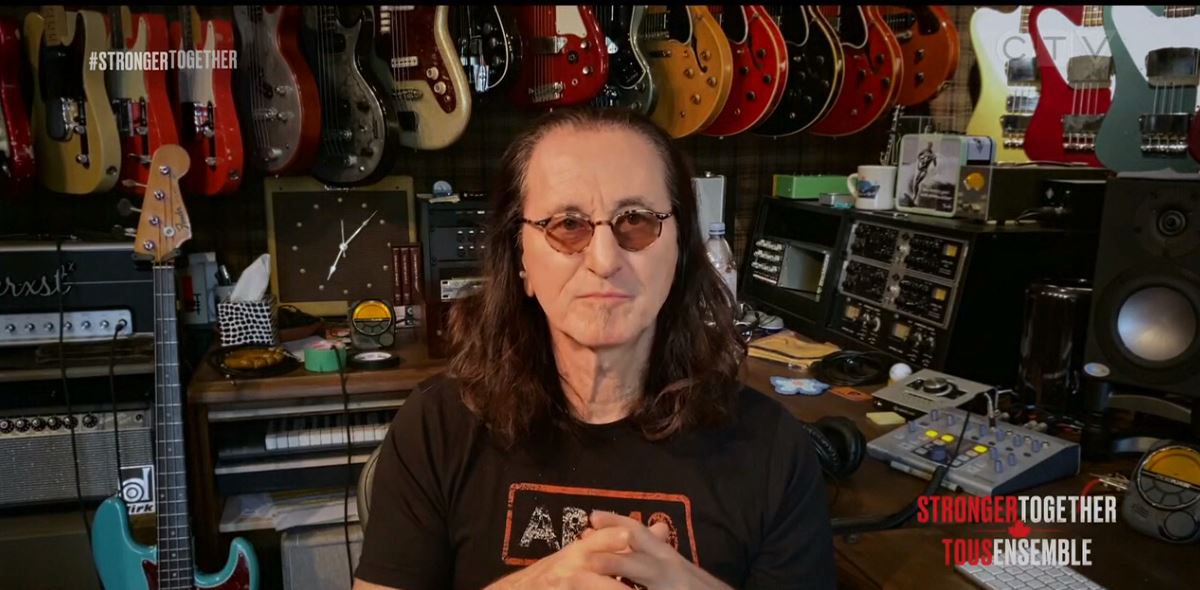 This past Sunday evening, the CBC in conjunction with Bell Media, Corus Entertainment and Rogers Sports & Media broadcast a 90-minute, multi-platform special titled Stronger Together, Tous Ensemble to support front-line workers across Canada during the COVID-19 pandemic. Around 50 Canadian celebrities participated in the broadcast including Rush's Geddy Lee. Geddy showed up at around the 48-minute mark to urge Canadians to donate to Food Banks Canada, live from his home studio as seen in this video:
I'm Geddy Lee and I'm in isolation at home with my family, my grandson, and my pups. Where - like you - we are witnessing the suffering of so many families due to the loss of their livelihoods. Some of these folks are close to us and some of them are strangers. But one thing's for sure that we're all connected by the same situation that we face. I'm coming down here to my studio to remember how comforting music can be at a time like this. I've toured coast to coast across this wonderful country with my band Rush. And I know how resilient and giving Canadians are. So now is the time to throw a lifeline to those who need us. Food Banks Canada is helping those families who are struggling to put food on the table, so if you feel like you want to help this is a worthy organization. There is a lot going on so take care of yourself. We are going to get through this. Thanks.
As part of the broadcast and to help raise money for COVID-19 relief, several of the participating musicians, including Geddy, performed a virtual tribute to the late Bill Withers with a beautiful rendition of his classic Lean on Me. Geddy sang his part with his dog (Dr. Lucy Wasserman) sitting in his lap, and you can watch the video below or at this location, with Geddy's part coming in at around the 2:25 mark. The song is credited to ArtistsCAN and is available for download/streaming via all major channels, with all proceeds going to the Canadian Red Cross to fight the pandemic in Canada. You can text LEANONME to 20222 to donate, or visit RedCross.ca/leanonme. As of this past Tuesday, the event had raised over $6 million.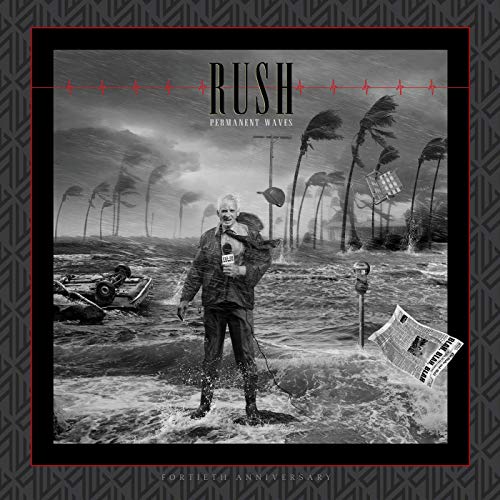 Rush will be releasing a Permanent Waves 40th anniversary box set next month on May 29th Here are all the details from Rush.com:
The Super Deluxe Edition includes two CDs and three high-quality 180-gram black vinyl LPs. The set encompasses the Abbey Road Mastering Studios 2015 remastered edition of the album for the first time on CD, along with previously unreleased and newly restored bonus content newly mixed from the original analog live multi-tracks by the band's original producer, Terry Brown. The unreleased bonus live tracks come from three stops on the Permanent Waves World Tour 1980: (1) Manchester Apollo in Manchester, England; (2) Hammersmith Odeon in London, England; and (3) Kiel Auditorium in St. Louis, Missouri.

The Super Deluxe Edition of Permanent Waves-40th Anniversary will also include several exclusive items, including a 40-page hardcover book with unreleased photos, reimagined artwork by original album designer Hugh Syme, and an extensive & exclusive 12,000-word essay; a replica of the Permanent Waves 1980 official tour program; The Words & Pictures Volume II, a replica of the band's rare 1980 UK-only tour program; a 24×36-inch two-sided wall poster of the original album cover model photo shoot and photos of the band recording at Le Studio; three replica bandmember 1980 tour backstage laminates; three Neil Peart-handwritten lyric sheets for "The Spirit Of Radio," "Entre Nous," and "Natural Science"; and a 20-page 5×7-inch notepad emblazoned with Le Studio letterhead.

The second configuration of Permanent Waves-40th Anniversary will be released in a two-CD Deluxe Edition digipak that includes the remastered original album and the live bonus tracks, plus a 20-page booklet with unreleased photos and reimagined artwork by Syme.

The third Permanent Waves configuration will be offered as an audiophile black vinyl 180-gram three-LP Deluxe Edition featuring the original album on LP1 and all 12 bonus live tracks on LPs 2 & 3, all housed in a slipcase, along with a 20-page booklet with unreleased photos and Syme's new artwork. Jacket 1 features Syme's original 1980 album artwork in a single-pocket jacket, while Jacket 2 contains the Permanent Waves 1980 Tour bonus content in gatefold form.

The fourth configuration, the Deluxe Digital Edition featuring the original album and all 12 bonus live performances.

CD2 in the Super Deluxe Edition and the Deluxe Edition will feature 11 of the 12 live bonus tracks due to CD run time constraints. "A Passage To Bangkok (Live in Manchester)" was previously available on the 2112 - Deluxe Edition in 2012 so will not be featured on CD2 for both of these configurations. ...

The set was reviewed in the latest edition of Prog magazine as seen in this 12-page sampler of the issue or in this screenshot. You can pre-order the set via Amazon here: Super Deluxe Edition, 2CD and 3LP.
The effort to name the pavilion at Lakeside Park in Neil's hometown after the late drummer continues to progress. Last month, the city narrowed down the possible names to either the Neil Peart Pavilion or Lakeside Park Pavilion and opened up voting to the public. Voting closed last week and the winning name will be presented to city council in the future for final approval. The city is also considering other ideas for honoring Peart, and recently created a Neil Peart commemorative task force to explore different ideas as detailed in this St. Catharines Standard article:
... City council approved the task force's terms of reference Wednesday and appointed Mayor Walter Sendzik and Port Dalhousie Couns. Bruce Williamson and Carlos Garcia to its membership. Their job, along with other members, will be to review options for a memorial celebrating the life and musical career of Peart, along with its location and how it will be funded and maintained. Peart, a member of the Order of Canada and Rock and Roll Hall of Fame inductee, grew up in St. Catharines and worked at Lakeside Park's former midway. He died on Jan. 7. The idea for a statue or other memorial to honour Peart in Lakeside Park has been community driven. More than 25,000 people signed an online petition to have Peart honoured with a plaque or statue in the Port Dalhousie park. The public will be able to submit concepts at a meeting later this year after the rest of the task force members are appointed. Besides the three council members, the task force will consist of four citizens, with preference to one relative or representative of the Peart family. As well, the city's arts and cultural advisory committee, public art advisory committee and heritage advisory committee will have one member each. The task force will bring its recommendation for the memorial to city council for approval. ...
The Tapes Archive podcast recently posted a never-before-published 1994 interview with Primus' Les Claypool where he is promoting the band's Pork Soda album. Towards the beginning of the interview, Claypool talks about touring with Rush. You can listen to it on YouTube at this location (thanks RushFanForever). Primus had planned a Tribute to Kings tour this summer where they would play Rush's A Farewell to Kings album in full. However, due to COVID-19 concerns, the tour will most probably be cancelled although it hasn't been officially as of yet.
The Rush Beyond the Lighted Stage documentary made yet another list of great music docs this past week. YourSun.com included the album on their list of 27 great music documentaries this past week.
Here are the videos of Geddy Lee's participation in this past Sunday night's Stronger Together, Tous Ensemble CBC fundraiser for COVID-19 relief:
If the COVID-19 lockdown is making you stir crazy and you're looking for something to do Saturday night, Rush tribute band The Rushians will be streaming a FREE live show from the Brogum music venue in the Netherlands at 8:30PM (4:30PM EST). They'll be playing Moving Pictures in its entirety along with several other Rush classics, and you can get all the details via the Facebook event page. That's all for this week. Have a great weekend and stay home and listen to RUSH!!