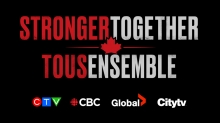 The CBC in conjunction with Bell Media, Corus Entertainment and Rogers Sports & Media will be broadcasting a 90-minute, multi-platform special this coming Sunday, April 26th to support front-line workers across Canada during the COVID-19 pandemic. Nearly 50 Canadian celebrities will participate including Rush's Geddy Lee. From the latest press release posted yesterday:
More than four dozen big-name Canadians have signed on for the historic broadcast STRONGER TOGETHER, TOUS ENSEMBLE, it was announced today. Airing commercial-free Sunday, April 26 at 6:30 p.m. across all markets/7 p.m. NT and now on hundreds of platforms, Canadian artists, activists, actors, and athletes will share their stories of hope and inspiration in a national salute to frontline workers combatting COVID-19 during the 90-minute show.

The unprecedented event, in support of Food Banks Canada, has become the biggest multi-platform broadcast in Canadian history, with 15 broadcasting groups led by Bell Media, CBC/Radio-Canada, Corus Entertainment, Groupe V Média, and Rogers Sports & Media presenting the star-studded show on hundreds of TV, radio, streaming, and on demand platforms (see broadcast details below).

With a mix of music, messages, and more, STRONGER TOGETHER, TOUS ENSEMBLES features Canadian talent uniting to show everyone working on the front lines of this pandemic that we are all #StrongerTogether. Viewers and listeners are encouraged to follow @strongercanada, launching today, to stay up to date before the broadcast. ...
For all the details, including the full list of participants and how you can tune in, check out the press release. Note that the broadcast will be unavailable outside of Canada.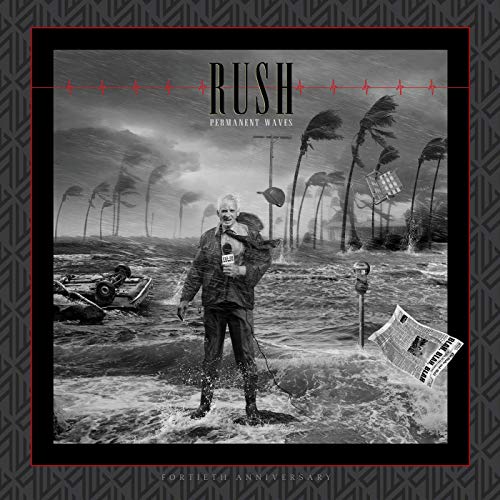 Rush will be releasing a Permanent Waves 40th anniversary box set next month on May 29th Here are all the details from Rush.com:
The Super Deluxe Edition includes two CDs and three high-quality 180-gram black vinyl LPs. The set encompasses the Abbey Road Mastering Studios 2015 remastered edition of the album for the first time on CD, along with previously unreleased and newly restored bonus content newly mixed from the original analog live multi-tracks by the band's original producer, Terry Brown. The unreleased bonus live tracks come from three stops on the Permanent Waves World Tour 1980: (1) Manchester Apollo in Manchester, England; (2) Hammersmith Odeon in London, England; and (3) Kiel Auditorium in St. Louis, Missouri.

The Super Deluxe Edition of Permanent Waves-40th Anniversary will also include several exclusive items, including a 40-page hardcover book with unreleased photos, reimagined artwork by original album designer Hugh Syme, and an extensive & exclusive 12,000-word essay; a replica of the Permanent Waves 1980 official tour program; The Words & Pictures Volume II, a replica of the band's rare 1980 UK-only tour program; a 24×36-inch two-sided wall poster of the original album cover model photo shoot and photos of the band recording at Le Studio; three replica bandmember 1980 tour backstage laminates; three Neil Peart-handwritten lyric sheets for "The Spirit Of Radio," "Entre Nous," and "Natural Science"; and a 20-page 5×7-inch notepad emblazoned with Le Studio letterhead.

The second configuration of Permanent Waves-40th Anniversary will be released in a two-CD Deluxe Edition digipak that includes the remastered original album and the live bonus tracks, plus a 20-page booklet with unreleased photos and reimagined artwork by Syme.

The third Permanent Waves configuration will be offered as an audiophile black vinyl 180-gram three-LP Deluxe Edition featuring the original album on LP1 and all 12 bonus live tracks on LPs 2 & 3, all housed in a slipcase, along with a 20-page booklet with unreleased photos and Syme's new artwork. Jacket 1 features Syme's original 1980 album artwork in a single-pocket jacket, while Jacket 2 contains the Permanent Waves 1980 Tour bonus content in gatefold form.

The fourth configuration, the Deluxe Digital Edition featuring the original album and all 12 bonus live performances.

CD2 in the Super Deluxe Edition and the Deluxe Edition will feature 11 of the 12 live bonus tracks due to CD run time constraints. "A Passage To Bangkok (Live in Manchester)" was previously available on the 2112 - Deluxe Edition in 2012 so will not be featured on CD2 for both of these configurations. ...
The set was recently reviewed by Larry Petro for KNAC.com, who gave it a 4.5 out of 5.0, citing just one gripe:
... I have to tell you the packaging on this 40th Anniversary is fantastic. The only gripe I have is that they have given it a different cover, which is somewhat blasphemous. Keeping in the tradition of the previous deluxe anniversary editions, it includes liners sanctioned by the band and of course the jewel of this deluxe edition and a killer selling point I might add, are the live tracks which capture RUSH in all their glory, on stage blowing fans' minds. Now, I anxiously await the 2121 40th anniversary deluxe edition of Moving Pictures.
You can pre-order the set via Amazon here: Super Deluxe Edition, 2CD and 3LP.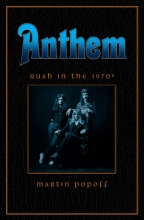 Music writer Martin Popoff has written a new Rush book titled Anthem: Rush in the '70s, which is the first of a 3-part Rush Across the Decades series. The second book is titled Limelight: Rush in the '80s and is slated for an October release; it can be pre-ordered at this location. Although the book doesn't officially release until May 12th, Popoff has received a supply of the books from the publisher and is selling signed copies via his website. Anthem is the fourth Rush book from Popoff who also authored the 2004 Rush biography Contents Under Pressure, 2013's Rush: The Unauthorized Illustrated History (an updated edition was released back in 2016), and - most recently - Rush: Album by Album in 2017. Anthem: Rush in the '70s can also be pre-ordered via Amazon at this location.

Phil Simon is an award-winning author, public speaker, Slack trainer, professor of technology and analytics at ASU, and - most importantly - a Rush fan. Back in 2014 he interviewed Neil Peart for the Huffington Post, and is known for dropping Rush references into all of his books. His latest book releases in June and is titled Slack For Dummies; he dedicates the book to Neil Peart as seen in this screenshot.
Music Radar posted an article earlier this week titled 5 songs guitarists need to hear by ... Rush, where they suggest 5 Rush tracks for guitarists to introduce themselves to the key of Lifeson.
Brooklyn Vegan posted an article this past week where they featured a few of their favorite live concert videos to watch while in quarantine, one of which is Rush's Exit ... Stage Left video:
On their tours for the now-legendary albums Permanent Waves (1980) and Moving Pictures (1981), Rush recorded Exit... Stage Left, which came out as a live album in '81 and later got released in film form too. It splices in interview footage too, and the live footage finds Rush at the height of their powers, powering through now-classic songs like "Limelight," "Tom Sawyer," "Closer to the Heart," "YYZ," "2112: Grand Finale," and more. It's still kind of unbelievable how huge Rush could sound with just three members, and they looked as larger-than-life on stage as their music sounded. We miss you, Neil. -Andrew Sacher
Cleveland.com's Troy Smith posted an article this past week where he ranked every Rock and Roll Hall of Fame class from worst to best. Rush was inducted in 2013 and Smith ranks that class #29 out of 34:
Heart, Albert King, Randy Newman, Public Enemy, Rush, Donna Summer, Lou Adler, Quincy Jones: Some fans may have gotten stuck arguing the merits of the late Donna Summer's induction. What they missed was the first winner of the Rock Hall fan vote (Rush), arguably the greatest hip-hop act of all time (Public Enemy) and legendary music producer Quincy Jones all being inducted.
Radio.com posted an article this past Monday in celebration of 420 Day where they list off 4 Epic Rock Songs That Are At Least 20 Minutes Long, one of which is Rush's 2112.
Motorcycle and classic car insurance broker Carole Nash recently published an article to their website profiling Motorcycles and the rock and roll lifestyle, and Neil Peart gets a mention:
... Neil Peart might not have been a household name like Springsteen and Joel, but the Rush drummer was universally considered one of the very best in the business and had a passion for bikes that saw him undertake a soul searching massive road trip, which turned into the 2002 memoir, Ghost Rider: Travels on the Healing Road. The Canadian drummer was a fan of the ubiquitous BMW GS, putting 100,000 miles on the R1100GS he rode for Ghost Rider, and regularly racking up over 20,000 miles a year until his death, from cancer, earlier this year. ...
Earth Day took place this past week, and in honor of the occasion, uDiscoverMusic.com posted their list of the 20 Best Earth Day Songs. Rush's The Trees made the cut at #12:
Rush lyricist Neil Peart once commissioned some drum makers to build him an entire kit from a 1,500-year old piece of Romanian wood. Peart recalled that he wrote his song 'The Trees' in "about five minutes", after seeing a cartoon picture of trees "carrying on like fools". He said: "I thought, What if trees acted like people? So I saw the song as a cartoon, really, and wrote it that way."
On a sad note, Neil Peart's longtime bus driver David Burnette has passed away at the age of 64. Dave was well-known to Rush fans, as he was regularly mentioned in Neil Peart's books and NeilPeart.net News updates over the past 2 decades. Rest in peace.
After the overwhelmingly positive response they received from their covers of Rush's instrumental masterpieces YYZ and La Villa Strangiato over the last few weeks, Anthrax drummer Charlie Benante's impromptu virtual band decided to follow up those performances yesterday with yet another Rush classic - Freewill. Benante enlisted the help of Crobot frontman Brandon Yeagley to add vocals to the mix, with himself on drums, Testament's Alex Skolnick on guitar and Suicidal Tendencies' Roberto "Ra" Diaz on bass. You can check out their performance below or on YouTube at this location, and in case you missed their other covers, check out YYZ in this post, and La Villa Strangiato here. Here's the YouTube description from Benante:
Dear friends: Once again, the three of us (Alex , Ra and myself) were completely knocked out by the responses to our latest video. As if your appreciation of the music wasn't enough, it's been humbling to hear from so many of you who've let us know how much this has been helping during this difficult period of quarantine and isolation. This brings us to the following conclusion: "We can't stop now, can we?"

Here is our follow up: "Freewill." "Freewill" is about thinking for yourself, accepting difficult truths and avoiding superstition, magical thinking and herd mentality (most pertinent during these times). We now have a @rush trilogy. When we "made a choice" (as the song says) to take on this tune, we had a new challenge on our hands: Our previous two ("YYZ" and "La Villa Strangiato") are both instrumental and doing this one would require a vocalist who is up to the task (sadly that excludes the three of us). Fortunately, we know just the guy. On vocals, we proudly present Brandon Yeagley @brandoncrobot of @crobotband

In addition to Neil Peart (the great Rush drummer and composer of these lyrics, whom we lost in January), this song is dedicated to John Horton Conway, genius mathematician who recently left us due to Covid-19, whose influence extended beyond mathematical circles, including artists (such as musician/producer Brian Eno), software developers, game makers etc and whose achievements include a personal favorite entitled "Free Will Theorem." ...
The Rush: Beyond the Lighted Stage documentary made its world premiere 10 years ago today at the Tribeca Film Festival. That's all for this week. Have a great weekend - stay home and listen to Rush!