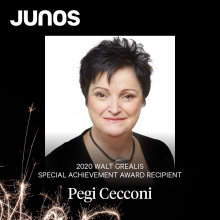 The Canadian Academy of Recording Arts & Sciences (CARAS) announced yesterday that they will be canceling the 2020 JUNO Awards due to Coronavirus concerns. Longtime Anthem/SRO Vice President Pegi Cecconi was to be presented with the 2020 Walt Grealis Special Achievement Award at the JUNO Gala Dinner & Awards tomorrow evening, and Rush fans were anticipating a possible Neil Peart tribute of some kind. From Billboard:
... (CARAS) announced on Thursday it was canceling Juno Week in Saskatoon, Saskatchewan, set to begin tonight, including the Juno Awards on Sunday night. The cancellation also includes Saturday's Juno gala dinner and awards, a private industry event for about 1,000 people, at which the majority of the awards are presented, including the Walt Grealis Special Achievement Award to Pegi Cecconi. Sunday night's Juno Awards was to be hosted by Alessia Cara and held at the SaskTel Centre arena with a live audience of roughly 10,000. The awards air on CBC. "We are devastated to cancel this national celebration of music, but at this time of global uncertainty, the health, safety and well-being of all Canadians must stand at the forefront of any decisions that impact our communities," CARAS and Saskatoon officials said in a joint statement. "We know this is the right decision based on the information we currently have and are continuing to receive. The situation surrounding COVID-19 continues to evolve rapidly and we urge everyone to follow the guidelines and protocols put forth by public health officials. We salute and appreciate all the 2020 nominees." Officials added, "CARAS will continue to explore options to coordinate an alternative way to honour this year's JUNO Award winners and Special Award Recipients and support the creators and participants that so greatly benefit from the work done by CARAS and the JUNOS." ...
Billboard published an interview with Cecconi on Wednesday which included the following comments from Geddy Lee:
... "Pegi understood the laws and copyrights that needed to be protected for the artist," Rush singer/bassist Geddy Lee tells Billboard. "She was at the forefront of creating those deals in those early days and was an integral part of what made our management company work." Cecconi's knowledge of the intricacies of music publishing and licensing helped distinguish her from peers - as did her inimitable laugh. "It didn't matter what country, what sized venue, when Pegi was in soundcheck, you could hear her laughing from the back of the venue," adds Lee. "She is a tough negotiator, but she won over people that should have been adversaries with her personality." ...
In her multiple roles as part of Rush's management company and record label over the past 50 years, Cecconi was an instrumental part of the band's development and success. The Walt Grealis Special Achievement Award recognizes individuals whose work has significantly impacted the growth and development of the Canadian music industry, and is named after Walt Grealis, legendary Canadian publisher and co-founder of the JUNO Awards. Billboard asked Cecconi to talk about her proudest accomplishments from her long career:
... The Walt Grealis Award [laughs]. Bob and Doug [McKenzie, the fictional Canadian hoser brothers played by Rick Moranis and Dave Thomas]. That was the only signing I did and it was seven grand or eight grand and I thought we could afford it at the time. We could afford to laugh [The 1981 album, The Great White North, sold more than a million copies in North America and peaked at No. 8 on the Billboard 200]. And getting Rush back to Europe was good for their 30th anniversary [2004]....
As of right now, the upcoming A Night for Neil: The Neil Peart Memorial Celebration concert and charity fundraiser is still planned for Saturday, May 16th at the Meridian Centre in Neil Peart's hometown of St. Catharines, Ontario. However, due to Coronavirus concerns, it's possible that the event will be postponed, so be sure follow the event on social media (Facebook, Twitter, Instagram) and/or subscribe to the email list at this location to get the latest information. In addition to Overtime Angels, the charities chosen by the Peart Family as beneficiaries of this event are: St. Catharines Hospital and Walker Cancer Centre, The Juravinski Hospital & Cancer Centre in Hamilton, and the Royal Victoria Regional Health Centre in Barrie. Tickets are now on sale to the general public via Ticketmaster at this location. On a related note, the effort to name the pavilion at Lakeside Park after Peart continues, with the latest update coming in this St. Catharines Standard article:
St. Catharines Mayor Walter Sendzik will make a motion at the next city council meeting to create a Neil Peart commemorative task force. Sendzik said the task force will look at options for a commemorative sculpture or design and work with the public art committee. He said it will be building on what people in the community have been talking about to honour the Rush drummer, who died Jan. 7. Members will also look at costs and how the city can access funds to create something that's a lasting legacy to "one of the most known members of our community" around the world. The commemorative project will be in addition to re-naming the Lakeside Park pavilion, a process which is underway. "It's a commemorative task force that will come up with something that is permanent, outside of the pavilion," Sendzik said. On March 23 will will be provided with terms of reference for the task force, which will include community members. City council voted in January to move forward with naming the Lakeside Park pavilion in Port Dalhousie and include Peart's name for consideration. Staff are reviewing feedback from the public and a report will come to council in the future with a recommended name. ...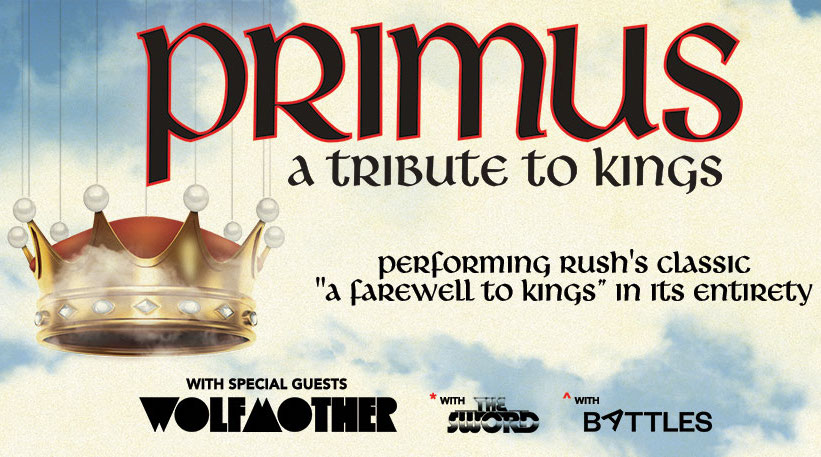 Primus' upcoming A Tribute to Kings tour will feature the band paying tribute to their musical heroes Rush; they'll be covering the band's A Farewell to Kings album in full every night, before playing a full set of their own songs. The tour will hit cities all across the US from late May through early August, and tickets are now available at primusville.com. As of today, the tour is still moving forward as planned since it doesn't kick off until late May, but with all the uncertainty surrounding COVID-19, that could certainly change, so stay tuned.

The Rushfest Scotland Rush fan convention will be back for its seventh year in Glasgow this coming June, assuming COVID-19 has settled down by then. This year's festivities will host three evenings between June 11th and June 13th, and include a very special in conversation with event as described in this Loudwire.com article:
... "We've kinda blown it out the park this year by bringing Terry Brown, Hugh Syme and [Rush covers act] Jacob Moon across as our special guests," event founder Steve Brown tells Prog. "Hugh designed the poster for us, using elements from the upcoming Permanent Waves 40th anniversary reissue, with the label's permission." The first night kicks off on June 11 at Astley Hall with a headline set from Jacob Moon who returns for a second performance on June 13 at Drygate Brewery. Fans will also have the opportunity to hear Syme and Brown in conversation on June 12 at Ivory Blacks. Says Steve Brown, "Our main event on Saturday June 13 will include a set from Jacob plus Moving Pictures and headliners Kepler Ten, as their Rush tribute alter egos R2. But we won't let them off the stage unless they play some original material too!" ...
Rushfest Scotland was founded in 2014 and has raised more than £41k for cancer charities. This year all profits will go to Cancer Support Scotland. To purchase tickets, including a limited meet-and-greet option, visit the RUSHfest Scotland website.
Opening day for the 2020 MLB season has been delayed due to COVID-19, but that hasn't stopped reader Ken K (aka The Clansman 2112) from kicking off his annual rushisaband Fantasy Baseball League. It's a 20 Team Roto League with no entry fees or prizes - they just play for fun and bragging rights, and have a lot of fun talking about baseball and Rush. There are still a couple of spots open, so if you are interested, go to this link to join up, and send email to Elwood2000@hotmail.com if you have questions.
13 years ago yesterday, Rush released their Far Cry single online, and set off one of the craziest threads ever on RushIsABand.com. Here's the lyric video for the song:
Stay safe and healthy everyone. We'll beat this COVID-19 virus eventually. Just stay home and listen to RUSH to pass the time.