UPDATE - 1/26@11:42PM: Here's the mention of Neil in the In Memoriam segment:
----- snip -----
UPDATE - 1/26@10:58PM: Neil is indeed included in the In Memoriam for the 2020 Grammys as seen on page 180 of the Grammy Awards program book here (thanks RushFanForever).
Rush fans across the globe are still reeling from the untimely passing of Neil Peart earlier this month. Musicians, politicians, celebrities, music writers, and Rush fans of all stripes have been expressing their condolences, giving tributes both written and musical, and sharing their memories of Peart on social media and in the music press over the past two weeks. The love and respect that has been shown for Neil and his legacy has been palpable. Neil's musical brothers Geddy Lee and Alex Lifeson expressed their appreciation for the outpouring of love and support via Rush's official social media last Friday:
Our most heartfelt thanks go out to family, friends, musicians, writers and fans from around the globe for the incredible outpouring of love and respect for Neil since his passing. These touching tributes help to lessen the pain of this terrible loss and remind us all to celebrate his remarkable life and our connections to it. - Geddy & Alex
Neil's passing has also brought the online Rush community together in a way never seen before, as fans virtually congregate via Facebook, Twitter and other online outlets for group therapy. It's been quite a challenge to keep up with all the various tributes and remembrances, but I've been making an attempt by sharing everything I come across to the RIAB Twitter feed and Facebook page, as well as in this post. My sincere thanks goes out to everyone who has been sending along links, checking in, and sharing their own personal Neil Peart tributes and memories. An effort supported by Peart's family is currently underway to create some kind of memorial at Lakeside Park in Neil's hometown of St. Catharines, Ontario as described in the St. Catharines Standard:
Neil Peart's family is enthusiastically supporting plans for a memorial at Lakeside Park, honouring the famous drummer who grew up in St. Catharines. As thousands of Rush fans from all over the world continue to add their names to a petition calling for a statue or plaque to be built at the park the band made famous in song, Peart's nephew Jason Howe said the family has discussed the idea and are "fully on board" with such plans. "They think it's a great honour," said Howe, a St. Catharines resident. ... Mayor Walter Sendzik plans to put forth a motion at an upcoming city council meeting to name the pavilion at Lakeside Park in Peart's memory. ... Howe said he's heard several ideas for memorials including a statue, plaque and naming the pavilion, nearby piers and city streets after Peart. He said he'd be supportive of any of those initiatives. ... "Just being recognized, I don't think you can go wrong." ... St. Catharines regional Coun. Kelly Edgar, who has been working on a memorial project with Tony McLaughlin - the St. Catharines resident who started the online petition - said he contacted Neil's brother, Danny Peart, regarding a tribute. "They're fully behind it," Edgar said. ...
A GoFundMe campaign has been started to help pay for the memorial at this location, with over $2K of the $10K goal raised so far. There will also be a Neil Peart Fan Memorial Event and Benefit Concert presented by Overtime Angels in Toronto sometime this coming May as described by Overtime Angels' Jim Brunke in this article:
... Brunke said Rush fans from all over the world "are going to want to be involved with this thing." "And if I'm going to have thousands of Rush fans converge on an area that close to Lakeside Park, they're all going to go there to see the 'willows in the breeze,' and the merry-go-round," he added, quoting lyrics from a song Peart wrote about the park in 1975. ... Brunke said members of his team, including event planner Deb Huston, have been reaching out to musicians "of all calibres." Considering how influential Rush's music has been to even some of the biggest names in the music industry, Brunke said he expects there will be numerous rock bands and individual musicians "who would love to perform." The charity has teamed up with another passionate Rush fan on this side of the border - George Roche from Toronto-based entertainment agency The Booking House Inc. Although still early in the planning process, Roche, too, is confident the event would attract top-notch musicians from all over the world. "There are just so many great drummers who loved Neil and respected his complexity and style as a drummer," said Roche, himself a drummer heavily influenced by Peart. "We're definitely going to be reaching out to those people to participate." Brunke said members of Peart's family are in full support of the idea. "They were so appreciative, and want to be part of it," Brunke said. In addition to a live-music component, Brunke hopes to include opportunities for fans, friends and family members to participate. "We're just so excited about having the opportunity to be involved in doing this for, basically, our musical hero." ... Roche plans to visit St. Catharines next week with Overtime Angels president Mike Rosenthal and vice-president Lance Kasten to tour Meridian Centre and other venues that could be part of the event. As planning progresses in months to come, Roche said, more information will be published on the overtimeangels.org website and at facebook.com/NEP.Fan.Memorial.Event ...
Peart will likely be recognized at the Grammy Awards this weekend, as well as at the JUNO Awards in March and the Rock and Roll Hall of Fame induction ceremony this coming May, although what form these recognitions might take (if any) is unclear. The Grammy Awards are unlikely to do anything outside of mentioning Peart during the In Memoriam segment, but we should expect something more significant at Canada's Grammy equivalent. Given that Peart was from Canada and Anthem/SRO's Pegi Cecconi will be receiving the 2020 Walt Grealis Special Achievement Award - not to mention Rush's large collection of JUNO Awards, it stands to reason that a special tribute (speeches and/or performances?) of some kind will occur at the 2020 JUNOs. This year's Rock Hall induction ceremony will take place in Cleveland on May 2nd, and it's expected that the ceremony will include some kind of tribute to Neil Peart. They should at least give Peart a mention in the In Memoriam portion, but it's also possible they'll put together some kind of tribute performance to open the show. Past ceremonies have included musical tributes to recently-deceased inductees such as David Bowie and Prince, so there is precedence. In the wake of his passing, several old Neil Peart interviews have been unearthed, reposted and shared across the internet, and John over at Cygnus-X1.net has been compiling a growing list of these interviews from over the years at this location. There has also been a surge in downloads, purchases and steaming of Rush's music since Peart's death, with the band's The Spirit of Radio: Greatest Hits 1974-1987 re-entering the Billboard 200 album charts at #45, and 2112 entering the Rolling Stone Top 200 Albums chart at #45.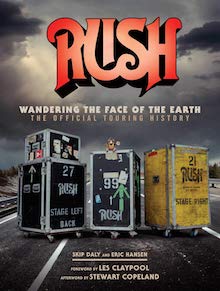 One of the most popular Rush books of the past year (or past decade) was Skip Daly and Eric Hansen's new book Rush: Wandering the Face of the Earth: The Official Touring History which officially released back on October 29th, and is currently available to purchase via Amazon and other retailers. The authors were interviewed recently (prior to Neil Peart's passing) for Ultimate Classic Rock to discuss the book, its origins and all the painstaking research that went into it. You can read the entire interview online here. As is apparent from the book's title, Rush: Wandering the Face of the Earth chronicles Rush's entire decades-spanning touring history, including setlists, opening acts, new imagery and every noteworthy moment meticulously researched and vetted by the band themselves. The book also includes a foreword by Primus front-man Les Claypool, an afterword by Police drummer Stewart Copeland and an introduction by Rush lighting director Howard Ungerleider. Several preview pages and scans can be seen in this post and also here. John over at Cygnus-X1.net has also posted a preview including Claypool's foreword along with some more photos from the book which you can check out at this location.
The Aircraft Owners and Pilots Association recently added 20 more tunes - including Rush's Fly by Night - to a growing aviation playlist of more than 70 songs and four hours of listening:
Fly by Night recognizes the genius of Rush drummer and writer Neil Peart, who died of cancer in January. Bassist Geddy Lee sings Peart's poignant lyrics, "Fly by night, away from here, Change my life again, Fly by night, goodbye my dear, My ship isn't coming and I just can't pretend."
In light of the Rock and Roll Hall of Fame recently announcing their slate of inductees for the class of 2020, Troy Smith of Cleveland.com updated his rankings of every Rock Hall inductee from best to worst (or from best to Bon Jovi as he jokingly describes it). Rush is in the middle of the pack at #136 out of 227. You can check out the complete list online at this link.
Rush's Signals album was the subject of Classic Rock's Album Of The Week Club review this past week:
Following the live Exit... Stage Left, Rush simply picked up from Moving Pictures and added more keyboards. Lots more. The result was an album that split the band's following clean down the middle. Where Signals saw the trio beginning to experiment with keys, played by bassist/vocalist Geddy Lee, it meant that the potency of Alex Lifeson's guitar was sometimes sacrificed. For some, this was tantamount to heresy. However, The sheer quality of songs like New World Man, Subdivisions and The Analog Kid render such quibbles pointless. ...
Rush's All the World's a Stage is the subject of Danny Bowes' Pocket Money Pick column in the December, 2019 issue of Planet Rock magazine (thanks RushFanForever). Planet Rock reader John Hatchard relays his story about his purchase of the album back in 1979:
January 1979, the Saturday morning ritual of descending into the record section of the local department store in Belper, Derbyshire. I had been convincing myself that I must add a double live rock album to my modest collection, but what to choose? Over that Christmas, my ears were turned by Tommy Vance and his listeners' End Of Year Poll and I heard Rush's 2112 for the first time. It blew my mind and transported me into a sci-fi concept rock heaven! So when I went in to purchase Purple's Made In Japan my eyes were diverted to Rush's All The World's A Stage. At £5.95 I was pushing my budget to the absolute maximum but the label read, 'Canadian Import TRIPLE gatefold sleeve', and 2112 consumed nearly a whole side, so it was a no brainer. This space cadet was hooked. "Would you please welcome home Rush" as Alex Lifeson ripped into Bastille Day. Amazing!! knew I had chosen well. The meek shall inherit the earth and spend their pocket money wisely!
There are hundreds of videos featuring Neil Peart that could be chosen as a tribute to his life and legacy, but I chose one in particular to feature in this first Friday Rush updates post since his passing. It's video of Neil in his element - at Rush's final performance in Los Angeles back in 2015 - doing what he did best, with his two musical brothers in front of thousands of appreciative fans. Rest in peace Professor:

That's all for this week. Take care everyone.