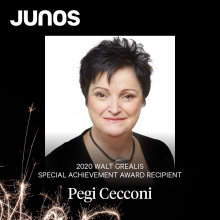 The Canadian Academy of Recording Arts and Sciences announced earlier this week that longtime Anthem/SRO Vice President Pegi Cecconi will be presented with the 2020 Walt Grealis Special Achievement Award at this year's Juno Awards. In her multiple roles as part of Rush's management company and record label over the past 50 years, Cecconi was an instrumental part of the band's development and success. From her bio on the Juno Awards website:
A master in her field, Cecconi is a savvy and determined business woman who has nearly 50 years of experience in the music industry with diverse roles ranging from booking, legal and all aspects of artist management including publishing, recording, record production and merchandising. Having served as Vice President of SRO Management Inc. and independent record label Anthem Entertainment Group for much of her career, Cecconi has played a pivotal role in the development and success of numerous artists, including Canadian Music Hall of Fame inductees Rush and Steven Page (Barenaked Ladies), songwriter Ian Thomas, Gowan, Matthew Good, Molly Johnson, and The Tea Party. Currently, Cecconi serves as a consultant for Anthem Entertainment. ...
The Walt Grealis Special Achievement Award recognizes individuals whose work has significantly impacted the growth and development of the Canadian music industry, and is named after Walt Grealis, legendary Canadian publisher and co-founder of the JUNO Awards. Cecconi spoke with CelebrityAccess about the award and had the following comments:
"I'm honoured to be receiving this award that gives recognition to my life's work and passion for business and the Canadian music industry," said Cecconi. "From my humble beginnings booking bands in high school to working with Ray Danniels and Rush, I am thankful for everyone that has been along for the ride with me. It took 50 years in the industry for someone to make me speechless, and Allan did that when he called to share this news."
Cecconi was also interviewed by FYI Music News to discuss the award and her long career in the Canadian music industry:
... "I love business," Cecconi said recently over a cup of tea at her Toronto abode as she defined what made her successful. "I was very practical. I just followed my gut, because if I thought something would work, it generally did." Admitting that she loves to tear through contracts "like a Harlequin Romance," and "find money" to fuel the Rush engine, Cecconi was also quick to recognize her limitations. "I don't have ears," she confesses. "Rush would come to me with a song and say, you pick it - because if you pick it, we're not going with it." She breaks out into laughter, but then becomes reflective with one of her few regrets. "I wish I had gone out on my own," she laments. "I wish I had the nerve to go out on my own. My problem was, I was just business. "I've never been aggressive. But I am aggressive with other people's money." ...
The award will be presented at the 49th Annual JUNO Gala Dinner & Awards on Saturday, March 14th at the WTC Saskatoon at Prairieland Park in Saskatoon, SK. The JUNO Awards will take place the following evening, Sunday, March 15, at the SaskTel Centre, and will be broadcast live on CBC, CBC Radio One, CBC Music, the free CBC Gem streaming service in Canada and globally at cbcmusic.ca/junos.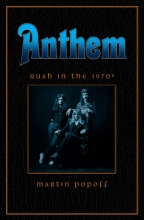 Music writer Martin Popoff will be releasing a new Rush book later this year titled Anthem: Rush in the '70s. The book will be the first of a 3-part Rush Across the Decades series, and is the fourth Rush book from Popoff who also authored the 2004 Rush biography Contents Under Pressure, 2013's Rush: The Unauthorized Illustrated History (an updated edition was released back in 2016), and - most recently - Rush: Album by Album in 2017. Anthem: Rush in the '70s is currently slated for release in May, 2020 and can be pre-ordered at this location. Due to his time spent working on the book, Popoff has "Rush on the brain" and made the band and their fans the inspiration for the latest episode of his History in Five Songs podcast titled Brain Augmentation for Rush fans. In the podcast, Popoff tries to help fans "move beyond Rush" by introducing them to 5 songs by bands that he thinks Rush fans would also enjoy; Max Webster, Nomeansno, Voivod, Dream Theater and Porcupine Tree. You can listen to the podcast below or at this location.

Two years ago Rush's 2112 album was awarded the 2018 Slaight Family Polaris Heritage Prize and a series of commemorative prints were made available to mark the occasion. The prints quickly sold out, but they now have some more in stock. You can purchase one of the prints via the Polaris Music Prize store (just do a search for Rush).
Wine critic Antonio Galloni recently published a 2019 Year in Review post to his online wine publication Vinous. In the article Galloni reminisces about some of his more memorable moments from the past year, including a visit with Rush's Geddy Lee:
... I took advantage of a trip to Toronto to catch up with Geddy Lee, whom I first met a few years earlier at one of our events. Of course, I knew the music inside out, but I was also deeply intrigued by Geddy's new book Geddy Lee's Big Beautiful Book of Bass, a compendium that threads together basses of historical significance along with the instruments that played such an integral role in his work with Rush.

We started with a tour of the many instruments that are scattered throughout the living room. "These are good enough to be really intriguing, but not good enough to record with," Geddy told me as he showed me a number of wild, eccentric basses built by Italian luthier Antonio Vandrè Pioli. "I would show you the wine cellar, but I am sure you have seen it all," he said as we headed down to the studio. "This is where (Rush guitarist) Alex (Lifeson) and I do lot of composing."

"Here, try this one," Geddy said, handing me rare vintage guitar after guitar. I sat there playing snippets of Rush songs and other favorites during a conversation that wove together threads of music, wine and life. Occasionally, Lee would grab one of his favorite basses and demonstrate. "I love this 1962 Fender Jazz," he told me. "I played it with Yes at their Rock 'n' Roll Hall of Fame induction and it's become one of my favorite instruments since then," he added. (Original Yes bassist Chris Squire passed away in 2015). ...
Long Island-based hardcore rockers Rule Them All were recently featured for an article on NoEcho.net where they asked the band about some of the more unlikely influences that inspired the music on their new EP Dreams About... One of the bands mentioned was Rush (thanks RushFanForever):
Jon Gusman (vocals): I've had a pretty strong love for Prog Rock since I was 12 which I'm definitely a lot more open about now than I was in past years but for any prog head, Rush is as good as it gets. When Richie and I started fleshing out the ideas he wrote for the songs on Dreams About..., I started noticing that he was sneaking in some odd time signatures and tempo changes. I obviously had no issue with that because I felt that we were exploring new ways to make our song structures more stimulating. I think the amount of time I've spent listening to Permanent Waves and 2112 really shaped the way I think about lyrics as well. Not that I'm writing full concepts like "Bytor and the Snowdog" but I really like the idea of imagery in my lyrics. Not to mention, being a drummer first, Neil is God.

Richie Armour (guitar): I'm obsessed with trying to incorporate open strings and chords into every song we write and Alex Lifeson is the king of that. He has a way of finding unique voicings to make all his chords sound huge and his style has been embedded into my guitar playing DNA. Rush rules.
Blue Oyster Cult guitarist Buck Dharma was recently interviewed for Ultimate-Guitar.com and spoke a little about some of the bands that opened for BOC back in the early '70s including Rush:
... "Yeah, many bands that opened up for Blue Öyster Cult went on to be bigger bands than Blue Öyster Cult. ... "All those bands are really good, all those bands deserve the success that they had, and it was great to play with them when we did. "We're really friendly with Rush" ...
ThatHashtagShow.com posted a retrospective profile of Rush to their site this past week, serving as an introduction to an upcoming series of articles over the next few weeks where they will be covering the band and their storied career:
... Over the next few weeks, we'll review each album in this storied band's rock career, highlighting the highs and lows, sharing stories and peeling back the layers on this talented trio's 40 years of touring, making music and entertaining fans around the globe. We'll cover their early days, from opening for KISS and Aerosmith, to their final tour of 2015. Sit back, relax, and get ready to have your senses taken to the max. Ladies and gentlemen, here comes 40 years of Rush!
This coming Tuesday, January 14th marks the 40th anniversary of the release of Rush's 7th studio album - 1980's Permanent Waves. The album was recorded in the Fall of 1979 at Le Studio in Morin Heights, Quebec and was produced by Terry Brown. Permanent Waves was Rush's first top 5 album, reaching as high as #4 on the Billboard album charts. It was certified Gold by the RIAA on March 17, 1980 and Platinum on November 9, 1987. Its first single was The Spirit of Radio which hit #51 on the Hot 100 charts and is a regular staple of rock radio to this day. The band is planning to release a Permanent Waves 40th anniversary box set later this year, although no details or exact release date is yet available. Here's the band performing the album's 2nd track, Freewill, from their Snakes & Arrows Live concert video:
That's all for this week. Have a great weekend!!
PW 40th on Tues Jan 14