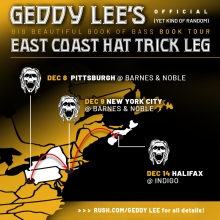 Rolling Stone magazine recently sat down with Rush's Geddy Lee for a short interview in the lead-up to his Big Beautiful Book of Bass East Coast signing events this coming week. In the interview Geddy shares his five favorite songs with distinctive bass parts, which are The Who's My Generation, Cream's Crossroads, Led Zeppelin's What Is and What Should Never Be, Weather Report's Teen Town, and YES' Roundabout, about which he had the following to say:
Another hit song driven by an outrageously complex and rockin' bass line. I could have chosen any one of a dozen Yes songs that shows off the melodic and rhythmic genius that was Chris Squire. It was a pure privilege to play this song with Yes in 2017 at their (long overdue) induction into the Rock and Roll Hall of Fame.
You can read the entire interview online at this location. Geddy will be signing copies of his book at Barnes & Noble stores in Pittsburgh and New York City this coming Sunday, December 8th and Monday, December 9th respectively; and he'll also make a stop at Indigo in Halifax on Saturday, December 14th. For all the details and to purchase tickets, visit rush.com/geddylee.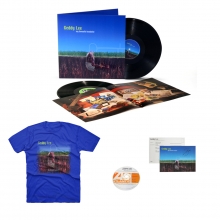 Speaking of Geddy, last Friday was Record Store Day's big Black Friday event, and Rush participated with a limited edition, 2-LP vinyl release of Geddy Lee's My Favorite Headache solo album as seen in this listing on the Record Store Day website. The limited edition release includes two additional bonus tracks - instrumental versions of both My Favourite Headache and Home on the Strange. If you weren't able to obtain a copy this past Friday, earlier this week the Rush Backstage Club started selling a My Favorite Headache vinyl bundle that includes the 2-LP release (minus the bonus instrumental tracks) along with a Geddy Lee MFH Blue T-shirt, a promo CD from the archives, and an autographed MFH postcard. You can order your MFH bundle at the Rush Backstage Club here.
Early last month, longtime Rush album artist Hugh Syme appeared at Renditions Fine Art, Framing, & Photography in Indianapolis to open up his new art exhibit titled The Artwork of Hugh Syme, which features 12 Rush images and more than 20 non-Rush pieces, and will be on display through February 21st. Syme was on hand to mingle with fans and sign copies of his Art of Rush book. The Indianapolis Star posted an article earlier this week announcing that he'll be hosting another such signing event at the gallery on Saturday, December 14th from 5-8 PM. The article also include an interview with Syme where he describes his long-running relationship with Rush and their artistic vision:
... "A lot of times Rush wasn't ready to send me music," ... "Neil would send me lyrics, or he would send me the album title. When I heard 'Moving Pictures,' I said, 'We're going to have some guys moving pictures.' Without question, I knew that immediately." ... Syme said the members of Rush also showed a sense of humor when approving his idea for 1982's "Signals": a photo of a Dalmatian sniffing a fire hydrant. ... Syme's iconic designs include the "Starman" who debuted with the album "2112" and the "Hemispheres" album cover featuring two men standing on a brain. ... The first Rush cover designed by Syme was 1975's "Caress of Steel," at the invitation of the band's manager, Ray Danniels. "I remember thinking, 'Well, they're not Genesis or Steely Dan, but why not?' I was almost dismissive," Syme said. "I had no clue that this would lead to a 42-year marriage." ...
In coordination with the exhibit, Rush has also opened up an online Art of Rush Gallery store where fans can purchase beautiful framed fine art prints featuring Syme's Rush album art. You can check out all the framed prints and make a purchase at artofrush.shop.musictoday.comstore.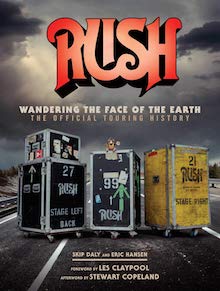 Skip Daly and Eric Hansen's new book Rush: Wandering the Face of the Earth: The Official Touring History officially released back on October 29th, and is now available to purchase via Amazon and other retailers. The book was recently featured in a Sirius XM Canada holiday gift guide where they say the following:
if you're like me, you're still getting over the fact that Rush has called it quits. They Holy Triumvate of Geddy Lee, Alex Lifeson and Neil Peart went out on a high with their amazing R40 tour, and the fact that the guys are steadfast in the band's finality means Wandering The Face of the Earth is going to forever be accurate. The giant tome from Insight Editions covers the band's entire touring history, complete with photos, setlist rundowns, and so much more. The book weighs a ton and leaves no stone unturned in detailing the Rush live experience. ...
As is apparent from the book's title, Rush: Wandering the Face of the Earth chronicles Rush's entire decades-spanning touring history, including setlists, opening acts, new imagery and every noteworthy moment meticulously researched and vetted by the band themselves. The book also includes a foreword by Primus front-man Les Claypool, an afterword by Police drummer Stewart Copeland and an introduction by Rush lighting director Howard Ungerleider. Several preview pages and scans can be seen in this post and also here. John over at Cygnus-X1.net has also posted a preview including Claypool's foreword along with some more photos from the book which you can check out at this location.
Classic Rock posted their list of the 50 best rock bands of all time as voted by readers this past week, and Rush made the cut at #3:
It's hard to believe that when Rush released their debut in 1974 everyone had them pegged as Led Zep copyists. Forty-four years and a zillion albums later, it's harder to judge which is more unlikely: (a) that they lasted so long or (b) that they've done so on the strength of hiring drummer/lyricist Neil Peart to replace the long-forgotten John Rutsey. Rush's four decade run is a riddle, wrapped in a mystery, inside the enigma that is the famously fan/limelight-avoiding and well-read Peart. Yet Rush are a three-piece band of equal parts, and similar attention is long overdue for Geddy Lee and Alex Lifeson. ...
Ultimate-Guitar.com posted their list of the Top 20 Guitar Solos of 2010s this past week, and Alex Lifeson's solo from The Garden made the list at #18:
The news of Rush calling it quits was met with sadness from all the lovers of progressive rock. But when you look at it, the power trio had a long and fruitful run, with Alex Lifeson making a huge impact on the guitar world. Released in 2012, "Clockwork Angels" is the band's final studio album, and it features a beautiful lead section by Mr. Lifeson. Simple and to the point, yet no one else other than him could write such a solo.
Metal Injection's Greg Kennelty posted his list of Greg's 150 Albums By 150 Bands You Should Hear From The Past Decade this past week and Rush's 2012 swan song Clockwork Angels made the cut:
Clockwork Angels is a concept album about alchemy, magic, anarchists, and the unseen Watchmaker. One of Rush's best.
Red Hot Chili Peppers bassist Flea was recently interviewed for CBS This Morning to talk about his new memoir Acid for the Children, and briefly mentions Rush at about the 5-minute mark. When telling the story of how he met original RHCP guitarist Hillel Slovak, he mentions how Slovak was driving down the street in his green Datsun, cranking Rush's La Villa Strangiato on the stereo. You can watch the interview online here (thanks Thomas P).
Drummer Mark Feldman was recently interviewed for the Performance Anxiety podcast to discuss how he wound up with Neil Peart's Chromey drum kit, how he earned an MBA from Columbia and became a suit in the music business, and how he got back to drumming. For those not familiar with the story, in 1987 Feldman submitted a drum solo to Modern Drummer's first ever drum solo competition, which was judged by Neil Peart. Peart selected Feldman's solo as one of the top 3 out of over 1,700 submissions, and his prize was Peart's chrome Slingerland drum kit (colloquially referred to as Chromey) that was used on early Rush tours and on the 2112 album. You can listen to the podcast here or on YouTube (thanks RushFanForever).
It's now December and winter is fast approaching, so this seems like an appropriate time for some winter advice from Geddy Lee:
Have a great weekend everyone!!