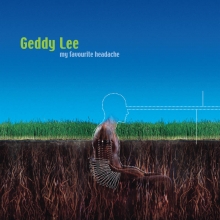 This past November 14th marked the 19th anniversary of the release of Geddy Lee's one and only solo album, My Favorite Headache. The album will be released on vinyl for the first time for Record Store Day Black Friday this coming Friday, November 29th as seen in this listing on the Record Store Day website. The listing also indicates that it will include two additional bonus tracks - instrumental versions of both My Favourite Headache and Home on the Strange. The release is currently listed as an RSD Exclusive Release limited to 2500 units - which means it won't be made available outside of participating retailers on Record Store Day (as opposed to an RSD First Release, like the RSD Hemispheres 12-inch picture disc from earlier this year). For a full list of participating stores, go to the Record Store Day website.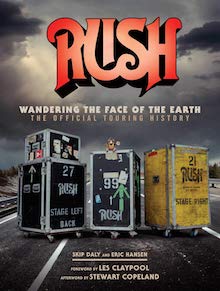 Skip Daly and Eric Hansen's new book Rush: Wandering the Face of the Earth: The Official Touring History officially released back on October 29th, and is now available to purchase via Amazon and other retailers. The book was recently featured in Ultimate Classic Rock's Classic Rock Books 2019 Year in Review post where they say the following:
A thorough chronology covering Rush's impressive touring career, 'Rush: Wandering the Face of the Earth' highlights every aspect of the band's performing evolution. Readers witness the group's rise from Canadian bar band to arena-rock staples, with every show along the way mapped out in meticulous detail. Every set list and opening act is provided, along with previously unreleased images from the band's extensive touring life.
As is apparent from the book's title, Rush: Wandering the Face of the Earth chronicles Rush's entire decades-spanning touring history, including setlists, opening acts, new imagery and every noteworthy moment meticulously researched and vetted by the band themselves. The book also includes a foreword by Primus front-man Les Claypool, an afterword by Police drummer Stewart Copeland and an introduction by Rush lighting director Howard Ungerleider. Several preview pages and scans can be seen in this post and also here. John over at Cygnus-X1.net has also posted a preview including Claypool's foreword along with some more photos from the book which you can check out at this location.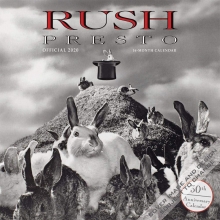 BrownTrout Publishers and Rush released their official 2020 Rush wall calendar this past Summer. The calendar celebrates yesterday's 30th anniversary of the November 21, 1989 release of Rush's Presto album and can be purchased at this location. John over at Cygnus-X1.net has also scanned the entire calendar and made the images available for viewing online at this location.

Edge Factor's Masters of Resonance documentary, which features Neil Peart and the R40 drum kit, will premiere for FREE on YouTube this coming Wednesday, November 27th at 7PM EST. Producers/directors Larissa Hofman and Jeremy Bout will be conducting a live chat during the premiere where they will be answering questions from viewers. The film first hit the film festival circuit last year, and has been available on paid streaming services ever since. To watch the FREE premiere, go to the YouTube Premiere page and set a reminder. For more information about the film and to keep up on the latest news, visit the website at mastersofresonance.com, and follow them on Facebook and Twitter. You can watch the trailer on YouTube at this location.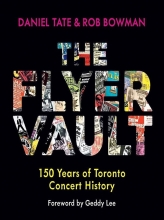 Daniel Tate and co-author Rob Bowman have just released a book version of Tate's popular Flyer Vault Instagram page, where he has shared thousands of Toronto-area music flyers that he has collected over the years. The book is titled The Flyer Vault: 150 Years of Toronto Concert History and includes a foreword by Rush's Geddy Lee, which is available to preview on Google Books here. The book is now available for purchase at this location.
Loudwire.com recently posted their list of The 66 Best Rock Albums of the Decade and Rush's 2012 swan song Clockwork Angels made the cut (thanks Carlos P):
With bands who have been around since the '70s, you always have to treat any new album as if it will be their last. Unfortunately, that's the reality with Rush's swansong, Clockwork Angels, as Neil Peart retired after the band's R40 anniversary tour celebrating four decades of world-class prog. Canada's finest went out on a remarkable high, demonstrating their enduring abilities as elite songwriters. Snakes and Arrows was loaded with hooks, but lacked some heaviness, which this record more than makes up for with burly bass licks from the inimitable Geddy Lee, some of Alex Leifson's most aggressive playing and Peart's locomotive percussion throwing coal into Rush's timeless engine. Oh, have you ever slowed down the 45 vinyl single of "BU2B" to 33rpm? It's the best hardcore beatdown you've never heard. You're welcome. - JD
Metal Hammer magazine recently posted an article/guide titled 70s metal: a guide to the albums that started it all and Rush's 1976 2112 album is included (thanks RushFanForever):
A concept album based on the writings of obscure right-wing author Ayn Rand and performed by three Canadians, one of whom - drummer Neil Peart - sported a silly moustache. Yep, a recipe for... sheer metal brilliance. Not only was this the album that broke Rush to an wider audience, but such was the bravura, technique and self-assured perspective that 2112 remains almost untouchable as the pinnacle of conceptual metal. Some interpreted this as proof that Rush held staunch right-wing opinions, some took it simply as artistry turned up to 11.
Earlier this week, Metal Hammer also posted an article where they asked Prognosis guitarist/vocalist Phil Weller to name his 10 favorite metal riffs with odd time signatures and Rush's La Villa Strangiato was among his selections (thanks RushFanForever):
"Rush are masters at odd times and a leftfield approach to songwriting that I've always found inspiring. They particularly use measures of 7/8 brilliantly, chopping off an eighth note off just can give a riff a real snappiness whilst still keeping a groove you can really get into. La Villa Strangiato does this absolutely perfectly; it's one of those riffs that really gets the blood pumping."
The Greenwood Index Journal posted a story recently where the author highlights a few of the more interesting tidbits contained in Robert Dimery's 2010 book 1001 Songs You Must Hear Before You Die - And 10,001 You Must Download, including Rush's Tom Sawyer (thanks RushFanForever):
"A contemporary take on Mark Twain's 'The Adventures of Tom Sawyer' busted them out of the prog ghetto. Ominous synths, bassist Geddy Lee's distinctive vocals, Alex Lifeson's blistering guitar, and Neil Peart's spectacular drumming were par for the course. But the song had a weirdly funky feel, hence its sampling by hip-hop acts including Mellow Man Ace and Young Black Teenagers."
UDiscoverMusic.com posted an article earlier this week titled the Oldest Bands In Music: 30 Acts That Defy The Laws Of Age And Time, and Rush made the cut at #22:
Though they didn't set any longevity records, 44 years together is no slouch, with the familiar Rush trio of Alex Lifeson, Geddy Lee and latecomer drummer Neil Peart remaining stable from 1974-2018. By the time they wound it down, Rush's musical synchrony was unmatchable. Year formed: 1968
The subject of Ultimate-Guitar.com's Friday Top 25 this past week was 25 Unsung Heroes of Rock and Metal, and Alex Lifeson was included at number 9:
There won't ever be a band like Rush. Period. What they did with only three members, some other groups can't do with even an entire orchestra of backing musicians. And while everyone seems to focus on Geddy Lee and Neil Peart, the UG community argues that Alex Lifeson is the true unsung hero of the band and rock music in general.
According to this Facebook post from The Canadian Music Scene, Alex Lifeson is no longer co-owner of The Orbit Room nightclub in Toronto. Lifeson and co-owner Tim Notter founded the club back in 1994, and the club recently celebrated its 25th anniversary:
Tim Notter has asked that we inform everyone, especially RUSH fans that Alex Lifeson has given up his interest in the Orbit Room. Alex will not be participating in the fund raiser...

We would like to thank Alex for his many year's of being a part owner and support of the club... We have had many great times there over the 20+ years that we have been enjoying some of the best live music that Toronto has to offer, that being said, great music is still being played and the fundraiser will be one hell of a great event!!!
Here are a couple of old videos featuring Alex from when the club first opened, including the chick watching window and the smoke eater.
That's all for this week. For all my fellow US readers, have a happy Thanksgiving holiday next Thursday. Have a great weekend everyone!!