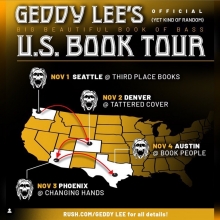 Geddy Lee wrapped up the latest leg of his Big Beautiful Book of Bass signing tour this past Monday at BookPeople in Austin; he kicked off the 4-date stint last Friday at Third Place Books in Seattle. The tour also included stops at Tattered Cover Book Store in Denver on Saturday, and at Changing Hands in Phoenix on Sunday. Fans attending the signing events have been canvasing social media with photos, which I've been accumulating on the RIAB Twitter feed, so check that out and share your own photos as well - I'll retweet as I come across them. No further signing events have been announced as of yet, but there's always a chance that Geddy will try to squeeze in a few more before the Holidays. Stay tuned for any updates.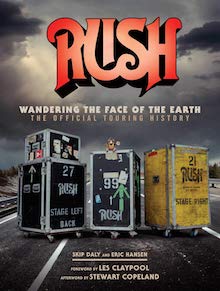 Skip Daly and Eric Hansen's new book Rush: Wandering the Face of the Earth: The Official Touring History officially released back on October 29th, and is now available to purchase via Amazon and at bookstores. The book's publisher Insight Editions will be hosting an official book signing and launch party at Toronto's Another Story Bookstore tomorrow, November 9th. The event will feature a signing with the book's authors, followed by a Q&A discussion moderated by Skip and Eric and special guests, including Andy Curran, Gary 'Doc' Cooper, Bill Rutsey, and more (although no band members are scheduled to appear unfortunately). You can get all the details via the Another Story website or the Facebook event page. As is apparent from the book's title, Rush: Wandering the Face of the Earth chronicles Rush's entire decades-spanning touring history, including setlists, opening acts, new imagery and every noteworthy moment meticulously researched and vetted by the band themselves. The book also includes a foreword by Primus front-man Les Claypool, an afterword by Police drummer Stewart Copeland and an introduction by Rush lighting director Howard Ungerleider. Several preview pages and scans can be seen in this post and also here. John over at Cygnus-X1.net has also posted a preview including Claypool's foreword along with some more photos from the book which you can check out at this location. Author Skip Daly also shared some teaser photos and book excerpts to his Facebook page, including this post about early Rush friend/driver Doc Cooper. The authors were recently guests on the Something for Nothing podcast for a 45-minute interview where they talk about their Rush fandom, the book and how it came about. You can listen to the podcast below or online at this location.
You can order Rush: Wandering the Face of the Earth on Amazon at this location.
Primus returned to the road this past Saturday night for their first show since January, playing the ExploreAsheville.com Arena as a support act for the final leg of Slayer's farewell tour. Halfway into their set the band busted out a partial cover of Rush's Cygnus X-1 Book One: The Voyage, playing an abridged version of the song's Prologue section as seen in this fan-shot video. Although Claypool often teases a small portion of the song in concert, this was the most complete version of the song that the band has played in nearly 20 years. Better yet, it looks like the performance was not just a one-off; the band has been playing the cover as a regular part of their set all this past week. Here's another, better quality video of the song from Wednesday night's performance in Hershey.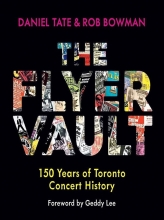 Daniel Tate and co-author Rob Bowman have just released a book version of Tate's popular Flyer Vault Instagram page, where he has shared thousands of Toronto-area music flyers that he has collected over the years. The book is titled The Flyer Vault: 150 Years of Toronto Concert History and includes a foreword by Rush's Geddy Lee, which is available to preview on Google Books here. The book is currently available in Canada and will release in the US on November 19th; it can be pre-ordered at this location.
The Cleveland Plain Dealer posted their list of 100 essential guitar tracks by Rock and Roll Hall of Famers this past week and Rush's La Villa Strangiato made the cut at #75:
It doesn't really get bigger than this. "La Villa Stangiato" runs for more than nine and a half minutes with Alex Lifeson delivering the musical version of a dream he had using various guitar techniques and sounds.
Alan Cross posted a story to his A Journal of Musical Things blog this past week on the true story of CFNY and Rush's Spirit of Radio. The article references a recent podcast interview with former CFNY program director David Marsden where he tells the story of how Rush's manager Ray Danniels contacted him prior to the release of Permanent Waves. He told Marsden that the band listened to the station, and wrote the song The Spirit of Radio about it, but didn't want to reference the station directly in the song thinking that other stations wouldn't play it if that were the case. You can listen to Marsden tell his story in this YouTube video. In the article Alan Cross gives some background on his own connection with the song and CFNY:
... I started scanning the lyrics in the liner notes. At the end of the lyrics for the first song was a little footnote: "Dedicated to the Spirit of Radio, alive and well and living in Brampton [Toronto suburb where CFNY was located] so far." Cool, I thought. It's a song about a radio station. Wouldn't it be cool to work there one day? That's exactly what happened to me, of course. In fact, I've been associated for the station for more than 30 years now. Who would have guessed?Rush was cool enough to give the radio station a platinum album award that hung at CFNY for years. That record was later given to me and now hangs in my home office. ...
The latest edition of The Mighty Decibel podcast features a discography review of Rush's entire catalog, from Rush to Clockwork Angels, including selected highlight tracks. You can listen to the podcast online at this location.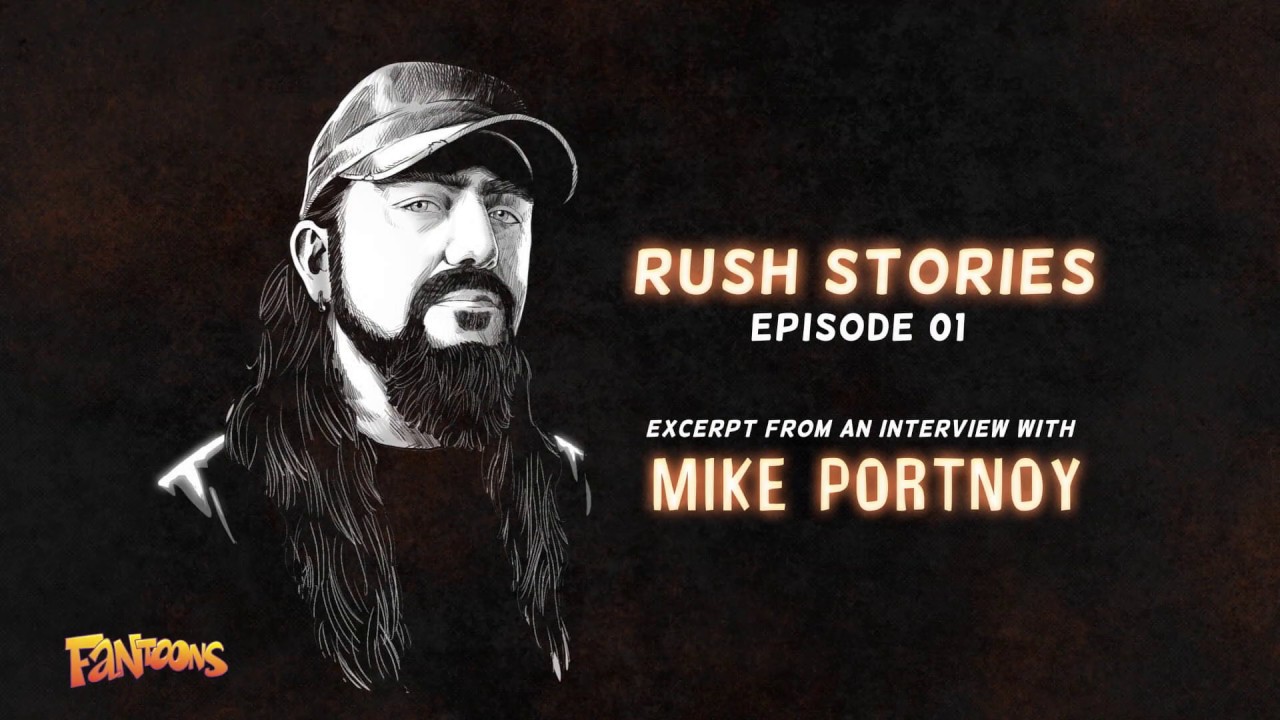 FANTOONS has launched a new video short series called Rush Stories which features celebrity Rush fans telling their own personal "Rush stories". The first video in the series debuted earlier this week and features drummer Mike Portnoy telling a great story about camping out in line for Rush tickets on the band's Power Windows tour which you check out below or on YouTube. Future episodes will feature Eddie Trunk, Paul Gilbert and others. FANTOONS recently released a new graphic novel on the making of Rush's Farewell to Kings which is available to purchase at Amazon.com and other retailers, or via the official FANTOONS online store at fantoons.shop. To learn more about all of the other officially-licensed Rush merchandise available from FANTOONS, be sure to check out their online store, and follow them on Facebook and Twitter.
That's all for this week. Have a good weekend everyone!