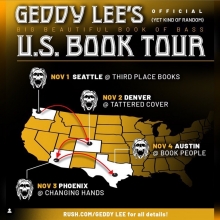 Geddy Lee will kick off another string of US book signing events for his Big Beautiful Book of Bass later today at Third Place Books in Seattle. He'll be at Tattered Cover Book Store in Denver on Saturday, at Changing Hands in Phoenix on Sunday, and at BookPeople in Austin on Monday. In the lead up to his Sunday signing event in Phoenix, Geddy took some time out to speak with the Phoenix New Times for an interview where he talks about the book and his vintage bass obsession. Here's what he had to say about Rush fans and the band's legacy:
... our fan base is quite unusual and I think it's because we were never a prototypical rock radio band. We didn't do short songs. We didn't encroach upon the world's top 40 very often. Every once in a while one of our songs would accidentally sneak into the top 40, but our raison d'etre was always to do long and complex, and in the view of some people self-indulgent, musical pieces. And so, as a result, people discovered Rush through word by mouth and by experiencing us live. I think people love to have a favorite band or a favorite thing that not everybody knows about. And that engenders a kind of loyalty-that's how cult bands are. And I think that's what happened with our band.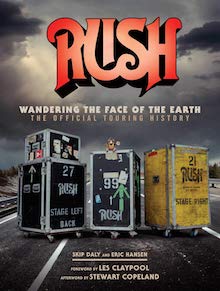 Skip Daly and Eric Hansen's new book Rush: Wandering the Face of the Earth: The Official Touring History officially released this past Tuesday, and is now available to purchase via Amazon and at bookstores. The book's publisher Insight Editions will be hosting an official book signing and launch party at Toronto's Another Story Bookstore next Saturday, November 9th. The event will feature a signing with the book's authors, followed by a Q&A discussion moderated by Skip and Eric and special guests, including Andy Curran, Gary 'Doc' Cooper, Bill Rutsey, and more (although no band members are scheduled to appear unfortunately). You can get all the details via the Another Story website or the Facebook event page. As is apparent from the book's title, Rush: Wandering the Face of the Earth chronicles Rush's entire decades-spanning touring history, including setlists, opening acts, new imagery and every noteworthy moment meticulously researched and vetted by the band themselves. The book also includes a foreword by Primus front-man Les Claypool, an afterword by Police drummer Stewart Copeland and an introduction by Rush lighting director Howard Ungerleider. Several preview pages and scans can be seen in this post and also here. John over at Cygnus-X1.net has also posted a preview including Claypool's foreword along with some more photos from the book which you can check out at this location. Author Skip Daly also shared some teaser photos and book excerpts to his Facebook page, including this post about early Rush friend/driver Doc Cooper. You can order Rush: Wandering the Face of the Earth on Amazon at this location.

The Kidney Foundation of Canada's annual A Brush of Hope charity auction fundraiser ended earlier this week and Alex Lifeson's acrylic painting titled Minus 20 ended up selling for a whopping $13,250 CAD with over 100 bids! Alex has participated in the auction nearly every year since 2006, helping to raise nearly $100K CAD for Kidney research. For all the latest news and information on A Brush of Hope be sure to follow A Brush of Hope on Facebook.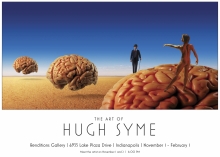 Renditions Fine Art, Framing, & Photography in Indianapolis will be hosting longtime Rush album artist Hugh Syme and his artwork for an art exhibit this weekend titled The Artwork of Hugh Syme. The exhibit will be open tonight from 6-10PM and tomorrow night from 6-8PM. From the Facebook event page:
We are so excited to announce The Artwork of Hugh Syme coming to Renditions Fine Art, Framing, & Photography. Hugh was the art director for the Canadian rock band Rush from 1975-2018 and has done album covers for countless other bands and performers. Stop by from 6:00 to 10:00 on Friday, November 1st or from 6:00 to 8:00 on Saturday, November 2nd to meet Hugh, see some limited edition, signed album art and all the other work he's been doing! Framed, signed & numbered prints will be available for sale. #hughsyme



Reader Will C let me know about a Rush 2112 reference in issue #5 of Marvel's Star Wars - Galaxy's Edge comic, which was published in late August. One of the stormtrooper's is referred to as RS-2112 as seen here.
Foo Fighter's drummer Taylor Hawkins was interviewed in the latest edition of Kerrang! magazine and he talks about Neil Peart's influence along with what it was like performing and paying tribute to Rush at their 2013 Rock Hall induction (thanks RushFanForever):
"It was heavy, man. We had a laugh with dressing up [as 2112-era Rush, kimonos and all] but that took the pressure off. It was beautiful, and another one of those days where you kind of catch yourself and say, 'Don't forget, you don't deserve this, you get to do this.' I'm sure there were plenty of other bands that came up loving Rush, saying, 'Why didn't we get to fucking do it?'. You know what, though? I think we did a good job and represented them well. Me and Dave grew up loving Rush. They're a great band for when you're a kid and you're trying to learn as many licks as you can. There's plenty someone can learn from a Rush record."
This Sunday, November 3rd will mark the 25th anniversary of Neil Peart's 1994 appearance on Politically Incorrect with Bill Mahr:
That's all for this week. Have a great weekend!