UPDATE - 10/23@12:15PM: Part 1 of the interview, which was published in the March, 2019 (#166) edition of the magazine has also been transcribed and scanned by John over at Cygnus-X1.net and made available online here.
UPDATE - 10/15@3:07PM: John at Cygnus-X1.net has the entire article transcribed and available online here.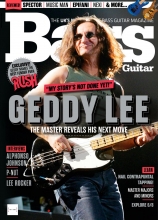 As we revealed last week, Geddy Lee is the subject of a cover feature in the latest edition of Bass Guitar magazine (issue #175). The cover tagline reads Geddy Lee: The Master Reveals His Next Move - "my story's not done yet", and the issue hit newsstands today. The interview focuses on Geddy's future plans including whether he'll continue making new music in any capacity, write another book, or even join another band.
... time will tell. Now that the book is done I will certainly try to put the basses to good use. They stare at me and it makes me feel very guilty. They're all looking at me, like 'Use me!' ...
Here's Geddy on whether any bands have asked for him to produce them:
I haven't been talking to people about production in a long time, since I started producing in the 80s - a couple of small productions. You know, I don't have the patience to sit there and do that for somebody else, because it's so hard - it's such a tough job. You have to really love being in a studio. You have to really wanna be a studio rat. Alex has a much better temperament for that than me. ... I like to come in in the morning when I'm fresh, and I like to work until five, and then I like to leave - and that's when Alex is just waking up! He likes to stay late, roll a bunch of doobies and go to work, but that's not me. I like to go home and uncork a nice bottle of wine and have my dinner, having put in a good day's work. That worked really well, because we would pass the baton, like 'Okay, bud, over to you. See you in the morning'.
On seeing his old bandmates socially:
Oh yeah, quite a lot. We're very close - I was just talking to Alex this morning. We try to get together regularly. I was just in LA three weeks ago, visiting Neil. You know, when the band ended, everybody had a different sort of response to that last show, so it took a little bit of time for everyone to sort it out in their own brains, how we were gonna move forward. At the end we just decided that the most important thing is that friends are friends. That's what comes first, so that's the way it's remained.
Here are his comments on whether his next book might be an autobiography:
It's funny, when I went to do this bass book, everybody wanted me to do one of those. They said 'We'll let you do this silly book, but how about an autobiography?' I don't think my story's done yet. It feels a bit premature. Maybe I'm kidding myself, but I don't quite feel like I'm ready to do that yet. I have other ideas for books, but they're not autobiographical.
And here's what Ged had to say about whether he's consider joining another band:
A few kind musicians have contacted me and asked me to do stuff with them and go on tour, but that's hard for me to do unless I really feel like I'm connected to it. I still have a hangover from Rush ... it might take me a little while to get past that!
Thanks to RushFanForever for the transcriptions.