UPDATE - 10/23@12:15PM: Part 1 of the interview, which was published in the March, 2019 (#166) edition of the magazine has also been transcribed and scanned by John over at Cygnus-X1.net and made available online here.
UPDATE - 10/11@11:30AM: Note: The issue will hit newsstands on October 15.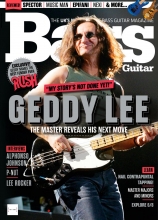 Geddy Lee is the subject of a cover feature in the latest edition of Bass Guitar magazine (issue #175). The cover tagline reads Geddy Lee: The Master Reveals His Next Move - "my story's not done yet". The magazine has posted a 12-page sampler of the issue online, which includes the cover and the first page of the article as transcribed here (thanks RushFanForever):
Geddy Lee led the prog-rock giants Rush from 1968 to 2018. That's 40 long years. Now that the ultimate power trio have called time, he's made his mark as an author - but enough about the past ... we want to know what his next move might be. Ellen O'Reilly puts the questions to the master.

Readers with keen memories will recall that we sat down with Geddy Lee a few months back to discuss his then-new publication "The Big Beautiful Book of Bass". In that interview we talked about the journey that the Rush frontman had been on during the creation of the book, but we didn't have space to fit our entire conversation into that issue - so here's the rest of the amazing afternoon we spent in conversation with Geddy.

Here, he covers the incredible depth with which he researched the history of the Fender Jazz bass - you'll know, of course, that he has a signature model of his own - as well as the choices that lie ahead of him. Once you've reached the very top of the rock world, shaken hands with your bandmates and walked away, what do you do with the rest of your life? It's not as easy a decision as you might think ...
The previous interview with Geddy that is referred to was in the March, 2019 edition (issue #166) of the magazine.