UPDATE - 8/20@10:50AM: Here's another short clip from the film:
----- snip -----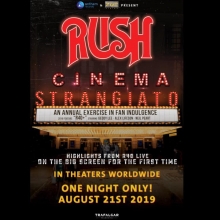 The first annual Cinema Strangiato theatrical film experience will hit movie theaters nationwide this coming Wednesday, August 21st for one night only. The film will bring Rush fans together for a special look into Rush's R40 Live tour, with new backstage footage, special guests, and performances. Tickets are still available at cinemastrangiato.com but are going fast, so get yours now. The film will open with an extended sequence about Geddy Lee's Big Beautiful Book of Bass titled Geddy Lee: Falling Down the Rabbit Hole, and the band has just released a new preview clip from it which you can watch below or online at this location. You can also watch the official, 1-minute trailer for the film below or on YouTube at this location, along with a preview of the band performing Distant Early Warning from the R40 Live tour (the same version included on the R40 Live bonus disc). Here are some more details about the film from a recent new Billboard article with Adam Jones of Nashville's ALJ Innovations, who edited the film:
... Weighing in at just over two and a half hours, Cinema Strangiato is a mongrel of sorts, blending 16 songs from the R40 Live film (from Rush's final and 40th anniversary tour in 2015) along with material and outtakes from the documentary Rush: Time Stand Still. It includes special video content Rush created for the tour as well as behind-the-scenes footage and a sound check sequence of "Jacob's Ladder" from the Los Angeles Forum that splices in a montage of other performances of the song from the tour. ... Cinema Strangiato opens with an extended sequence about Lee's bass collection, promoting Geddy Lee's Big Beautiful Book of Bass, which came out in December. Another highlight includes a performance of "Losing It" in Newark, N.J., with Jonathan Dinklage, a violinist from the 2012 Clockwork Angels Tour, while other rockers such as Tom Morello and his wife Denise, Smashing Pumpkins' Billy Corgan and producer Nick Raskulinecz tout Rush's virtues and influence in interview clips. ... Jones, a Rush fan himself who worked at Rounder Records while the band was signed there, is hoping Cinema Strangiato will be just the first of many "posthumous" film projects culled from Rush's vaults. "After this we'll go back and see what we've got and assess for the next (possibility)," he says. "This is a good start, and I hope the fans enjoy what we've done and want more so we can look forward to the next years of this." ...
Related Posts:
[Watch Distant Early Warning from Rush's upcoming Cinema Strangiato film, in theaters August 21st]
[Watch the official trailer for Rush's Cinema Strangiato, tickets now on sale]
[Rush's Cinema Strangiato coming to theaters for one night only on August 21st]