UPDATE - 8/21@2:50PM: John over at Cygnus-X1.net has transcribed/scanned the article and made it available online here.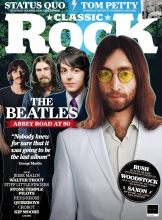 The latest edition of Classic Rock magazine (issue #266) includes a feature where they join Geddy Lee on the UK leg of his Big Beautiful Book of Bass signing tour this past June. Philip Wilding follows Geddy around and interviews both him and Rush fans attending the events. An excerpt from the article is available in this 18-page sampler that Classic Rock has made available online (screenshot here). Here's a passage describing the scene in the lead-up to Geddy's June 8th signing at London's Picadilly:
It's a balmy Saturday afternoon in London's Piccadilly, and the queue snaking out of the door of Waterstones bookshop goes around the corner, then disappears into an alleyway and doubles back on itself. It's like a slowly moving tableau of the history of Rush; every album cover represented on worn cotton, spread across a series of bellies, some more pronounced than others. Following this happy throng through the shop and down the stairs to the basement, I find a grinning Geddy Lee standing there, a marker pen in hand ready to sign literally hundreds of copies of his book, Geddy Lee's Big Beautiful Book Of Bass. Grown men walk through the door, see that the one-time Rush frontman is just a few feet away and gasp. One drops his iPhone, many nudge the person next to them and laugh almost hysterically. By the time they get to the signing table, Lee's manager Meg almost has to remind them to take a breath. Some freeze as they approach, glassy-eyed until Lee prompts them with: "Where have you come from today?" and "Do you play the bass?" There are people here from the US, from Brazil, from all over the UK, just waiting for their short moment in the light next to Lee. One man tries to tell Geddy how he saw him live with Rush and was convinced that Geddy was winking at him. Geddy sizes him up with a nod and says: "You're kind of a good-looking guy, might have happened." The man is so deliriously happy with this response that he's led away looking like he's been tasered. ...
Here are some comments from Wilding's chat with Geddy describing his feelings about the signing events:
... "Let's be honest," Geddy says, "I'd rather be playing music for three hours a night with my two goofy friends than doing this, but in lieu of that, this is kind of a nice thing." ... "I like meeting the fans. I like it when the families come, I like seeing three generations. The other day this guy said: "I brought my dad. He's eighty-two, he's never done a fist-bump.' I said: 'I'll teach him, don't worry.' Lot of tears, too, which kind of makes me well up. I had a woman come up to me and she said that the music really helped get her through a tough time in university. I said: 'I'm glad the music meant something to you,' and then she burst into tears! But its a really nice human experience for me, that the band has meant so much to them and they're never going to see that band." ...
The article also mentions offhandedly that Neil Peart is working on a new book, but does not provide any details or timetable. Note that Geddy also said Neil was working on a new book project in another Classic Rock interview from nearly a year ago. The issue will hit newsstands this coming Monday, August 20th.