UPDATE - 8/20@10:51AM: Here's another short clip from the Cinema Strangiato film:
----- snip -----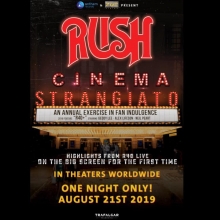 The first annual Cinema Strangiato theatrical film experience will hit movie theaters nationwide this coming Wednesday, August 21st for one night only. The film will bring Rush fans together for a special look into Rush's R40 Live tour, with new backstage footage, special guests, and performances. Tickets are still available at cinemastrangiato.com but are going fast, so get yours now. The film will open with an extended sequence about Geddy Lee's Big Beautiful Book of Bass titled Geddy Lee: Falling Down the Rabbit Hole, and the band released a new preview clip from it yesterday which you can watch below or online at this location. You can also watch the official, 1-minute trailer for the film on YouTube at this location, along with a preview of the band performing Distant Early Warning from the R40 Live tour (the same version included on the R40 Live bonus disc). Here are some more details about the film from a recent Billboard article/interview with Adam Jones of Nashville's ALJ Innovations, who edited the film:
... Weighing in at just over two and a half hours, Cinema Strangiato is a mongrel of sorts, blending 16 songs from the R40 Live film (from Rush's final and 40th anniversary tour in 2015) along with material and outtakes from the documentary Rush: Time Stand Still. It includes special video content Rush created for the tour as well as behind-the-scenes footage and a sound check sequence of "Jacob's Ladder" from the Los Angeles Forum that splices in a montage of other performances of the song from the tour. ... Cinema Strangiato opens with an extended sequence about Lee's bass collection, promoting Geddy Lee's Big Beautiful Book of Bass, which came out in December. Another highlight includes a performance of "Losing It" in Newark, N.J., with Jonathan Dinklage, a violinist from the 2012 Clockwork Angels Tour, while other rockers such as Tom Morello and his wife Denise, Smashing Pumpkins' Billy Corgan and producer Nick Raskulinecz tout Rush's virtues and influence in interview clips. ... Jones, a Rush fan himself who worked at Rounder Records while the band was signed there, is hoping Cinema Strangiato will be just the first of many "posthumous" film projects culled from Rush's vaults. "After this we'll go back and see what we've got and assess for the next (possibility)," he says. "This is a good start, and I hope the fans enjoy what we've done and want more so we can look forward to the next years of this." ...
Speaking of Rush documentaries, reader Steve H let me know that comedian Craig Ferguson was a guest on the TigerBelly podcast (weekly podcast featuring comedian Bobby Lee and his best friend Khalyla) earlier this year and the conversation turned to rock documentaries at one point. Ferguson mentions how he likes to watch documentaries about bands he hates, and brought up Rush's Beyond the Lighted Stage as an example. He goes on to state how he know LIKES Rush after watching the documentary. You can listen/watch the podcast on YouTube at this location.
As most Rush fans know, Geddy Lee is an avid collector of many things, including bass guitars, baseball memorabilia, fine wines and more. He also has managed to amass a collection of 40 vintage wristwatches over the years, and was recently interviewed for a piece in Worn & Wound magazine to discuss his collection and how he became interested in the hobby:
... I didn't have a whole lot of interest in collecting watches, but I always admired certain old watches. I think the very first old watch that I ever owned was a Rolex a guy in England sold me years and years ago. It wasn't anything remarkable or particularly collectible, but it was from the '30s and I just thought it was a cool watch. It was a couple hundred bucks and I still have it. Rolex made some stuff exclusively for the Canadian market through the years, and one of them was this Tudor Oyster Regent, and I picked that up. I thought it had a cool shape to it and I love the sort of Art Deco vibe of those watches. So, I had a few cool watches over the years and enjoyed them, but I didn't take collecting seriously or anything. However, I was in Switzerland many years ago and I happened upon this cool watch shop, and a great conversation with a very nice chap there led to my leaving with a black bezel Rolex GMT from 1968, and that was really my gateway watch. I kept that watch for many years. Over the years, I'd received a few great watches as gifts, including a solid gold Universal Genève Compax. Later I picked up a '68 Jaeger LeCoultre Speedbeat, and it was then that I started threatening an interest in really collecting watches. ...
Geddy is currently taking a break from his on-again, off-again signing tour for his Big Beautiful Book of Bass, with the last leg having wrapped up late last month. This past week, some video from Geddy's July 16th Detroit signing event was posted online. There's also this Sharp magazine interview from back in January that had been missed before (thanks RushFanForever). Geddy is expected to schedule more signing events right up through the end of the year, so stay tuned.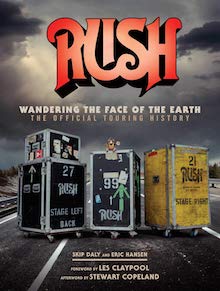 A new book which chronicles Rush's entire decades-spanning touring history is slated for release this coming October. The book is titled Rush: Wandering the Face of the Earth: The Official Touring History and is authored by Eric Hansen (of the Power Windows website) and Skip Daly. John over at Cygnus-X1.net has posted an exclusive excerpt and photos from the book, including the foreword which was written by Primus frontman Les Claypool. You can check all those out over at Cygnus-X1.net and pre-order the book on Amazon at this location. From the Amazon description:
Alex Lifeson, Geddy Lee, and Neil Peart performed together for the first time to an audience of 11,000 people in 1974. Forty years later, their last tour sold over 442,000 tickets. This is the story of everything in between. This is the story of Rush. Fondly known as the Holy Triumvirate, Rush is one of the top bands to shine through rock-and-roll history. Wandering the Face of the Earth covers Rush's storied touring career, from their humble beginnings as a Toronto-area bar band playing middle school gymnasiums to their rise as one of the world's most sought-after live acts, selling out massive arenas around the globe. This book includes every setlist, every opening act, and every noteworthy moment meticulously researched and vetted by the band themselves. This is THE must-have tour compendium for Rush fans. Fondly known as the Holy Triumvirate, Rush is one of the top bands to shine through rock-and-roll history. Wandering the Face of the Earth covers Rush's storied touring career, from their humble beginnings as a Toronto-area bar band playing middle school gymnasiums to their rise as one of the world's most sought-after live acts, selling out massive arenas around the globe. Filled with painstaking detail, this book includes every set list, every opening act, and every noteworthy moment. This is THE must-have tour compendium for Rush fans.
In addition to Les Claypool's foreword, the book contains an afterword by Police drummer Stewart Copeland and an introduction by Rush lighting director Howard Ungerleider. The book is currently slated for release on October 29th and can be pre-ordered at this location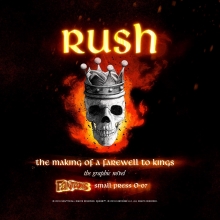 FANTOONS will be releasing their new, officially-licensed graphic novel chronicling the making of Rush's A Farewell to Kings album next month on September 10th. Josh Rose at Rogues Portal posted an advanced review of the book earlier this week and had the following to say:
... [the graphic novel] is a narrative told like an interview. The 2018 versions of Rush and their producer Terry Brown recall the events and conversations surrounding the creation of the album. That includes the reception of Caress of Steel and 2112, the recording and writing process, and touring. David Calcano and Lindsay Lee do a great job balancing what happened with the band members' personalities and experiences. ... Ittai Manero and Lindsay Lee's colors are bright and vibrant, perfect for the psychedelic elements shown to reveal the imagination of the band. I particularly like how they change the colors to monochromatic to show when the characters are having a memory from much earlier in their histories. Rush: The Making of a Farewell to Kings is a book not only about the music industry, but also a close-up on one of music's most influential rock bands. This book is a must-buy if you are a fan of Rush.
In addition to the upcoming graphic novel, FANTOONS also just released their updated Rush coloring book last month. The updated edition with its 20 new pages of content comes in at a whopping 72 pages, and is now available to purchase at this location. To learn more about all of the other officially-licensed Rush merchandise available from FANTOONS, be sure to check out their online store, and follow them on Facebook and Twitter.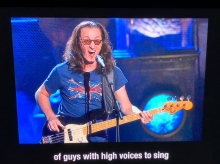 Cartoon Network's adult-oriented nighttime programming block, Adult Swim, aired a bizarre Geddy Lee tribute bumper commercial during a break earlier this week. The 15-second bumper featured some backdrop photos of Geddy while a song with the following lyrics played in the background:
This is a song for Geddy Lee
of prog rock legends
RUSH
You're the greatest bassist in history
and you've inspired generations
of guys with high voices to sing
[geddy lee]

You can watch a cell phone video of the bumper on reddit here.
Screen Rant posted their list of the Trailer Park Boys' 10 Best Celebrity Cameos this past week and Alex Lifeson's cameo in Season 3's Closer to the Heart episode made the cut at #6:
Every member of Rush is a Canadian icon while most people from outside of the country don't even know who they are. Alex Lifeson, the band's guitarist, appears in season three, episode five, as himself. Ricky hilariously kidnaps him and introduces him to Julian as another famous Canadian singer.

45 years ago this past Wednesday, on August 14, 1974, the current line-up of Rush with Neil Peart on drums played their very first live show, opening up for Uriah Heep and Manfred Mann at the Civic Arena in Pittsburgh. They played a short, 4-song set consisting of Finding My Way, In The Mood, Bad Boy, Working Man and a short Neil Peart drum solo - his first ever as a member of Rush. You can listen to a bootleg recording of the set on YouTube. The Pittsburgh Tribune-Review posted an article this past Wednesday where they take a look back on this milestone show, including new interviews from concert promoter Rich Engler and music writer Rex Rutkoski.
... Concert promoter Rich Engler, an East Deer native, didn't remember a lot about that first show other than the fact they played. Engler, one half of DiCesare-­Engler Productions, said he put Rush on as a favor to their agent, who he said pushed the band on him. "I didn't want them. They were unknown," Engler told the Tribune-Review. "Putting a third act on a show costs extra money. If you put somebody on like that, you want them to be able to sell tickets. Nobody knew who they were." ... After they started getting airplay with their second album, "Fly By Night" (1975), Engler was bringing Rush to town as headliners. "They're great guys, and I can't say enough about the band," he said. About a week later, then-Valley News Dispatch entertainment writer Rex Rutkoski reviewed the show in his "Vibrations" column focusing on Uriah Heep and Manfred Mann. "It was heavy metal in the city of steel last week, served up British style," he wrote about the show, during which the arena's retractable roof was open. His only mention of Rush was to say: "A Canadian trio, Rush, rocked in the preliminary." While Ultimate Classic Rock took it as Rutkoski being "less than enthused," Rutkoski said it wasn't intended as a slight against the band. "In those days, opening acts, or 'baby bands' as they were known, were virtually thrust on the promoter by the band management or the record company," he said. "I was not being dismissive of Rush. We generally didn't cover opening acts when space was tight, which it was for this particular column. When there was room, I loved turning readers on to new bands." ...
Here's the latest preview clip from the upcoming Cinema Strangiato film:
That's all for this week. Have a great weekend everyone!