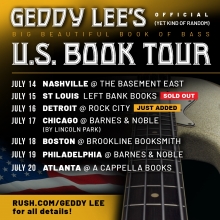 Geddy Lee kicked off his Big Beautiful Book of Bass US signing tour this past Sunday night at The Basement East in Nashville, including a Q&A interview conducted by former Rush producers Peter Collins and Nick Raskulinecz - both Nashville residents - which is available for viewing online below or at this location. Geddy also gave this short interview with The Tennessean last week previewing the Nashville event. From Nashville Geddy then continued his tour across the Midwestern/Eastern US, hitting one stop each day. On Monday he was at Left Bank Books in St. Louis as described in this blog post from Nicki's Central West End Guide. He then hit Detroit on Tuesday, which was previewed in this article from the Oakland Press that includes a few interview snippets from Geddy. It was on to Chicago on Wednesday where Geddy was interviewed for the Illinois Entertainer over the weekend as a preview to that event. The interview was mostly about the book, with the same old questions/answers we've seen in dozens of other interviews, but here's what he said about a possible solo album:
"... I do have some ideas, but I haven't put any action into them. I haven't discussed anything with Alex in quite some time. We talk all the time, but we haven't talked about work. You know, I was in a very intense job for over 40 years, and you don't just walk out of that into something else. This book has been a marvelous escape and education, and in a sense, edified me in ways I never thought it would. Eventually, I'm sure I will start making some noise downstairs.. .. I store riffs for a rainy day. Eventually, the rainy day will come, I think. We'll see if they're any damn good."
Yesterday Geddy hit Brookline Booksmith in Boston, where he appeared on Boston 98.5's Toucher & Rich show to talk about the book and the signing tour. Geddy will be hitting Barnes & Noble in Philadelphia later today; he had appeared on the Preston and Steve Show on Philadelphia's WMMR last Thursday to preview today's event. He will then wrap up this leg of the book tour tomorrow at A Cappella Books in Atlanta, and then take a break for a while before scheduling more events, which he is expected to do right up through the end of the year. Fans attending the signing events have been canvasing social media with photos, which I've been accumulating on the RIAB Twitter feed, so keep an eye out there and share your own photos as well - I'll retweet as I come across them. Geddy was also on the Talkin' Rock With Meltdown podcast last week to talk about the book and preview the signing tour. For continuing coverage of the signing tour, stay tuned to this post. For all the tour details and to purchase tickets, visit rush.com/geddylee.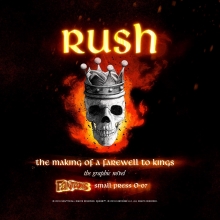 FANTOONS will be releasing their new, officially-licensed graphic novel chronicling the making of Rush's A Farewell to Kings album this coming September, but you can get an early copy of the book at the San Diego Comic-Con this weekend where FANTOONS is on hand at booth Small Press O-07. Founder David Calcano along with the FANTOONS team also took part in a Comic-Con panel discussion yesterday titled Fantoons: From Fan to Work for the Band. In addition to the graphic novel, FANTOONS will also have early copies of their updated Rush coloring book (which officially releases next week), their new Geddy Lee-sa puzzle and plenty of other Rush merchandise. If you can't make the convention, you can still pre-order your copy of the graphic novel here; it will officially release on September 10th. To learn more about all of the other officially-licensed Rush merchandise available from FANTOONS, be sure to check out their online store, and follow them on Facebook and Twitter.

Prog magazine has released a special collector's edition for their 100th issue where they profile 100 progressive rock icons including all three members of Rush. The feature is titled 100 Icons That Changed Our World and includes Dream Theater's John Petrucci discussing Alex Lifeson, Mike Portnoy (Dream Theater, The Winery Dogs) on Neil Peart and commentary from Alan Reed (formerly of Pallas) on Geddy Lee. You can get information on how to purchase the issue here, and read transcriptions of the Rush commentary in this post.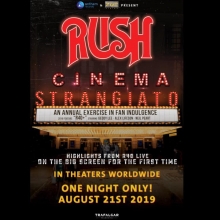 Last month Rush and Anthem/Trafalgar announced the first annual Cinema Strangiato - a theatrical film experience that will bring Rush fans together for a special look into Rush's R40 Live tour, with new backstage footage, special guests, and performances. Cinema Strangiato will hit theaters worldwide for one night only on August 21st and tickets are now available at this location. There's also an official, 1-minute trailer for the film which you can watch on YouTube at this location. For all the details and to sign up for email updates, visit www.cinemastrangiato.com. Geddy Lee described the film in the above-mentioned Preston and Steve Show interview:
... What it is is basically a way of celebrating the 'R40' tour in the sense on a big screen. It's taking a lot of stuff that fans might have seen on that video, the concert footage, but it's added a few twists to it - there's some soundcheck footage, there's some pieces that people haven't seen and haven't been released, and there are interviews with various musicians blah-blah-blah-ing about us. [Laughs] So I think the intent of the record company, in that regard, was just to create something that you can't have at home. Going into a venue with a ton of other like-minded RUSH fans and celebrating the final tour, as it were. ...
Reader Steven T came across an interesting Facebook post casting call from Atlanta-based Southern Casting Associates last week which requests Rush fans for a bar scene:
Want to make a little extra summer $$$ today?? RUSH CALL Shoots 7/10/19 WED.TODAY in ATL, GA with a 10 am call time-for:

Party at the BAR! $75/8 bar scene, club attire, males and females 18-50 yo. To apply send a direct contact number and a well lit snap shot/headshot to: submissions.sca@gmail.com subject line' RUSH CLUB '

Thank you in advance and let's get to work!!
There's no further information given, nor any indication for what film/tv show the scene was for. Hmmm.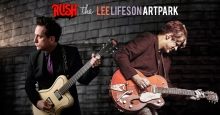 For the past two years, Jacob Moon and David Barrett have performed a free concert of Rush and Rush-inspired music at the Lee Lifeson Art Park in Toronto's Willowdale neighborhood. They plan to continue the FREE, crowdfunded event this year on Wednesday, July 24th, but they need your help to reach their goal of $2,112 to cover the costs associated with advertising, production, rehearsal, promotion, permit fees and personnel. They are over half way there so go help them out! If they reach their secondary goal of $3,113 then they can film portions of the concert and get them to backers as a video keepsake. Just like last year, the event will be livestreamed, and Jacob is also recording a cover of New World Man that backers will get a sneak preview of this coming Monday. To learn more about the event, its background/history and the crowdfunding campaign, go to this location.
Ultimate Classic Rock posted an article last week where they attempt to make the perfect LP from Rush's three most recent albums; Vapor Trails, Snakes & Arrows and Clockwork Angels. You can check out what they came up with at this location.
A new documentary about Rolling Stone bassist Bill Wyman titled The Quiet One was released last month, and Variety recently sat down with the film's star to discuss the movie and Wyman's long career (thanks RushFanForever). Wyman was one of the bassists that Geddy Lee interviewed for his Big Beautiful Book of Bass and was asked about that experience at one point:
... Yeah, [Geddy] was nice. We had a good old chat and we enjoyed it, but he's all technical, talking about certain bass guitars and their serial numbers and all these amplifiers, and I know none of that. I just play bass and I play through an amplifier. I don't care what kind of amplifier it is, as long as it sounds proper. It doesn't matter whether it's an Ampeg or a Vox or a Boogie. If it plays right, that's all I need. And that's what was confusing him! He thought it was quite amusing, actually. But Charlie's the same. Charlie has the smallest drum kit of any rock star. He has seven pieces. That's all he's got. And he's so widely admired by every other drummer. And I've seen drummers with 40-, 50-piece drum kits - they're ridiculous. But Charlie just plays very basic and very simple, on the simplest kit. He sounds good on it, and that's the way I was... I hope! ...
Reader Will C came across an interview with Iron Maiden bassist Steve Harris from back in October where he talks about his British Lion side project, and was asked if Geddy Lee was an influence on him:
... "Not very much really because I was more influenced by more British players like John Entwistle of the Who, Andy Fraser of Free, Martin Turner of Wishbone Ash, Rinus Gerritsen from Golden Earring and Pete Way from UFO, those people influenced me more than Geddy but Geddy is a fantastic player. You know me and Andy Curran bassist of Coney Hatch actually played tennis with Geddy Lee and Alex Lifeson and it was really good. it was quite funny because me and Andy were suppose to play tennis against Geddy and Alex but Geddy wanted to play with me against Andy and Alex. No one was really there to watch it but I thought it was quite funny if people saw us play tennis together." ...
A recent article from Far Out Magazine talks about up-and-coming rockers Greta Van Fleet and their constant comparisons to Led Zeppelin due much in part to singer Josh Kiszka's Robert Plant-like vocals. Tracii Guns of L.A. Guns was interviewed for the piece and thinks Kiszka sounds more like Geddy Lee, who himself was compared to Robert Plant when Rush first started out:
... "I think, first of all, the singer sounds more like Geddy Lee than Robert Plant, ... It's difficult when you go into comparing things to Led Zeppelin, because Led Zeppelin's mastery of music and that chemistry is very special. So, you can say a lot of great things about Greta Van Fleet, but they in no shape or form rival or compare to the use of Eastern influence and folk music of Led Zeppelin. ... Beyond that, they're [Greta Van Fleet] a really cool band, there's lots of room for growth. And let's face it: Robert Plant and Jimmy Page upfront, maybe Axl and Slash, maybe David Lee Roth and Eddie Van Halen, that's some pretty sacred territory when you're trying to make comparisons. Like, 'Hey you should come see this band Greta Van Fleet they're like Led Zeppelin.' And then you go and - and I get the maple drums, I get the cool shirts and the singer sings in a high falsetto - but there's nowhere near the danger of 'these guys are going to beat my ass after they fuck my girlfriend.' And Led Zeppelin had that. ...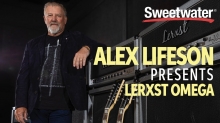 Earlier this week Sweetwater posted a 4-minute video of Alex Lifeson talking about and demonstrating his Lerxst Omega Signature Amplifier which you can watch below or on YouTube at this location. From the YouTube description:
Alex Lifeson from Rush commissioned the amp gurus at Mojotone to build him a tour-worthy re-creation of a legendary, 50-watt amp head from across the pond. The Lerxst Omega boasts all the same features as its silver-trimmed predecessor, including a 3-band EQ, two footswitchable channels, a Rhythm Clip mode, and a serial effects loop. The Lerxst Omega is top-shelf all the way, with high-end components like Mojotone Dijon caps, Heyboer transformers, CTS pots, and JJ tubes. Handwired in Burgaw, North Carolina, the Lerxst Omega delivers the full gamut of classic British tones. This Lerxst Omega has been hand-signed by Alex himself and includes a custom serial number plate and certificate of authenticity - and you can only get these autographed versions here at Sweetwater. There's only 100 of these available, and they won't last long, so order yours today!
That's all for this week. Have a great weekend everybody!