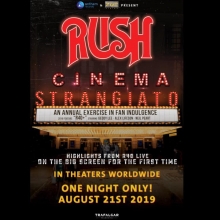 Last week Rush and Anthem/Trafalgar announced the first annual Cinema Strangiato - a theatrical film experience that will bring Rush fans together for a special look into Rush's R40 Live tour, with new backstage footage, special guests, and performances. Cinema Strangiato will hit theaters worldwide for one night only on August 21st and tickets are now available at this location. Rush has also released an official, 1-minute trailer for the film which you can watch below or on YouTube at this location. For all the details and to sign up for email updates, visit www.cinemastrangiato.com. From the film's synopsis page:
The Holy Trinity of Rock returns to the big screen on Wednesday, August 21, when the first "Annual Exercise in Fan Indulgence" Cinema Strangiato brings Rush fans together in movie theatres worldwide. Featuring R40+, this global fan event will give audiences a special look into some of the best performances from R40 LIVE, including songs such as "Closer to the Heart", "Subdivisions", "Tom Sawyer" and more, as well as unreleased backstage moments and candid footage left on the cutting room floor. R40+ also includes unseen soundcheck performances of the fan-favorite "Jacob's Ladder", exclusive new interviews with Tom Morello, Billy Corgan, Taylor Hawkins, producer Nick Raskulinecz, violinist Jonathan Dinklage and more. As a special bonus, fans will get a glimpse into the madness and passion that went in to the making of Geddy Lee's new book, Geddy Lee's Big Beautiful Book of Bass - featuring a brand-new interview from the man himself.
Geddy Lee wrapped up his 5-date, Big Beautiful Book of Bass European signing tour this past weekend. The tour had kicked off the previous week at Waterstones Piccadilly in London, UK. From London he moved on to Manchester, UK for a signing and Q&A at the Dancehouse Theatre, where he was interviewed for about an hour by Philip Wilding as seen in this YouTube video. Last Wednesday Geddy was in Glasgow before moving on to mainland Europe for a signing in Amsterdam last Thursday, and wrapping things up on Saturday at Sautter & Lackmann in Hamburg. Geddy spoke with the UK's Classic Rock magazine a couple of weeks ago to preview the event, and you can check out that interview here. He was also a guest on last Tuesday's edition of Need To Know Bassist on BBC Radio 6, and you can listen to that interview here. Here's what he had to say regarding future projects:
... I don't know what my next step is. Rush basically stopped touring in 2015, and although we remain pals, there's no plans to do any more Rush projects. Alex has been doing a variety of guest spots here and there, and he's digging that. And I've been working on this book, and now I'm shamelessly promoting the book, travelling around the world. So, when this is all done and the dust settles, I'll go back and look at those hundreds of bass guitars that are staring me in the face guiltily and I'll figure out what the next step is. ...
Geddy's expected to hold several more signing events over the coming months, so stay tuned to the site for details.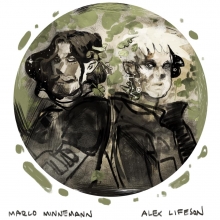 Multi-instrumentalist Marco Minnemann announced last month the release of a limited edition EP featuring a new track he co-wrote with Alex Lifeson titled Lover's Calling. The lengthy 7-minute piece also features Mohini Dey on bass and Maiah Wynne on vocals. The EP will be available as a limited collector's edition of 500 physical units only, to be sold exclusively at merch tables on the upcoming Aristocrats tour starting next week. Minnemann has collaborated with Lifeson on a few other projects over the past couple of years. Back in the summer of 2017 Lifeson made a guest appearance on Minnemann's album BORREGO, playing on 3 tracks, including one which he co-wrote with Minnemann - On That Note. He also appeared on the album Atheists And Believers - the 3rd album from Minnemann's prog-rock supergroup The Mute Gods, which released back in March.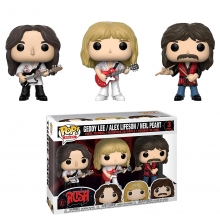 Funko first introduced their Rush Funko Pop! vinyl figurines as a pre-release during Fan Expo Canada last summer, and just recently made them available in wide release, although retailers have had trouble keeping them in stock. They are now also available via Amazon as a pre-order slated for release next week on June 30th. You can order your set online at this location. For those not familiar with Funko, their Pop! Vinyl line are figures modeled in a style similar to the Japanese Chibi style, typically depicting licensed characters from franchises and other pop culture entities. You can find out more about Funko and their Pop! vinyl figures at funko.com, and pre-order your set here.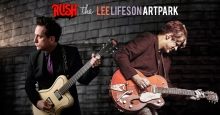 For the past two years, Jacob Moon and David Barrett have performed a free concert of Rush and Rush-inspired music at the Lee Lifeson Art Park in Toronto's Willowdale neighborhood. They plan to continue the FREE, crowdfunded event this year on Wednesday, July 24th, but they need your help to reach their goal of $3,113 to cover the costs associated with advertising, production, rehearsal, promotion, permit fees and personnel, so go help them out. Just like last year, the event will be livestreamed. To learn more about the event, its background/history and the crowdfunding campaign, go to this location.
Ultimate-Guitar.com posted their list of the Top 20 Non-Metal Guitarists Metal Players Should Be Listening to this past week and Rush's Alex Lifeson made the cut:
And what a better way to improve your playing than to listen to Alex Lifeson, the lead guitar player of Rush. His great soloing abilities can be heard in most of the band's works, but we would like to use the opportunity and share their famous instrumental "La Villa Strangiato."
UDiscoverMusic.com posted their list of 37 of the Best Music Documentaries and the 2010 Rush documentary Rush: Beyond the Lighted Stage was included:
Enduring prog rock trio Rush are akin to deities in their native Canada, and have earned a devoted audience that's followed them for the best part of five decades. Their back catalogue includes seismic LPs such as 2112, Permanent Waves and Moving Pictures, and their long and winding career is treated with the reverence it deserves in Scot McFadyen and Sam Dunn's Beyond The Lighted Stage, which - aside from a wealth of backstage and personal footage - includes enthusiastic testimonials from stellar artists as diverse as Billy Corgan, Gene Simmons and Trent Reznor.

Showtime's new crime drama City on a Hill premiered earlier this month and stars Kevin Bacon as FBI veteran Jackie Rohr in 1990s-era Boston who teams up on a case with assistant district attorney Decourcy Ward (played by Aldis Hodge). At one point in the season premiere (Season 1, Episode 1 - The Night Flynn Sent the Cops on the Ice), Kevin Bacon's character does drugs and sings along in his car with Rush's Tom Sawyer for about a minute as seen in this video clip. The show airs Sunday nights at 9PM on Showtime.
That's all for this week. Have a great weekend everyone!